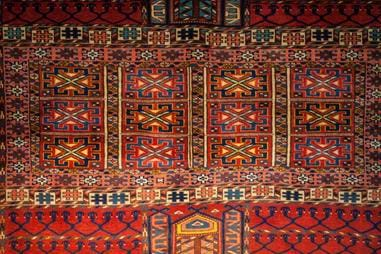 Having been captured by the marauding armies of Amir Timur in the 14th century, some of the finest artists and craftsmen in the Islamic world were brought back to Samarkand as slaves to work in the service of the emperor. The legacy is a cultural tradition with roots spreading across Asia, from China to India and Persia, which not even a century of Soviet suppression could wipe out.
Travelling around the country today you'll have numerous opportunities to see master mosaic tile makers, potters, wood carvers, silversmiths, silk carpet weavers and suzani embroiderers in action, and to admire the masterpieces of their forebears on show in the country's museums.
Tour TransIndus guide will know where to shop for the finest pieces, whether you're shopping for a hand-carved elm picture frame or a silk kilim costing several thousand dollars.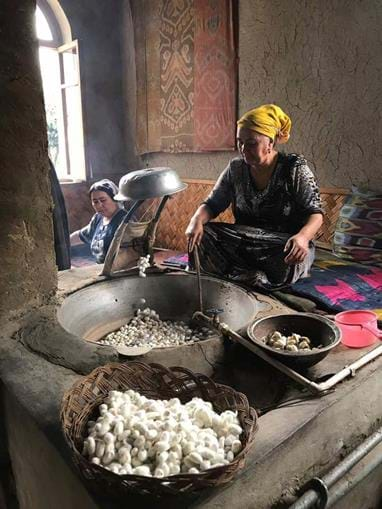 The Yodgorlik Silk Factory near Margilan, half an hour's drive north of Fergana in easter Uzbekistan, offers a unique opportunity to witness the colourful process of Central Asian sericulture in action – from the steaming of cocoons to unravel the fibre, to the dyeing and weaving of exquisite khanatlas (long silk coats). The factory has a small shop where you can purchase many exquisite garments. After the silk factory, we generally recommend clients proceed to a textile workshop of Salijon Ahmadaliev, who produces printed cloth in the time-honoured local fashion using hand-carved wood blocks.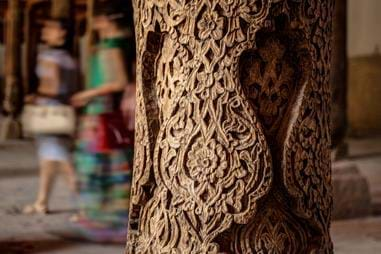 Khiva's last family of wood carvers, the Jumanijozovs, sculpt pillars identical to those in the famous Jama Masjid Mosque. Master carver Shavkat and his apprentices use designs that have been replicated here for over a thousand years.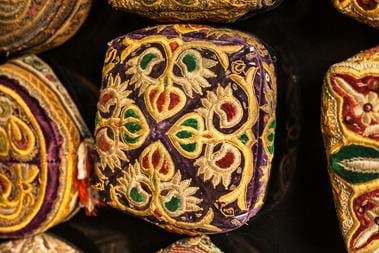 Beautifully embroidered skull caps are among the distinctive Uzbek souvenirs produced at the famous Khudjum Embroidery factory, where a legion of 1,600 workers carpet weaver and needlleworkers are employed. The factory was set up in 1928 as an all-women co-operative and now offers the finest source of authentic arts and crafts in the country.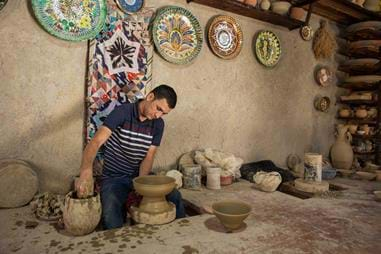 In the town of Gijduvan between Bukhara and Samarkand, the Narzullayev family have been making ceramics on the same site here for five generations, according to methods used in the area for literally thousands of years. Visitors can watch pots being thrown and fired in a traditional kiln, with glazes made from desert plants and local minerals (ground in situ on a wheel driven by a donkey!). A wide selection of plates and pots are available for purchase.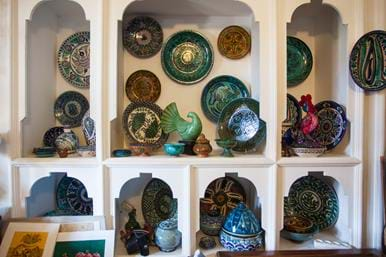 One of our favourite shops in Samarkand is the delightful Happy Bird boutique near the Registan, where you can pick up fine ceramics and garments selected by a famous Uzbek fashion designer, along with prints of wonderful antique photos.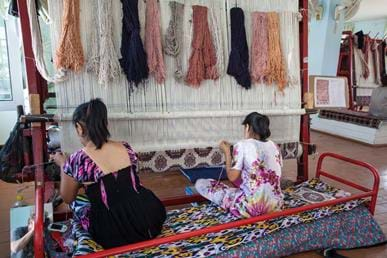 Not far from the Shah-i-Zinda tomb complex in Samarkand, the workshop of Haji Muhammad Ewaz Badghisi and his family is one of the few places where high quality silk carpets are still hand woven in Central Asia.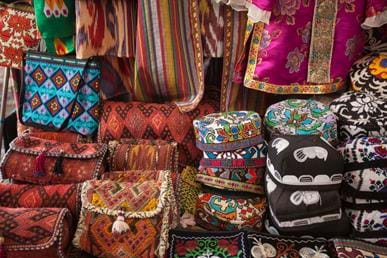 Bukhara is the best place in Uzbekistan to shop for traditional crafts. The domed intersections of the old Grand Bazaar house vibrant stalls such as this, selling Uzbek skullcaps, embroidered purses and bags made from recycled kilims.
Tours that include Uzbekistan Silk Road Arts and Crafts
TransIndus Brochures 2017/18
Join our mailing list
Talk to the experts
At TransIndus we are committed to quality, and determined to ensure every one of our clients enjoys the best holiday possible. Having lived or worked, and travelled extensively in their specialist countries, our consultants are experts whose advice can be depended on. To make an enquiry, call us on 0208 566 3739
020 8566 3739