TransIndus is among the UK's largest and most successful operators of tailor-made tours through Asia. Our expertise in designing tailor-made journeys is based on a wealth of hard-won travel knowledge, extensive travel through the region and a wide network of local contacts. We offer our clients trips of the highest quality, featuring the most desirable destinations and memorable local experiences. This expertise, backed by gold-standard customer service, has ensured our company consistently generates satisfaction ratings of 99%. Over half our clients travel more than once with us, and often refer their family, friends and colleagues.  
Our characterful office in the leafy suburb of Ealing is surrounded by coffee shops, pubs and parks. We are very close to South Ealing and Ealing Broadway tube stations and easily connect with the M4 & M40 motorways.
Our team of hardworking and motivated people is counted among the most respected and is proud of their expertise honed over 28 years.
As a result of growth we have the following openings for the right people, please find below a list of current vacancies and scroll down for further information on each one. 
Current vacancies:


Operations and Admin Assistant
Due to the expansion of our Asia programme, we are looking for enthusiastic and motivated Operations & Admin Assistants to support our busy sales team. 
This post is ideally suited for people who enjoy helping others and have a keen eye for detail. If you are such a person who can identify problems and seek workable solutions we would like to hear from you.  
The work is demanding, systems-driven and highly responsible. The right candidate will be responsible for ensuring the ultimate success of our clients holiday.  
It is a rewarding and fulfilling role with good opportunities for travel and career progression. A competitive salary is on offer dependent on your ability and industry experience.

Key requirements for the Operations & Admin role:
* Good demonstrable written and spoken communication skills.
* Good organisation & time management skills.
* Good interpersonal skills.
* Good customer service skills.
* Good telephone manner.
* Computer literacy and knowledge of Excel and Word is essential.
* Ability to work well under pressure.
* Ability to produce accurate work, without supervision.
The key function of the for the Operations & Admin role:
* To build relationships with clients and take responsibility for nurturing them for repeat custom.
* To demonstrate a total commitment to customer service to ensure client satisfaction.
* To prepare accurate and presentable documentation for clients pre & post travel.
* To answer client queries accurately on the telephone.
* To communicate with overseas suppliers efficiently.
* To liaise with colleagues in the sales, product, accounts and marketing departments.
* To support sales, product, accounts & marketing teams.
* To open and distribute post and prepare postal dispatch daily.
Why work for Transindus:
A chance to work for a long established award winning market leader.
A family-run company with a reputation for excellence.
Opportunities to travel and develop for progression in the travel industry.
Excellent training scheme.
Energetic and stimulating working environment.
Attractive salary and commission.
If you would like to be considered for this role please send us a covering letter and CV to director@transindus.com
Digital Marketing Executive
We are currently seeking an experienced Digital Marketing professional with a background in travel to help promote the Transindus brand and range of services. 
Reporting to the Managing Director, this is a demanding, but very exciting job and requires someone with a passion for digital new media.  Ideally, you will also have a good understanding of traditional channels used by travel companies including organising events, exhibitions, print advertising and public relations.
You will be involved in the development of an annual marketing plan and be responsible for overseeing its implementation.
Responsibilities include the formulation and execution of digital campaigns which not only compliment and maximise print media campaigns but also independently promote the brands.   Coordinate advertising, social media, website development, promotions, and press relations.   There is also a reasonable amount of support for the Managing Director.
We are looking for a passionate, forward-thinking team player, current on the latest trends in technology, able to multi-task, meet deadlines, and coordinate junior staff.  This role occasionally requires work outside of normal business hours to attend trade shows, networking events in the evening, and possibly international travel so we do prefer someone who has the ability to connect with clients, network with suppliers, negotiate with tourism boards, develop new product, and develop the business through affiliate relationships.
To be considered for this role, it's essential that you can tick ALL of the following boxes:
At least 4 years of solid marketing experience – where digital has been an integral part

Experience of lead generation tactics

Experience of SEO

Experience in developing/running a successful social media strategy

The ability to show a genuine ROI from your marketing efforts

Confident individual with strong negotiation skills and able to stand your ground if necessary

Be able to represent the company to clients, suppliers, tourism boards, and potential affiliate partners
In addition, the applicant should:
Keep abreast of new technology to continually improve the website with new features and maintain accurate content.

Feel comfortable liaising with commercial and editorial members of newspapers, magazines, and websites to provide content, check facts, and ensure a high level of accuracy in the information presented. Applicants that can establish a friendly, professional relationship with the press will excel.

Attend trade shows to evaluate competition, assist sales, facilitate on-site promotions, and represent the company as both a buyer and a seller.

Demonstrate a high level of professional proficiency in writing to create content for the website, brochure, press releases, newsletters, and social media.

Constantly seek out new affiliate relationships within the industry to position the company as experts in the field and develop new business. Professional networking experience preferred and events held outside of office hours will be required several times per month.

Demonstrable skills in photography, filmmaking, writing, blogging, public speaking or a well-developed interest in wildlife, anthropology, history etc. may be advantageous.
In return we offer:
-A generous salary package ranging from £25,000 to £30,000 based on your experience and skill-set.
-An attractive incentive structure based on achieving targets
-Annual pay review, subject to individual and company's performance
-Opportunity for career progression
-Possible overseas travel fully expensed to enhance product knowledge
-31 days annual leave
-Personal travel benefits
-Pension
 The post is located in our offices located at 75, St Mary's Road, London W5 5RH
 When applying please forward your CV together with a travel profile detailing the time spent in each destination visited to: director@transindus.com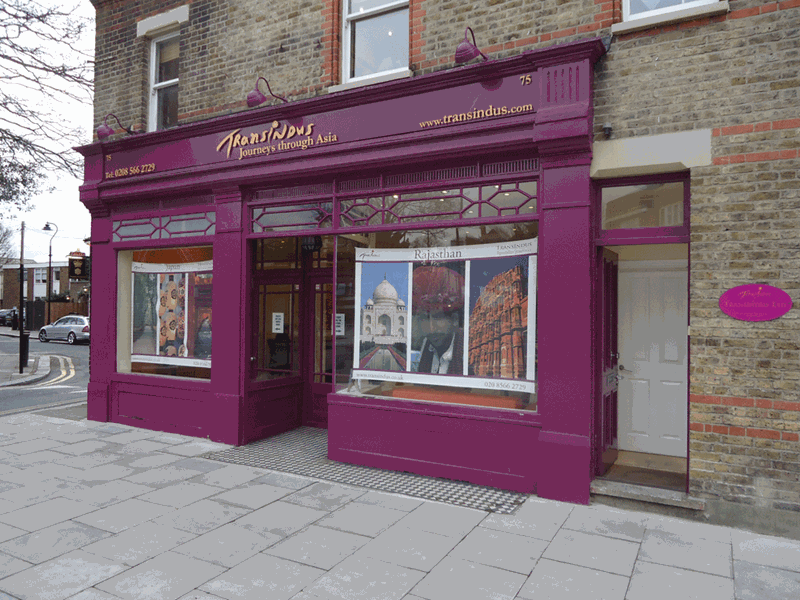 Talk to the Experts
At TransIndus we are committed to quality and determined to ensure every one of our clients enjoys the best holiday possible. Having lived or worked, and travelled extensively in their specialist countries, our consultants are experts whose advice can be depended on. To make an enquiry, call us on 0208 566 3739
020 8566 3739
TransIndus Brochures 2017/18
Join our mailing list