Malaysia and Borneo 30.06.2023 TransIndus
The term 'Big Five' was coined by game hunters in Africa to denote the most difficult animals to hunt on foot. Subsequently adopted by safari companies, it now serves as a tick-list of must-see species in Kenya, Tanzania, South Africa and Namibia.
Not be outdone, Asian conservationists have recently started to refer to the continent's 'Big Six' – its most endangered, beautiful and elusive mammals. Unlike in Africa, they can't all be seen in a single reserve, nor even in one country. But thanks to the efforts of dedicated wildlife enthusiasts working with Asia's governments over the past three or more decades, all six still exist, albeit in perilously small numbers in some cases. Without protection from park wardens and the funding derived from wildlife tourism, at least a couple would likely have become extinct due to habitat destruction and poaching.
As a pretext to travel to some of the most pristine, exotic parts of the world, Asia's Big Six is hard to beat. Moreover, growing interest in these signature species has led to the creation of some inspirational places to stay, where you can experience sublime wilderness in cutting-edge comfort, staying in luxurious hunting tents, tree houses perched high in the jungle canopy, or lodges nestled in deciduous sal forest straight off the pages of Rudyard Kipling.
Relive the timeless elegance of the colonial era, only without the blood and guns, safe in the knowledge your presence is playing an active role in conserving these wonderful animals for future generations.
Orangutan
The rainforests of Borneo and Sumatra are the only places in the world where you can see the critically endangered orangutan in the wild. Populations of Asia's ginger ape have declined by over 80% since World War II, primarily due to habitat loss due to logging and the spread of palm oil plantations, as well as demands from the pet trade.
Concerted attempts to halt the decline have been spearheaded by conservation groups, who have set up wonderful rescue and rehabilitation centres at Sepilok (in Sabah) and Semenggok (in Sarawak). Sightings in the wild are less frequent than in past decades, but at a handful of tightly protected rainforest reserves in the Danum Valley and in the Lower Kinabatangan floodplain, you stand an excellent chance of seeing an orangutan in its natural habitat, lounging on beautifully engineered leaf and twig nests, or swinging through the tree canopy in search of fruit and nuts – a truly magical experience.
TransIndus support the efforts at Sepilok by partnering with Orangutan Appeal UK, which fundraises for orangutan conservation projects in Borneo. We also encourage our clients to visit the Sepilok Centre on tours of the region as it offers a heartwarming insight into the lives of this rare primate.TransIndus Pick
Danum Valley in eastern Sabah holds Borneo's largest protected lowland rainforest area. Orangutans are present here in healthy numbers, and the best place to see them is the forest in the immediate vicinity of the Borneo Rainforest Lodge, a wonderful eco-retreat that offers an impressive level of comfort for such a far-flung location, around 30 miles (50km) of marked trails thread through the reserve to observation posts and other places of interest. Tubing, night hikes to spot nocturnal animals, and pre-dawn treks to panoramic viewpoints where you can watch the sunrise over the mist-drenched rainforest canopy are also offered.


Tiger (India)
India's Bengal tiger has been teetering on the brink of extinction for over fifty years. Just when numbers seem to revive, a spate in poaching can wipe out a decade or more of painstaking conservation in a particular national park. Thankfully, the Indian government has made saving the tiger a major priority, policing the parks more vigilantly than ever and working closely with local communities to reduce the amount of illegal hunting. As a consequence, numbers are on the up again, and if you pick the right reserve at the right time of year and are guided by an expert, you stand a strong chance of a sighting.
TransIndus Pick
Our acclaimed Tiger Trail tour focuses on a trio of national parks – Bandhavgarh, Kanha and Ranthambore – with the highest population densities of big cats and the best viewing infrastructures. Prowling through the sun-dappled jungle and stands of bamboo interspersed by open, grassy maidans, tigers and leopards still roam free in unspoilt tracts of sal forest.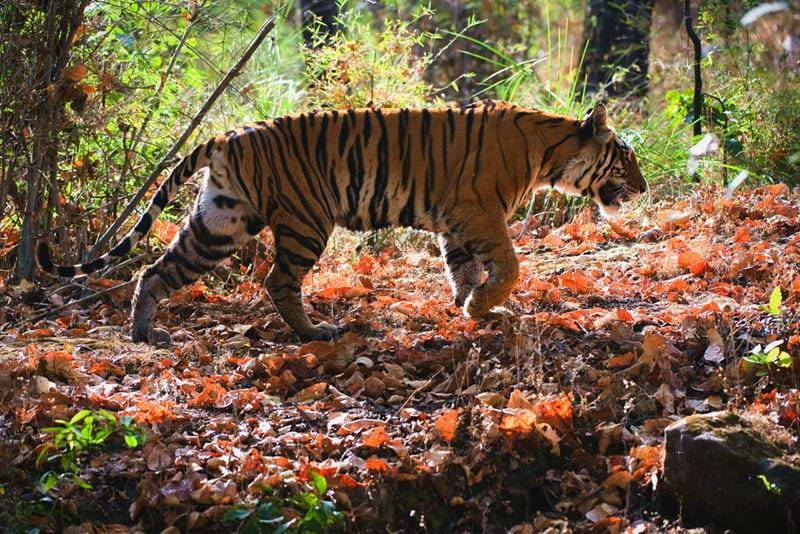 Leopard
Although far less endangered than tigers, leopards are extremely elusive. You could literally pass within a stone's throw of one dozing in the shadow of an acacia tree and not know it was there – which is why top-notch guides are essential for a successful leopard-spotting trip.
You stand a reasonable chance of sighting one of these beautiful cats at many parks in India and Sri Lanka. But the only place you're virtually guaranteed a glimpse of one is an area of giant granite boulder hills and sand flats in southern Rajasthan called Jawai. Here, around the shores of a lake speckled with flamingos and saras cranes, the local Rabari herders actually protect the leopards living in the rocks around their millet fields – the consequence of an old hunting ban imposed by the local Maharaja. If any of their livestock are confirmed as having been killed by a leopard, the government compensates the villagers. The result is a profusion of these sleek, gorgeous animals and the opportunity to see them in a landscape of sublime beauty.

TransIndus Pick
The Jawai Leopard Camp offers one of our favourite wildlife viewing experiences in India. The romantic, retro-style luxury tents are dreamy, the pool is heavenly, the gourmet food a delight, and the resident naturalists are the absolute pick of the crop. You're driven around the sandy trails in state-of-the-art 4WD vehicles to kopjes, where the guides know the leopards congregate or have their dens. In some instances, you can get astonishingly close to the animals.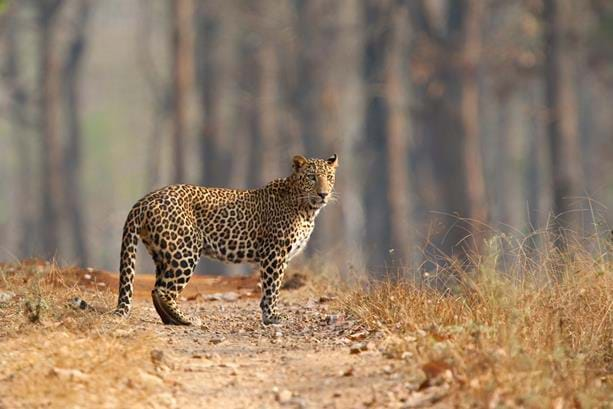 Elephant
No matter how familiar you are with an elephant's appearance, coming face-to-face with one in the wild is an experience you'll never forget. Herds of Asian elephants still roam the denser forests of India, Sri Lanka, Myanmar (Burma), Thailand and other Southeast Asian countries. But only at a few special reserves can you be assured of catching a real wild herd; the best are in Sri Lanka as long as you avoid the so-called elephant orphanages.
TransIndus Pick
Parks in Sri Lanka offering superlative elephant spotting experiences include Minneriya (180km northeast) and Udawalawe (180km southeast). Our current pick, however, is the recently inaugurated Kaudulla (200km north of the capital, Colombo), which enjoys the highest elephant density of any national park in the world. It's not unusual to encounter herds of up to 200 animals here – a mesmerising spectacle.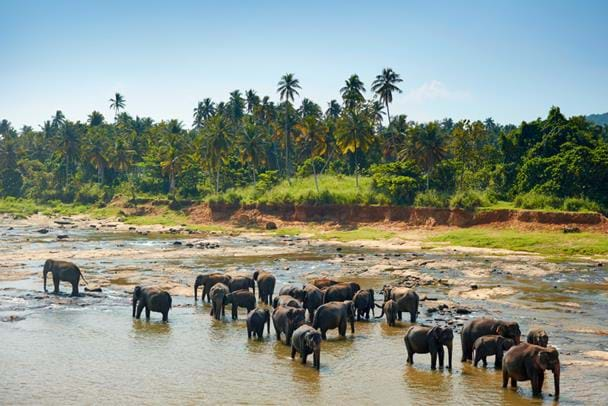 Giant Panda
Current estimates put China's wild panda population at somewhere between 2,000 and 3,000. That sounds promising until you survey the vast area of bamboo-covered uplands in Sichuan across which the animals are distributed. Basically, your chances of seeing one in its native habitat are nil, at least for the time being.
The Chinese government, however, has made a phenomenal effort to revive panda numbers, focusing its world-famous breeding programme in a research centre outside Chengdu, the capital of Sichuan Province. 
Animal lovers should be reassured: this is nothing like a zoo. The 80-odd resident pandas roam around 24 hectares (600 acres) of beautiful wooded parkland resembling their native bamboo forest – only fitted with climbing apparatus and feeding stations. The highlight is the nursery, where visitors can watch the fluffy baby bears cared for by their mothers or asleep in communal cots.

TransIndus Pick
The Chengdu Giant Panda Base features on many of our most popular China itineraries, from our 20-day Grand Tour to the 14-day Yunnan: Along the Tea Horse Road. Chengdu's plentiful flight connections mean it's easy to combine a visit with detours further south and west into the Himalayan fringes of Yunnan or as a detour from the cities of the eastern seaboard.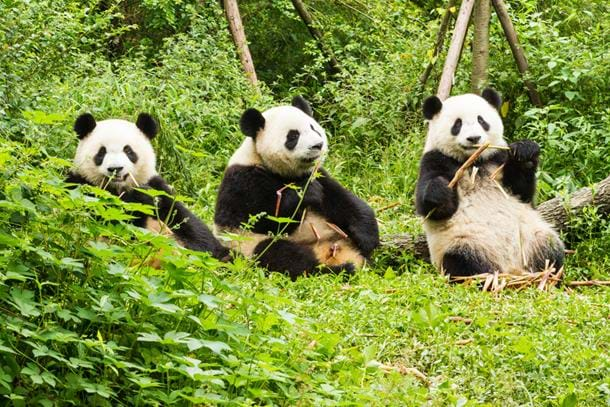 Komodo Dragon
The world's largest lizard, the legendary Komodo dragon, survives on five islands in eastern Indonesia – the most accessible are Komodo itself and nearby Rinca. Both are starkly beautiful, with parched, undulating hills of bleached grass, spindly lontar palms falling to turquoise bays, and pale, pink-sand beaches. Against this serene backdrop, the leathery reptiles, which weigh up to 100kg and grow to 3 metres in length, stalk their prey, which they kill by inflicting wounds that become infected by bacteria contained in their saliva. 
In order to ensure your safety while observing the dragons, expert guides and rangers will accompany you throughout your safari. Most trips leave from the small harbour town of Labuan Bajo, 22 nautical miles away on the neighbouring island of Flores; they usually last two days, with a night spent on Komodo in basic accommodation provided by the national park. 

TransIndus Pick
One of our all-time favourite itineraries in Asia is this 14-night tour of Indonesia's wildlife highlights. As well as Komodo dragons, you get the chance to see orangutans, elephants and proboscis monkeys at amazing locations across four exotic islands. Between visits to the country's benchmark national parks in Kalimantan, you'll have opportunities to explore colonial Dutch ports and ancient ruins of Java, including Borobudur and Prambanan, with an extended spell on the beach in Bali before your return.