India 25.01.2021 Jaishree Misra 
Jaishree Misra has written eight novels published by Penguin and Harper Collins. Her most recent book, 'A House for Mr. Misra', is a non-fiction account about building a writing studio on a Kerala beach. Here she writes about her personal experience of travelling to India in January 2021 and quarantining in a hotel close to Delhi's international airport. 
                                      -------------------------------------------------------------- 
Planning the trip to India
When news emerged that a mutated variant of Coronavirus had been detected by British genome specialists, India was among a slew of countries that swiftly banned all flights to and from the UK. The timing couldn't have been worse for us as my husband and I had just started planning our regular annual visit to India where our two mothers lived. At 89 and 85, they had initially weathered their own Covid lockdowns with customary cheeriness, reluctant to reveal any problems to geographically distant and increasingly anxious children. But, as months passed and news from around the world remained stubbornly grim, I had started picking up a distinct despondency in my mother's voice while my mother-in-law's querulous "So when do you think you will come?" was starting to get worryingly repetitive. And so it was that, as soon as India announced it was lifting its flight ban on January 8th, I was on the phone to our travel agent. Air India and British Airlines had each been allowed 15 flights till the end of the month and the earliest we could fly was by Air India on Jan 11th. Without further dither, I booked.  
The following day, Boris Johnson was on our TV, announcing Lockdown 3. I had fully expected this to happen later in the month, pronouncing darkly weeks ago that there would be Grave Consequences when our Prime Minister was exhorting us all to have a merry little Christmas, complete with five days of family feasting. But this new lockdown had come sooner than anticipated, the NHS was on its knees and one in thirty Londoners was now Covid positive. Among the newly proscribed activities was, of course, international travel.  
We were warned of charges for cancellation and postponing was not an option seeing that India had temporarily lifted its ban only until Jan 23rd. After that, further lockdowns lay ahead like a yawning canyon. We wanted to reach our mothers and decided to chance it. Concerned friends who knew of our plans started sending news reports and video footage of chaos at Delhi airport on the arrival of the first flight after the UK ban was lifted. Angry passengers had been informed mid-flight that they would not only need to be tested again on arrival but also have to pay for a week's mandatory institutional quarantine before being allowed home for a further week of home quarantine. Twitter showed pictures of shouting passengers, a weeping pregnant woman and exhausted babies asleep on the floor, telling stories of 10-hour delays for test results and missed transit flights.  
At least we knew more or less what to expect but the tension in the five days before we travelled rose nonetheless to fever pitch. We booked our pre-flight RT-PCR tests, balancing date and time to fit in with the 72-hour window, conscious that the clinic would be closed the day before we were due to fly as it was a Sunday.  It didn't help that their reception was crowded with frantic travellers, all desperate to get negative PCR results before trying to escape the UK like us. There wasn't much social distancing in evidence. I wondered where all these people were going, and on what urgent assignations. They neither looked like business travellers nor holiday-makers and worry was writ large on every face. Predictably, our results had not arrived by Saturday afternoon and so my husband hot-footed it across to the clinic again, returning two hours later, triumphantly brandishing a pair of negative test reports along with fit-to-fly certificates. 
Jetting Away
On our early morning taxi ride to Heathrow through deserted streets of London, I couldn't help worrying about blue lights flashing in the rear-view mirror, practising explanations in case we did get stopped. Would the needs of lonely and widowed octogenarian mums be considered 'emergency' and 'legal' enough reasons to travel? Would a common-sense view be too much to expect that, by becoming medical refugees fleeing to a country where the death rates were lower and medical care less difficult to access, we may actually be doing the NHS a favour? 
Heathrow was deathly quiet too, with no jolly holiday-makers nor noisy family groups. There wasn't a single white face in the Air India queue; every enthusiastic Indophile and hippie seemingly gone to ground. The flight too was the oddest I'd ever flown, an occasional crew-member darting down the aisle in full hazmat and not serving anybody as bottled water and dry food supplies had already been placed on our seats in cardboard boxes.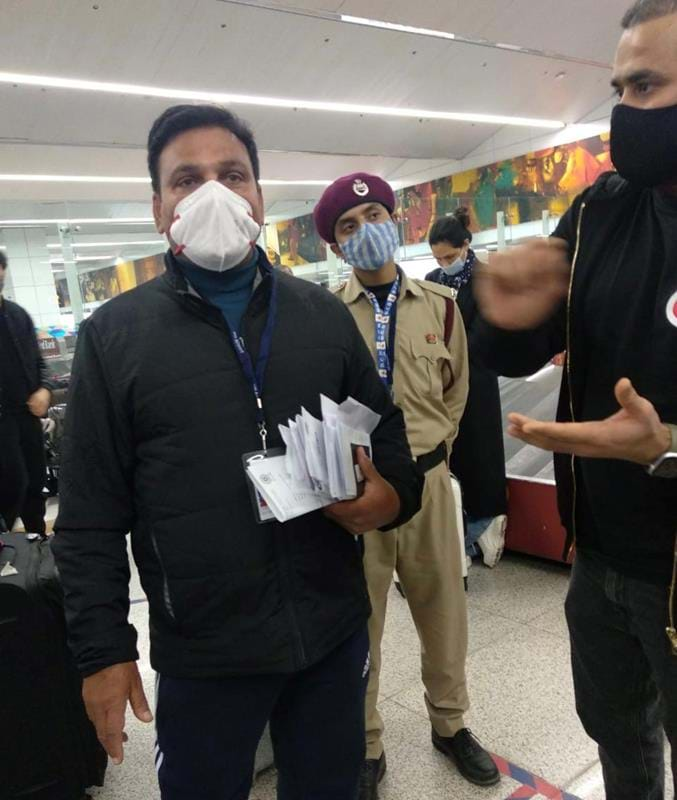 Confiscating passports
Touching down in India
When we reached Delhi, IGI airport was waiting for us in full alert mode too, with phalanxes of police and Civil Defence forces crowding an otherwise empty Arrivals lounge. Ours was the third flight to come in after the UK ban was lifted and Delhi Government's Health Department seemed to have swiftly organised itself in that time. Officious looking people wearing lanyards guided us to banks of temporary desks manned by more officious looking people who got us to fill in various forms and sign declarations, including one agreeing we would bear the cost of the new PCR test. I asked the young man wearing a name-badge and sparkling earring which department he worked for when he took our passports off us and was surprised to hear that he was a primary school teacher who had been sent on airport duty by the Education Ministry. India is never short of government employees and it seemed they had all been mobilised to keep the UK virus out. We were duly swabbed and despatched to a waiting area along with our fellow passengers. An air of shared vicissitude and camaraderie soon developed in the five hours we waited together. Rather good quality coffee appeared every so often on a trolley and, soon, large cake-boxes filled with a delicious vegetarian meal (saag-paneer with rice) and a variety of snacks and cakes appeared too, presumably covered by the fee charged for PCR testing.  
I got talking to a nurse from a Coventry hospital who had managed the journey on this, her third attempt, to finally get to Kerala to get married. We asked her whether the stories we had heard on the news of over-stretched Covid wards were true. She said it was 'hell', adding that she was not only forsaking a honeymoon and returning to work post-haste, she was applying for immigration for her fiancé, also a nurse working presently in America. My husband wanted to know whether she thought India had handled the pandemic better than Britain which elicited a huge eye-roll followed by an emphatic 'NO doubt'.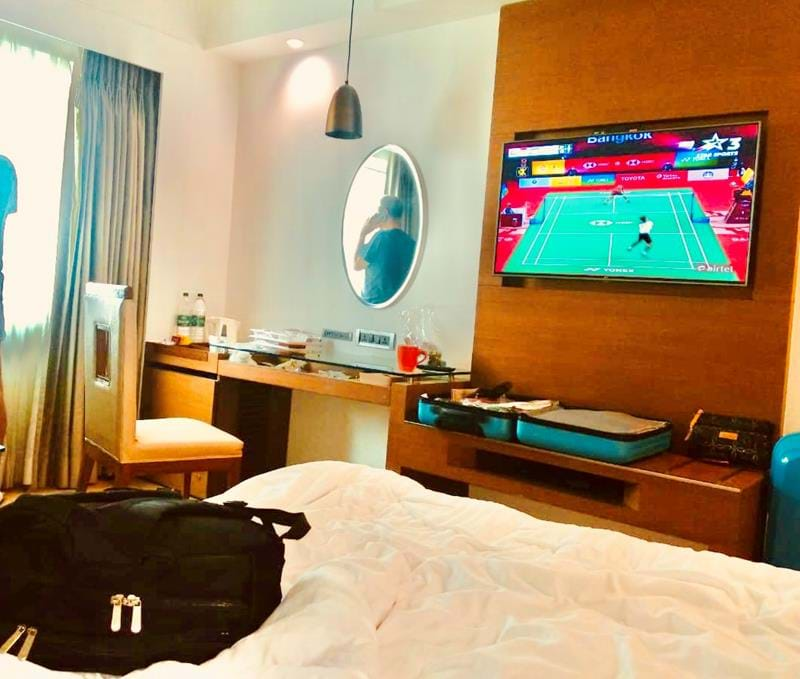 Inside the hotel room
Quarantining in Aerocity
At 3am, her name was called alongside 25 other passengers who had been given dispensation to avoid quarantining in Delhi provided they boarded their transit flights without leaving the airport. Soon after, our names were called among another batch of 25, this time all travellers destined for Delhi and a week's institutional quarantine. To their credit, the Delhi government had not made the blithe assumption that foreign returnees would be able to afford four-star hotel rates and had laid on a free government facility for those who did not want to pay. The authorities had partnered up with a handful of hotels around the airport in the newly developed 'Aerocity' and also arranged capacious, rattly DTC buses to transport passengers and their luggage to them.  
Despite the thorough arrangements, it was all predictably chaotic with Immigration, Health, Police and even Education bods jostling with each other at every stage. At one point, there was a brief insurrection mounted by passengers who realised that Health officials were planning to confiscate all passports until the week's quarantine was completed.  Finally, a compromise was reached whereby hotels were commissioned with the task of safeguarding the passports, ensuring thus that nobody could abscond. We also realised a few days later that our room pass had been disabled so we could not lock up the room and scarper either!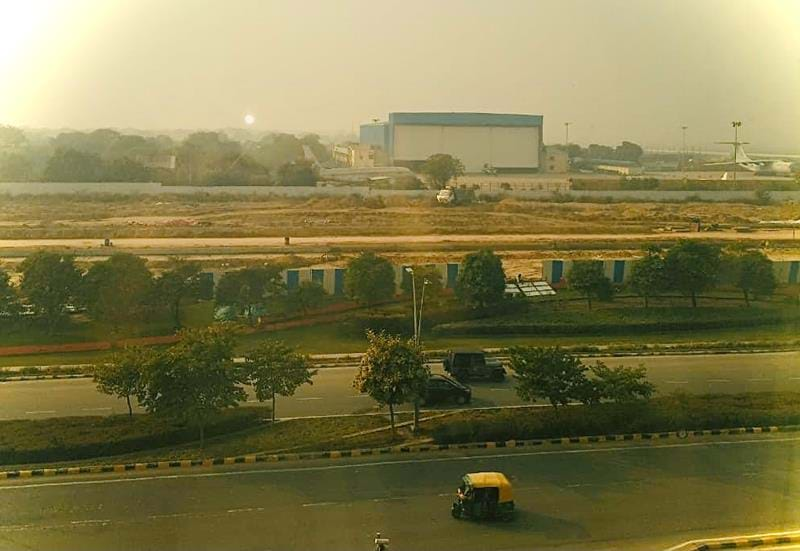 Views from the hotel window
We've now competed our sixth day of quarantine, ensconced in a Lemon Tree hotel room that overlooks the airport. It's comfortable, temperature-controlled and the smiling, gangly lad who brings disposable food trays to our door couldn't be more obliging, scribbling questions on a pad he whips out of his pocket (the Lemon Tree chain maintains a laudable inclusive policy employing many people with special needs). But days and nights meld together in this enforced solitude, acquiring a strange other-worldly air where even the ring of a phone can make the heart race strangely. From my window, I can see planes taking off into smoggy winter skies, and imagine other people making suddenly complicated journeys across this reeling world. Leisure travellers incur online hate at a time when people have been asked to stay at home and medical personnel are struggling to keep body and soul together. But I hope that, by happily subjecting ourselves to this array of checks, we are at least partially absolved of our guilt.  
We have just been visited by a team of four young people in PPE, sent by Delhi's Health Department for another round of PCR tests. They assure us the results will be sent on our phones tomorrow, after which we will be free to leave the hotel. When we do finally step out, blinking in the sunshine, it will be with the comforting knowledge that we could not have been safer and more comfortable in quarantine, and will now not be putting Delhi's citizens at risk. There will also be the unfortunate thought that the Indians have done a great deal more to protect their people than our government back in England has done.