Uzbekistan 22.03.2019 TransIndus
For the inhabitants of Central Asia (at least, those of a certain age!), hats are more than merely a means of keeping heads warm, as our team discovered on a recent recce in Uzbekistan...
You don't have to be in any Central Asian country for long to realize headgear is a big deal in the former Silk Road territories. Wander around any local market and you'll spot a spectrum of exotic hats worn at jaunty angles, usually over craggy faces gleaming with gold teeth!
The photos above were all taken on a single morning in Khiva's bazaar and all feature the classic Uzbeki 'tubeteika' –tetrahedral and slightly conical in shape, with sixteen miniature 'paprika' arches embroidered (or printed if they're cheaper ones) in white over black cotton.
If you look closely you'll notice they differ in minor ways. Each of the country's seven regions has its own particular patterns, revealing to the initiated the provenance of the wearer.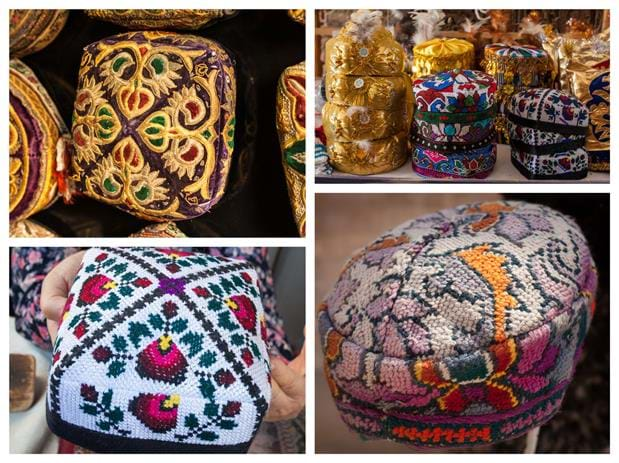 Embroidered Caps
For special occasions, such as weddings and religious holidays, smarter tubeteikas enriched with intricate and colourful embroidery are also worn. You'll see some beautiful examples in the markets of Bukhara, in particular.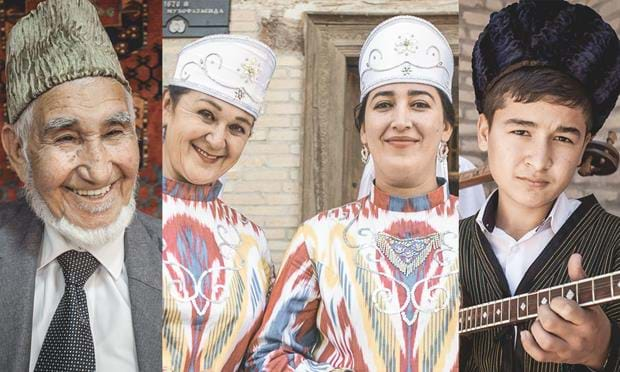 Badges of Ethnicity
Uzbeks comprise 80% of the population but the country holds several other notable minorities, all of whom have their own identifiable styles of headwear. The ladies on the left (members of a touring choir encountered in Khiva) are of mixed Uzbek-Russian ethnicity, denoted by their faux-Atlas silk dresses and splendid Christian crowns. The gentleman in the centre (the owner of a famous silk carpet weaving factory in Samarkand) is Afghan, while the boys playing the 'dutar' on the right is wearing a handsome lambswool Astrakhan hat of Tartar origin.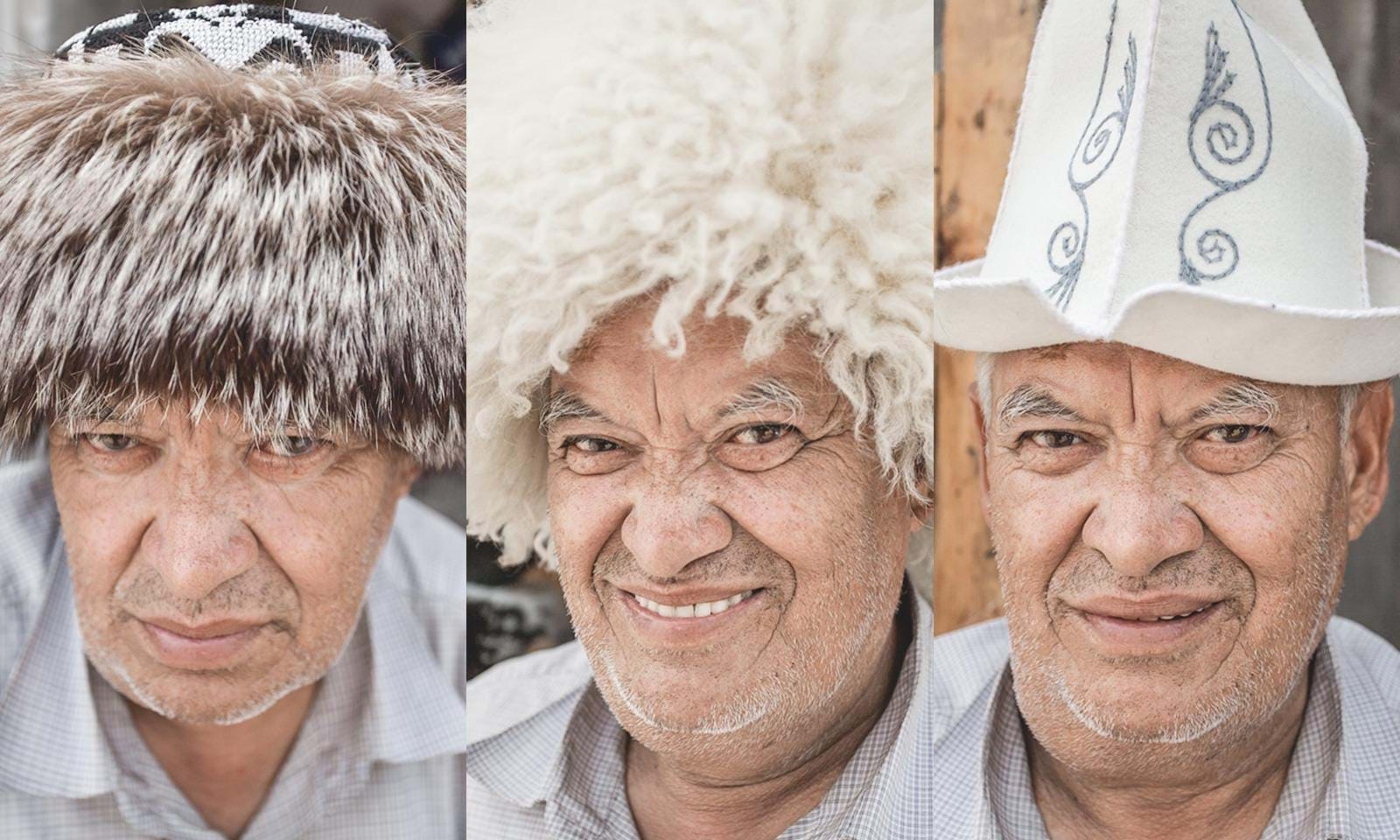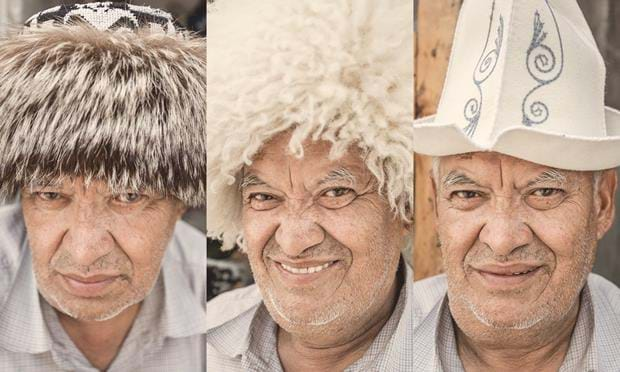 Kyrgyz, Khazak or Turkmen?
The quirkiest of all the region's hats, however, have to be the white 'ak-kalpak', which is made of stiff felt and worn by Kyrgyz people, particularly nomads. Its shape is supposed to recall that of the Kyrgyzstan's snow-capped mountains, while the patterns stitched on to it celebrate the much valued principals of 'harmony' and 'balance' – important for members of close knit communities who traditionally spend a lot of time on horseback!
Winters in this part of the world are always severe and long-lasting, which for the nomadic peoples who spend many hours outdoors each day keeping an eye on their herds and flocks requires hats of exceptional durability and warmth. The example pictured above (middle) is typical of those worn by steppe-dwelling Khazaks, while the one of the right is Turkmen, as favoured by the shepherds of the Kyzlkum Desert straddling the borders of Uzbekistan and Turkmenistan.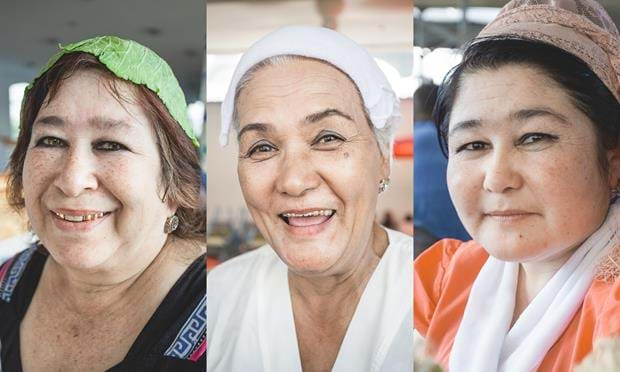 Keeping Cool
Summers in Central Asia are as sweltering as the winters are cold, and you'd think headgear of any kind would be surplus to requirements. But under the baking roofs of Tashkent's covered markets, the women traders resort to all manner of peculiar ruses to keep the heat at bay, from cabbage leaves (left), to bandages soaked in ice water (centre) and more elegant Uzbek lace (right).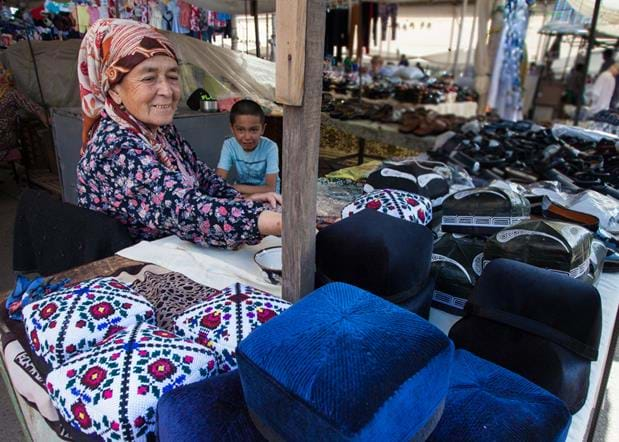 Hat Shopping
Lightweight, inexpensive and easy to pack, Uzbek tubteikas make great souvenirs and everyone buys a couple in the course of their journey.
Tashkent's sprawling Chorsu Bazaar (pictured above) has a whole section devoted to traditional Uzbek hats, and there is a row of stalls in Samarkand's Siab Bazaar where you can pick up formal, black-and-white tubeteikas as well as ones woven with fine carpet wool. For the most luxurious, silk-brocade specimens, however, Bukhara's central craft market, in the heart of the old city near the Poi Kalan complex, is the best option. Those outlandishly shaggy Turkmen 'oguz-bork' come from Khiva: the stall just up the road from the Hotel Orient (where most of our tours are based) sells the finest in the country – though be warned, they're made of tanned fleece and smell like it!
For more on any of the destinations described above, contact our specialist Central Asia consultant, Gary Meynell, at the TransIndus office in London.
Calling from the UK
020 8566 3739

Calling from the USA
Call us on our toll free number:
1-866-615-1815