China 15.12.2016 David Abram
Travel writer and photographer, David Abram, searches for vestiges of old China amid the forested slopes of a sacred Daoist peak outside Chengdu, Sichuan.
A road train seems to me an inauspicious way to approach a holy peak, but this is my first day in China, and I'm inclined to go with the flow, even if it means squeezing myself on to a vehicle seemingly designed to make its passengers look like overgrown children. 
The electric people mover trundles noiselessly along an empty, newly built road lined with giant ginko trees and trinket stalls, depositing us after just five minutes at a gabled entrance way with handsome upswept eaves and which, even at this early hour, is bustling. Gold calligraphy adorns the main arch. Beneath it, a steady stream of pilgrims is disappearing into the foggy forest beyond.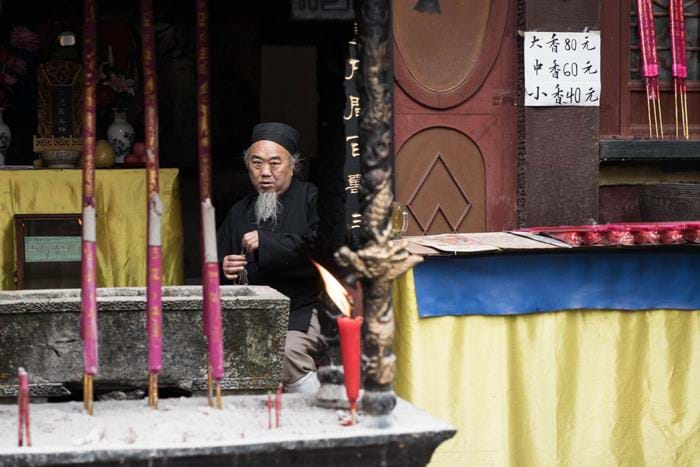 Contrary to appearances, this decidedly modern preamble marks the start of the ascent of one of China's most ancient religious trails. Above us, its summit lost in swirling mist, lies the dripping, jungle-clad massif of Qing Cheng Shan – the mountain where the sage Zhang Tianshi, the first of China's legendary 'Celestial Masters', is believed to have spread the teachings of Daoism in the late 2nd century AD.
I've come in search of a taste of the old world – the China of my imagination, of medieval ink drawings and scenes from Ming porcelain vases. At first it seems a hopeless quest. Chengdu, the city I'd flown into on a British Airways 'Dreamliner' the previous night, is an ultra-modern metropolis of towering skyscrapers and 8-lane highways. In short, as far from the quiet world of the Daoist ascetic as it's possible to imagine.
After half an hour on the trail, however, things begin to look promising. Followed by thousands of devotees every day, the main ascent of Qing Cheng Shan passes a succession of pretty pavilions and little wood-fronted buildings where stallholders sell bundles of medicinal herbs and hand-painted Daoist verses in neat black frames. Side paths branch off at regular intervals, winding through mossy boulders and thickets of bamboo to minor shrines, approached via humpbacked bridges.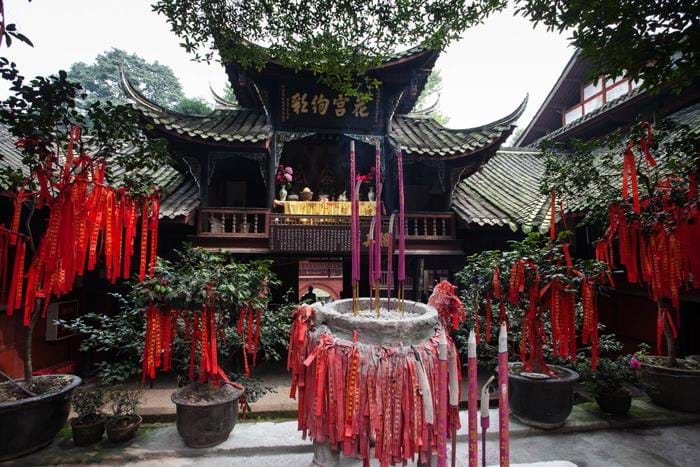 The whole experience was enchanting, even the short cable car ride from the shores of Yuecheng Lake, which carries visitors over the treetops to the gaudily polychrome Ciyun Pavillion, perched on a high natural balcony overlooking the valley.
Here, moustachioed monks wearing traditional blue tunics, spats and pillbox hats presided over elaborately decorated altars where pilgrims would leave finger-thick sticks of pink incense. As each worshipper approached, the priest would strike a giant brass prayer bowl, unleashing a wonderfully resonant ring that would fill the sanctum for a full minute.
The real highlight for me, however, lay further up the mountain. One of the most famous temples in southern China, the Shangqing Palace, dates from the time of the Jin Dynasty (265–420AD), though most of what remains today dates from the Ming era of the 18th century. Regardless of when it was built, the complex, with its curved roofs, gilded inscriptions and red ribbons tied in bunches to the gnarled old trees growing in its walled courtyards, is wonderfully redolent of precolonial China.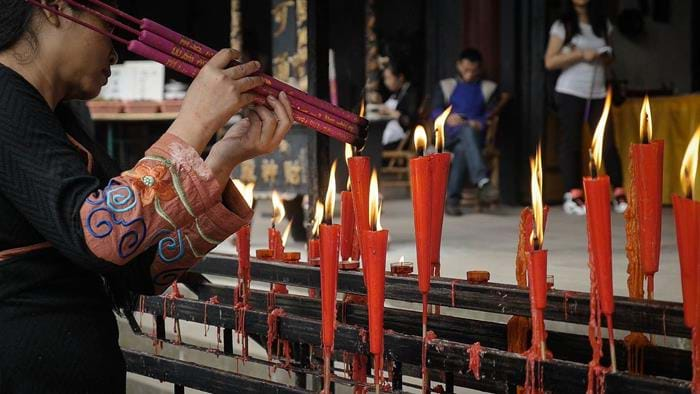 Clouds of juniper smoke drifted around the shrines from the giant bronze urns in front of them, as pilgrims bowed and prostrated themselves before the Daoist deities, leaving offerings of money and incense. In the outer precinct of the temple, meanwhile, visitors were tucking into bowls of steaming Sichuanese noodles, fortifying themselves for the descent.
It took less than an hour to return to the main entrance, and by the time I'd got there I was already planning my return trip. Earlier, I'd found a map delineating the tangle of trails that scale the less frequented, north side of the sacred mountain, where still more shrines lay waiting to be discovered. But I'd need to shake off my jet lag and find a guide first. It would take a full day to explore this forgotten flank of Qing Cheng Shan, a realm blissfully beyond the range of the electric road trains.