Featured
Group Tour

13 days from £1995 per person
Places Visited:
Bishkek, Cholpon Ata, Karakol, Bokonbayevo, Kochkor, Naryn, Song Köl, Bishkek
Departure 18th June 2020
Experience the sublime landscapes and fascinating nomadic culture of Kyrgyzstan this summer on a special TransIndus group tour, devised and led by Central Asia expert Joan Pollock. The route covers the most rugged, mountainous stretch of the old Silk Road between China and Uzbekistan – a region of sun-lit snow peaks, vast blue-green glacial lakes and pastures dotted with yurt encampments.
Joan has timed the trip to coincide with the annual Shyrdak Festival of Felt Art, where you'll be able to watch the country's top artisans craft, and you'll have the opportunity to buy, the finest quality Kyrgyz rugs and carpets. In addition to seeing some of the most spellbinding vistas in Central Asia, you'll also get to experience life in a genuine nomads' camp, sample traditional Kyrgyz and Uyghur cuisine, and learn about the region's Russian colonial legacy through its art and architecture.
Accommodation throughout will be in comfortable, well run hotels and authentic yurt camps set up in beautiful locations. The weather in late-June and early July is optimal, with warm, mostly dry and sunny weather, and night-time temperatures comparable with those of northern Europe.
About Joan Pollock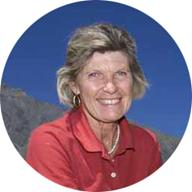 Joan started her career as a nurse, but began working as a guide on trips to Asia in the 1970s, accompanying some of the first organized tours into China and the Soviet Union. Over three decades of travel in many countries since, she has formed longstanding attachments to certain communities, notably the inhabitants of the remote Himalayan valley of Spiti, where she founded a charity focussing on the health and education of children. In 2016, 'The Spiti Projects' (www.spiti.org) was awarded a United Nations grant to construct a solar-powered community centre. A fellow of the Royal Geographic Society, Joan is also a keen photographer. A selection of her work appears at www.joanpollock.co.uk.
Holiday Types
Cultural Tours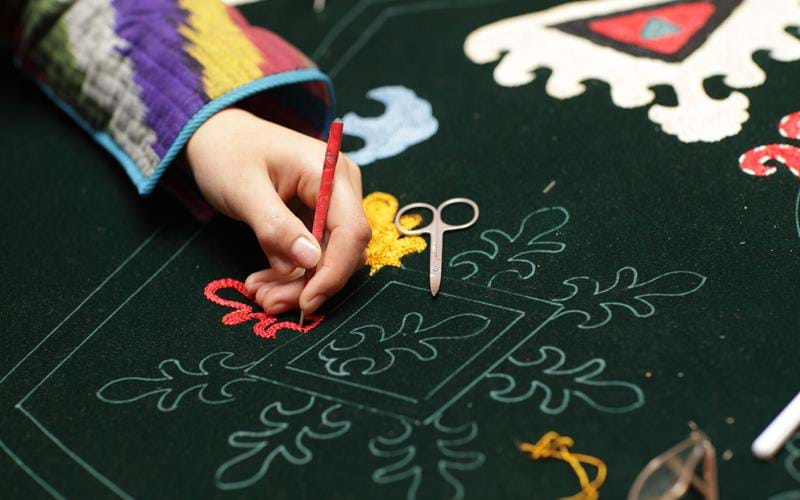 What's Trending
Kyrgyzstan - Art of the Nomads
Experience the sublime landscapes and fascinating nomadic culture of Kyrgyzstan on a special TransIndus group tour starting 18th June 2020. Devised and tour led by Central Asia expert Joan Pollock to coincide with one of the country's great cultural events: the annual Shyrdak Festival of Felt Art.
Suggested itinerary
Day 1
Bishkek
On arrival, the group will be met by our local representative and transferred to the hotel, where we'll spend the remainder of the morning recovering from the journey. After lunch, visit the city's national square, Ala-Too – a striking example of Soviet-era, Neo-Brutalist architecture. If we're lucky, soldiers will be slow goose-stepping around the state flagpole as part of the Changing of the Guard ceremony.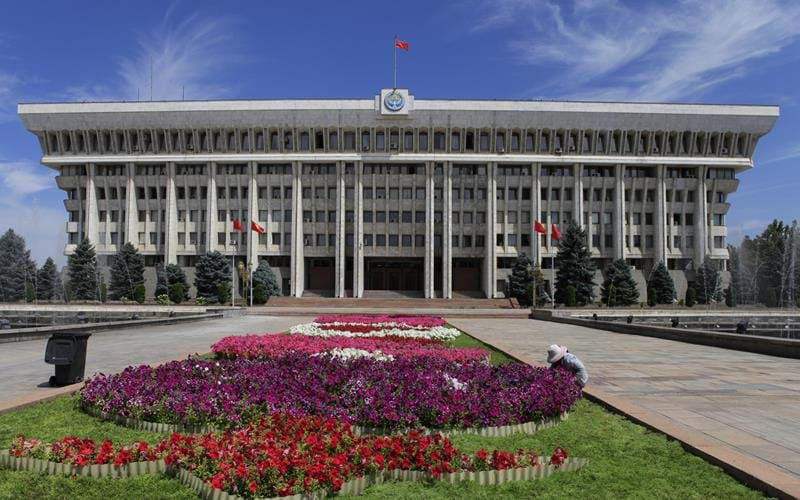 Day 2
Bishkek
Today we'll continue our sightseeing in Bishkek with a visit to the Museum of Fine Arts, which holds a splendid collection of felt rugs and paintings. Later we'll continue to an embroidery workshop and bustling Osh Bazaar – the city's main source of fresh produce, as well as old-style 'ak kalpak' hats and painted shepherds' trunks.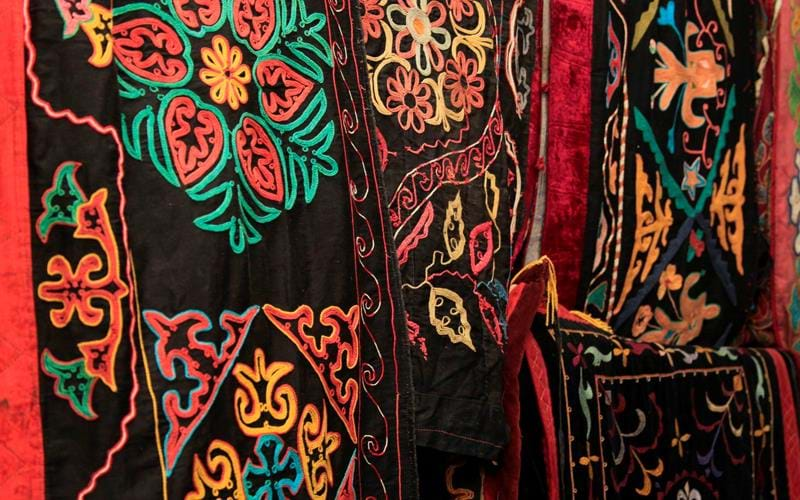 Day 3
Bishkek – Issyk-Köl
A busy day today as we leave the capital for Cholpon Ata, on the northern shores of Issyk Köl Lake. En route, the group will pause at the iconic Burana Tower, sole surviving vestige of an ancient Silk Road city. Dotted around it is a superb a collection of 1,500-year-old 'balbals' (anthropomorphic gravestones carved by Turkic nomads) and much older petroglyphs. We'll arrive at Cholpon Ata in time for a quick tour of the excellent Nomad Museum before supper.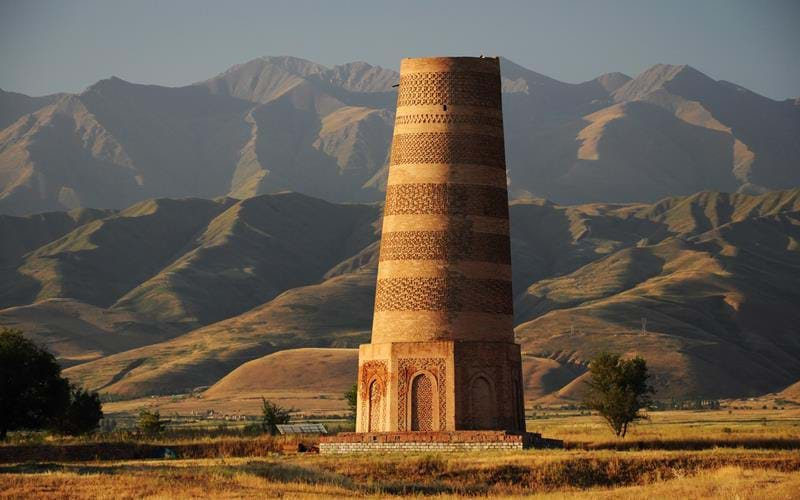 Day 4
Issyk-Köl - Karakol
The morning's focal point will be a visit to Cholpon Ata's famous petroglyph garden, an impressive archaeological site scattered over a 42-hectare boulder field above the lake. Among the rocks are an incredible assemblage of prehistoric stone circles, tombs and grave markers, as well as the petroglyphs themselves. This unique site spans an estimated 2,500 years of human ritual art. Afterwards we'll continue on to Karakol.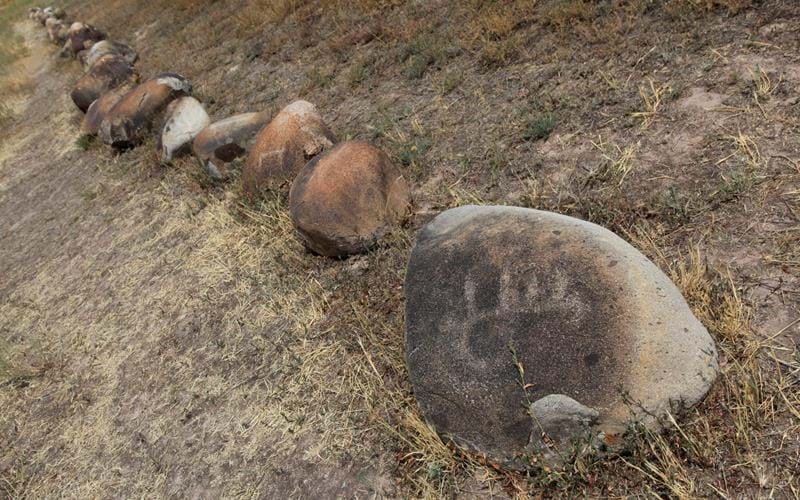 Day 5
Karakol
Dating from the late-19th century, Karakol's architecture vividly reflects its Russian roots and over the course of the day we'll see some striking vestiges of Tsarist times, foremost among them the town's onion-domed Holy Trinity Cathedral. Another highlight is a well-curated museum dedicated to the explorer, Nikolay Przevalsky. We'll also drive out to the Jety Oguz valley to see the 'Seven Bulls', a row of spectacular blood-red crags framed by a backdrop of snow-streaked mountains. In the evening, the group will attend a cooking demonstration and supper with a local Uyghur (Chinese-Muslim) family.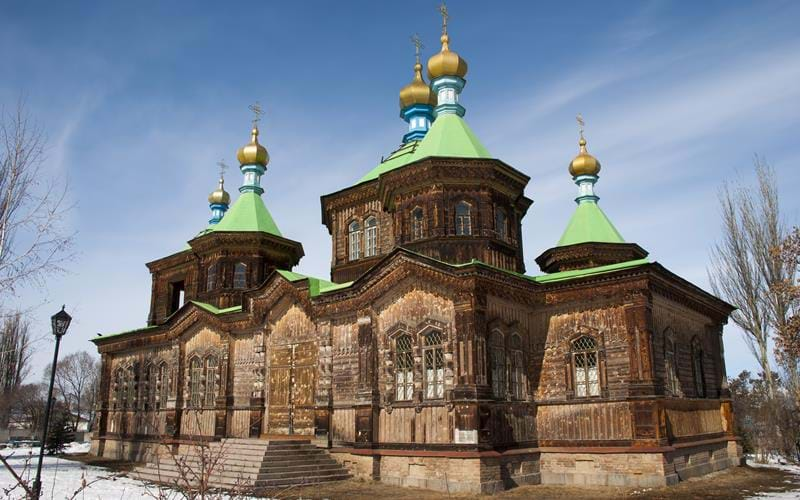 Day 6
Karakol – Bokonbaevo
An activity-rich day begins with a drive along the southern shore of Issyk Köl lake to the impressive Barkskoon Valley, where we'll pause for a short, 15-min walk to a waterfall before continuing on to Bokonbaevo to watch a display of eagle hunting. Afterwards, the group will visit a local felt maker and, in the evening, try our hand at making and baking Kyrgyz flatbread.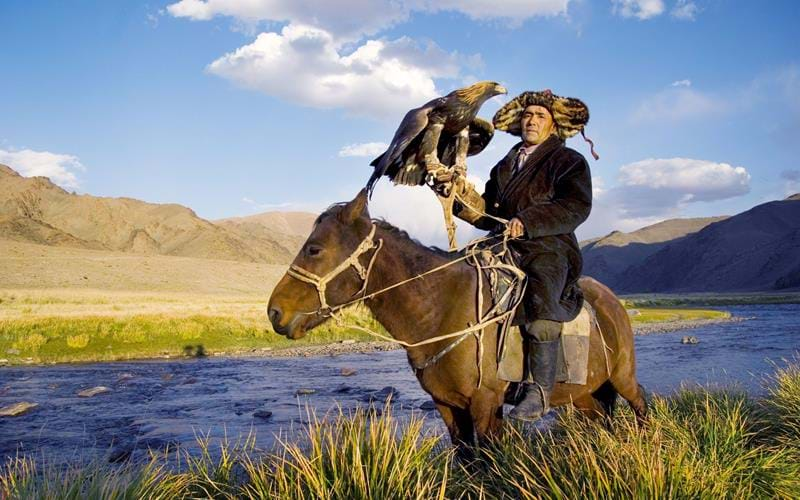 Day 7
Bokonbaevo – Kochkor
This morning we head towards Kyrgyzstan's handicrafts hub, Kochkor. On the way, the bus will stop at Kyzyl-Suu village to visit a yurt workshop where we'll be shown how nomads' tents are made and assembled, then continue to a felt making centre to watch traditional Kyrgyz rugs and 'elechek' hats being created in time-honoured fashion. Accommodation will be in a local homestay.
Day 8
Kochkor – Naryn
Today we'll drive to Naryn, a market town on the former Silk Road crammed on to the floor of a sheer-sided valley. In the afternoon you'll be at leisure to explore the town at your own pace, and perhaps visit the local museum. Later the group will be treated to a traditional Kyrgyz supper of 'besh-barmak' (meat broth) and 'boorsok' (a type of fried dough).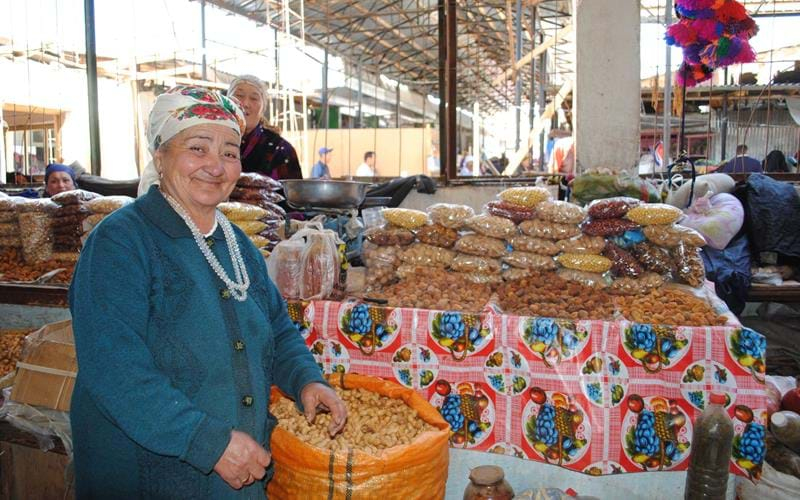 Day 9
Naryn
A highlight of the trip awaits today as we visit the annual Shyrdak Festival in the village of At-Bashy. 'Shyrdaks' are the traditional felt rugs made by Kyrgyz nomads from sheep's wool. You'll see literally hundreds of them for sale, with a broad range of contrasting colours, patterns and styles. Some of the finest makers in Central Asia will be demonstrating their art, making this the best souvenir shopping opportunity of the tour!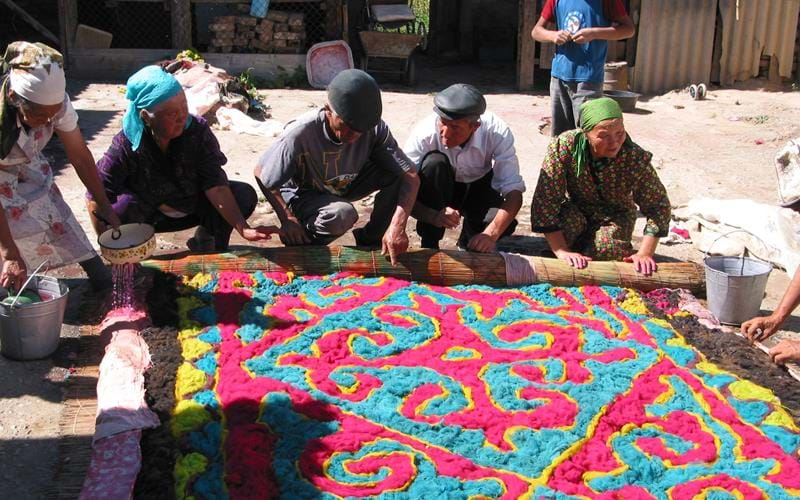 Day 10
Naryn - Son-Köl
A memorable drive after breakfast takes us over the picturesque Moldo-Ashuu pass to Song Köl, a high-altitude lake enfolded by expanses of grassland and snow peaks. We'll be spending the night in one of the seasonal camps opened on its shores during the summer months by local nomad families, which will enable us to experience the unique atmosphere of the lake at different times of day.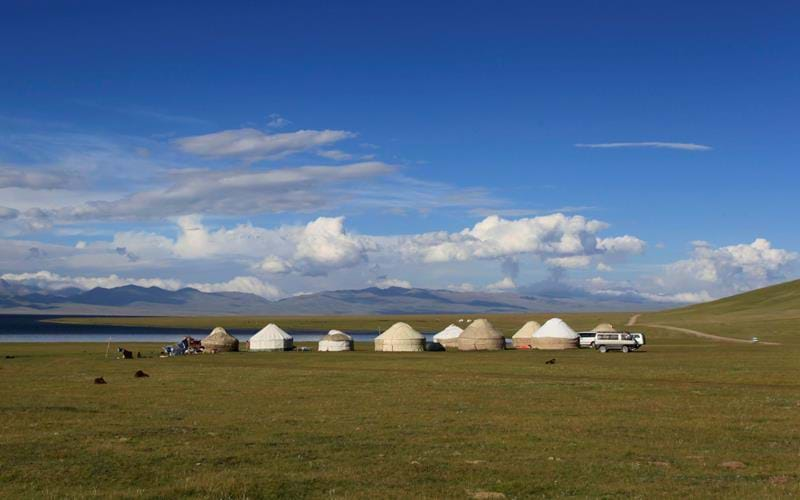 Day 11
Song Köl
The group will have a full day today to savour Song Köl's wonderful views and sample life in a Kyrgyz yurt encampment. You'll have the opportunity to share mealtimes with nomad families, help out with the herding and take a short ride on horseback. At some point, guests are also sure to be offered the famous local delicacy, fermented mare's milk ('kumis').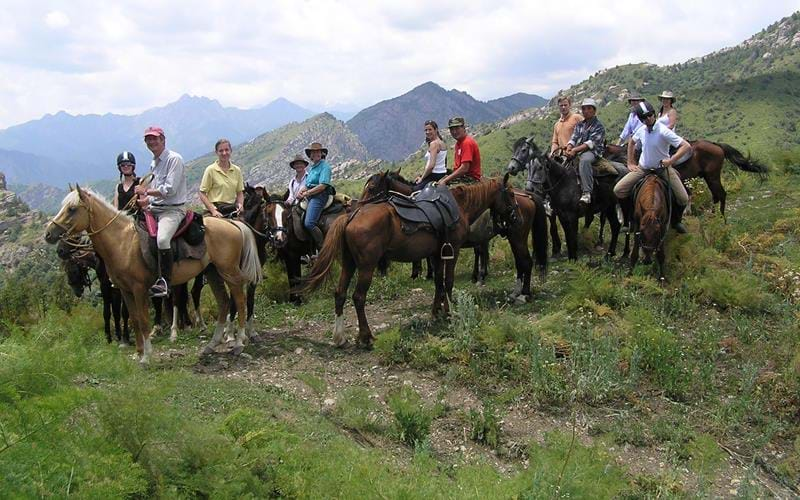 Day 12
Son-Köl - Bishkek
An unforgettable road trip through a landscape of epic proportions takes up most of the day, as we drive north from sleepy Song Köl to Bishkek over the great Ala Too mountain range. Your journey will culminate in a lively performance of Kyrgyz folk music and dance in the evening.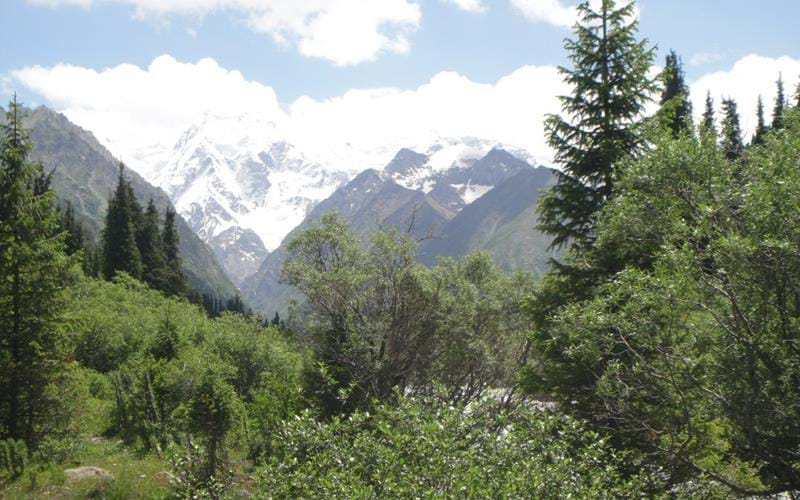 Day 13
Bishkek
Shortly after breakfast, the group will transfer to the airport for our return flight to the UK, where we'll arrive shortly before 5pm GMT.
Group Tour

13 days from £1995 per person
What's included
✓   12 nights' accommodation
✓   Internal travel by shared vehicle
✓   English-speaking local guides throughout accompanied by Joan Pollock
✓   All guided sightseeing noted on the itinerary
✓  Breakfast in Bishkek and half board elsewhere
Optional Single Supplement is £299 per person
For more details and to book:
Contact our Kyrgyzstan specialist, Gary on: 020 8566 3739 or email [email protected]
Places and Experiences in this tour
What Our Clients Say About Us
Talk to the Experts
At TransIndus we are committed to quality and determined to ensure every one of our clients enjoys the best holiday possible. Having lived or worked, and travelled extensively in their specialist countries, our consultants are experts whose advice can be depended on. To make an enquiry, call us on 0208 566 3739
Or call us on 020 8566 3739
TransIndus Brochures 2020
Join our mailing list