Group Tour

10 days from £2145 per person
Places Visited:
Kathmandu, Thimphu, Gangtey, Punakha, Paro, Kathmandu
Discover the magic and mystery of Bhutan on this interesting tour covering the sights of Paro and Thimphu, and taking in the astonishing fortified monastic complexes at Punakha. Also included is the beautiful valley of Gangtey, famous for its population of migrant black-necked cranes, and an excellent base for walks. The tour is bookended with short stays in the capital city of Nepal, Kathmandu, where you will have the opportunity to do some sightseeing and souvenir shopping between flights.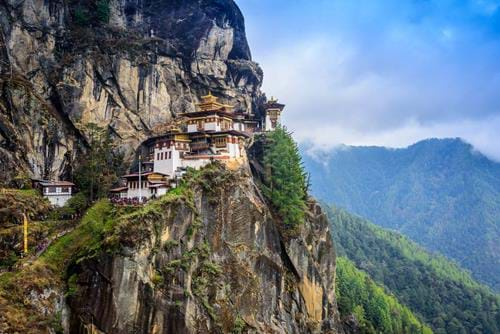 Holiday Types
Cultural Tours
Travel Arrangements
Group Size

4 -16 people

Internal Travel

Arrival & departure transfers. International flight between Nepal & Bhutan

Accompanying Guide

English-speaking guides. Accompanying tour escort when minimum group size achieved

Accommodation

9 nights

Meal Plan

Bed and breakfast in Kathmandu. Full board in Bhutan
Itinerary for Essential Bhutan
Day 1
Kathmandu
Greeted on arrival in Kathmandu transfer to the Malla hotel or similar for an overnight stay. The afternoon is at leisure to explore the bustling Thamel quarter on your own.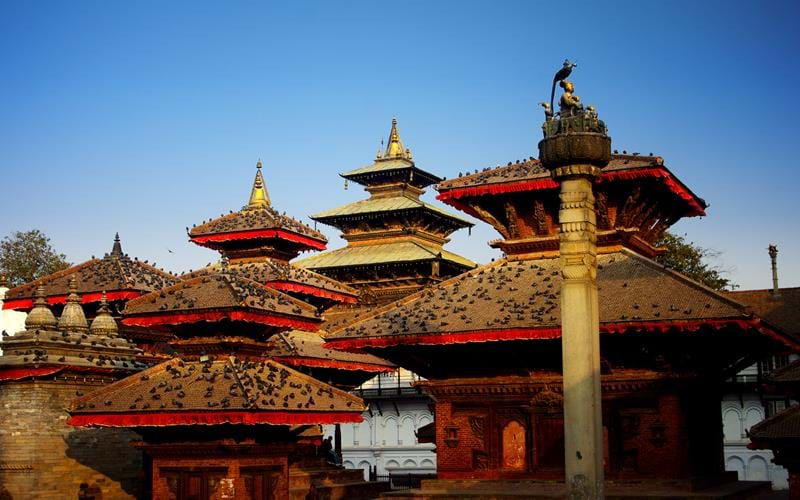 A sprawling modern city of nearly a million inhabitants, the Nepali capital can feel overwhelmingly crowded and chaotic on first impressions. But head for its ancient core and things improve dramatically.
Durbar Square forms the epicentre of the old quarter. More than fifty temples, 106 monastery courtyards (bahals) and countless shrines line its narrow, cobbled backstreets and stone-paved piazzas. Settle on to one of the terraced platforms of the Manju Devul tower to watch exotic bustle of marigold sellers, saffron-clad sadhus, stray cows and pigeons. In the evening, the group will convene for a seven-course Nepali banquet at the famous Bhojan Griha restaurant in Dillibazaar.
Accommodation Options
Day 2
Kathmandu, Thimphu
Take a short flight on Druk Air, Bhutan's national carrier, landing in Paro. Greeted on arrival and driven to Thimphu, the capital city, for your two nights' stay at Kisa Hotel or similar.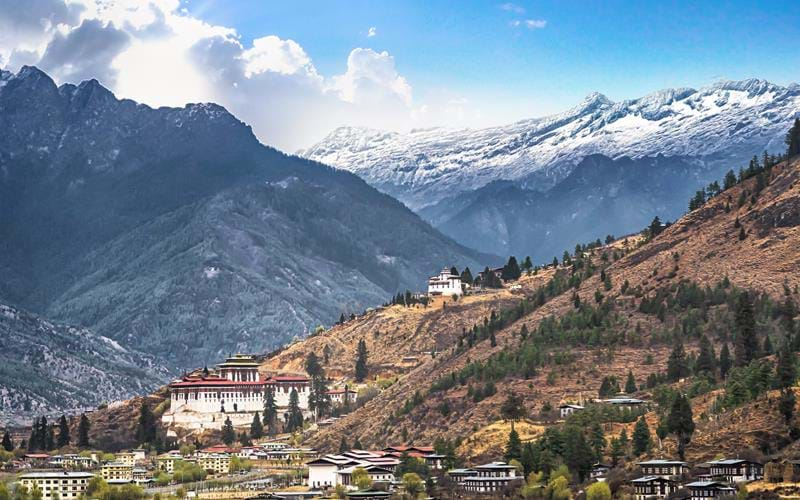 Approached by spectacular flight path, the town's airport at Paro is the principal arrival point for foreign travellers. A couple of hours' drive away, Thimpu became the capital of Bhutan in 1961, since when it's swollen to a town of 80,000 people – the perfect place to get to grips with life in modern Bhutan.
Accommodation Options
Day 3
Thimphu
A full day is spent visiting the sights of Thimphu. This includes an impressive dzong, a fortified monastic building found in nearly all of Bhutan's main settlements as well as the King's Memorial, the Painting School where students undergo a 6-year training in Bhutan's 13 traditional arts and crafts, Simply Bhutan Museum, Textile Museum, Buddha Point and a local craft bazaar.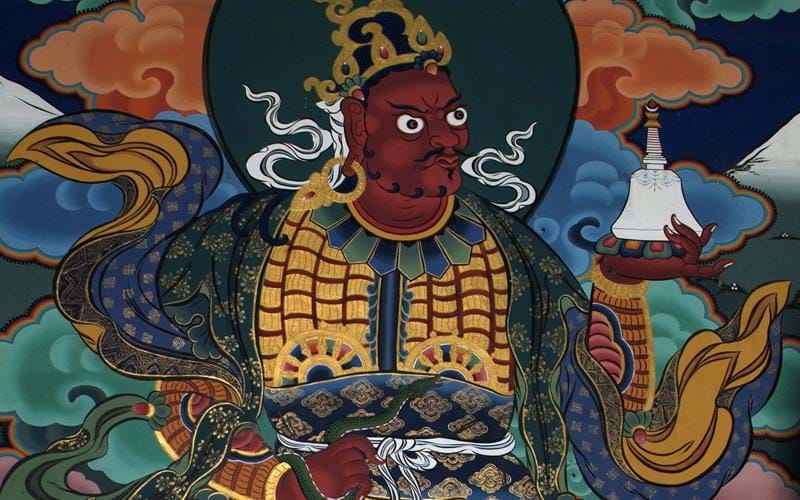 During the third day of your trip you'll tour the Bhutanese capital's impressive dzongs (fortress-monasteries), the King's Memorial chorten, Buddhist painting school and national folk museum, made of rammed earth to resemble a traditional farmstead. In the city's market, your guide will point out local delicacies such as jellied cow skin and fried fern, and don't miss the chance to touch a taking, Bhutan's national animal, which looks like a cross between a cow and a goat and survives in the nearby Mothitang Reserve. We'll also pause at the Textile Museum, the city's craft bazaar and Buddha point.
Day 4
Thimphu, Gangtey
Begin the journey eastward with a morning's drive up to the Dochu-la pass (3,088 metres). Continue on to Gangtey and the valley of Phobjika. Two nights are spent at the simple Dewachen Resort or similar.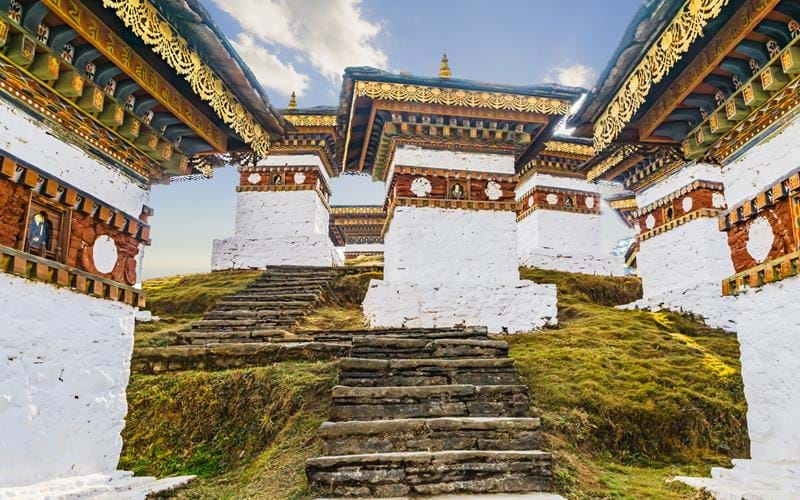 The 17th century dzong at Gangtey is this awesome valley's prime religious monument. The major event in its festival calendar is tsechu, which usually falls in October, when monks perform traditional Cham dances in the monastery courtyard. Preserved in one of Gangtey's inner shrines is one of the country's more gruesome relics: the hands of a British army officer killed in a battle with Bhutanese forces in 1864.
Accommodation Options
Day 5
Gangtey
The valley is considered sacred to the Bhutanese as it is the winter residence of a small but significant black necked crane population that migrate over the Himalaya from Tibet. Visit the black necked crane centre to learn more about these birds and the significant place they hold in local folk lore.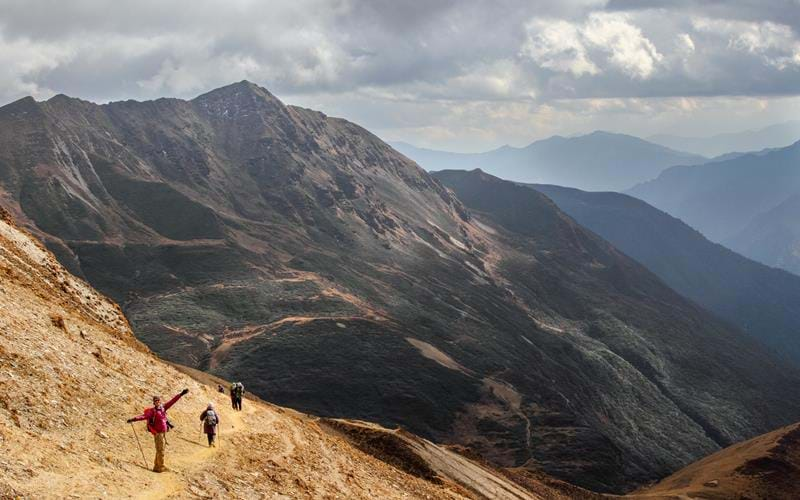 Surrounded by snow peaks and old-growth forest, the beautiful Phobjikha Valley is home to a unique conservation initiative, where migratory black-neck cranes, which pass through here in the winter months between October and March, are protected by local wardens and volunteers. The centre provides information about the birds and their migration, and if your tour coincides with their stay in the village you'll be able to observe them grazing on the valley floor through telescopes.
Day 6
Gangtey, Punakha
Drive to Punakha in the morning for one night at the Damchen Resort or similar. Visit the beautiful Punakha Dzong this afternoon, considered to be one of the finest examples of dzong architecture in Bhutan. Later take a short excursion to Chimi Lhakhang also known as 'Fertility Temple'.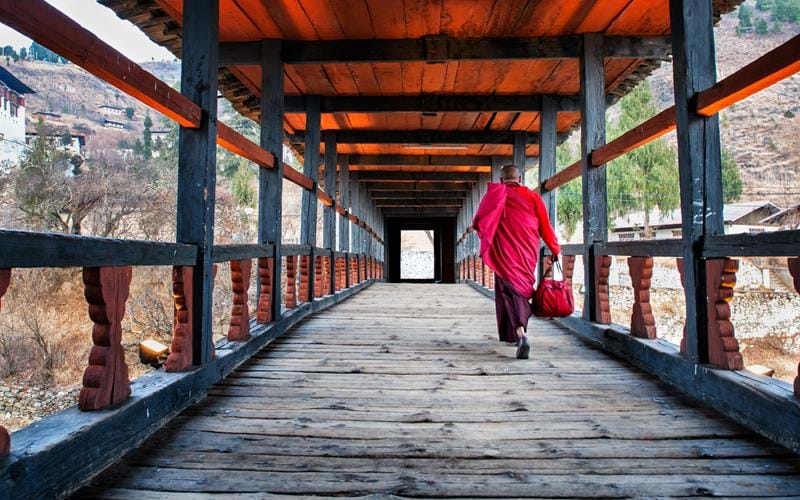 Around 25km east of Thimphu, Punakha is the home of one of the country's most beautiful monasteries, built around 1638 at the confluence of two rivers. The complex is a showcase of Bhutanese craftsmanship, with a particularly impressive assembly hall featuring fine clay statues and intricate murals. The dzong also hosts a well-known festival, during which an enormous thondrol ‒ an extraordinary appliquéd sacred banner ‒ is unfurled, conferring merit on all who see it.
Accommodation Options
Day 7
Punakha, Paro
Drive in the morning to Paro (4-5 hours). En route visit Simtokha Dzong, the oldest fortress of the country, which now houses the School for Buddhist studies. Stay at Gangtey Palace hotel or similar for two nights. Afternoon is at leisure. Optional activity: Experience a local hot stone bath.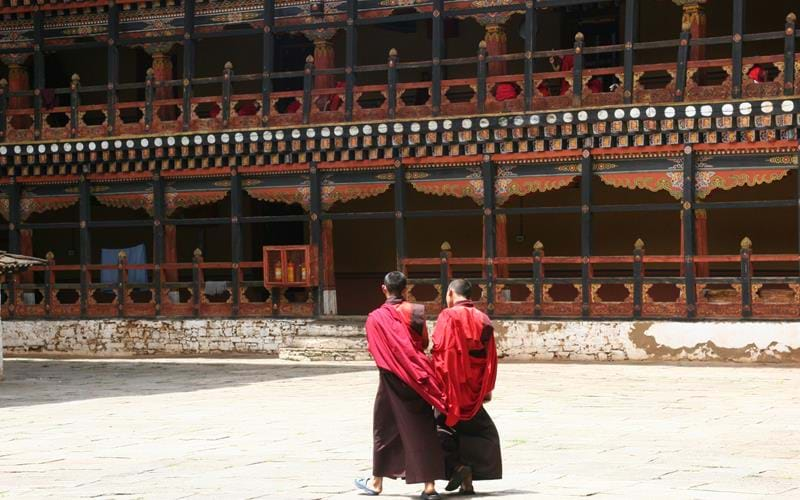 Shops, restaurants and offices in richly carved traditional buildings line the main street of Paro, where two of eastern Bhutan's main rivers meet. The town is best known locally for the splendid Rinpung Dzong, overlooking the river, whose most valuable possession is a giant embroidered tapestry, or thondrol (thangka), depicting the dzong's founding father, Guru Rincpoche. The treasure is unrolled only once a year on the morning of the annual tsechu (festival). On the hill behind rests the National Museum in a beautifully restored watchtower, the Ta Dzong, built in the 1650s to guard Paro's dzong.
The afternoon will be at leisure. Group members will be invited to experience a traditional Bhutanese 'stone bath' (optional – additional costs may apply), in which river water mixed with local Artemisia leaves is heated by river stones roasted in a wood fire – a delightful pick-me-up.
Accommodation Options
Day 8
Paro
A full day's sightseeing including visits to the Ta Dzong, which houses the National Museum, the Rinpung Dzong and an arduous walk up to the famous Taktsang ('Tiger's Nest') monastery, which rests precariously on a rocky hillside overlooking a wide forested valley.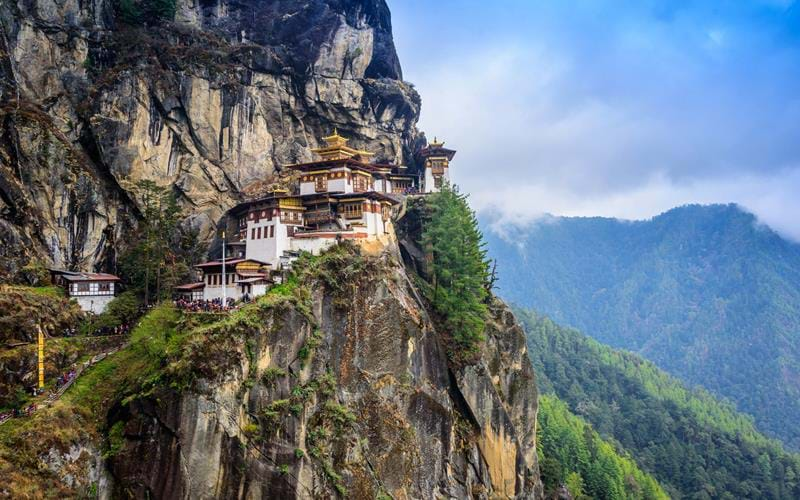 Bhutan's most photographed monument, the Taktsang Monastery, commonly known as the 'Tiger's Nest', is wedged into a lofty cliff nearly a vertical kilometre above a forested valley. Rock-cut steps and rickety bridges connect its four wings, whose golden pagoda roofs, fluttering prayer flags and distempered walls are dwarfed by the vista of forested hills and snow-capped mountains unfolding on all sides – a spectacle worth the journey to Bhutan alone!
Day 9
Paro, Kathmandu
Fly back to Kathmandu for an overnight stay at the Malla hotel or similar.
Day 10
Kathmandu
Transfer to the airport.
Group Tour

10 days from £2145 per person
What's included

✓   9 nights accommodation
✓   Arrival & departure transfers. International flight between Nepal & Bhutan
✓   English-speaking guides. Accompanying tour escort when minimum group size achieved
✓   Bed and breakfast in Kathmandu. Full board in Bhutan
✓   Entrance fees to sites and monuments listed in tour itinerary
✓   Visa fees for Bhutan
Holiday Extensions for this tour

Essential Bhutan - Enchanting Nepal
5 days, 4 nights from £895 per person
Single supplement £ 325 per person
view itinerary
Day 9
Paro, Kathmandu
Fly back to Kathmandu. On arrival, check in at the Malla hotel for two nights. Later visit the vibrant Durbar Square.
Accommodation
Day 10
Kathmandu
A full day's sightseeing includes the Buddhist Stupa of Swayambhunath and the city of Bhaktapur. Optional excursion: Everest flight: For those keen on viewing Mount Everest you have the option of taking a 45 minute round trip flight in a 14-seater Beechcraft. It can be booked locally since it is dependent on weather conditions.
Day 11
Kathmandu, Pokhara
Take a short flight to Pokhara. Check in at the Temple Tree Resort for two nights. Afternoon at leisure to take a stroll around the lake for brilliant views of the Annapurna mountain range.
Accommodation
Day 12
Pokhara
The day is at leisure. For those keen to do a bit of walking and trekking, there are several short trekking routes in this area which offer stunning views of the Himalaya.
Day 13
Pokhara, Kathmandu
Take an early afternoon flight to Kathmandu for an overnight stay at the Malla hotel.
Accommodation
Day 14
Kathmandu
Transfer to the airport for your onward flight.
2022/2023 tour prices for Essential Bhutan
| | | | | |
| --- | --- | --- | --- | --- |
| DEPARTURE DATE | PRICE PER PERSON | SINGLE ROOM supplement | AVAILABILITY | |
| Fri 16 Sep 2022 | £2225 | £395 | Good | |
| Fri 07 Oct 2022 | £2225 | £395 | Good | |
| Fri 10 Mar 2023 | £2295 | £395 | Good | |
| Fri 07 Apr 2023 | £2295 | £395 | Good | |
Make an enquiry
Places and Experiences in this tour
Plan your 2022 Adventures
With the world now largely open again, now is the time to begin planning your 2022 adventures in Asia. Our Travel Specialists are ready to take your call and discuss the adventure you have spent the last 2-years dreaming of.
Or call us on 0208 566 3739
TransIndus Brochures 2022
Join our mailing list