Tailor-made Tour

16 days from £8295 per person
Places Visited:
Kathmandu, Paro, Thimphu, Trongsa, Bumthang, Gangtey
The Himalayan kingdoms of Bhutan and Nepal share much in common – not least their astounding mountain landscapes and Tibetan-Buddhist heritage. They are also, however, distinctly different in atmosphere and on this exciting journey through their standout sights, you'll discover exactly how. In the course of a varied fortnight, the trip takes in ancient monasteries framed by dramatic backdrops of snow-capped mountains and pristine forests, some of the most beautiful and best preserved medieval palaces and pagodas in Asia; and pilgrimage places that are as busy and atmospheric today as they were five or more centuries ago.
Holiday Types
Cultural Holidays Wildlife Holidays Honeymoons Adventure Holidays
Suggested itinerary
Day 1
UK
Fly overnight from Heathrow to Kathmandu via the Middle East.
Day 2
Kathmandu
On arrival in Kathmandu, you'll be met by your TransIndus guide and driver and accompanied to your hotel. Spend the remainder of the day recovering from your journey, venturing out to Durbar Square in the evening.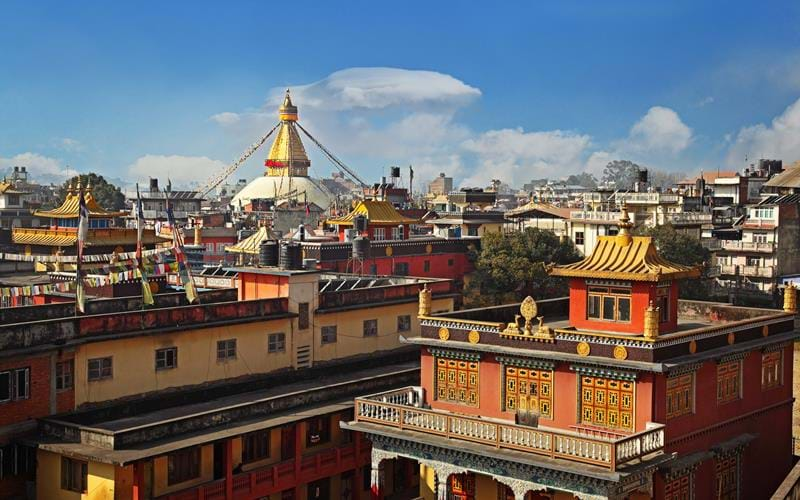 A sprawling modern city of nearly a million inhabitants, the Nepali capital can feel overwhelmingly crowded and chaotic on first impressions. But head for its ancient core, where the Shah and Malla kings erected their resplendently gilded stupas, palaces and carved wood pagodas, and things improve dramatically. Durbar Square forms the epicentre of this superbly atmospheric quarter. More than fifty temples, 106 monastery courtyards (bahals) and countless shrines line its narrow, cobbled backstreets. Settle on to one of the terraced platforms of the Manju Devul tower to watch the exotic bustle of marigold sellers, saffron-clad sadhus, stray cows and pigeons.
Accommodation Options
Day 3
Kathmandu
A full day's sightseeing today around the capital's historic monuments, including Swayambhynath, Boudhanath and Pashupatinath.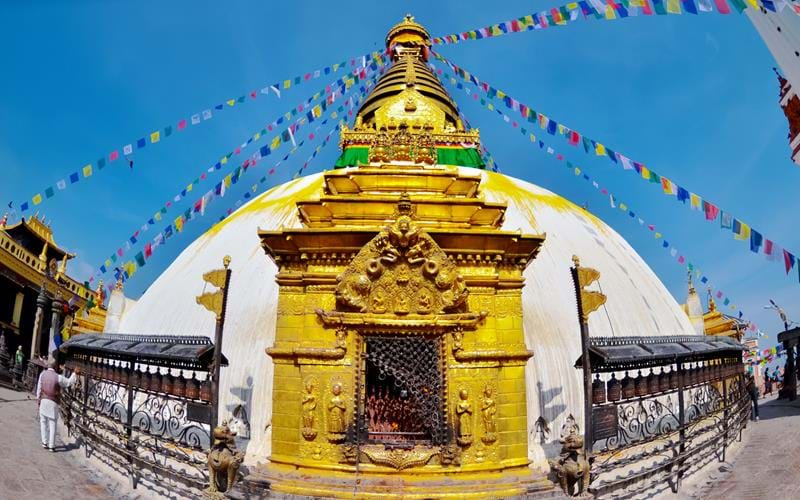 After breakfast, head to the hilltop temple of Swayambhunath (colloquially known as 'the Monkey Temple' for its resident population of macaques) – a magnificent stupa, whose gilded tower and pair of huge, all-seeing eyes have become emblematic of Kathmandu. No less awe-inspiring is Boudhanath, the largest stupa in the country, also embellished with piercing eyes and strings of prayer flags dangling from a spectacularly gilded tower. Not far from Boudhanath on the banks of the Bagmati River to the east of Kathmandu stands Pashupatinath, Nepal's holiest Shiva temple. Worshippers converge here in large numbers in the evenings, when the ghats are illuminated by hundreds of flickering lamps.
Accommodation Options
Day 4
Kathmandu
Visit Bhaktapur and Patan today on a daytrip from Kathmandu.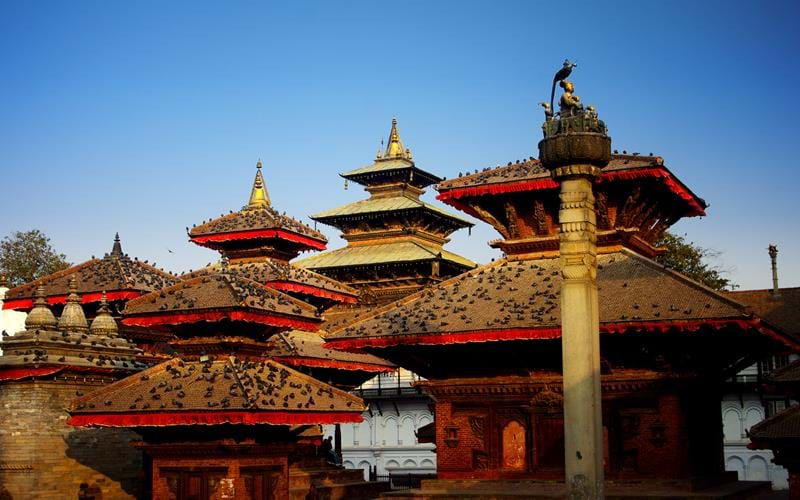 Patan (aka 'Lalitpur' or 'Manigal') is the Kathmandu Valley's second largest town, and boasts an even greater concentration of religious monuments than the capital. Most of them are grouped in the streets around Durbar Square – one of the world's most beautiful piazzas – where the Royal Palace of the Malla kings houses a wonderful museum dedicated to Nepal's sacred arts.
Bhaktapur, further down the valley, boasts another impressive concentration of medieval palaces, courtyard monasteries (bahals) and monumental squares – all in high Newari style. Despite being Nepal's third city, it's a much more easygoing destination thanks to the absence of traffic from its historic core.
Accommodation Options
Day 5
Thimphu
Take a short flight from Kathmandu to Paro and drive to Thimphu for a two-night stay.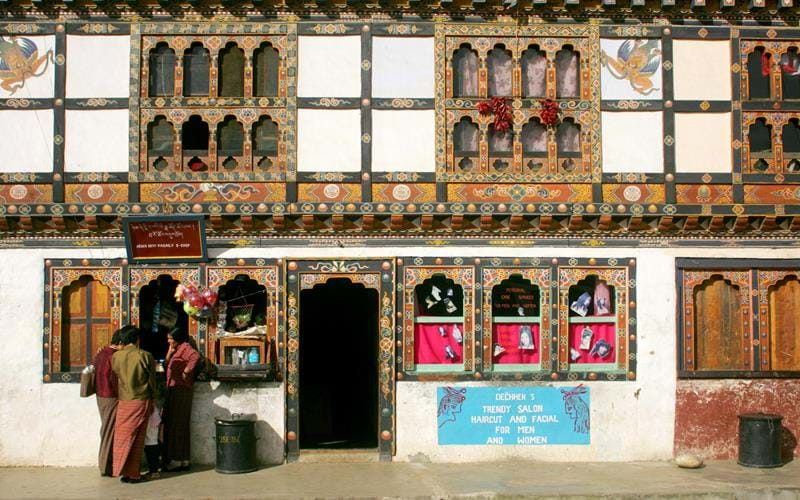 Approached by spectacular flight path, the town's airport at Paro is the principal arrival point for foreign travellers. A couple of hours' drive away, Thimpu became the capital of Bhutan in 1961, since when it's swollen to a town of around 80,000 people – the perfect place to get to grips with life in modern Bhutan.
Accommodation Options
Day 6
Thimphu
A full day's sightseeing in and around Thimphu today starts with a visit to its famous dzongs.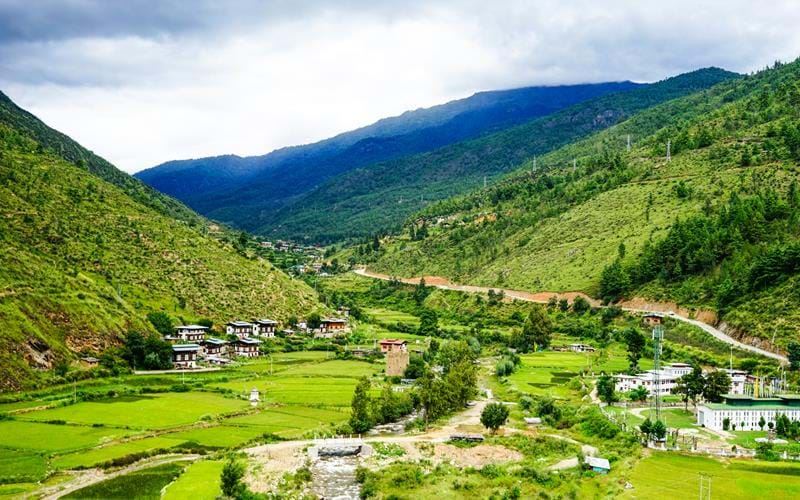 During the fifth day of your trip you'll tour the Bhutanese capital's impressive dzongs (fortress-monasteries), the King's Memorial chorten, Buddhist painting school and national folk museum, made of rammed earth to resemble a traditional farmstead. In the city's market, your guide will point out local delicacies such as jellied cow skin and fried fern, and don't miss the chance to touch a takin, Bhutan's national animal, which looks like a cross between a cow and a goat and survives in the nearby Mothitang Reserve.
Accommodation Options
Day 7
Trongsa
Drive to Trongsa for a two-night stay.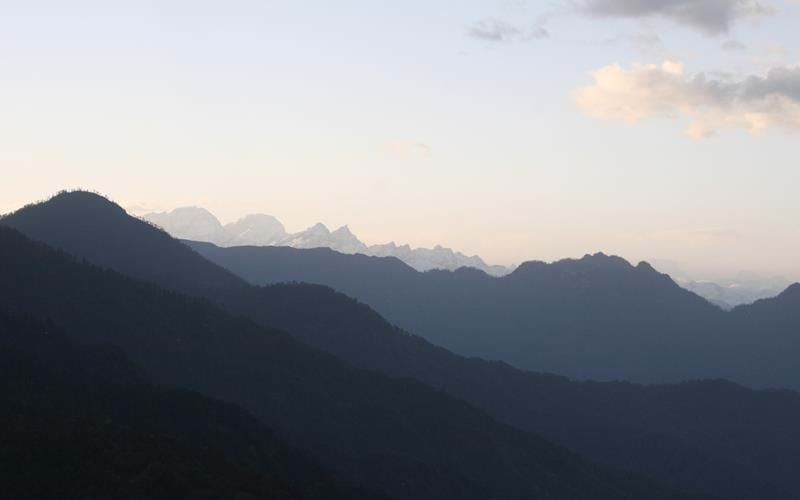 Built on a mountain spur high above the gorge created by the Mangde Chu River, Trongsa is a site rich in Bhutanese history and culture. Its great dzong – the largest in the country – traditionally controlled east-west trade through the kingdom, and was the ceremonial seat of the dynasty that now rules the modern state. The complex contains a wealth of Buddhist art and antiquities and affords a sublime view over the valley to the surrounding peaks, invariably draped in mist.
Accommodation Options
Day 8
Trongsa
Visit local sights around Trongsa and its dzong today.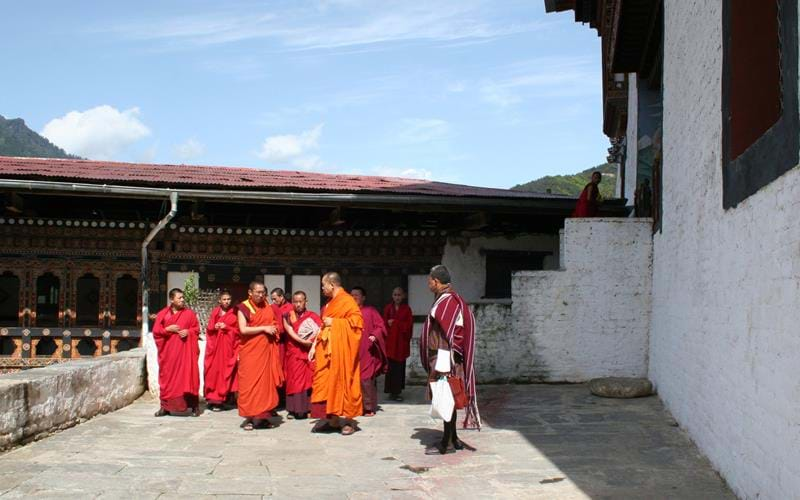 Spend the day revisiting the dzong and venturing higher up the mountain behind it with your guide to the Tower of Trongsa, a former lookout post which now houses one of the best museums in the country, with a collection featuring genuine Bhutanese royal regalia. The valleys views from the tower are magnificent.
Accommodation Options
Day 9
Bumthang
Drive to Bumthang, gateway to Eastern Bhutan, for a two-night stay.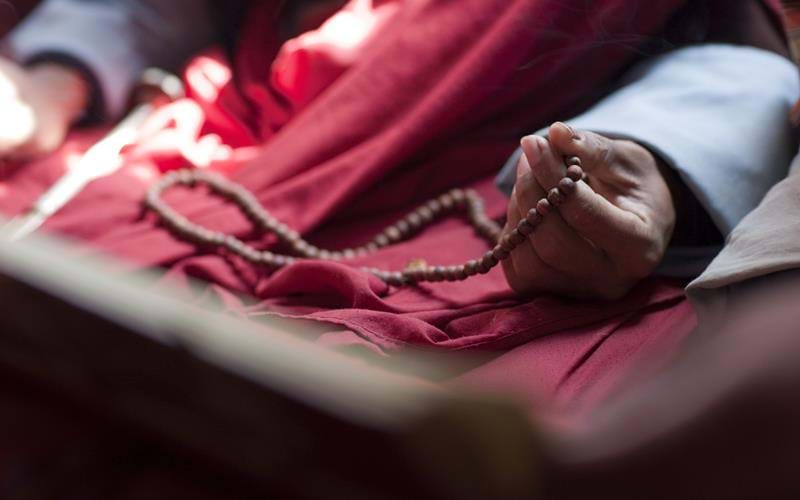 Situated in the heart of the country, a crossroads-like alignment of four valleys is collectively known as Bumthang. Until the 1970s when a road was finally constructed through it, this region remained isolated and relatively undeveloped. Today, with its many stories and legends, religious associations, abundant temples and monasteries, it's regarded as a kind of cultural heartland and a great place to leave your car parked up for a couple of days and take to the footpaths. A succession of picture-book villages line its lower reaches, home to some of Bhutan's oldest and most revered monasteries – as well as the brewery responsible for the kingdom's own brand of beer, 'Red Panda'!
Accommodation Options
Day 10
Bumthang
Explore the scenic valley; visit local temples and villages, including Sopsokha and Chimi Lhakhang.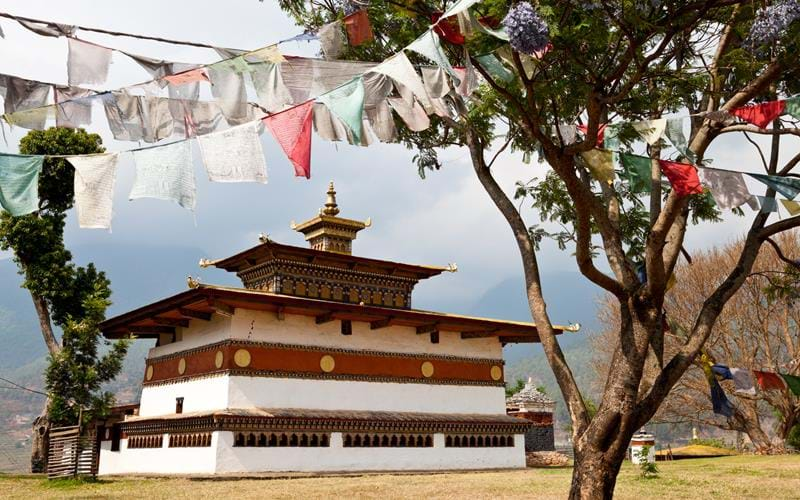 It takes around 20 minutes uphill walk through the rice and mustard fields surrounding Sopsokha village to reach the famous Chimi Lhakhang monastery. Along the way, you can't fail to notice the pink, red and blue ejaculating penises painted in formal Buddhist style over local housefronts – a legacy of this area's veneration of the 15th century poet and Tantric luminary, Drukpa Kinley, who founded a monastery here. Female visitors wishing to conceive come on to be blessed by being tapped on the head with the original ten-inch wooden phallus brought by Kinley from Tibet, the greatest treasure in an ornately appointed altar room.
Accommodation Options
Day 11
Gangtey
Drive to Gangtey today for a two-night stay.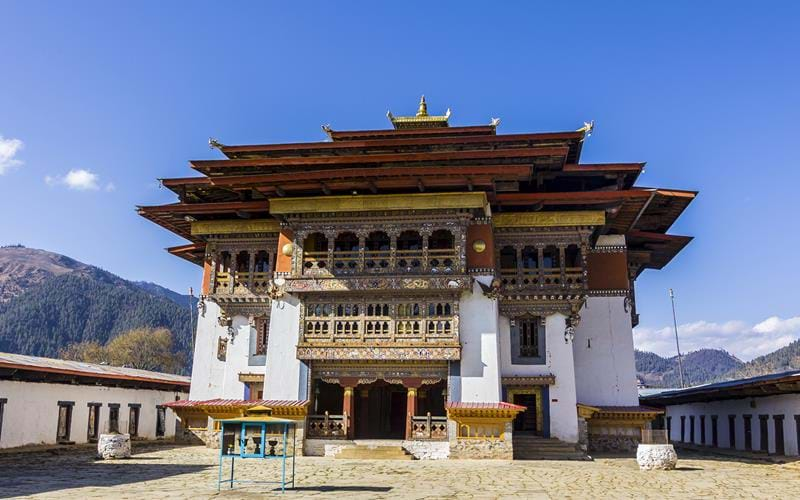 The 17th century dzong at Gangtey is this awesome valley's prime religious monument, although most visitors come in search of black-necked cranes. A festival in which local children wear specially made crane masks is held in the monastery each November to welcome their arrival. The other major event here is tsechu, which usually falls in October, when monks perform traditional Cham dances in the monastery courtyard. Preserved in one of Gangteng's inner shrines is one of the country's more gruesome relics: the hands of a British army officer killed in a battle with Bhutanese forces in 1864.
Accommodation Options
Day 12
Gangtey
Drive to the Phobjikha Valley today to visit the black-neck crane centre.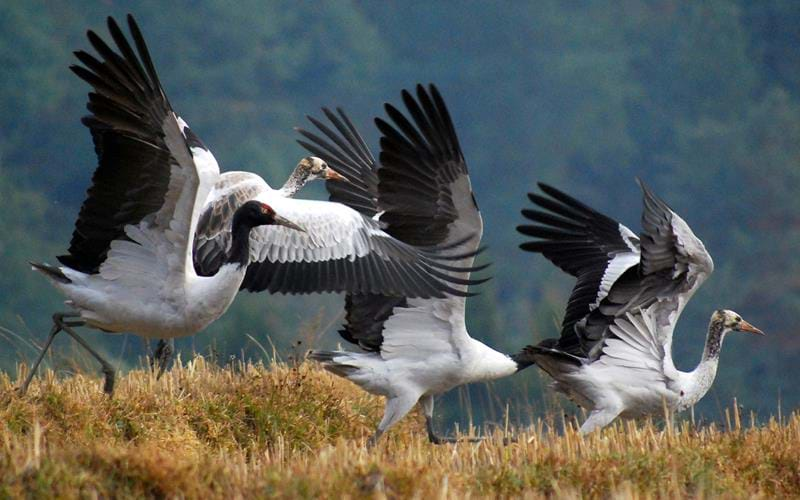 Surrounded by snow peaks and old-growth forest, the beautiful Phobjikha Valley is home to a unique conservation initiative, where migratory black-neck cranes, which pass through here in the winter months between October and March, are protected by local wardens and volunteers. The centre provides information about the birds and their migration, and if your visit coincides with their stay in the village you'll be able to observe them grazing on the valley floor through telescopes.
Accommodation Options
Day 13
Paro
Drive to Paro for a two-night stay in the town.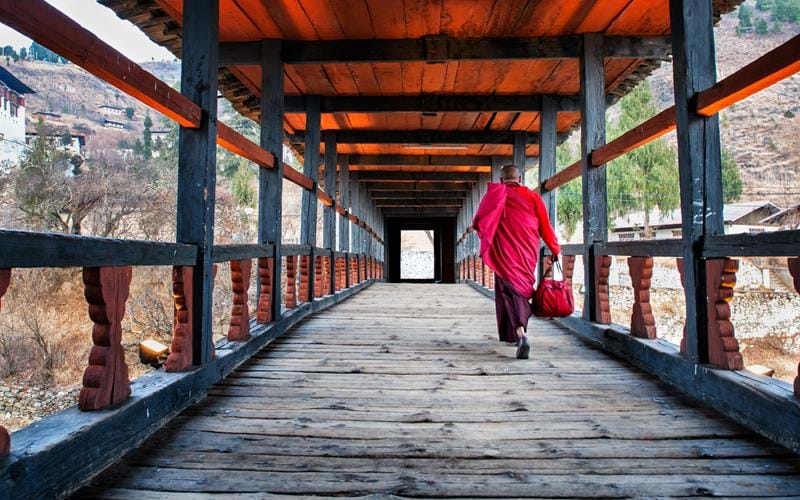 Shops, restaurants and offices in richly carved traditional buildings line the main street of Paro, where two of eastern Bhutan's main rivers meet. The town is best known locally for the splendid Rinpung Dzong, overlooking the river, whose most valuable possession is a giant embroidered tapestry, or thondrol (thangka), depicting the dzong's founding father, Guru Rincpoche; the treasure is unrolled only once a year on the morning of the annual tsechu (festival). On the hill behind rests the National Museum in a beautifully restored watchtower, the Ta Dzong, built in the 1650s to guard Paro's dzong.
Accommodation Options
Day 14
Paro
Sightseeing in and around Paro town today includes a trip out to the iconic Tiger's Nest Monastery.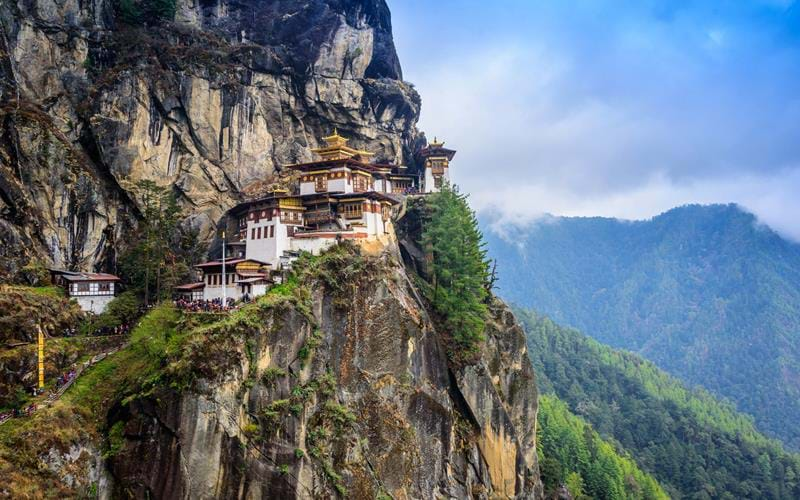 Bhutan's most photographed monument, the Taktshang Monastery, commonly known as the 'Tiger's Nest', is wedged into a lofty cliff nearly a vertical kilometre above a forested valley. Rock-cut steps and rickety bridges connect its four wings, whose golden pagoda roofs, fluttering prayer flags and distempered walls are dwarfed by the vista of forested hills and snow-capped mountains unfolding on all sides – a spectacle worth the journey to Bhutan alone!
Accommodation Options
Day 15
Kathmandu
Transfer to the airport to catch your return flight to Kathmandu, where you'll spend the night.
Day 16
Kathmandu, UK
Travel back to Heathrow via the Middle East.
Tailor-made Tour

16 days from £8295 per person
What's included

✓   International flights from UK
✓   14 nights accommodation
✓   All internal transportation and transfers
✓   English-speaking guides
✓   Breakfast daily in Nepal, all Meals in Bhutan
✓   Entrance fees to sites and monuments listed in tour itinerary
Places and Experiences in this tour
Plan your Next Adventure
With the world now largely open again, now is the time to begin planning your next adventures in Asia. Our Travel Specialists are ready to take your call and discuss the adventure you have spent the last 3 years dreaming of.
Or call us on 0208 566 3739
TransIndus Brochures 2023
Join our mailing list