Tailor-made Tour

17 days from £6090 per person
Places Visited:
Zhangjiajie, Fenghuang, Hangzhou, Huangshan, Chengdu, Emeishan, Huanglong, Jiuzhaigou
Antique scroll paintings spring to life on this 17-day tour, which blends together the crème de la crème of the country's most distinctive landscapes. In addition to the quintessentially Chinese limestone scenery of Zhangjiajie, with its mist-shrouded, pine-studded rock towers, you'll see the turquoise travertine lakes of Jiuzhaigou and three separate sacred mountains, where dramatic escarpments and forests are embellished with pretty Taoist shrines and temples. The pandas and prehistoric wonders of Chengdu are the icing on the cake of this varied, outdoor-oriented itinerary. To get the most out of it, you'll need to be in reasonable physical shape, and able to walk uphill for a couple of hours. Although cable cars and elevators have been installed on the holy peaks, the most rewarding (read 'quietest') trails up them stretch the lungs and legs!
Holiday Types
Cultural Tours Walks, Hikes and Rides
Suggested itinerary
Day 1
UK, Shanghai
Fly from the UK to Shanghai. Non-stop flights take around 11hrs. Indirect ones take longer, depending on the route and carrier.
Day 2
Zhangjiajie
On arrival in Shanghai you'll be transferred to the domestic air terminal for your onward flight to Zhangjiajie, in Hunan Province, where you'll be met at the airport by your TransIndus guide and accompanied to your hotel. Spend the remainder of the day recovering from the journey, with supper in the hotel restaurant.
Day 3
Zhangjiajie
Today you'll experience some of China's signature landscapes at the famous Wulingyuan Scenic Area – a tract of quartzite sandstone mountains that have eroded into a myriad of pinnacles and peaks.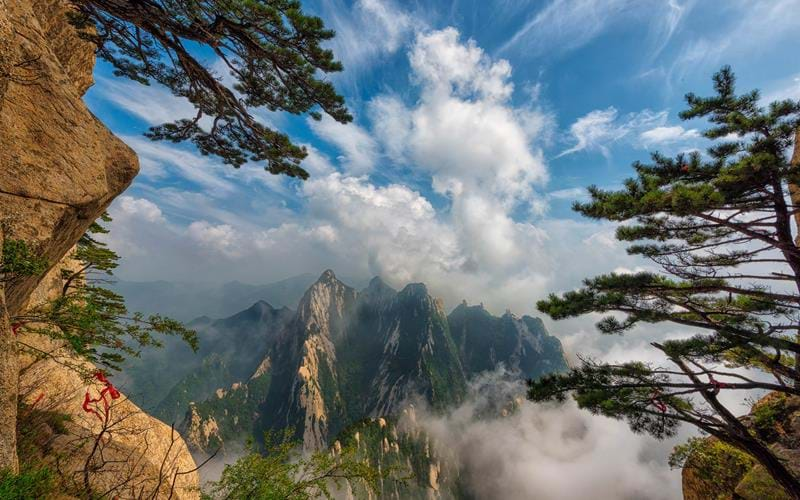 Draped in subtropical vegetation and wreathed for much of the time in wisps of mist, the scenery at Zhangjiajie has, over the centuries, inspired many famous Classical Chinese scroll paintings, ink drawings and poems. It also featured prominently in James Cameron's blockbuster, Avatar! Over the past decade, the government has equipped the park with state-of-the-art access infrastructure, such as cable cars, eco buses, trams and monorail trains – and even a giant, glass-sided elevator. This means you can reach the main viewpoints with ease. Numerous hikes of varying lengths and degrees of difficulty are also available for those wishing to sidestep the crowds and take to the trails.
Day 4
Fenghuang
After breakfast, join your guide for a walk along the floor of the staggeringly beautiful Jinbian ('Golden Whip') stream gorge, before continuing on your tour to the riverside town of Fenghuang.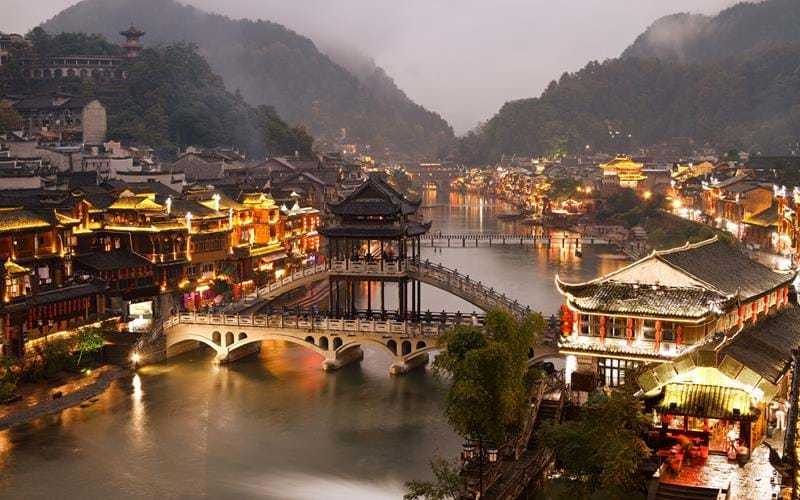 Flanked by huge red rock towers, the Jinbian valley is carpeted in lush forest. An 8-km pathway winds along the bank of the stream flowing through it, making a memorable final walk in the park. Later, you'll be met by your driver for the onward journey to Fenhuang ('Phoenix'), whose famously pretty wooden houses are stacked in picturesque fashion around a bend in the Tuo Jiang River.
Day 5
Fenghuang
Spend the morning exploring Fenghuang town with your guide, with an afternoon at leisure to explore the many shops and town riverfront on your own
Day 6
Hangzhou
In the morning you'll be driven to the rail hub of Huai Hua to catch a high-speed 'G- class' train to the city of Hangzhou, capital of Zhejiang Province, arriving in time for a sunset stroll along the shores of West Lake.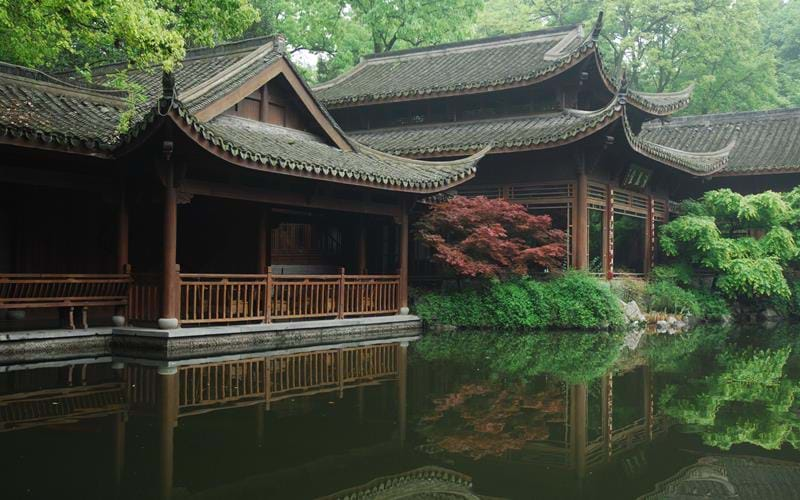 Strategically situated on the Grand Canal connecting the Yangtze and Yellow River basins, Huangzhou became the imperial capital in the 12th and 13th centuries, when Marco Polo described it as 'the most beautiful and magnificent (city) in the world'. A wonderful collection of shrines, tombs, temples and pagodas adorn the willow-lined shores of Xi Hu, or 'West Lake', Hangzhou's pride and joy, where you can cycle or stroll along medieval backroads, passing picturesque pagodas, old humpback bridges and bamboo groves.
Day 7
Huangshan
In the morning, drive from Hangzhou to Huangshan, via Tunxi and a couple of beautiful old Ming- and Qing-era villages retaining interesting courtyard mansions, temples and Classical gardens. Later you'll ascend Huangshan Mountain by cable car to reach your hotel, where you'll spend two nights.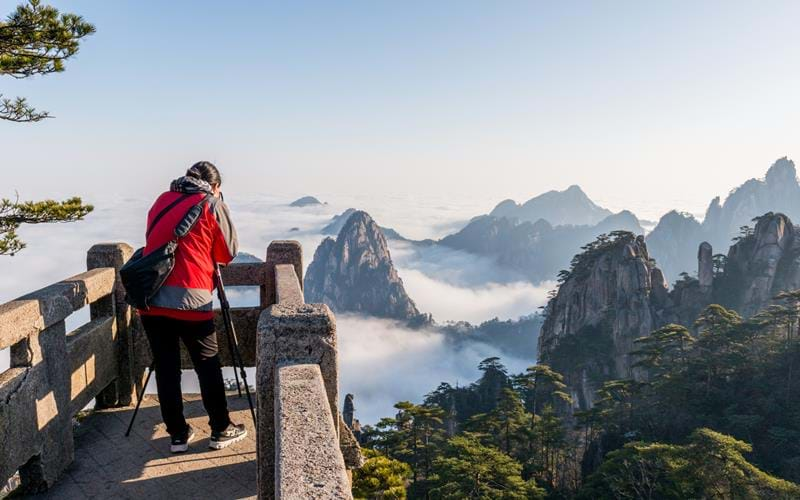 Close to Tunxi town, on the way to Huangshan, are the otherworldly Tangyue Memorial Archways, built over a 400-year period beginning in 1420. You'll also stop Chengkan, where the ornately carved Baolun Hall typifies the elegant local style of architecture. Huangshan brings the day's journey to an end: you'll arrive at the foot of the mountain in time to take a cable car up to your hotel on the summit ridge.
Day 8
Huangshan
Today you'll have a full day to explore a series of astounding viewpoints over Huangshan's granite landscapes in the company of your guide.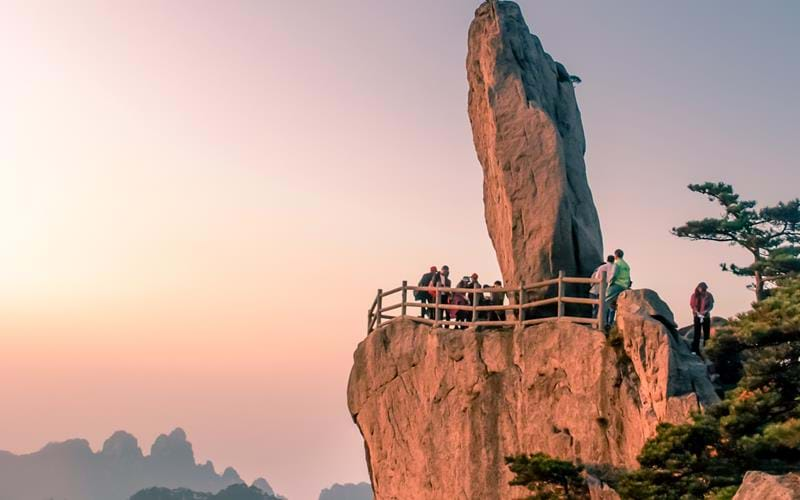 Characterised by wind-bent pines and giant pinnacles of eroded blue-grey rock, Huangshan's timeless scenery is quintessentially Chinese. Your guide will lead you around a series of trails to viewpoints over the escarpments and deep valleys surrounding the massif, culminating with the sunset view from the 'Cloud Dispelling Pavilion'. Be sure to get an early night – you'll be up before dawn the following day!
Day 9
Chengdu
Rise early in time to watch the sun rising over the sea of cloud that invariably clads the valley floor below Huangshan. After breakfast, head up to Shinxi Peak to see some of the mountain's most famous rock formations before travelling on to Chengdu, capital of Sichuan Province.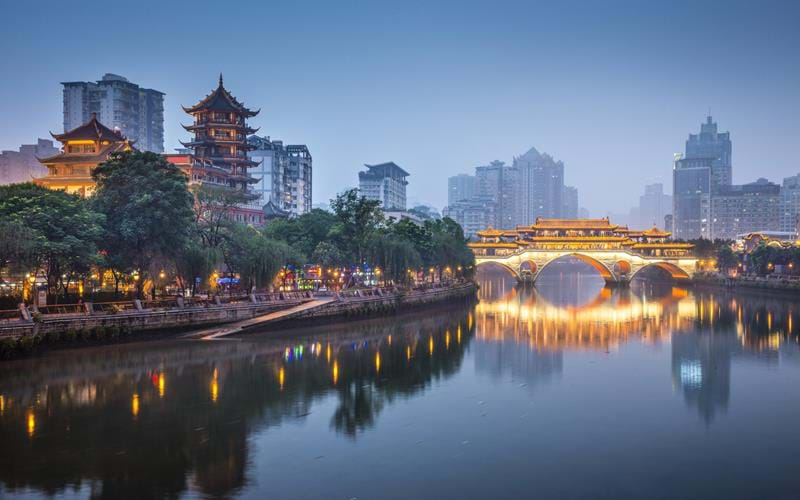 On the western edge of the Sichuan Basin, Chengdu is the largest city in Western China, with an ultra-modern hi-rise centre that belies its role as a regional capital for over 4,000 years. Brocaded silk from here found its way to the bazaars of ancient Rome, and the city's presses were the source of the world's first printed bank notes. Today, however, the Sichuan capital is best known as the bastion of China's beloved Giant Panda (which you'll see on Day 11).
Day 10
Emeishan
Today you'll travel by car and shared eco-bus to Emeishan – another of China's most sacred mountains. As with Huangshan, its summit is equipped with a cluster of small hotels, which you'll reach by cable car.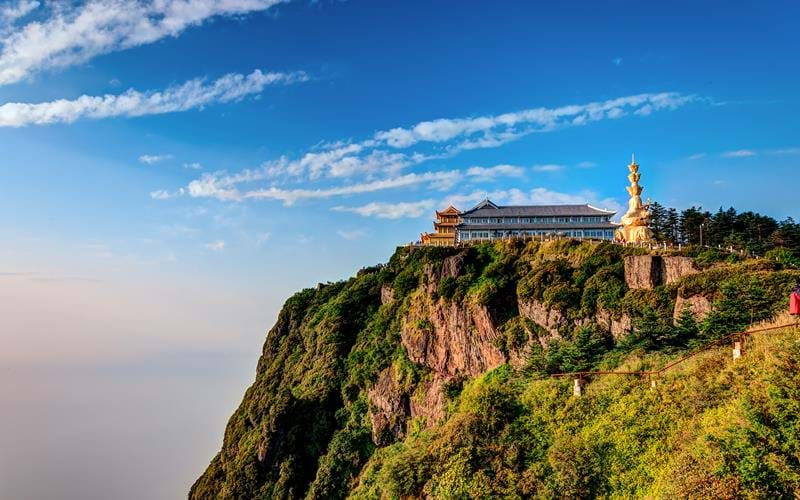 Spend the rest of the day exploring the many shrines, monasteries, pavilions and viewpoints scattered around the summit plateau of the mountain. A total of 76 Qing and Ming monasteries cluster around the three summits of this mist-shrouded massif, interconnected by a network of old stepped trails that wind through forests of twisted pines and waterfalls. For clients wishing to undertake the whole of the ascent on foot, we can provide English-speaking guides and arrange rooms in one of the hotels or guesthouses that line the trekking route. Speak to your TransIndus consultant for more details.
Day 11
Leshan, Chengdu
Another memorable day's travel starts on the summit of Emeishan at sunrise, and takes you on to the home of the giant Buddha at Leshan before winding up in Chengdu.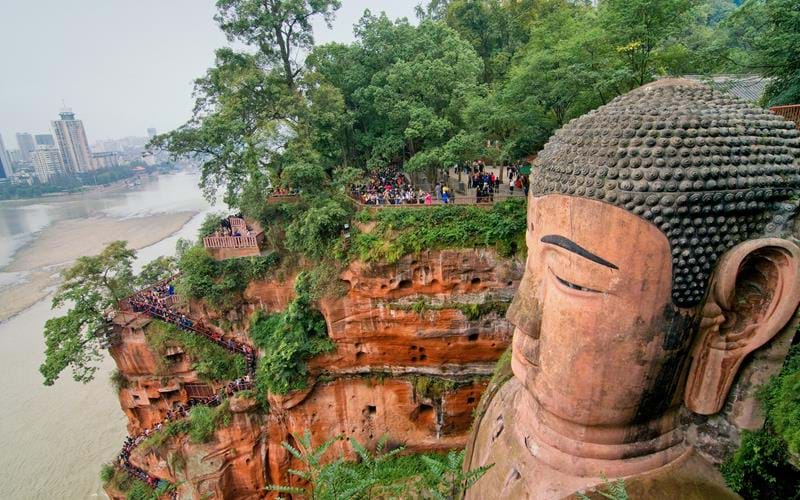 Weather permitting, another spellbinding sunrise will get your day atop Emeishan off to a spectacular start. Soon after breakfast, you'll take the cable car back down to the main station, and pick up another back up to the Wannian Temple, the grandest of over thirty monasteries nestled on the massif. Then it's back down the mountain to re-join your driver for the onward journey to Leshan, where you'll have a face-to-face encounter with the famous Giant Buddha, hewn from a cliff of red sandstone. Enjoy a short (40-minute) cruise along the river – well worth doing for the view of the Buddha from the water. From Leshan, it takes a couple of hours to reach Chengdu by road.
Day 12
Chengdu
A visit to the world-famous Chengdu Panda Centre takes up your morning in Chengdu. As the bears are most active early in the day, we recommend arriving by 8am, when you'll stand the best chance of seeing the youngsters at play.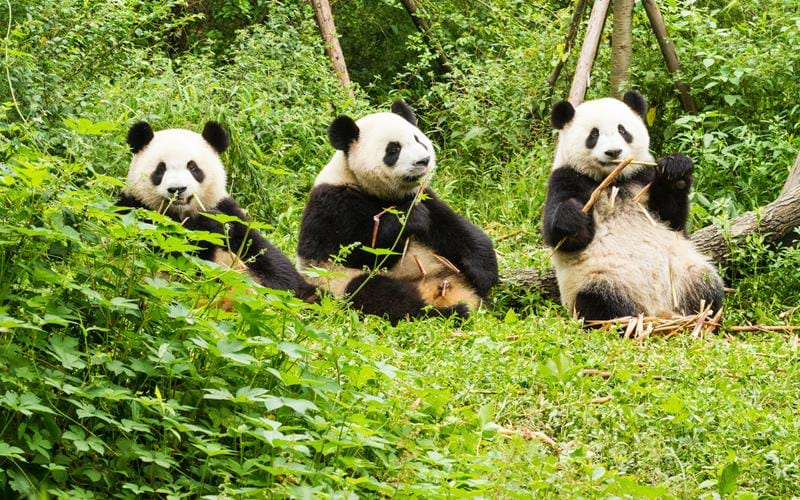 After lunch, explore the heart of Chengdu with a visit to the beautiful Wenshu Temple. With its bamboo furniture and distinctively Sichuanese atmosphere, the traditional tea house behind it is a great place to relax, snack and people watch. Don't be dismayed by the sound of the house speciality – 'monkey head dumplings'. The tea house is 100% vegetarian!
Day 13
Huanglong
Today you'll fly from Chengdu to the mountains in the far north of Sichuan Province, site of some of China's most extraordinary landscapes.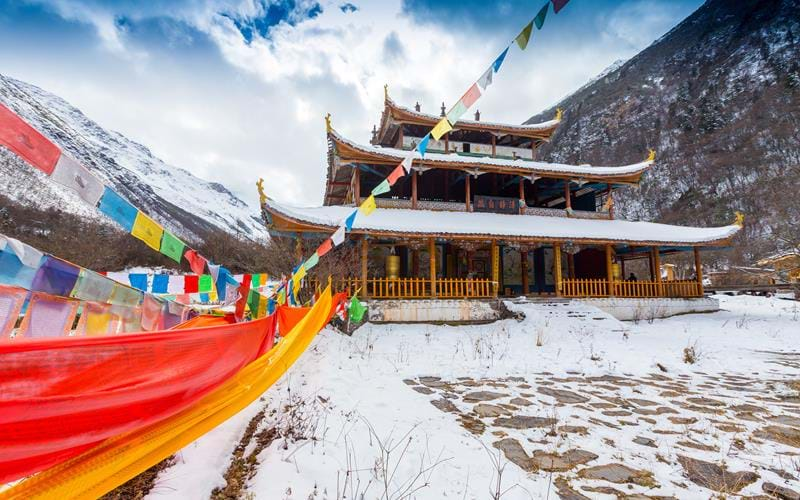 On arrival at Jiuzhai airport, you'll be met by your driver and guide for the onward journey to Huanglong Scenic Area, a national park famed for the beauty of its alpine valleys, flanked by snow-capped mountains and glaciers, and for the profusion of wildflowers in spring. Huanglong attracts many photographers, who come to capture the vivid colours of its turquoise and yellow travertine pools. You'll stay at a hotel close to the park gates.
Day 14
Huanglong, Jiuzhaigou
From Huanglong, an early start straight after breakfast will get you on your way to the UNESCO-listed Jiuzhai Valley National Park, checking in to a hotel close to the park. Jiuzhai's turquoise pools and lakes are a spectacle of exceptional beauty.
In addition to the popular waterside boardwalks, you'll be guided to viewpoints over some of the dramatic waterfalls for which Jiuzhai is renowned. It will also be possible to visit a local Tibetan village if you wish.
Day 15
Jiuzhaigou
A full day is set aside in this tour for you to make the most of the extraordinary natural splendour of the Jiuzhai Valley National Park.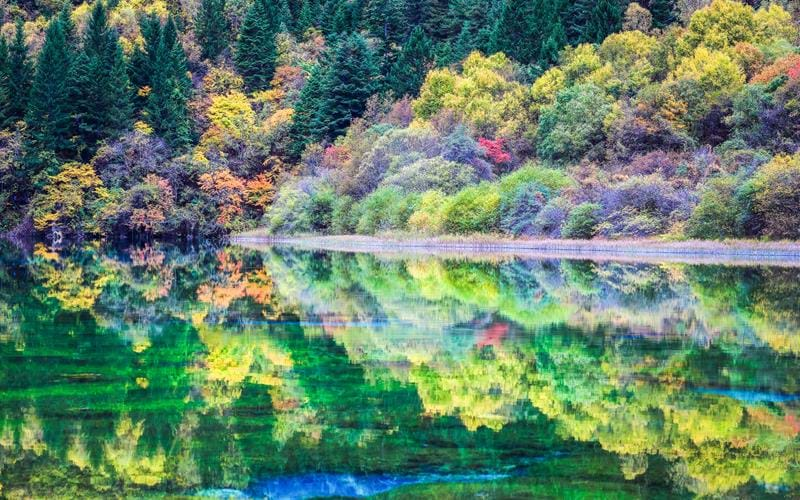 Eco buses are on hand for excursions to the virgin forest of the Rize Valley, which you can descend on foot, taking lunch at one of the little Tibetan restaurants near Nuorilang Falls. Afterwards, you'll continue your walk with an ascent of the Shuzheng Valley – one of the park's scenic highlights.
Day 16
Chengdu
This morning you return to Jiuzhaigou airport for the flight back to Chengdu. Having checked in to your hotel, there will be time for one last shopping trip and evening meal downtown before getting some rest ahead of your flight home.
Day 17
Chengdu, UK
Time to bid farewell to Sichuan, as you make your final airport transfer to catch your return flight to the UK.
Tailor-made Tour

17 days from £6090 per person
What's included

✓   International flights from UK in economy
✓   15 nights accommodation
✓   Domestic flights in economy, trains in first-class
✓   All road travel and transfers by private, chauffeur-driven vehicles
✓   English-speaking guides
✓   Breakfast daily
✓   Entrance fees to sites and monuments listed in tour itinerary
Places and Experiences in this tour
What Our Clients Say About Us
Plan your 2021 Adventure
With the world beginning to open up again, now is the time to begin planning your 2021 holiday to Asia. Our Travel Specialists are ready to take your call and discuss the adventure you have spent the last 12 months dreaming of.
Or call us on 0208 566 3739
TransIndus Brochures 2021/2022
Join our mailing list