An art form that remained remarkably resilient to the cultural suppression of Soviet times is Uzbek embroidery, or 'suzani'. Brides-to-be traditionally stitched ornate, multi-coloured wall hangings, bed spreads, table covers and prayer mats for their dowries, using beautiful silk threads. Although few women today continue the tradition (preferring to purchase factory-made goods in markets as bridal goods) the form is still thriving – only now suzani tends to me made for money.
The clue to its origins lies in the name: 'suzan' is Farsi for 'needle'. The first exponents of the form were brought as slaves to Samarkand following Timur's conquest of Persia in the 1380s, and the motifs most commonly used – tulips, carnations, leaves, vines and above all, pomegranate flowers –echo those you find on carpets made in Tabriz, or in the murals and mosaics of Safavid Isfahan.
One of the best places to see suzani being made today is Khiva, in the far west of Uzbekistan. At the foot of the soaring Juma minaret, in the hall of a former Islamic madrassa deep in the old walled city, you can watch a dozen women hard at work creating exquisite cushion covers and wall hangings. Derived from natural sources such as madder, cochineal and indigo, the colours are deep and rich, and form a wonderful counterpoint to those of the surrounding desert.
Another source of fine suzanis is the famous Khudjum Embroidery Factory, in the town of Shakrisabz, an hour's drive south of Samarkand. Around 1,600 women work in the complex producing all manner of Uzbek crafts – notably the beautifully embroidered skullcaps you see on sale in the bazaars. Hours of painstaking work are lavished on these colourful caps, where the traditional 'iroki' cross-stitch is used to create beautiful geometric and floral shapes.


See the country's finest embroidery workshops and museum collections on our suggested itineraries, outlined below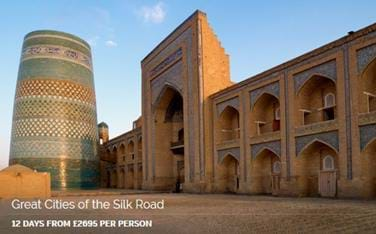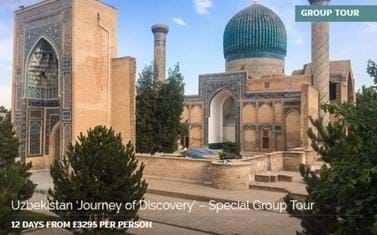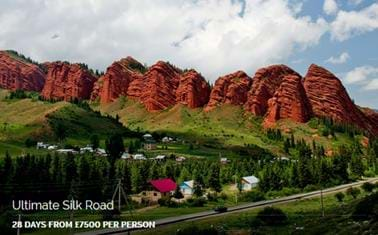 TransIndus Brochures 2023
Join our mailing list