Uzbekistan: Ready and waiting for you!
One of our absolute favourite destinations, Uzbekistan is a crucible of culture development at the heart of the ancient silk road.  Home to three of the world's oldest and most celebrated cities – Samarkand, Bukhara and Khiva the country it never fails to capture the hearts and minds of all who visit. 
Uzbekistan has opened its border for international tourists in June'21 for quarantine free travel to anyone with negative PCR test taken 72 hours prior. Uzbekistan allows visa free entry to the UK nationals and as it features on the amber list it means we will all be free to travel to the three from 19-July, with self-isolating on return.
With excellent hotels, tremendous service and great prices, why not plan your visit this summer between now and September or next spring, when our Managing Director will be leading the 19 March 2022 departure of our 11 day Discover Uzbekistan tour.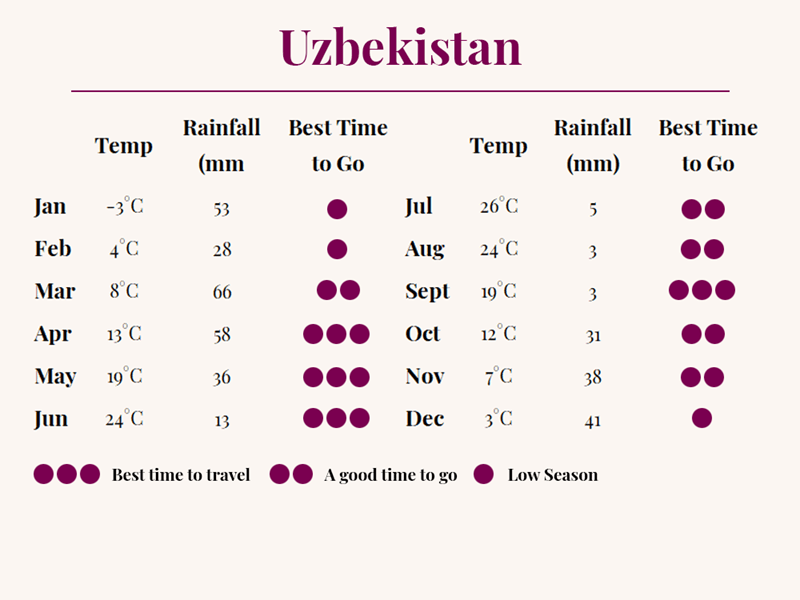 Best time to Visit Uzbekistan
April to May and September to October are the best months to visit Uzbekistan. Temperatures at these times of year are very pleasant, and rainfall minimal. You'll be able to breakfast on a sunny terrace under clear blue skies in the mornings and walk around comfortably in mid-afternoon. Night times can be chilly in the desert regions by October, but an extra blanket will always be available.
From mid-June through August, the thermometer frequently climbs to well above 40 degrees in the daytime – think Spain at the height of summer. The heat can be particularly intense in Bukhara, and tends to be humid in Tashkent.
More about Uzbekistan
If any monuments could be said to epitomize the distant splendour of the Silk Road, it's the domed mosques, tombs and madrasas of Uzbekistan. An ancient cultural crucible between the Amu-Darya (Oxus) and Syr-Darya rivers, this former Soviet republic holds three of the world's oldest cities – Samarkand, Bukhara and Khiva – whose walled centres are best described as 'open-air museums', with sights spanning five millennia.
Few visitors venture further than the region's major hubs, but there is ample incentive to do so. The silk workshops of the fabled Fergana Valley, the forgotten fortresses of the Khorezm Delta region, and nomadic camel herders camps on the fringes of the mighty Kyzl Kum desert provide vivid experiences of ways of life buried for decades under the mantle of Soviet rule.
A Country of Contrasts (Client Feedback)
Our latest trip to Uzbekistan was a fantastic view of both the modern day country and the historic cities of the Silk Road. It's a country of great contrasts - immense agricultural landscapes bordered by huge swathes of desert and mountains, with bustling cities like Tashkent and Samarkand rivalling any of our Western cities. Even in Central Asia the cities are full of young people with smartphones and ripped jeans! The Uzbeks must be the friendliest people ever (and we've visited a lot of countries). People came up to us with smiles on their faces, just to talk to us - no ulterior motive. Adults wanted to practise their English, and schoolchildren and older students wanted to talk to us about Harry Potter and popular music. Wonderful. Thank you TransIndus.

Janet Marshall
Discover Uzbekistan
See why Uzbekistan is one of our top travel destinations this year. Shot by the TransIndus team on a recent recce to the country, this video features the monuments, markets and crafts workshops of Samarkand, Bukhara and Khiva.
Uzbekistan Places and Experiences
Plan your Next Adventure
With the world now largely open again, now is the time to begin planning your next adventures in Asia. Our Travel Specialists are ready to take your call and discuss the adventure you have spent the last 3 years dreaming of.
Or call us on 0208 566 3739