Featured
Group Tour

11 days from £1995 per person
Places Visited:
Tashkent, Khiva, Bukhara, Samarkand, Tashkent
Join TransIndus for an escorted Group Tour to Uzbekistan, a country whose cultural legacy spans more than three millennia. Marvel at the emerald, lapis blue and wax-yellow patterns adorning Samarkand's Registan Square – one of the great wonders of the Islamic world. Shop for hand-woven kilims, silk scarves and soft, camel-wool shawls in the bazaars of Bukhara. And savour the exotic desert sunsets as you cross the Oxus Delta in the footsteps of Alexander the Great and Marco Polo. 
Your Route
The itinerary has been carefully devised to showcase the architectural genius of the Timurids and their successors, the Shaybanid Dynasty, whose buildings greatly influenced those of the Mughals in India. Along the way, you'll have opportunities to meet local people, experience traditional music and dance, watch ceramicists, carpet weavers and embroiderers at work, and shop for fabulous, locally made silk garments.
Accommodation will be in comfortable, Western-style hotels, and all meals are included in the price. A dedicated, English-speaking TransIndus guide will be with you every step of the way. You'll also be accompanied around specific monuments by specialist guides.
WHAT OUR CLIENTS SAY: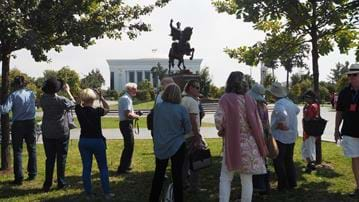 "A BIG thank you again for a truly memorable and wonderful trip to Uzbekistan. It really exceeded my expectations and I feel so very lucky to have been able to come along to experience all that we saw and did. I have returned with many special memories and some new friends."  Carol Doran
"I had a very enjoyable voyage round Uzbekistan. The company was hugely entertaining and great fun. Small group tours suit me well."   Susan Pyle
"I got out of the tour all I had hoped and learnt a lot."  Cyril Ridley
'Our recent visit to Uzbekistan was a total triumph, and your planning and organisation were faultless . . .Our local guide was inspired. His engaging personality and care for all our comfort, coupled with his cheerfulness, encyclopaedic knowledge and very good English combined to complete our enjoyment. We have encountered good guides in Bhutan, Vietnam and Ethiopia but Otabek (was) a champion!'  Dick Andrews
Holiday Types
Cultural Tours
Travel Arrangements
Group Size

6 -16 people

Internal Travel

Arrival & departure transfers, internal travel by road

Accompanying Guide

Local English-speaking tour leader for the group

Accommodation

10 nights

Meal Plan

Full board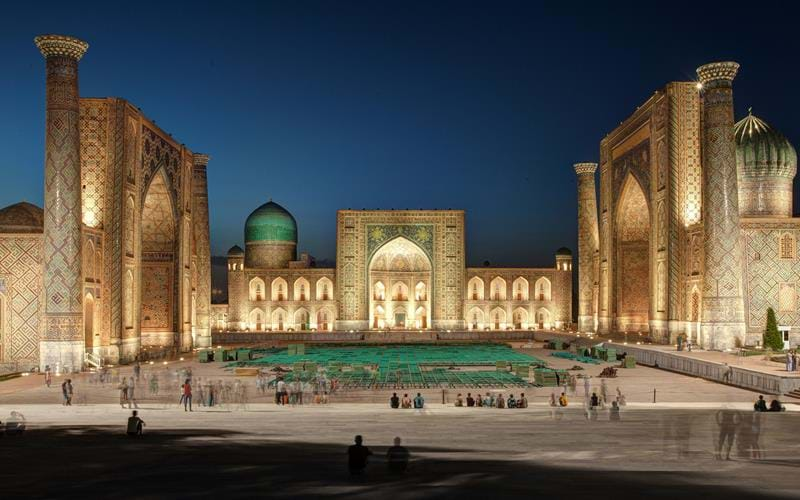 What's Trending
Uzbekistan Discovery
Due to high demand on our 11-day Uzbekistan Discovery small-group tour, we have added new departure dates for October and November 2020. Book your place today and discover the finest highlights of the Silk Road.  
See why Uzbekistan is one of our top travel tips. Shot by the TransIndus team on a recce to the country, this video features the monuments, markets and crafts workshops of Samarkand, Bukhara and Khiva.
Itinerary for Uzbekistan Discovery
Day 1
Tashkent
On arrival in the Uzbek capital, the group will be met at the airport by our local TransIndus representative and driven to our hotel. Spend the rest of the morning recovering from the journey. Later, enjoy an afternoon of guided sightseeing.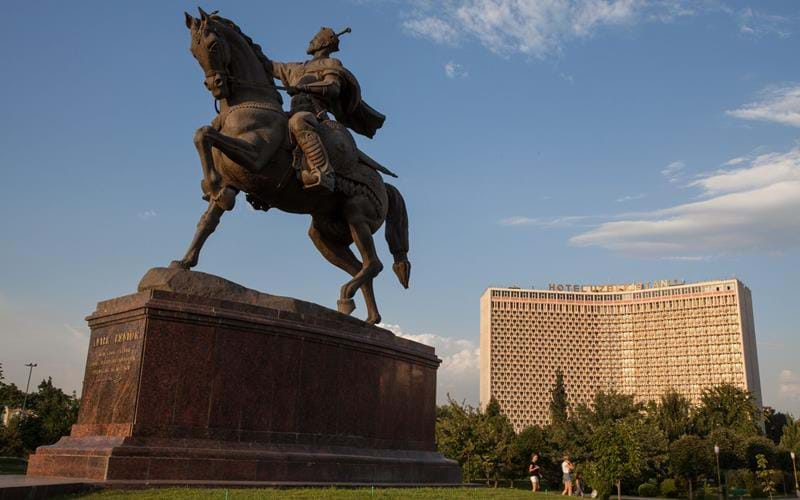 After a late lunch at a traditional Uzbek restaurant, we'll begin an afternoon's tour of the Hast Imam complex in old Tashkent, whose handsome 14th-century mosques, tomb and madrasa today workshops for traditional crafts, as well as one of the world's oldest Qurans.
Accommodation Options
Day 2
Tashkent, Khiva
Early morning transfer to the airport for flight to Khiva, via Urgench. Stay at Orient Star or similar for two nights.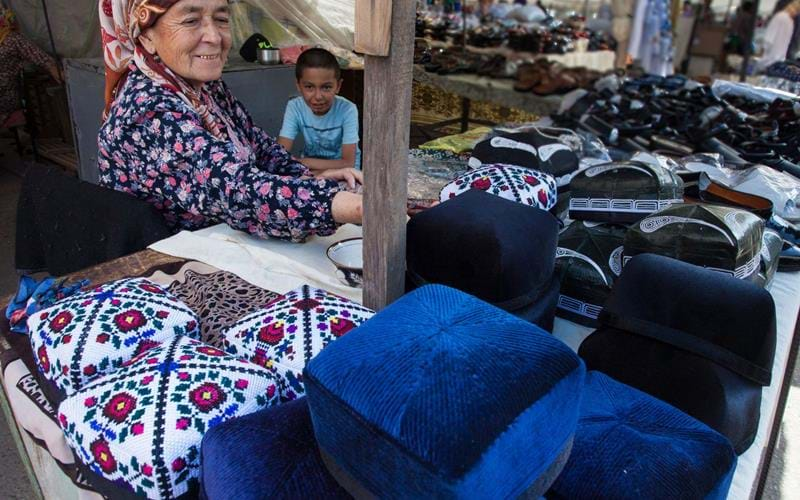 Among the many items on display at the National Museum are some of the Asia's most sumptuous antique carpets, a collection of ancient suzani embroidered silk wall hangings and Buddhist figurines from the pre-Islamic Silk Road era.
Accommodation Options
Day 3
Khiva
A full day's guided sightseeing in Khiva today focuses on the principal highlights of the old walled city, the Itchan-Kala, which has been beautifully restored and is traffic free. As well as monuments, there are lots of crafts stalls and workshops to browse around the backstreets.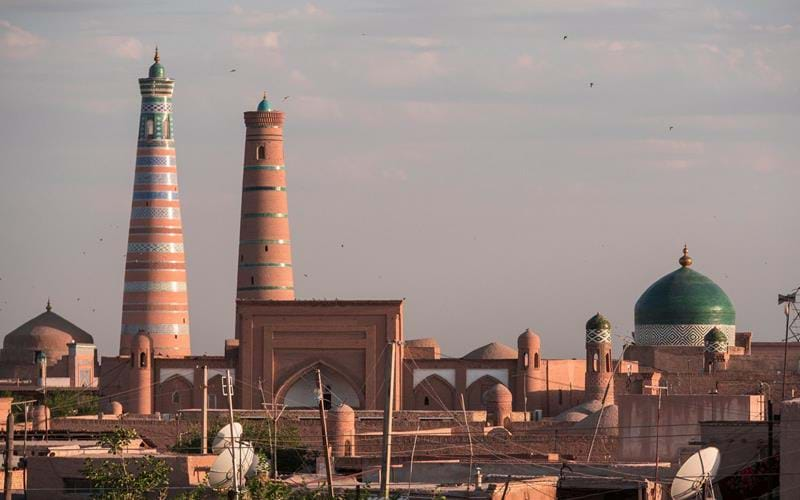 Sumptuous tilework, painted ceilings, finely carved wood pillars and exquisite calligraphy adorn the remarkable ensemble of palaces and madrasas surviving in the Itchan Kala. Your guide will lead you through the highlights in a leisurely day, starting at the Kunya-Arc palace, a complex of interlocking royal apartments and courtyards, some of which are adorned with breathtakingly intricate majolica tilework. You'll have a chance to climb the city's tallest building, the Islam Khoja Minaret, following a narrow flight of steps that winds up to a tiny viewing platform where a fabulous 360-degrees view over the surrounding rooftops is revealed. The nearby Jama Masjid is famed for its ancient, carved elm pillars, replicas of which are still produced in time honoured fashion just around the corner in workshop occupying the site of a medieval madrasa.
Photographers may want to slot in a second visit to the Kunya Ark Palace in the evening for the sunset views over Khiva's exotic skyline!
Day 4
Khiva, Bukhara
A long drive across the Kyzl Kum desert to Bukhara takes up most of today. En route, we'll traverse the Amu Darya River, known in the time of Alexander the Great (who crossed it twice) as the 'Oxus'.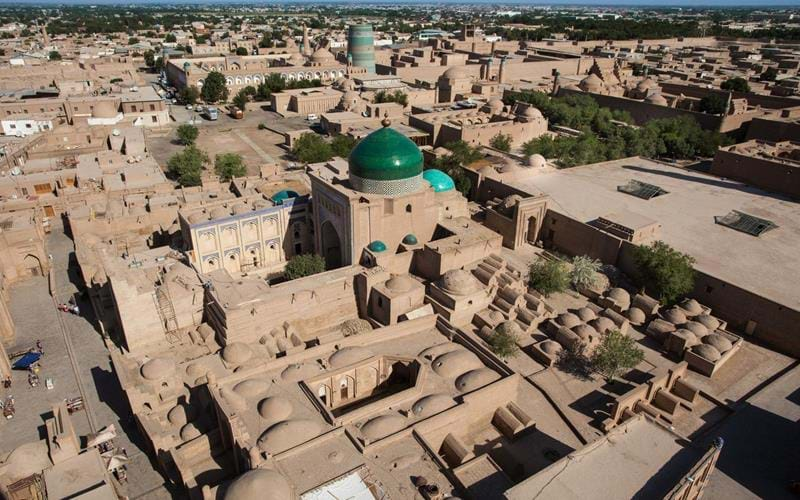 Nearly a mile wide, the Amru Darya is still an impressive sight, despite the fact much of its water is nowadays diverted into vast fields of cotton. Your lunch stop today will be at a traditional Uzbek restaurant just off the highway, which serves particularly succulent kebabs, salads and freshly baked bread. All being well, you should arrive in Bukhara in time for a short wander around the historic centre, near your hotel, before supper. Start at the shimmering Lyab-i Hauz pond at its ensemble of 16th century architectural masterpieces.
Accommodation Options
Day 5
Bukhara
Enjoy a full day's tour of Bukhara's medieval monuments today, covering the mighty Poi-i-Kalan, the Lyabi Hauz complex, with its shimmering pond, and mausoleums of Ismail Sami and Kashma Ayub.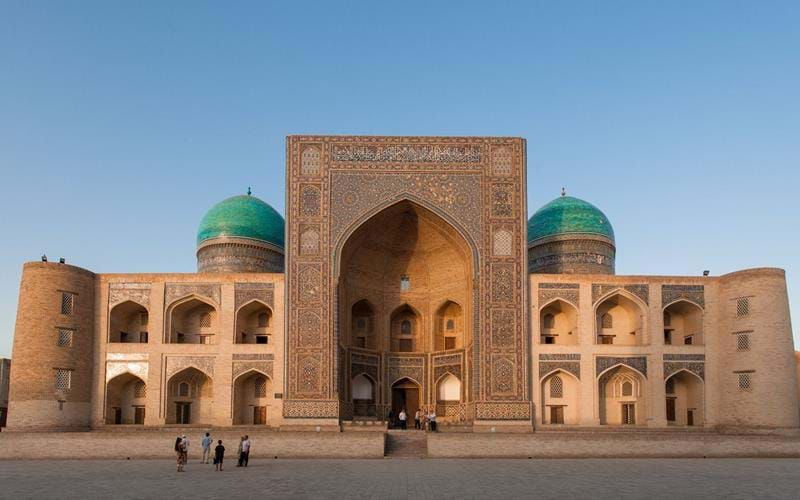 Most of Bukhara's standout buildings were erected by the Timurid Dynasty and the Shaybanids in the 16th century, after the city had been destroyed by Genghis Kahn. One of the only structures spared by the Mongol warlord was the Minara-i Kalan, a magnificent brick minaret whose striking form dominates the Poi-i-Kalan complex. Below it, facing each other from opposite sides of a large piazza, are the mosaic-tiled facades and turquoise domes of the Kalan Mosque and Mir-i Arab Madrasa – two of the great architectural masterpieces of the old Silk Road.
In the afternoon, your guide will accompany you to local craft workshops, among them Bukhara's famous puppet centre.
Day 6
Bukhara
On the morning of your second day in Bukhara, we visit to the Ark fortress, at the northwest side of the old walled town, followed by the iconic Chor Minor Madrassa. In the afternoon you'll be free to explore and shop at your own pace, with or without your guide, as required.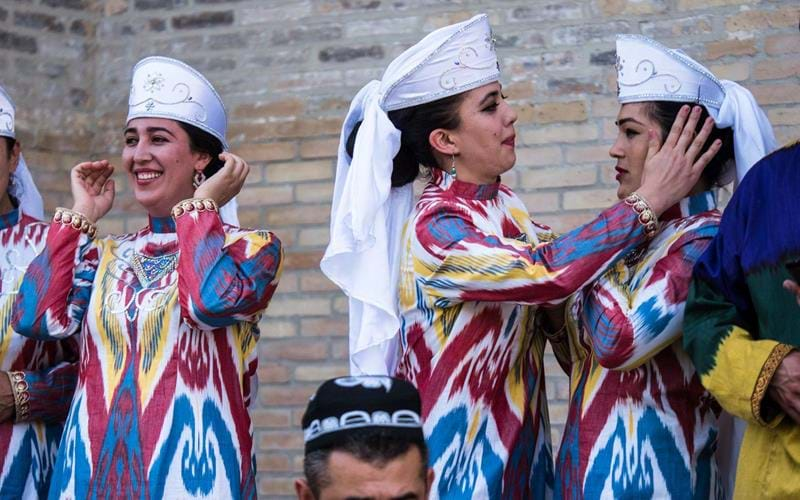 The Ark citadel is a more implacable and functional edifice than the nearby Poi-i-Kalan, its sloping walls enclosing the labyrinthine palace where the British emissaries, Stoddart and Conolly, met with untimely deaths in 1842 at the hands of the redoubtable Khan of Bukhara. Most of what stands today is a modern reconstruction. The last ruler, Alim Khan, ordered the building be blown up rather than allow it to fall into the hands of the Bolsheviks in 1920.
On the eastern outskirts of the city, the four-towered Chor Minar is on an altogether smaller scale, but a delightfully quirky structure modelled on the famous 'Char Minar' of Hyderabad in India. Dating from the 19th century, it was formerly prized by Sufi mystics and musicians for its wonderful acoustics.
Day 7
Bukhara, Samarkand
Today the tour continues east through the green belt lining the Zeravshan River to Samarkand, pausing for lunch at a traditional pottery. On arrival, visit Timur's azure-domed tomb, the Gur-i Amir.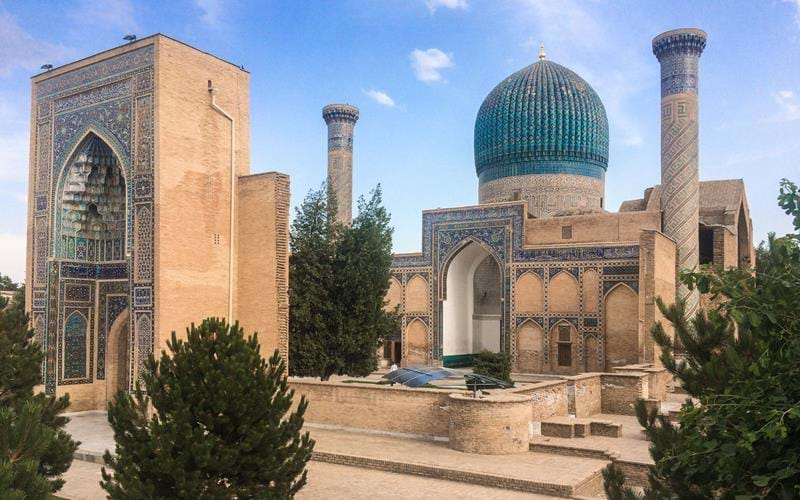 At their workshop in the town of Gijduvan, the Narzullayev family have been making ceramics for five generations, according to methods used in the area for literally thousands of years. You'll see how pots are thrown and fired in an old-style kiln, with glazes made from desert plants and local minerals (ground in situ on a wheel driven by a donkey). On arrival in Samarkand, we'll have time to freshen up at your hotel before visiting the Gur-i Amir, where the final resting place of the great king is marked by a beautiful slab of polished Chinese jade – thought to be the largest of its kind in the world.
Accommodation Options
Day 8
Samarkand
A memorable excursion awaits today as you visit the oasis town of Shakhrisabz, on the far side of the Gysar Mountains. Later, enjoy the superb tilework and sociable atmosphere of the Shah-i-Zinda tomb complex back in Samarkand.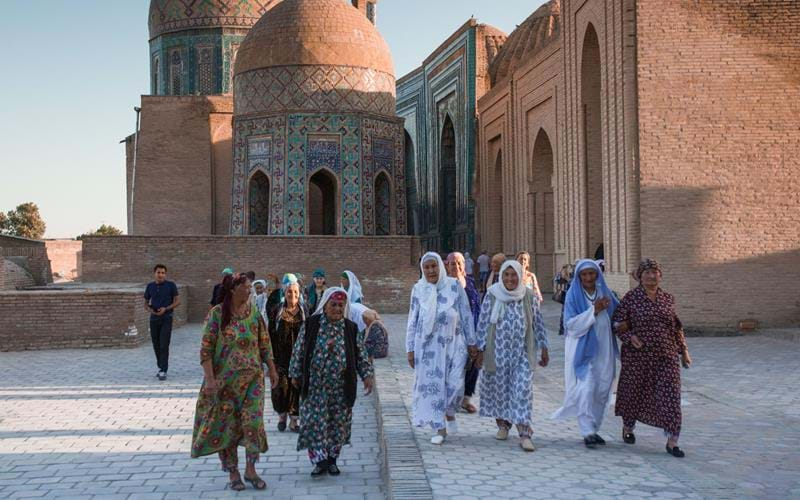 Located 50 miles (80km) south of Samarkand, Shakrisabz was the birthplace of Timur – a fact celebrated by a crop of wonderful 14th and 15th century monuments, foremost among them the majestic Kok Gumbaz mosque, with its three vibrant turquoise domes. The remnants of Timur's own Summer Palace, the Ak-Saray, come a close second: sublime blue, white and gold mosaics embellish the surviving gateway of the building. After lunch, there will be time to visit the site's remaining monuments before returning to Samarkand ahead of a sunset wander around the glazed-tiled tombs of the Shah-i-Zinda necropolis, where many of the Timurid Queens and concubines were laid to rest.
Day 9
Samarkand
The ninth day of the tour starts with a visit to the magnificent Registan, the greatest ensemble of buildings surviving from Timurid times, followed by Bibi Khanum mosque and nearby Siab market.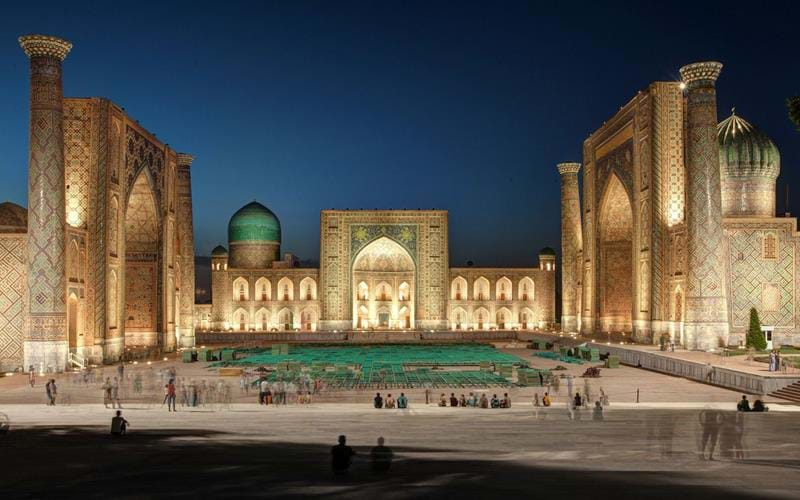 After breakfast, the group will be guided around the most spectacular ensemble of buildings in all of Central Asia – Samarkand's 'Registan'. The complex is made up three separate madrasas, or theological colleges, lining three sides of a huge plaza. Behind the richly decorated facades are hidden cloistered courtyards where the former priests' and students cells today hold small crafts and souvenir shops. At one, you can listen to traditional Uzbek instruments being played. In another, majolica tiles are made in time-honoured fashion.
After the Registan, we'll cross town to see the giant Bibi Khanym mosque, the largest and most impressive in the Islamic world in its day, before a wander around nearby Siab market – a great place for picking up local dried fruit, nuts and textiles. Time permitting, we might also call at a silk carpet factory to see rugs and kilims being woven by hand.
Day 10
Samarkand, Tashkent
Visit the site of ancient Samarkand in the morning, followed by a tour of Ulugbeg's famous observatory in the afternoon, ahead of your return by high-speed train to Tashkent in the evening.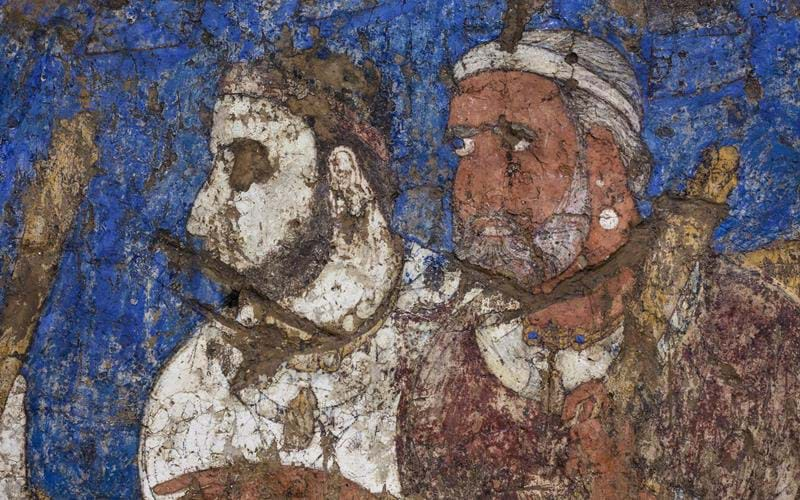 The ruins of Afrosiab sprawl over an expanse of sun-baked wasteland on the northeast side of the city. The site was founded by the Sogdian Dynasty in the 7th century BC and rose to become one of the great trading centres on the Silk Road before its destruction by Genghis Khan in 1220 AD. Although little remains of the city itself, the adjacent museum warrants a visit to see the fabulous 'Ambassador's Painting', a rare survivor from of the Sogdian period, painted over two-and-a-half-thousand years ago yet still vibrant. After lunch, visit Ulugbeg's extraordinary observatory complex, considered by astronomers as one of the finest of its kind the Islamic world.
Accommodation Options
Day 11
Tashkent, London
Transfer to the international airport.
Group Tour

11 days from £1995 per person
What's included
 
✓   10 nights accommodation
✓   Arrival & departure transfers, internal travel by road
✓   Local English-speaking tour leader for the group
✓   Accompanying tour leader
✓   All meals daily
✓   Entrance fees to sites and monuments listed in tour itinerary
Please Note: Due to Uzbekistan's ever-increasing popularity, occasionally for some departures we may make minor adjustments to the accommodation or transport arrangements listed above to ensure the tour runs as smoothly as possible. Please contact our team for more details.
2020/2021 tour prices for Uzbekistan Discovery
| | | | | |
| --- | --- | --- | --- | --- |
| DEPARTURE DATE | PRICE PER PERSON | SINGLE ROOM supplement | AVAILABILITY | |
| Sat 10 Oct 2020 | £1995 | £95 | Limited | |
| Sat 31 Oct 2020 | £1995 | £95 | Good | |
| Sat 14 Nov 2020 | £1995 | £95 | Good | |
| Sat 20 Mar 2021 | £1995 | £95 | Good | |
| Sat 03 Apr 2021 | £2095 | £145 | Good | |
| Sat 17 Apr 2021 | £2095 | £145 | Good | |
Make an enquiry
Places and Experiences in this tour
What Our Clients Say About Us
Start thinking about your next holiday
Whilst we stay at home, there is no better time to start thinking about your next holiday. Our Travel Specialists are ready to start planning your dream trip whether that is for some winter sun or a 2021 holiday. We don't need to confirm dates or lock-in deposits, let's just get the conversation going.
Or call us on 07947 761 237
TransIndus Brochures 2020
Join our mailing list