Featured
Group Tour

16 days from £3595 per person
Places Visited:
Delhi, Agra, Sariska, Jaipur, Bikaner, Jaisalmer, Jodhpur, Narlai, Udaipur
Departing: 01 - 16 November 2019

TransIndus are proud to have partnered the charity 'WaterHarvest' for this very special, one-off group tour to India. Combining the highlights of the 'Golden Triangle' region and Rajasthan, the itinerary follows the course of our popular 'Land of Kings' tour, but includes detours to key WH projects where you'll have a chance to see from close quarters the fantastic work they do.
Travelling under the auspices of this wonderful NGO means that as well as visiting some of India's most compelling cities and monuments, the group will have privileged access to off-track areas rarely visited by outsiders, where you'll gain vivid insights into traditional, rural life.
Accommodation will be in a mix of modern and elegant heritage properties. The weather in early November is dependably dry, with cool mornings and warm afternoons. Transport will be in luxury, air-conditioned vehicles.
A rare opportunity to experience both the regal and earthy sides of India, our WaterHarvest 'Land of Kings' tour is guaranteed to yield great insight as well as incomparable travel memories.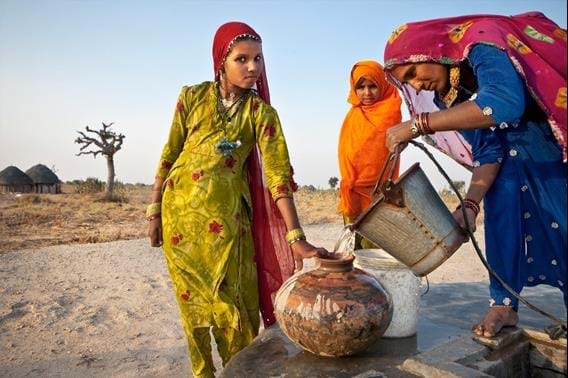 About Water Harvest


The charity Water Harvest (www.waterharvest.org) was set up in 1987 by Dr Nicholas and Prof. Mary Grey to provide funding and technical support for water-based development projects in India. Over three decades since its foundation, the NGO has transformed the lives of many people in drought-affected parts of rural Rajasthan.
On this tour we'll visit some of their defining schemes, including a model farm which demonstrates sustainable ways of irrigating crops and making organic pesticides. We'll also see at first hand a self-help project that has enabled local women to generate income to fund the education of their children.
The tour will be accompanied throughout by an expert from the WaterHarvest team, and at key points by director, Om Prakash Sharma, who has helped build numerous dams in India.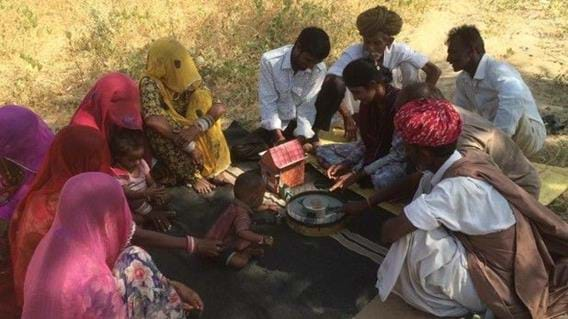 "We were so impressed by the work, and how much could be achieved by spending relatively modest sums of money to alleviate water shortages and poverty. My lasting memory of our visit was to see an orchard in the middle of the desert as a result of the work by WaterHarvest." Tom Holder – volunteer & supporter
Holiday Types
Cultural Holidays Landscape & Nature Holidays Wildlife Holidays
Travel Arrangements
Group Size

4 -16 people

Internal Travel

Arrival and departure transfers. All transport within India

Accompanying Guide

Services of a local, English-speaking guide and accompanying WaterHarvest tour leader

Accommodation

14 nights accommodation in charming, characterful hotels

Meal Plan

Full-board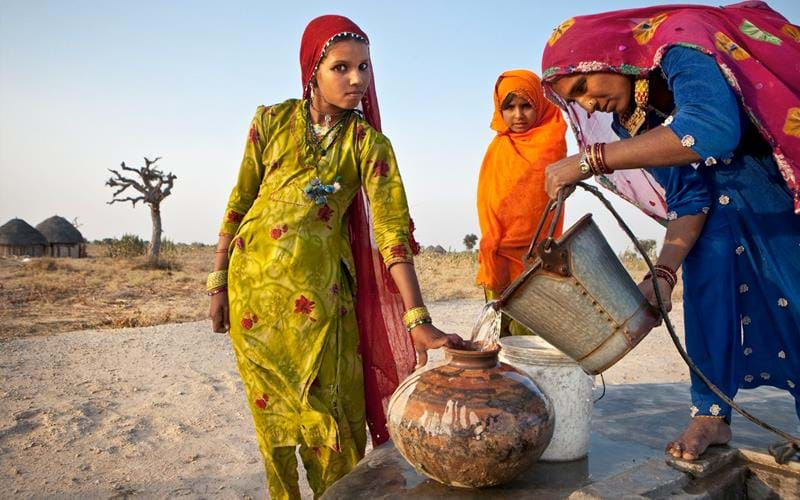 What's Trending
Featured Group Tour
Join us on this very special, one-off group tour combining the highlights of India's Golden Triangle and Rajasthan with key conservation projects led by Water Harvest, a not-for-profit organisation supporting rural projects.
Itinerary for Rajasthan, A Special WaterHarvest Departure
Day 1
Friday, Nov 1 London
The group will assemble in London Heathrow ahead of our overnight flight to Delhi.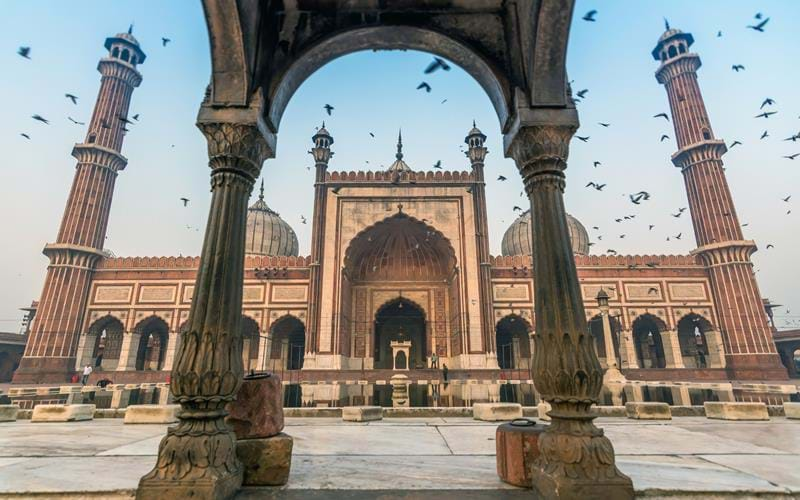 Day 2
Saturday, Nov 2 Delhi
We'll be greeted at the airport and escorted by our local TransIndus representative to the Hotel Suryaa, where we'll spend the remainder of the day recovering from our journey. Before a 'welcome supper' at a local restaurant, the group will meet members of the WaterHarvest team.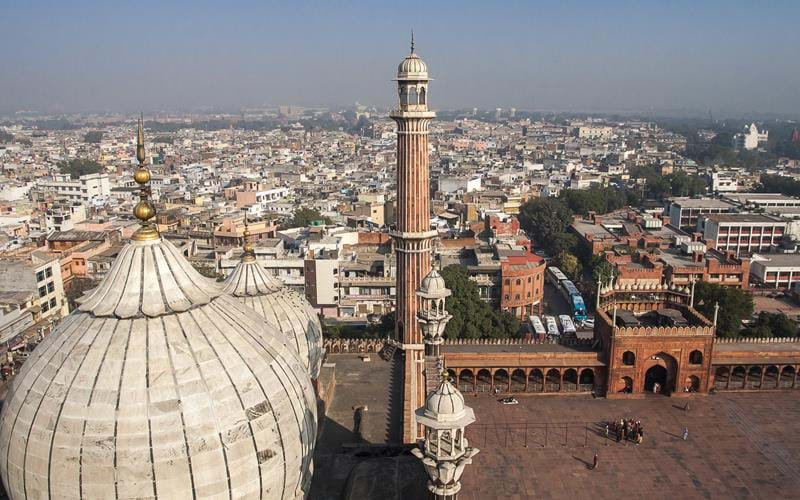 Accommodation Options
Day 3
Sunday, Nov 3 Delhi
A full day's sightseeing today begins after breakfast with a visit to the Jama Masjid, the city's most splendid Mughal-era monument, followed by a cycle rickshaw tour of Old Delhi. In the afternoon, we'll drive through Lutyen's New Delhi to see Humayun's tomb (late-16th century), followed by the even older Qtub Minar complex on the south edge of the city.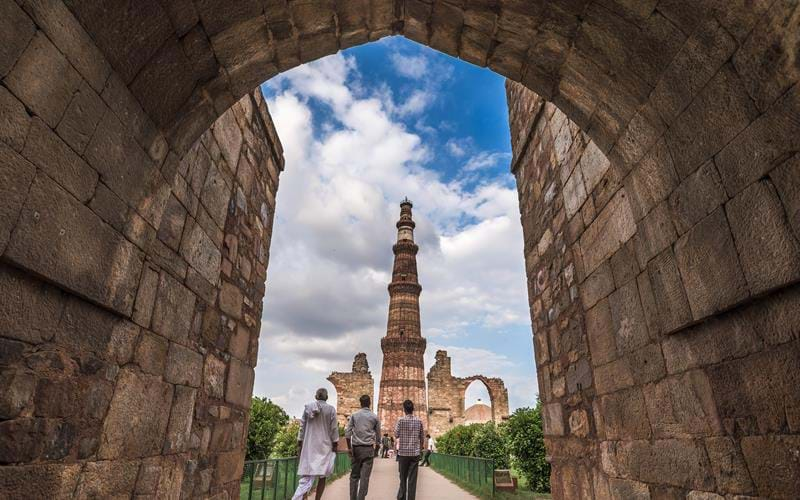 Day 4
Monday, Nov 4 Agra
We'll travel southwest from Delhi in the morning to Agra, visiting the city's three principal sights in the afternoon: the spectacular Mughal Fort, the ornately decorated Itamud-ud-Daula tomb, and finally, the Taj Mahal, which we'll see around sunset time when its marble surfaces are bathed in ethereal evening light. We stay overnight at the ITC Mughal.
Accommodation Options
Day 5
Tuesday, Nov 5 Sariska
The group will leave in the morning for Sariska, stopping en route at Fatehpur Sikri, the red sandstone capital built by Emperor Akbar in the 16th century, but abandoned after just 14 years due to a shortage of water. After lunch, we'll visit the village of Thanagazi, where farmers are taught water harvesting techniques at a model organic farm. We hope to have sundowners at the village before returning to our hotel, the Sariska Retreat, in time for supper.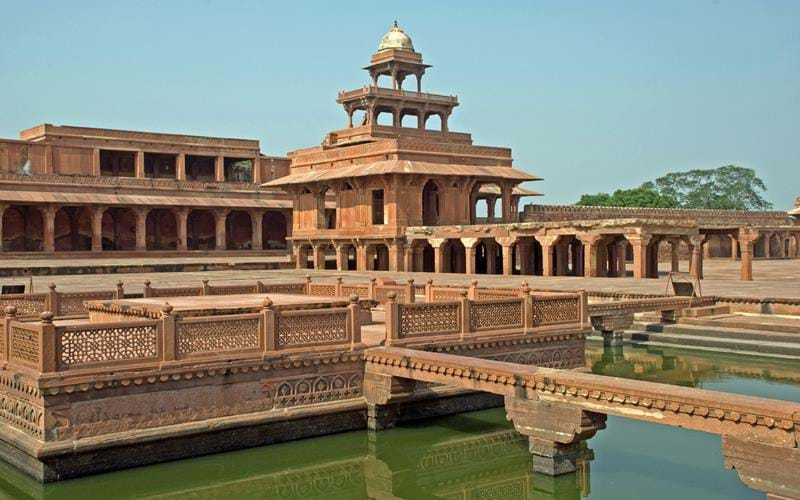 Day 6
Wednesday, Nov 6 Jaipur
Today begins with an early morning wildlife safari in the Sariska National Park, currently home to 18 tigers, numerous leopards and many other wild animals. Later, we'll return to our hotel for breakfast before driving north to Jaipur. The journey will be broken at Abhaneri to see an impressive stepwell. Our base for two nights will be Narain Niwas Palace.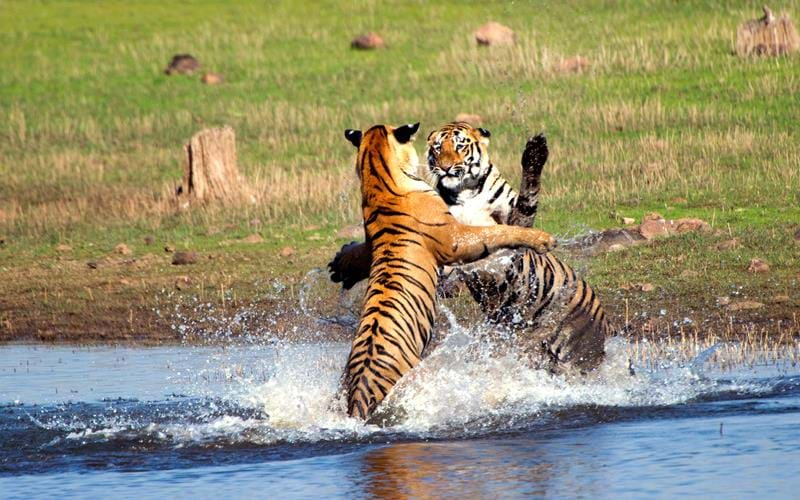 Day 7
Thursday, Nov 7 Jaipur
A trip to the magnificent 17th century hilltop fortress-palace at Amber starts the day off in high Rajput style. We'll then return to Jaipur for lunch and a guided tour of the City Palace complex, pausing at the iconic Hawa Mahal and the colourful textile bazaar in the evening.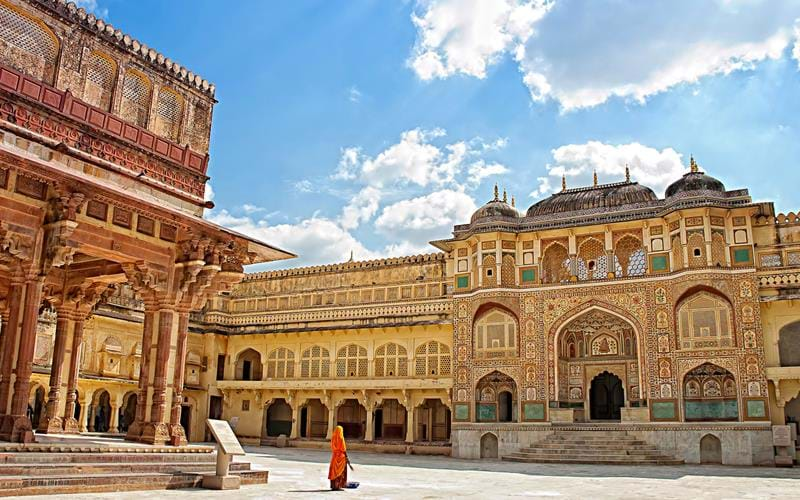 Day 8
Friday, Nov 8 Bikaner
We will depart in the morning to Bikaner, a half day's drive northwest, where we'll be staying in a traditional Narendra Bhawan. In the afternoon we explore Junagarh Fort and a camel breeding farm.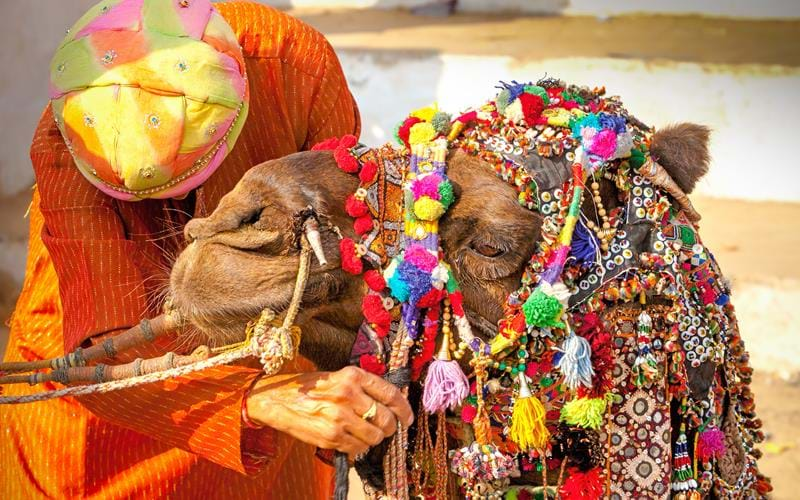 Day 9
Saturday, Nov 9 Jaisalmer
Another half-day's drive southwest takes us to the desert citadel of Jaisalmer, deep in the Thar. We'll be staying for two nights at the Rang Mahal, a smart luxury hotel built on the edge of town from the local yellow sandstone.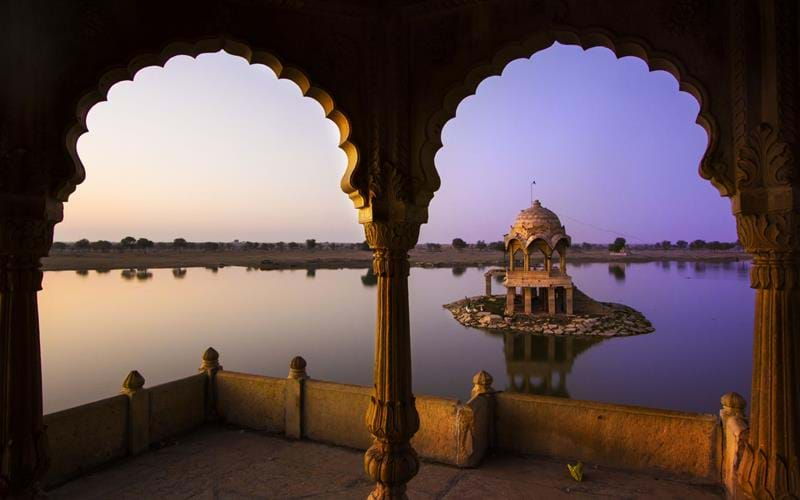 Day 10
Sunday, Nov 10 Jaisalmer
In the morning with our guide we'll explore Jaisalmer's beautiful Fort, a maze of alleyways and narrow lanes that lead to various 'havelis' (walled mansions), palaces and Jain temples, all enclosed within giant barrel-vaulted ramparts. We'll also visit the Gadisar Tank, once the sole water supply for the city and a repository of some intricately carved shrines.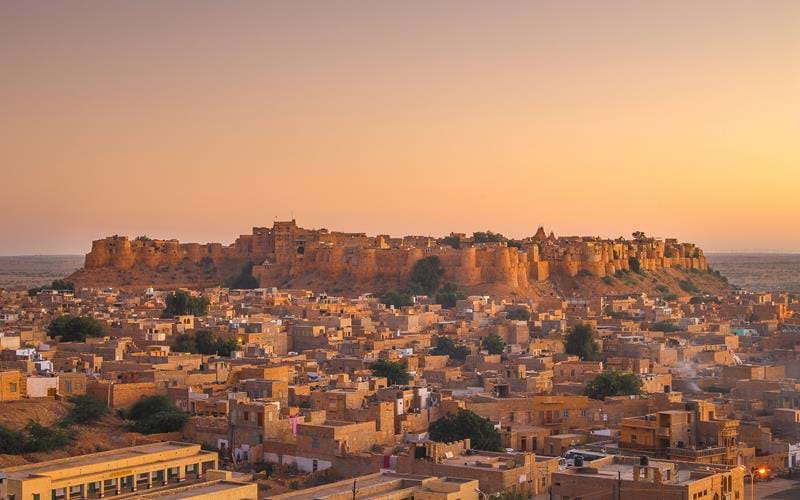 Day 11
Monday, Nov 11 Jodhpur
Time to traverse the Thar again, this time heading southeast to Jodhpur. On the way we'll visit the second of our WaterHarvest projects, where we'll see tanks provided with donations from around the world, and learn about some of the brilliant self-help schemes set up by WH for local women. A picnic lunch will be arranged in the village. Late in the afternoon we'll continue on to Jodhpur for a twonight stay at Park Plaza hotel.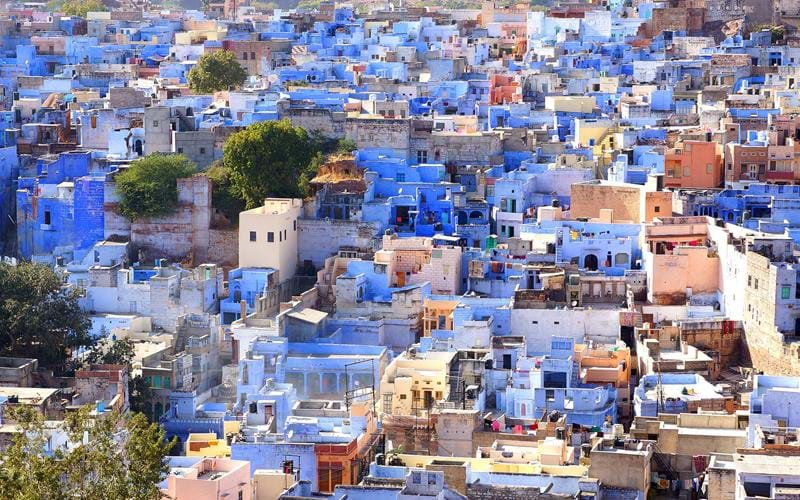 Day 12
Tuesday, Nov 12 Jodhpur
A morning of sightseeing in the 'Blue City' begins with a tour of spectacular Mehrangarh Fort after breakfast, followed by a guided walk around the old quarter at its foot. In the afternoon we'll be at leisure to relax by the pool, shop or explore at our own pace.
Day 13
Wednesday, Nov 13 Narlai
Heading southweast from Jodhpur, we drive towards the Aravalli mountains today for a night at Rawla Narlai, a rural retreat in a beautiful Rajput fort. Later, you'll have the chance to explore the adjacent village and temples, with the option of a jeep safari or candle-lit supper in a 1100-year-old step well.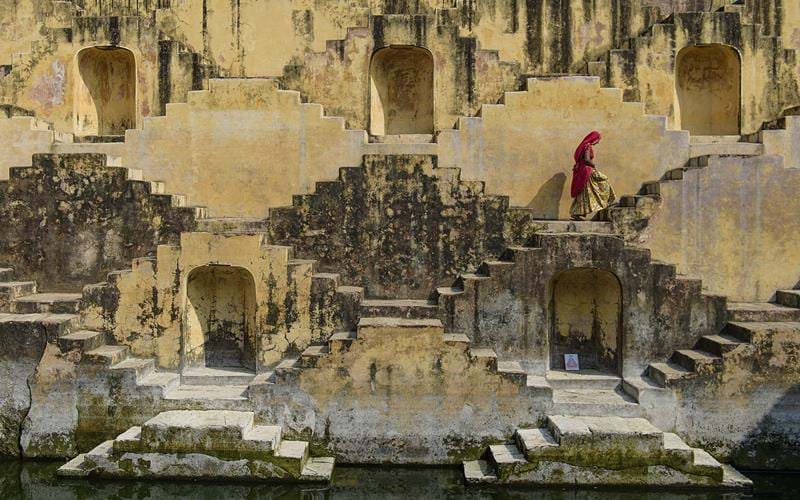 Day 14
Thursday, Nov 14 Udaipur
A winding journey through some dramatic scenery takes us to Ranakpur, site of India's most intricately carved marble temples, from where we'll continue on to Udaipur for two-night stay at the Lalit Laxmi Vilas Palace.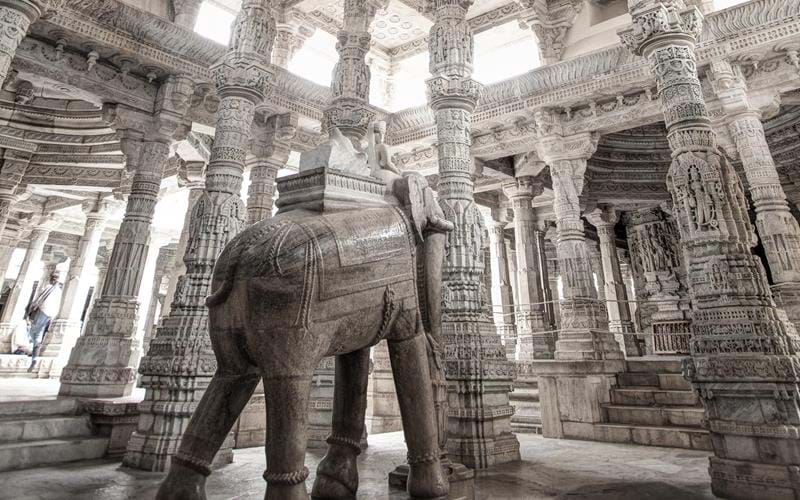 Day 15
Friday, Nov 15 Udaipur
Visit Udaipur's magnificent City Palace in the morning, whose royal halls and apartments rank among the most sumptuously decorated in India. Having visited the nearby old city, Jagdish temple and market district, and enjoyed a traditional Rajasthani lunch, you'll be free to enjoy a spot of souvenir shopping before an evening lake cruise and high tea.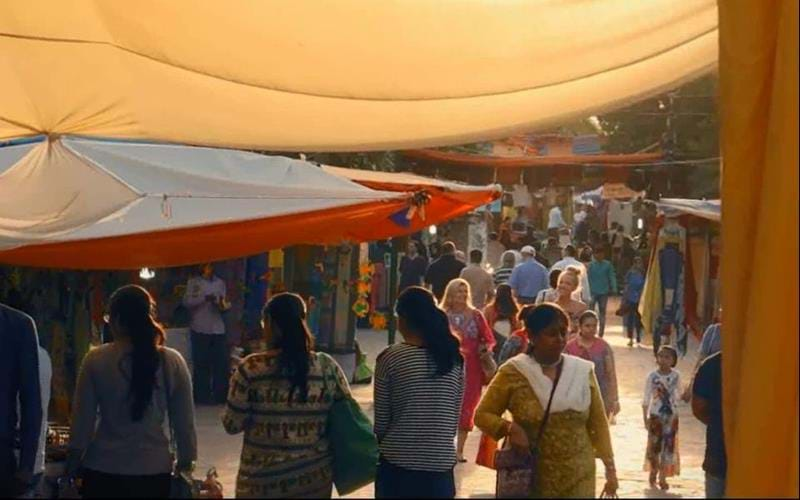 Day 16
Saturday, Nov 16 London
Time to bid farewell to Rajasthan as you transfer to the airport for your domestic flight to Mumbai and onward journey to London.
Group Tour

16 days from £3595 per person
What's included

✓   14 nights accommodation in charming, characterful hotels
✓   Arrival and departure transfers. All transport within India
✓   International flights
✓   Services of a local, English-speaking guide and accompanying WaterHarvest tour leader
✓   Meal plan: Full-board
✓   Entry costs to all sights listed in the itinerary
Holiday Extensions for this tour

Rajasthan, Land of Kings - Beaches of Goa
4 days, 3 nights from £665 per person
Single supplement £ 425 per person
view itinerary
Day 14
Udaipur, Mumbai, Goa
Take a set of flights via Mumbai to Goa, arriving mid afternoon. Transfer to the Holiday Inn or similar (upgrades available) for three nights.
Day 17
Goa
Transfer to the airport for your onward flight.

Rajasthan, Land of Kings - Tigers of Ranthambore
5 days, 4 nights from £745 per person
Single supplement £ 265 per person
view itinerary
Day 14
Udaipur, Bundi
Drive through the Mewari countryside towards Bundi (4-5 hours) stopping to see the Chittorgarh Fort en route. Check-in to stay overnight at the Bundi Vilas hotel. Visit the Taragarh Fort and its impressive Picture Gallery in the afternoon.
Day 15
Bundi, Ranthambore
Drive towards Ranthambore in the morning (3-4 hours). Stay at the Ranthambore Kothi for two nights. Enjoy an afternoon game drive in the park.
Day 16
Ranthambore
A full day of game drives in the park.
Day 17
Ranthambore, Delhi
Enjoy a morning game drive. Journey by train to Delhi this afternoon. On arrival, transfer to the hotel, staying overnight at The Park hotel.
Day 18
Delhi
Transfer to the airport for your onward flight.
2019 tour prices for Rajasthan, A Special WaterHarvest Departure
| | | | | |
| --- | --- | --- | --- | --- |
| DEPARTURE DATE | PRICE PER PERSON | SINGLE ROOM supplement | AVAILABILITY | |
| Fri 01 Nov 2019 | £3595 | £875 | Please call us | |
Places and Experiences in this tour
What Our Clients Say About Us
Talk to the Experts
At TransIndus we are committed to quality and determined to ensure every one of our clients enjoys the best holiday possible. Having lived or worked, and travelled extensively in their specialist countries, our consultants are experts whose advice can be depended on. To make an enquiry, call us on 0208 566 3739
020 8566 3739
TransIndus Brochures 2019/20
Join our mailing list