Maheshwar, North & Central India, India
It's hard to imagine a more evocative spot for a candle-lit dinner than the roof terrace of Ahilya Fort, on the banks of the Narmada at Maheshwar. Dating from 1766, the citadel's blackened sandstone walls fall sheer to the river, half-a-mile wide at this point and as still as oil – a spellbinding spectacle just after sunset. The warrior-prince Ahilya Bai founded the fortress and her descendent, Prince Shivaji Rao Holkar, son of the last Maharaha of Indore, still lives here with his American wife. They've transformed the place into a guest house that's a masterpiece of understatement and traditional style.
Antique doors open on to plant-filled courtyards festooned with scented creepers. Exposed beams, distempered walls and locally woven textiles lend an earthy feel to the rooms, some of which have wonderful, cusp-arched jharokha balconies suspended over the water. And the food, made from home-grown, organic produce, is delicious. Stay for at least a couple of nights if you can afford it – there's no more wonderful place to stay for literally hundreds of miles in any direction.
Recommended tour including Ahilya Fort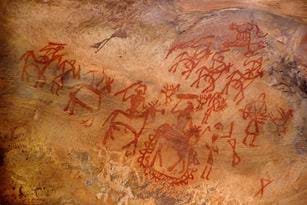 Ancient Wonders of West India >>
Visit this Hotel
Stay at Ahilya Fort, Maheshwar during any one of these delightful holidays.
TransIndus Brochures 2022
Join our mailing list