Rising like a vision from Gormenghast, Bishangarh epitomizes the grandeur and extravagance of princely Rajasthan. The fort was recently acquired by the luxury Alila chain and has been sumptuously renovated, complete with huge pool, indulgent ayurvedic spa and über-stylish interiors. Go for one in the corner towers, where you can lounge inside the turrets – perfect for sunset views.
Recommended tailor-made tour including Bishangarh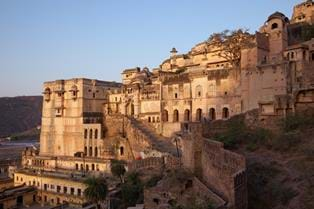 Off Track Rajasthan tour >>
Start thinking about your next holiday
Whilst we stay at home, there is no better time to start thinking about your next holiday. Our Travel Specialists are ready to start planning your dream trip whether that is for some winter sun or a 2021 holiday. We don't need to confirm dates or lock-in deposits, let's just get the conversation going.
020 8566 3739
TransIndus Brochures 2020
Join our mailing list