This opulent retreat is the former palace of the last Maharajah of Bikaner, who packed as many travel-inspired styles as he could into the property, from Art Deco to Lusitanian azulejo. The effect is a touch whimsical, but fabulously stylish, from the red-painted baby grand and Portuguese marble mosaic floors in the lobby to the exquisitely carved sandstone jali screens and luxurious velvet-upholstered furniture in the bedrooms. Each floor has its own attentive 'khidmatgar', a traditional butler who will conjour up silver trays of tea at a moment's notice. We particularly love the sparkling rooftop Infinity pool, which has a glorious view over the old city.
Recommended tailor-made tour including Bikaner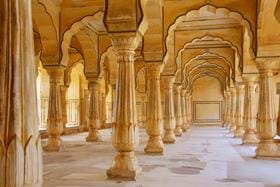 Start thinking about your next holiday
Whilst we stay at home, there is no better time to start thinking about your next holiday. Our Travel Specialists are ready to start planning your dream trip whether that is for some winter sun or a 2021 holiday. We don't need to confirm dates or lock-in deposits, let's just get the conversation going.
020 8566 3739
TransIndus Brochures 2020
Join our mailing list