Tailor-made Tour

10 days from £1865 per person
Places Visited:
Delhi, Agra, Fatehpur Sikri, Ranthambore National Park, Jaipur
This trip covers the highlights of India's Golden Triangle. This 10 day itinerary is popular with first-time visitors to India who wish to experience some of the country's most famous attractions in a relatively short period of time. A couple of days sightseeing in Delhi gets the tour underway, followed by a stay in Agra to see the Taj Mahal and other Mughal treasures, then a memorable journey west into the forests of Ranthambore, where you'll stand a good chance of spotting a tiger or two. Rajasthan's vibrant capital, Jaipur, takes up the remainder of the trip, which ends with a short flight back to Delhi to catch the plane home.
Remember, this trip can be personalised to suit your travel needs - we can tailor everything from hotel, travel type, duration and more.
Holiday Types
Cultural Holidays Wildlife Holidays River Cruising Holidays Luxury Train Holidays Family Holidays Honeymoons Beach Holidays Adventure Holidays
Suggested itinerary
Day 1
UK - Delhi
Fly overnight to Delhi.
Day 2
Delhi
On arrival at Delhi's Indira Gandhi International Airport, you'll be met by your TransIndus guide and driver, and transferred to your hotel, where you'll be staying for two nights.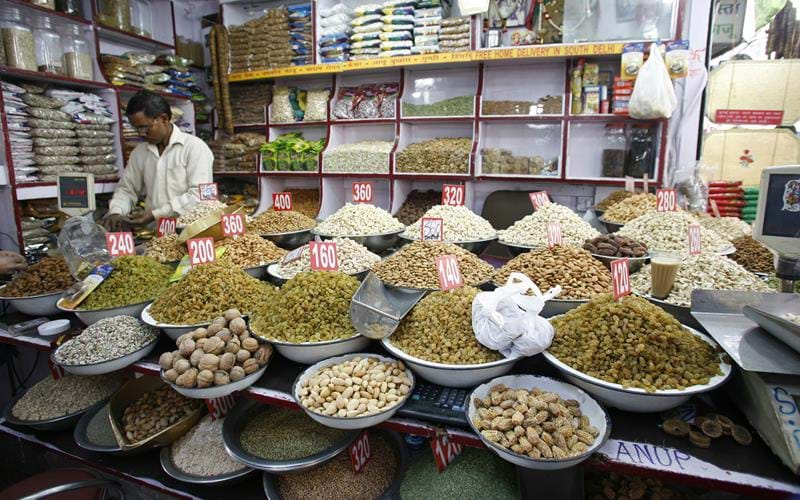 Spend the remainder of the day recovering from your journey with a leisurely swim in the hotel pool, and perhaps a stroll around the local neighbourhood.
Accommodation Options
Day 3
Delhi Sightseeing
Full day's sightseeing, starting with a cycle-rickshaw ride through the lanes of Old Delhi, followed by a visit to the Jama Masjid mosque. In the afternoon, Lutyen's imperial capital, Humayun's Tomb, and Qutb Minar complex.
Cycle-rickshaws are a relaxing, and eco-friendly, way to explore the lanes of Old Delhi. Different streets are to be given over to different trades in this atmospheric district, which formed the hub of the Mughal city. Dominating its skyline is the massive white dome of the Jama Masjid mosque, the next stop on your tour. After admiring the extraordinary view from its minarets, enjoy lunch at one of the famous kebab restaurants below, before driving past the Raj-era capital to Humayun's Tomb, one of the India's greatest early Mughal buildings. Older still is the iconic Qutb Minar victory tower on Delhi's southern outskirts, the day's final stop.
Accommodation Options
Day 4
Delhi - Agra
Train to Agra to visit the city's Mughal Fort and tombs, followed by sunset walk around the Taj Mahal.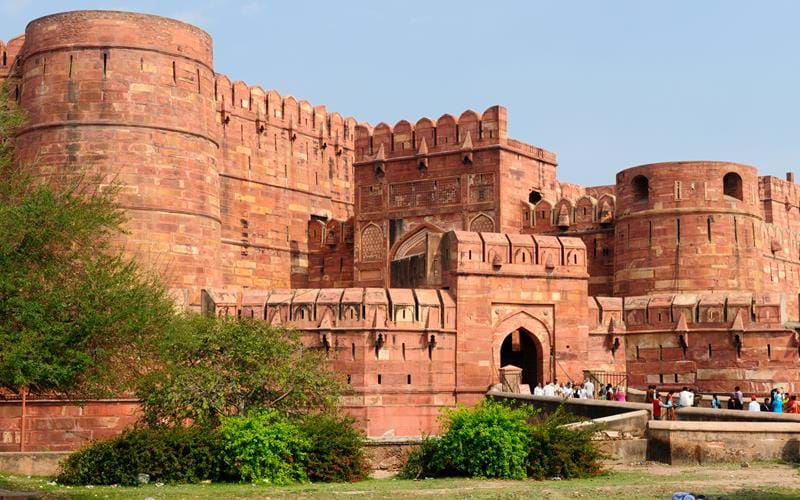 An early start is required to catch the Gatimaan Express, which takes a little over an hour to reach Agra from Delhi. On arrival, you'll be driven to the city's great Mughal Fort, where Shah Jahan, creator of the Taj Mahal, was imprisoned at the end of his life by his son, Aurangzeb. On the opposite bank of the Yamuna River, the exquisitely decorated Itimad-ud Daulah tomb provides the next stop. The mausoleum's inlay work foreshadowed that of the Taj, which you'll visit towards the end of the afternoon, when the changing light transforms the marble surfaces from a pale ochre to orange and crimson.
Accommodation Options
Day 5
Agra - Ranthambore National Park
Drive to Fatehpur Sikri, then on Ranthambore National Park.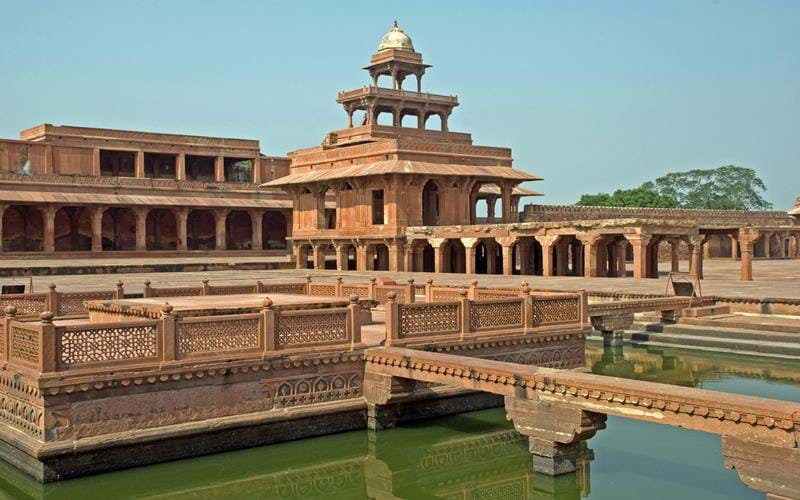 The first stop on the fifth day of your tour is Fatehpur Sikri, the former capital of Emperor Akbar. It was built at lavish expense at end of the 16th century but only occupied for sixteen years. The finely carved, dark-red sandstone buildings remain in fine condition and vividly evoke the opulence of the Mughal era. Among many highlights are the Diwan-i-Khas audience hall, with its richly carved throne pillar, the beautiful Tomb of Sheikh Salim Chishti (a revered Sufi mystic) and Buland Darwaza gateway.
On arrival in Ranthambore you'll check into your luxury hotel in time for the evening game drive around the park.
Accommodation Options
Day 6
Ranthambore National Park
Morning and evening game drives in the park.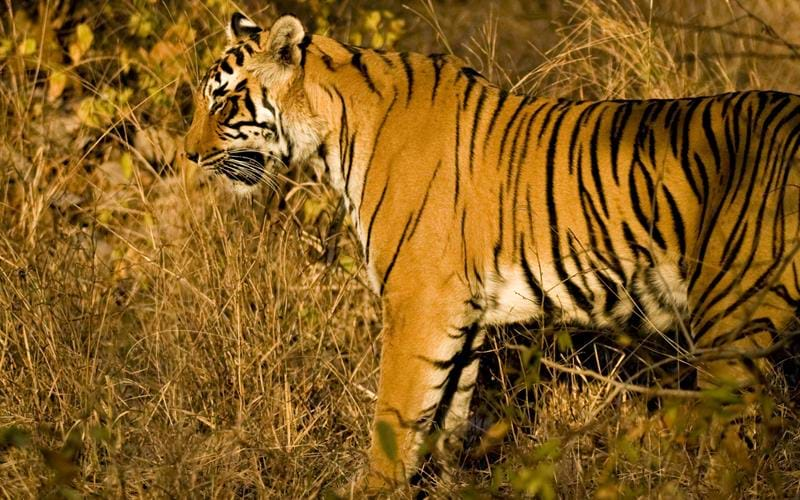 A former royal hunting reserve, Ranthambore nestles at the foot of a dramatic escarpment crowned by a ruined fortress. Expanses of grassland, marsh, lakes and mixed deciduous forest enfold the rocky plateau – perfect terrain for tiger and the herds of sambar deer and other animals they prey on. Just over 60 big cats currently prowl the park and your chances of a sighting a very good. Apart from tigers, Ranthambore also supports thriving populations of leopard, sambar and chital deer, nilgai (blackbuck), bears, crocodiles, and two species of monkey. Safaris are conducted in open-topped Jeeps.
Accommodation Options
Day 7
Ranthambore National Park - Jaipur
Drive to Jaipur where you'll stay for three nights.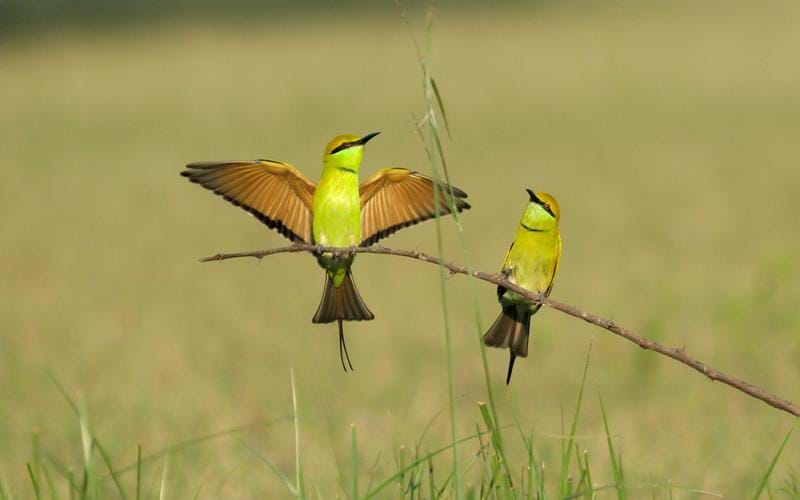 After your early morning game drive and breakfast at Ranthambore, you'll drive north towards the Rajasthani capital, Jaipur, skirting outliers of the Aravalli mountains along the way. Glimpses of rural life in the state enliven the journey across this quintessential Rajasthani landscape.
You'll arrive at Jaipur in time for a leisurely exploration of the neighbourhood around your hotel, or a trip into the bazaar district. The capital abounds with places to sample traditional cuisine, as well as more cosmopolitan fare, and many restaurants lay on folk music and dance as post-prandial entertainment.
Accommodation Options
Day 8
Jaipur
Full day's sightseeing in Jaipur, beginning with a trip out to Amber Fort, followed by the Hawa Mahal, Janta Mantar Observatory and the City Palace museum.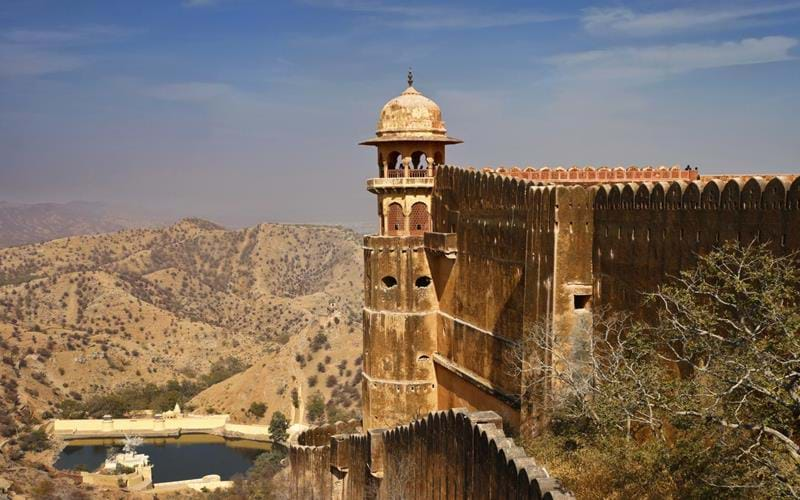 Perched on the rim of a dramatic escarpment overlooking a lake, Amber Fort retains some of the finest interiors surviving from the 16th and 17th centuries in India, notably a glittering 'Hall of Mirrors', or 'Sheesh Mahal', lined with intricate mirror mosaics where the Maharaja and his consorts would enjoy music and poetry recitals. Anyone interested in traditional Rajasthani textiles will also enjoy the Anokhi Museum of Hand Printing, located in a beautifully restored haveli in Amber village.
Jaipur itself is a swirl of life and colour, and its numerous monuments and markets provide the focus for the rest of the day. You'll begin at the famous City Palace complex, which includes the much photographed 'Hawa Mahal', or 'Palace of Winds', a five-storey façade of elaborately screened windows from where the women of the royal household used to watch processions in the streets below.
Accommodation Options
Day 9
Jaipur
Spend the penultimate day of the trip with some leisurely shopping and enjoying the warm afternoon sunshine by the poolside, ahead of your journey home.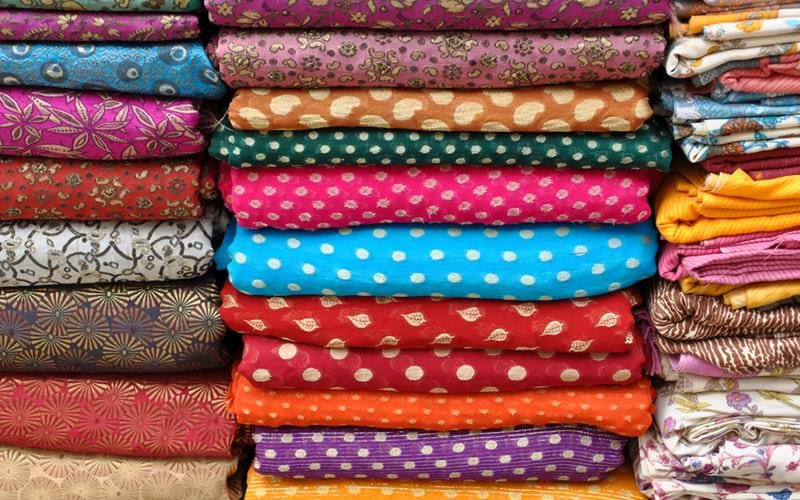 Consider a visit to the gem market, where semi-precious stones from across Asia are polished and set in silver. The city also holds large branches of the Fab India department store and Anokhi, an international chain specializing in women's clothes made from traditional Rajasthani textiles. There are also some fabulous palace hotels you may wish to visit: the Polo Bar at the Rambagh is welcoming place for a sundowner.
Accommodation Options
Day 10
Jaipur -Delhi - UK
First thing in the morning you'll be transferred to the airport for your domestic flight to Delhi, to connect with your onward journey back to the UK.
Tailor-made Tour

10 days from £1865 per person
What's included

✓   International flights from UK
✓   8 nights accommodation
✓   All road travel and transfers using private, chauffeur-driven vehicles
✓   Private English-speaking guides
✓   Breakfast daily
✓   Entrance fees to sites and monuments listed in tour itinerary
Holiday Extensions for this tour

Essence of Kerala - Kovalam
4 days, 3 nights from £235 per person
Single supplement £ 150 per person
view itinerary
Day 8, 9, 10
Kovalam
Stay for an additional three nights at the Travancore Heritage Hotel. Remain at leisure.
Accommodation
Day 11
Kovalam, Trivandrum
Travel to Trivandrum airport for your onward flight.

Glimpse of India - Beaches of Goa
4 days, 3 nights from £695 per person
Single supplement £ 445 per person
view itinerary
Day 8
Delhi - Goa
Fly from Delhi to Goa, arriving mid afternoon. Transfer to the Holiday Inn or similar (upgrades available) for three nights.
Accommodation
Day 11
Goa
Transfer to the airport for your onward flight.

Glimpse of India - Ganges at Varanasi
3 days, 2 nights from £595 per person
Single supplement £ 195 per person
view itinerary
Day 7
Jaipur - Varanasi
Transfer to the airport for a short flight to Varanasi. Transfer to the Gateway Hotel Ganges for two nights.
Accommodation
Day 8
Varanasi
Varanasi is the oldest continuously inhabited places on earth. Streams of Hindu worshippers still come here today to bathe in the sacred waters. We will enjoy a peaceful early morning boat ride on the Ganges. The afternoon is spent visiting Sarnath, the site of Buddha's first public discourse. In the evening we head back to the Ganges to witness ceremonial worship with oil lamps.
Day 9
Varanasi - Delhi
A midday flight back to Delhi. On arrival, transfer to an airport hotel for an overnight stay.
Day 10
Delhi
Transfer to the airport for your flight home.
Places and Experiences in this tour
Plan your Next Adventure
With the world now largely open again, now is the time to begin planning your next adventures in Asia. Our Travel Specialists are ready to take your call and discuss the adventure you have spent the last 3 years dreaming of.
Or call us on 0208 566 3739
TransIndus Brochures 2023
Join our mailing list