New
Tailor-made Tour

14 days from £3425 per person
Places Visited:
Delhi, Stok, Leh, Nubra Valley, Nimmu, Delhi
Due to its cultural and geographical affinities with Tibet (of which it was a province for several centuries), Ladakh was often referred to as 'Little Tibet'. Today, the region's capital, Leh, is nowhere near as remote as it was for the first Victorian explorers to reach, but the spectacular scenery and Buddhist monasteries they eulogized remain as impressive as ever, and on this luxury 13-day tour you'll experience the best of both, from the comfort of your own chauffeur-driven vehicle.
Rather than modern hotels in the regions small towns, you'll be based at beautifully restored palaces and farmhouses and lovely little hideaways in quiet, atmospheric, rural locations. The trip includes gentle walks into local villages, visits to local farmsteads and sacred sites, as well as to the region's most picturesque and interesting 'gompas' (monasteries).
Throughout, this life changing tour you'll be entranced by views of the surrounding snow peaks, which rise in ethereal fashion above the poplar trees and barley terraces that patchwork the valley floors. There will be plenty of opportunities to interact with local people, with your Ladakhi guide acting as an interpreter. Meet red-robed librarian monks pouring over ancient manuscripts in their incense-filled prayer halls. Consult a village astrologer-oracle in a private seance. And that Pashmina goat herders and farmers going about their chores as you walk or cycle through traditional hamlets, whose rooftops are festooned with fluttering prayer flags and prayer wheels.
Holiday Types
Cultural Tours Walks, Hikes and Rides
Suggested itinerary
Day 1
UK
Fly overnight from London to Delhi.
Day 2
Delhi
On arrival in Delhi's Indira Gandhi International airport, you'll be met by your TransIndus guide and driver and transferred to your hotel for an overnight stay. Spend the remainder of the day recovering from your journey with a leisurely swim in the hotel pool. Depending on the location of your hotel, you might also be able to visit a nearby Mughal tomb garden at sunset, or go for a stroll at the Gurudwara Bangla Sahib, near Connaught Circus.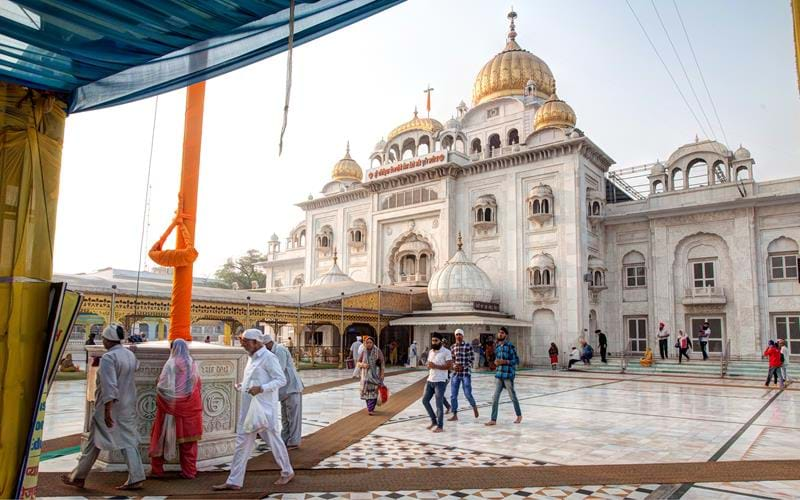 Made of white marble and crowned by a gilded onion dome, the Gurudwara Bangla Sahib and shimmering pool inside it are places of great sanctity for Indian Sikhs, and offer the most atmospheric introduction possible to the Indian capital. The complex in its present form dates from the late-18th century and was constructed at a place associated with the eighth Sikh Guru, Har Krishnan. At a Langar, or 'canteen' in the temple, pilgrims are fed nourishing, free meals of chapatis and black dal by volunteers. If you're lucky, you may see groups of Akalis, members of a Sikh warrior sect, dressed in traditional ceremonial garb.
Accommodation Options
Day 3
Delhi - Stok
Transfer to the airport in the morning to catch the plane to Leh. Weather permitting, in the course of the one-hour flight you'll see a vast sweep of the Great Himalayan range, smothered in glaciers and snow. Having been greeted on arrival by your TransIndus guide and driver, spend the remainder of the day soaking up the wonderful scenery from the comfort of your hotel.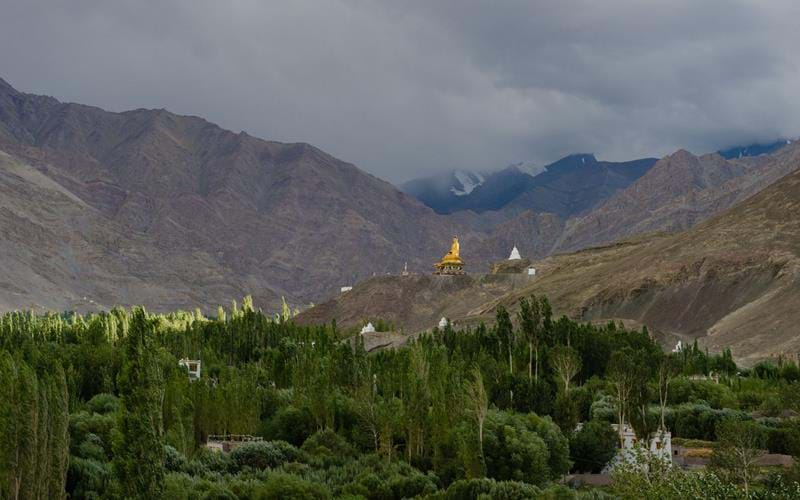 Ladakh is India's most physically remote region, and during your flight you'll appreciate why. Vast, ice-encrusted Himalayan mountains separate the plains from the Indus Valley, where the airport and capital city, Leh, is located. As you land, you'll catch your first glimpse of the white-washed Buddhist monasteries perched atop crags near the river, and of the pretty Ladakhi villages huddled around them, wrapped in stands of poplar trees and fields of vivid green or golden barley.
Your base for four nights will be a luxury camp or boutique hotel in one of these farming hamlets –perfect for acclimatizing to the altitude. Time and energy permitting, consider a gentle stroll around the local lanes in the late afternoon. Villagers will doubtless wave with the traditional Ladakhi greeting,  'Juley juley!'.
Accommodation Options
Day 4
Stok
After a leisurely breakfast, enjoy a stroll around Stok (or Tikse, depending on your accommodation choice). The floor of the Indus Valley is at approximately 3,500ft. To avoid mild altitude sickness, we always ensure our clients do not over-exert themselves on their first day, spending most of it with their feet up drinking copious amounts of tea from a hot flask! Later, your guide will join you for a tour of Stok monastery.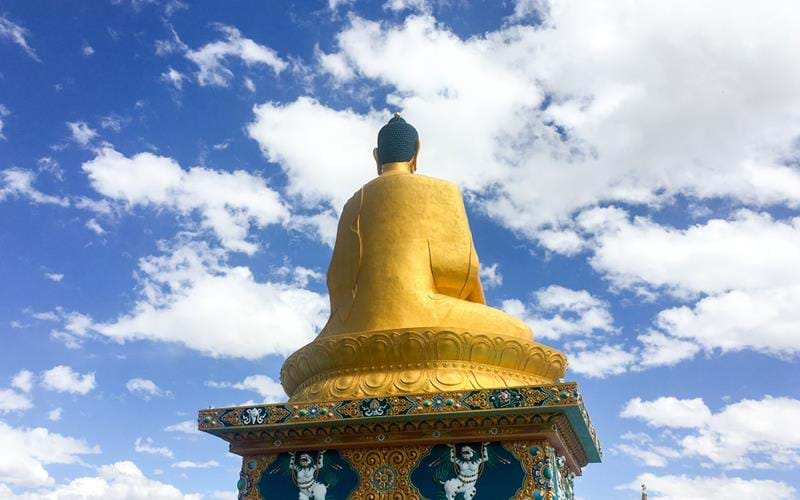 With a population of around 1,500 people, Stok is a typical Ladakhi village of large, traditional farmsteads and chortens (stupas) scattered across a patchwork of barley fields and fruit orchards at the mouth of the Stok Chu River. From a low outcrop overlooking the riverbank here rises an imposing 14th-century monastery with multi-storey whitewashed walls and windows picked out in burgundy – the colour denoting holiness in Tibetan tradition. Aside from the palace where you're staying and where the Ladakhi royal family relocated to in the early 19th century, the village's only other monument of note is a giant golden Buddha, inaugurated in 2016 by His Holiness the Dalai Lama.
With its gorgeous farmhouses and jaw-dropping backdrop of Himalayan peaks, Stok makes a perfect introduction to Ladakh.
Accommodation Options
Day 5
Stok
Cross the Indus Valley to visit the region's capital Leh today. A bustling market town overlooked by an impressive medieval palace, the town holds a lively bazaar full of colourful little shops, cafés and restaurants, many of them run by Tibetan refugees. Explore the sights in the company of your guide.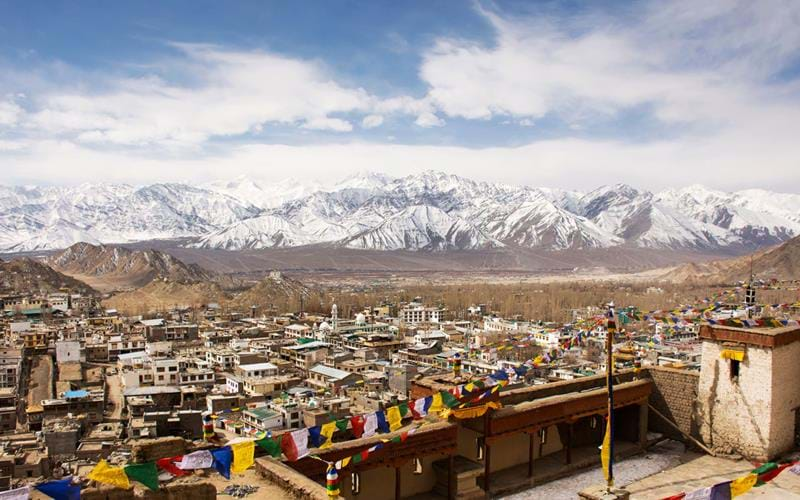 For centuries, Leh served as an important stopover on the trade route connecting China with India. Caravans would arrive from the north, having crossed three of the highest passes in the Karakorums, bearing tea and silk, which they would exchange for fine Pashmina wool, produced on the Changtang Plateau to the east and woven into shawls by local Kashmiri artisans. The old core of the town, including the spectacular royal palace looming above it, dates from the 17th when this commerce reached its peak.
With your guide you'll explore the narrow alleyways twisting beneath crumbling chortens and once grand houses of Leh's aristocrats and merchants, among them the mansion belonging the 'Munshi', or Chief Minster, which has been renovated and now serves as a cultural centre.
The market is a compelling mix of souvenir shops filled with Tibetan jewellery and handicrafts, and essential supplies for locals, including traditional Ladakhi clothing, prayer flags and incense.
Towards the end of the afternoon, as the shadows begin to lengthen, drive to the edge of Leh to visit the gleaming white Shanti Stupa, a modern chorten which you can climb for a superb sunset view extending to the distant Stok Kangri massif.
Accommodation Options
Day 6
Stok
Rise before dawn today for an early breakfast and departure in time to catch the morning prayer session at Thiksey monastery, on the north side of the Indus Valley. Afterwards, visit neighbouring Shey Palace, site of the ancient Ladakhi capital, and, time and energy permitting, nearby Matho monastery before returning to Stok (or the camp at Thiksey) for a leisurely afternoon in the apricot orchards.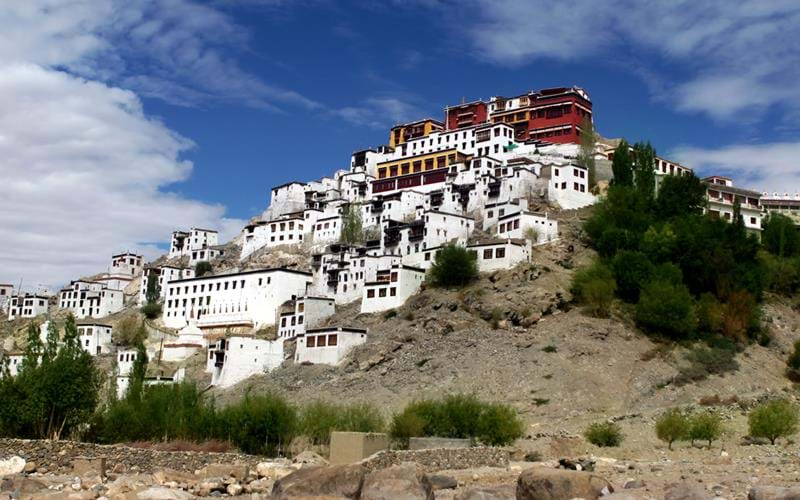 One of the largest and most spectacular Buddhist monasteries in the Himalayas, Thiksey rises in tiers up the flank of a sacred hill of pale grey rock and sand. Morning prayers are preceded by blasts of giant Tibetan trumpets from the roof terrace, where an astonishing view extends across the Indus Valley to the ice giants of the Stok Kangri massif. Attend prayers in the main assembly hall, under the watchful eyes of a 15-metre (49-ft) gold-faced Maitreya – a great treasure installed to commemorate the visit of HH the Dalai Lama in 1970.
Nearby Shey was the capital of Ladakh before the foundation of Leh in the 18th century. It retains a ruined palace and another splendid monastery, famous for its antique murals. Your guide will also take you to a large assemblage of old 'chortens' (stupas), scattered across an area of desert below Shey and a great location for landscape photographers.
Opposite Thiksey, Matho receives far fewer visitors than most other monasteries hereabouts, and has a more traditional feel. Founded in the 15th century, it's the only one in Ladakh run by the Sakyapa order and is famous primarily for its Oracle Festival, held in early March each year, when two of the monks take part in a spirit-possession ritual accompanied by spectacular masked dances.
In the afternoon you'll be free to explore the local area at your own pace, on foot or by bicycle. Optional activities (which may incur additional costs) include traditional archery sessions and white water rafting on the Indus.
Accommodation Options
Day 7
Stok - Nubra
A fabulous Himalayan road trip today takes you down the Indus Valley to Hemis, then north over Wari La pass into the spectacular and remote Nubra region, where you'll be spending two nights.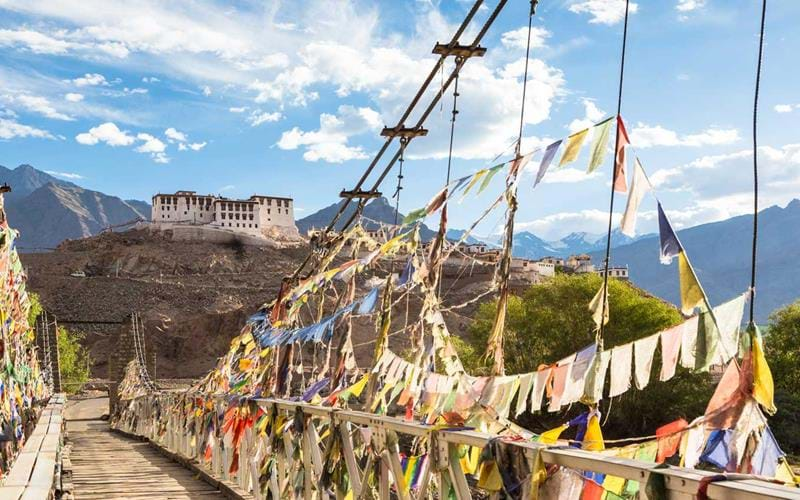 Re-join your driver after breakfast for the 40-minute drive to Hemis monastery, which is hidden in a fold of mountains up a side valley above the Indus. Founded in the 11th century, Hemis is among the oldest and most revered religious sites in Ladakh, and the venue for one of the summer's major festivals, when large numbers of locals gather to watch masked dances and the unfurling of a giant 'thangka'.
From here, your journey swings northwards, following the course of a photogenic side valley where, if desired, you may pause to visit two other monasteries (Chemrey and Thak Thok) en route to the Wari La pass 5,312m (17,427ft). Throughout, the views of the Ladakhi farming villages and surrounding snow peaks are wondrous.
Look out for marmots as you crest the pass, which forms a high, denuded saddle. From here on you're in the Nubra region of Ladakh, where the scenery is a notch more dramatic and the valley flanks correspondingly wilder. Not until you approach the banks of the Shyok River will you see signs of human habitation.
Thanks to the mild climate and lower elevation of the Nubra Valley, locals grow crops of barley, summer wheat, peas, mustard, walnuts and apricots here, and you'll even come across the odd almond orchard.
Spend the afternoon taking in the dramatic scenery and wild atmosphere of this extraordinary corner of the Himalayas, which once served as the final outpost of civilization for traders heading north across the Karakorums to Kashgar in Xinjiang – a route long since closed, even to Indians.
Accommodation Options
Day 8
Nubra
Visit Nubra's principal monastery at Diskit today, along with the local women's co-operative, where you may be able to pick some hand-made souvenirs. Later, enjoy a guided village walk and, if desired, a ride on a Bactrian camel around the dunes at Hundar.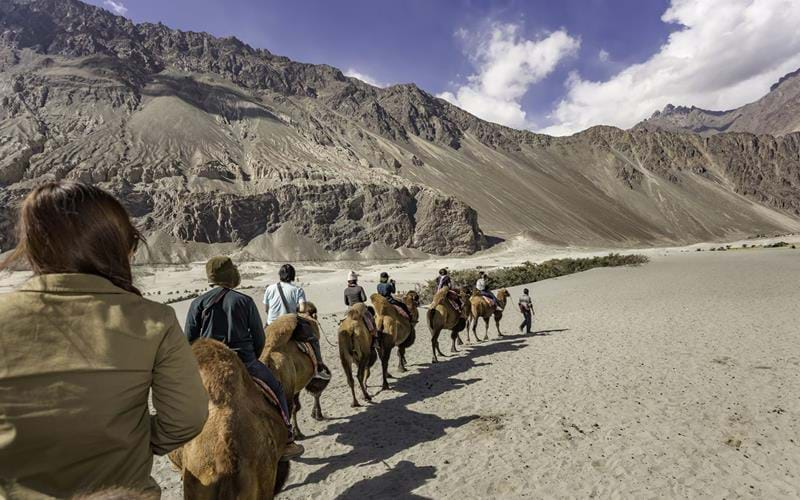 Overlooked by the remnants of a palace, fort and monastery, Hundar was in former times the region's capital. The camels are a throwback to the bygone era when this was a waystage on a spur of the old Silk Route connecting Kashgar in Xinjiang Province and Leh. The camels live in a tract of dunes, grazing on seabuckthorn and taking tourist out on rides in the summer months – a great photo opportunity!
The main settlement in Nubra today is at Diskit, near the confluence of the Shyok and Nubra Rivers. It's the site of a large, functioning monastery, clinging to a craggy hilltop above the village, which you'll be invited to visit in the company of your guide.
Accommodation Options
Day 9
Nubra - Nimmu
One of the undoubted highlights of the tour is today's spectacular drive, as you return to Leh and the Indus Valley via Kardung La. The trip takes half a day but flies past, thanks to the breath-taking scenery. You'll be spending the night in a pretty village called Nimmu, to the west of Leh.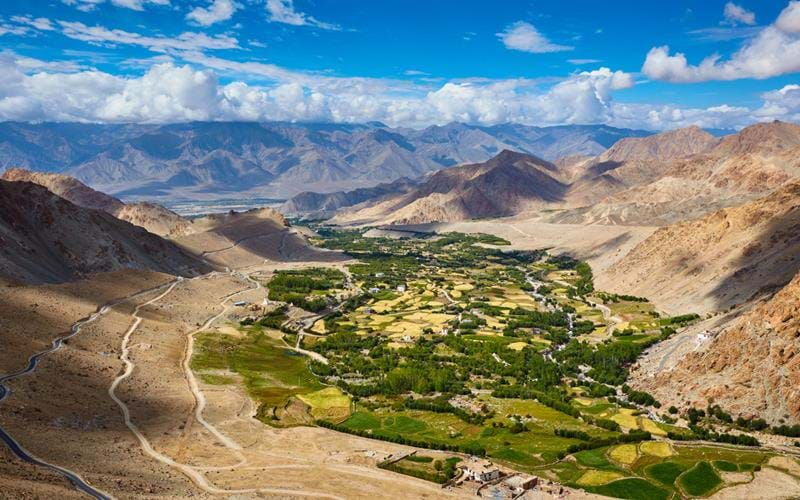 Built in the 1970s to supply troops stationed on the disputed Siachen Glacier, the road to Kardung La reaches an impressive elevation of 5,359 m (17,582 ft) and yields superlative views over the Ladakhi peaks. It was across this pass that around 10,000 ponies used to plod annually en route to and from Kashgar, one of the pivotal markets on the Central Asia Silk Road, until disputes between India, Pakistan and China closed the trail.
Nimmu village occupies a bend in the Indus around 40 minutes' drive from Leh. It offers a convenient base for explorations of points further west, including the ancient monastery complex at Alchi.
Once you've checked in, spend the remainder relaxing in the guest house garden, or enjoy one of the optional activities on offer here (additional charges may apply), such as river rafting, yoga and cookery classes (ask your consultant for more details).
Accommodation Options
Day 10
Nimmu
Visit Alchi in the morning with your guide. Later, explore the area at your own pace, or embark on a village walk with your hosts. Rizong, one of the most traditional and atmospheric monasteries in Ladakh, also lies within easy range.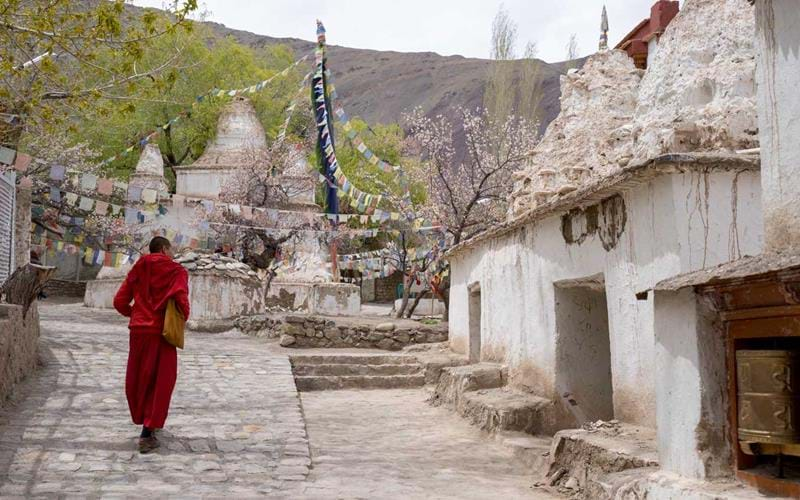 Ladakh's first contact with Buddhism came in the 10th century, when its rulers looked to Kashmir rather than Tibet for religious inspiration. Because most of them were destroyed by Muslim raiders in later eras, few monuments from this early, pre-Tibetan period survive. By far the finest and best preserved of them lies in a cluster of mud-walled buildings at Alchi, a 45-minute drive west of Nimmu.
Protected for more than nine-hundred years at an inconspicuous spot beside the Indus River is a wonderful collection of Kashmiri-style murals and wood sculptures, almost as fresh and vibrant today as when they were created in the time of Rinchen Zangpo, the "Great Translator". Rich reds and blues dominate the intricate mandalas (sacred diagrams) and friezes adorning the interiors of the temples, whose pride and joy is a huge stucco statue of Maitreya, the Buddha to come, with attendant Bodhisattvas. Wonderfully fresh, detailed paintings decorate the robes of each, depicting episodes in the life of the Buddha, court scenes, yogic postures and portraits of scholars and monks.
Accommodation Options
Day 11
Nimmu
Spend your final full day in Ladakh enjoying the beautiful Indus Valley with a picnic near the confluence of the Zanskar River and gentle walks to local places of interest. Later, consider a shopping trip to Leh to stock up on souvenirs ahead of your departure the following day.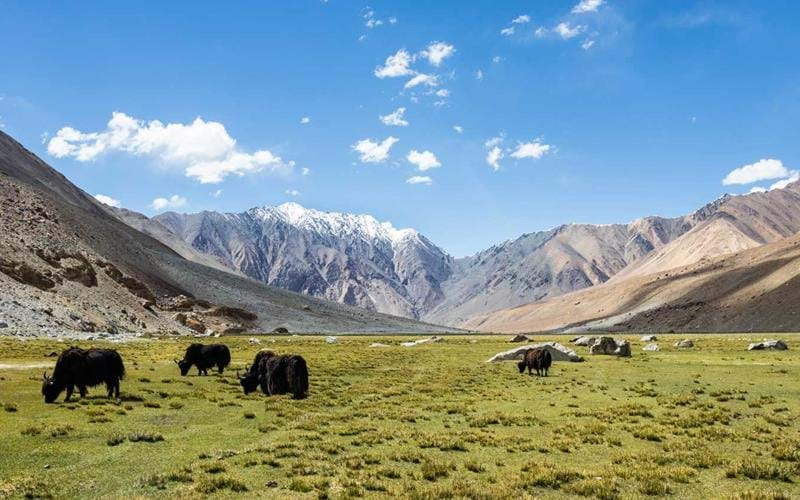 The confluence of the Indus and Zanskar Rivers traditionally marks the point of departure for those embarking on the perilous ice route through the Himalayas to Padum. Known as 'Chaddar', the walk through the frozen Zanskar Gorge may only be attempted for a few weeks in the depths of winter. Traditionally, Zanskaris undertook the journey in order to trade yak butter (highly prized for making Tibetan tea). Today, groups of school children also brave the sub-zero temperatures in order to spend time with their families and return to boarding school in Leh after the holidays. Trekkers sleep in caves and at ruined shepherds' huts along the way, taking between three and six days to walk from the village of Chilling, near the confluence, to the Zanskar region.
Accommodation Options
Day 12
Nimmu - Delhi
Enjoy your final breakfast in Ladakh before being transferred to Leh airport for the return flight to Delhi, where you'll spend two nights. We always recommend staying over in the Indian capital for 24hrs in case of delays.
A wealth of sightseeing options are on offer for the late afternoon and evening in Delhi, should you wish to venture into the city. Your consultant will be able to make suggestions according to your interests and location of your hotel. A popular option with our clients is a guided tour of the old tomb gardens in South Delhi – atmospheric oases of greenery and exquisite Islamic architecture away from the traffic.
Day 13
Delhi
Spend a day at leisure relaxing in your hotel after a whirlwind adventure or explore some of the city's famous sites.
Day 14
Delhi - UK
Time to bid farewell to India as you transfer to Delhi airport in good time for your flight back to the UK.
Tailor-made Tour

14 days from £3425 per person
What's included
What's included
✓   International flights from London
✓   12 nights accommodation
✓   All internal transportation and transfers
✓   English-speaking guides
✓   Full board in Ladakh, breakfast daily in Delhi
✓   Entrance fees to sites and monuments listed in tour itinerary
Holiday Extensions for this tour

'Little Tibet': Ladakh in Style - The Taj Mahal Extension
2 days, 1 nights from £295 per person
Single supplement £ 185 per person
view itinerary
Day 13
Delhi - Agra
Take the early morning express train to Agra. Spend the day in Agra visiting the Taj Mahal, the impressive Agra Fort whose buildings, made of red sandstone and marble, are a mix of Hindu and Islamic architecture and the ornate tomb of Itamud-ud-Daula. Return to Delhi by train and stay at the Pride Plaza Aerocity or similar.
Day 14
Delhi - UK
After breakfast transfer to the airport for your return flight home.
Places and Experiences in this tour
What Our Clients Say About Us
Plan your 2021 & 2022 Adventures
With the world beginning to open up again, now is the time to begin planning your 2021 holiday to Asia. Our Travel Specialists are ready to take your call and discuss the adventure you have spent the last 12 months dreaming of.
Or call us on 0208 566 3739
TransIndus Brochures 2021/2022
Join our mailing list