Tailor-made Tour

10 days from £7295 per person
Places Visited:
Delhi, Jaipur, Ranthambore National Park, Fatehpur Sikri, Agra, Orchha, Khajuraho, Sarnath, Varanasi
The crème de la crème of Maharajas' Express train journeys, this is our personal faovrite as it touches all the culturally and historicall significant places of north India.
Designed to recreate the elegance, exuberance and opulent style of the Indian Maharajas, The Maharajas' Express Luxury Trains are suffused with nostalgia, be it in its décor, white-glove service, gourmet food or the lavish array of amenities that blend discreetly with modern comforts sought by discerning travellers. So, if you are ready to explore the best of India, what better way to do it than on board this luxurious train, the winner of the 'World's Leading Luxury Train' Award' for seven consecutive years.
Facilities include spacious guest cabins, which are appointed with private en-suite shower rooms, independently controlled air-conditioning, WiFi, direct dial telephone, writing desk, live television, electronic safe and ample storage space to accommodate your wardrobe for the entire journey. There's even laundry service. The larger suites additionally offer a bath tub while the Presidential Suite, which occupies an entire carriage, has two double bedrooms, two bathrooms and an independent living area with a complimentary bar.
The real luxury of course is the 24-hour private butler service that comes with every cabin to ensure your every comfort.
Gourmet meals are freshly prepared on board by celebrated chefs using the impressive on-board larders and fresh ingredients sourced enroute and served in its two restaurants with complimentary house wines and beers.  The paid wine cellar and bar also deserve close scrutiny! You're not short of entertainment either, with a cocktail hour each evening and a club lounge equipped with a library, electronic games, dvds etc.
Sightseeing excursions in the places visited are conducted in the company of local specialist guides but if you want to relax at a spa or do a spot of shopping, that too can be arranged.
Holiday Types
Holidays by Train
Suggested itinerary
Day 1
UK
Fly from the UK to Delhi.
Day 3
Delhi
Transfer from your hotel to the train station and board the Maharaja's Express. Depart for Jaipur and enjoy lunch onboard. Arriving into the Pink City mid-afternoon, visit the City Palace Galleries and end the day with dinner at Rambagh Palace Hotel.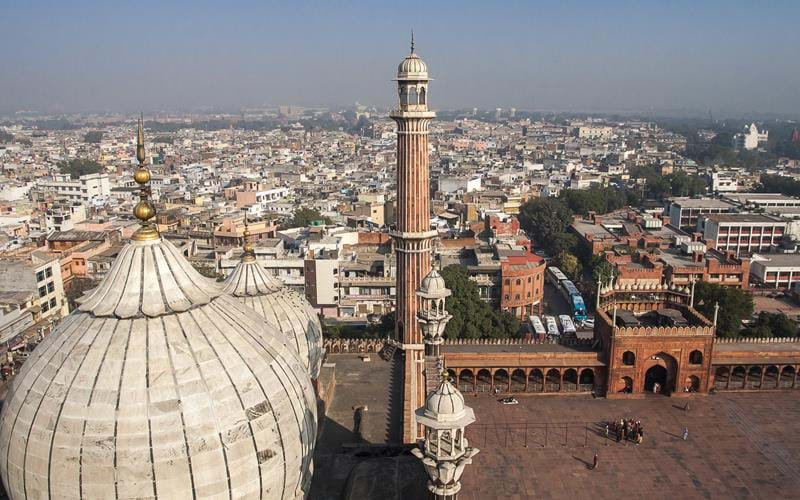 India's capital and home to an estimated 20 million people is a compelling mix of ancient and modern, it holds the vestiges of at least seven great civilisations from Afghan mausolea crumble on traffic roundabouts; millennia-old fort walls stand next to eight-lane expressways; and Sufi shrines huddle beside concrete flyovers. More amazing still is the fact that so many cultural transmissions from Delhi's past eras endure.
The most evocative place to gets one's bearings has to be the Jama Masjid, the magnificent sandstone and white-marble 'Friday Mosque' constructed by Emperor Shah Jahan in Old Delhi. Climb one of its minarets for a matchless view over the surrounding roofscape to the ramparts of the Red Fort, where the Mughals held court in a hidden world of cusp-arched pavilions and pillared audience halls.
Day 4
Jaipur
After breakfast on board, you will be driven just outside Jaipur to the ancient capital of Amber to see the fabulous Amber Fort. A Jeep will spare you the trouble of reaching the fort. Once on top, stroll through the sprawling complex of courtyards and halls. Many of the rooms have delightful wall paintings, with precious stones and mirrors inlaid in the walls. After lunch, you can take an optional tour for shopping or sightseeing to the City Palace complex and Jantar Mantar observatory.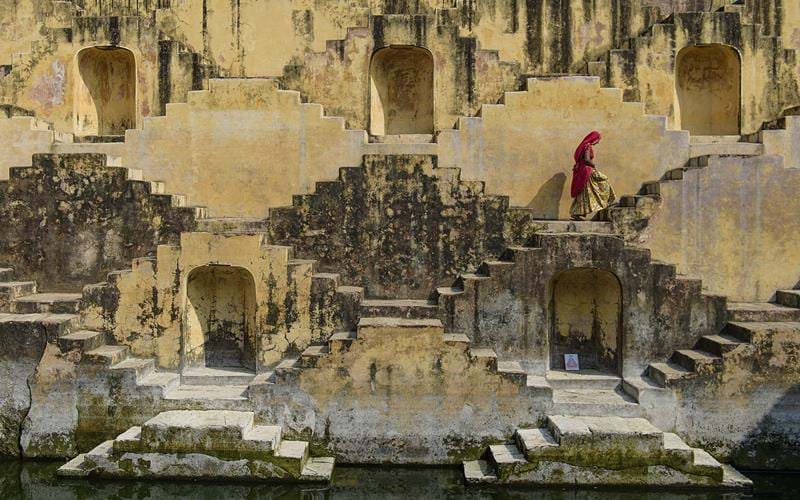 The walled capital of Rajasthan, Jaipur showcases spectacularly flamboyant architecture. Set in an orderly grid plan, the 18th-century buildings form a vibirant backdrop for markets crammed with dazzling tie-dye cloth and mirror-inlaid crazy patchwork quilts.
Jaipur's numerous forts and palaces have now been converted into beautiful hotels. Originally created by the Rajput aristocracy for use while they attended court, provide havens from the brouhaha of the bazaars outside. Relaxing in their colonnaded courtyards after supper, you'll be entertained in regal style be traditional musicians from the Thar Desert accompanied by dancers dressed in swirling pleated skirts and mirror-inlaid veils.
In addition to shopping and museums, visits to an elephant sanctuary, a leopard reserve on the outskirts and various breathtaking viewpoints overlooking the 'Pink City'may tempt you to add an extra day or two to your itinerary.
Day 5
Ranthambore National Park, Fatehpur Sikri
Near the town of Sawai Madhopur, in the state of Rajasthan, Ranthambore National Park is an outstanding example of Project Tiger's efforts at conservation in the country. As a result of the stringent efforts in conservation, tigers, the prime assets of the Park, have become more and more active during the day. You will go into the park in the early morning – the optimum time of day for game viewing. After the game drive you will return to the train for brunch and travel to your next destination, Fatehpur Sikri. This spectacular former capital city was abandoned soon after it was built when the local wells went dry and it remains today in much the same condition that it was over 300 years ago. It is complete with palaces and mosques and used to be a town larger than London when it was originally constructed. Now it is an extraordinary place to wander around with its buildings in near perfect condition.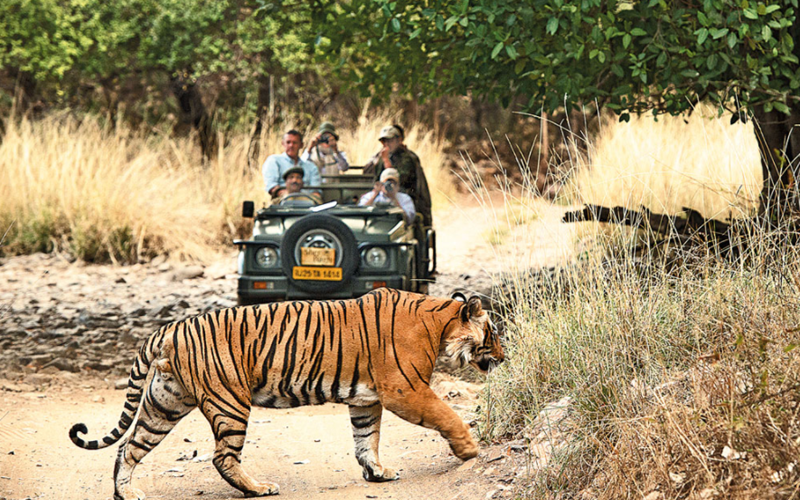 Ranthambore National Park created in teh 1970's to spearhead 'Save the Tiger Project' is a shinnign example of waht cn be acheived if we put our hert and soul into a aproject.  Sitting at the margins of the Aravalli range of hills, amid a tract of dry deciduous forests and grassland. Near its entrance, a long flight of stone steps winds up to the ramparts of a medieval fort, affording fine views over the reserve and its much-photographed lake.
Nilgai, sambar, chital, hyena and boar are regularly sighted here, but it's because of its tigers that Ranthambore is justly famous. Around forty currently survive in the reserve – each named, and the subject of numerous documentaries – and your chances of spotting one are better than average
Day 6
Agra
One of the world's great monuments, the Taj Mahal was built in memory of Mumtaz Mahal, Mughal emperor Shah Jahan's beloved wife. This mausoleum, built entirely of white marble is decorated with elaborate geometric forms and inlay work that showcases plants, flower and fruit motifs. You will have plenty of time to explore this fabulous building before returning to the train for your onward journey. Return to the train for lunch. The afternoon is free to choose from an array of optional activities, including a spa treatment at a local hotel, a visit to the impressive Agra Fort or a tour of Agra city.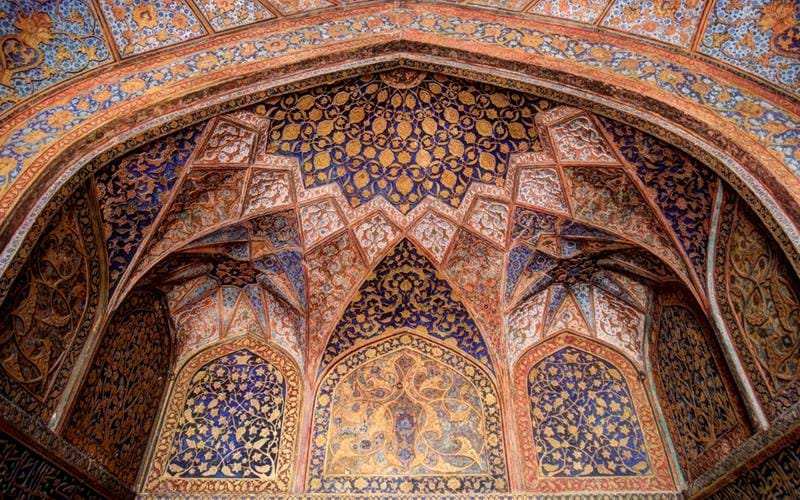 The Taj Mahal is deservedly Agra's principal visitor but this former capital of Mughal India, but the city also has a host of other unsung monuments and traditional bazaars dating from in the 16th and 17th centuries like the elegant Jama Masjid mosque, commissioned by the rich and talented daughter of Mughal Emperor Shah Jehan, Jahanara Begum. After the death of her mother (Mumtaz, now interred in the Taj), Jahanara took on the role of First Lady, amassing a vast fortune, which she lavished on several extraordinary religious complexes like this.
More splendid still is the tomb of Mughal Emperor Akbar, on the northern outskirts of the city at Sikandra. Enclosed inside 119 hectares of leafy, green, walled parkland is a four-tiered pyramid built of red sandstone and white marble inlay. The standout features here, though, are the main gateway, with its four white marble minarets, and the Persian-style decoration adorning the ceilings of the main tomb's entrance halls.
Day 7
Orchha, Khajuraho
On arriving in Orchha you will embark on a sightseeing tour before continuing on to Khajuraho. Orchha is a sleepy little town on the banks of the Betwa River and home to an imposing palace and some fascinating temples. The view of the temples from the far bank of the river is excellent! After your tour of Orccha you will re-board the train and head for Khajuraho. Lunch will be served on board. The Khajuraho temples are a symbol of architectural grandeur and magnificence, thanks to their exceptional stone construction, intricate carvings and idols. While the temples reflect medieval Indian society and traditions, they are mainly known for the erotic art and sensuous figures that adorn the walls of several shrines. On your guided sightseeing tour you will visit the more significant temples before returning to the train.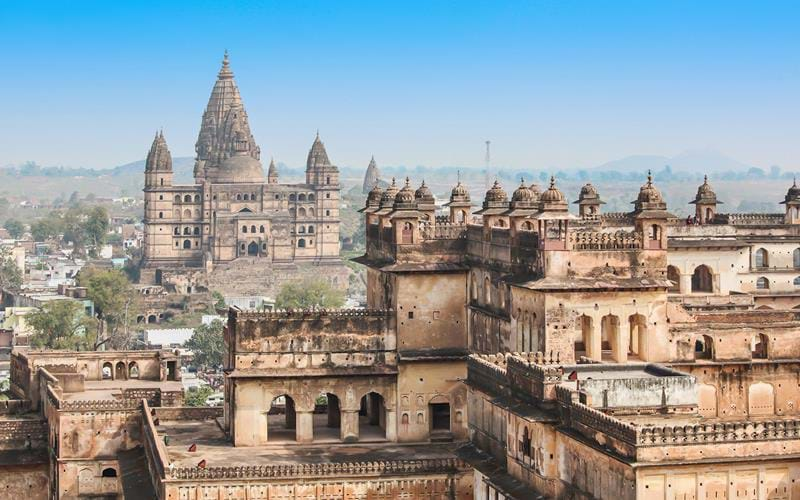 Orchha is often considered the unexpected highlight of tours. Now little more than a sleepy village, the site on the banks of the rocky Betwa River served in the 16th century as the capital of the redoubtable Bundela Dynasty. A superb collection of deserted palaces, temples, havelis and cenotaphs remain from this era, most of them in an advanced state of neglect, with weeds growing from their domed cupolas and spectacular sanctuary towers.
The defining landmark here is a line of huge chhatris, or memorial shrines, whose great towers soar in a line along the riverbank – a particularly wonderful view when water levels are high and reflections of the pale-ochre buildings shimmer between the boulders. Vestiges of royal apartments, cloistered courtyards, romantic pleasure pavilions and ornamental gardens provide plenty of scope for walks and cycles. Wanders around Orchha can feel like genuine wlk into the past.
Day 8
Sarnath, Varanasi
This morning you will visit Sarnath, located around 10km from Varanasi. Buddha came to Sarnath, 10km northeast of Varanasi, to preach his message of the middle way to nirvana after he achieved enlightenment at Bodhgaya. Modern day Sarnath is a green and peaceful place to spend some time and, along with the Buddhist ruins and monasteries, there is an excellent museum. After lunch you will first visit the Varanasi Silk Centre. Afterwards enjoy an afternoon boat ride along the Ganges. The views of the many ghats and temples from the river is truly astonishing, and you really will feel the strong sense of religious significance as you witness people at prayer and performing their ablutions in the sacred river.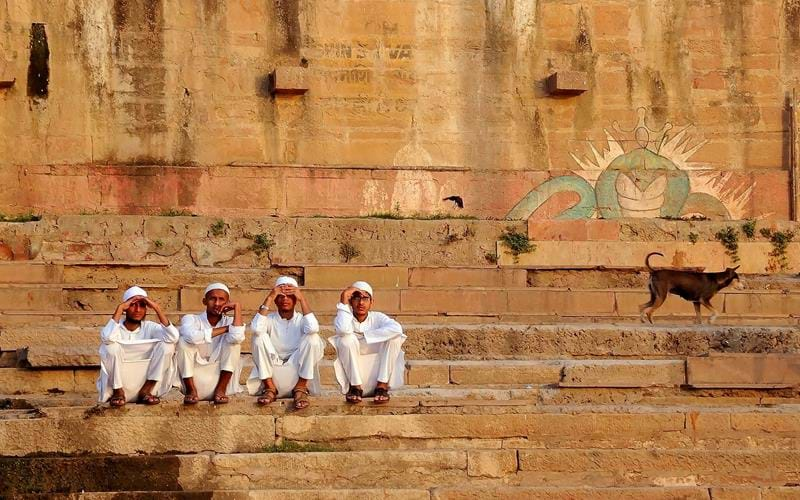 Varanasi, or 'Benares', is the holiest of Hinduism's seven sacred cities. It stands on the banks of the Ganges, at a bend in the river where traces of human settlement have been unearthed dating back to around 1,200BC. Countless shrines and temple towers cluster along the waterfront, to which pilgrims from across the country travel in huge numbers for a redemptory dip. The waters of the Ganges are said to wash away the sins of a lifetime, and Hindus believe that the soul of anyone who dies in Varanasi is liberated from the cycle of rebirth.
Rituals begin before dawn when mist blurs the contours of the sacred ghats, or steps, the worshippers use to descend to the river. The best vantage point from which to savour the spectacle is a rowing boat on the water itself. Chanting, drumming and the ringing of temple bells intensifies as the sun rises, casting the holy steps and their backdrop of sanctuary towers, saffron pennants and parasols in a sublime glow.
Day 9
Delhi
Disembark the Maharajas' Express and transfer to your Delhi hotel for a night.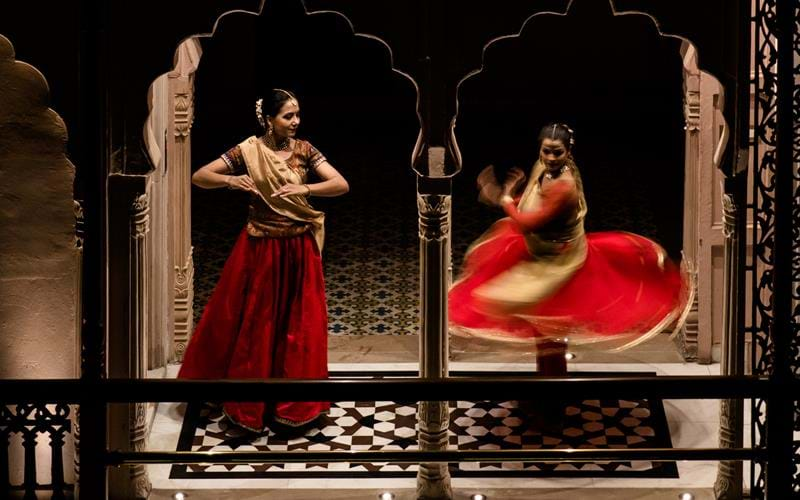 Back in pre-colonial times it was common for Delhi's Mughal aristocrats and wealthy merchants to host recitals of Urdu poetry, music and dance in the courtyards of their mansions, or 'havelis'. You can sample the magic of these bygone 'mehfils' at a beautifully restored heritage hotel called Dharampura Haveli in the lanes of Old Delhi, where performances of traditional Kathak are staged three nights each week by dancers in swirling pleated skirts and glittering jewellery. Watch the show over a candle-lit meal in the groundfloor restaurant, or from one of the balconies above – a magical experience.
Day 10
Delhi UK
Return flight to the UK
Tailor-made Tour

10 days from £7295 per person
What's included

✓   International flights from London
✓   6 nights' luxury accommodation aboard the Maharaja's Express and two nights at a five-star hotel in Delhi
✓   All internal transportation and transfers in private chauffeur driven vehicles
✓   English-speaking guides
✓   Full board a'le carte service on the train, breakfast in Delhi
✓   Entrance fees to sites and monuments listed in tour itinerary
Places and Experiences in this tour
Plan your 2022 Adventures
With the world now largely open again, now is the time to begin planning your 2022 adventures in Asia. Our Travel Specialists are ready to take your call and discuss the adventure you have spent the last 2-years dreaming of.
Or call us on 0208 566 3739
TransIndus Brochures 2022
Join our mailing list