Tailor-made Tour

18 days from £2990 per person
Places Visited:
Sanur, Lovina, Kintamani, Amed, Ubud, Seminyak
Sample the numerous and varied charms of Bali in this active 18-day trip, which features some light trekking, cycling, dolphin watching, canoeing and white-water rafting, as well as experiences of authentic Balinese culture. There's plenty of romance, surf and sand in the mix too, starting right from the off with your arrival in Sanur, where you'll be able to work through jet lag with a restorative spell on one of Southeast Asia's loveliest beaches. A visit to Ubud, the cultural capital of Bali and the secluded coastal regions of the north and east provide plenty of opportunities to enjoy local life, food and customs and explore the flora and fauna of volcanic rims on long experiential walks.
Holiday Types
Walks, Hikes and Rides Cultural Tours Beaches and Islands
Suggested itinerary
Day 1
UK
Fly from the UK to Bali (on an indirect service via Singapore, Jakarta or Kuala Lumpur).
Day 2
Sanur
On arrival in Bali you'll be met by your TransIndus guide and driver and escorted to your hotel in Sanur for a two-night stay.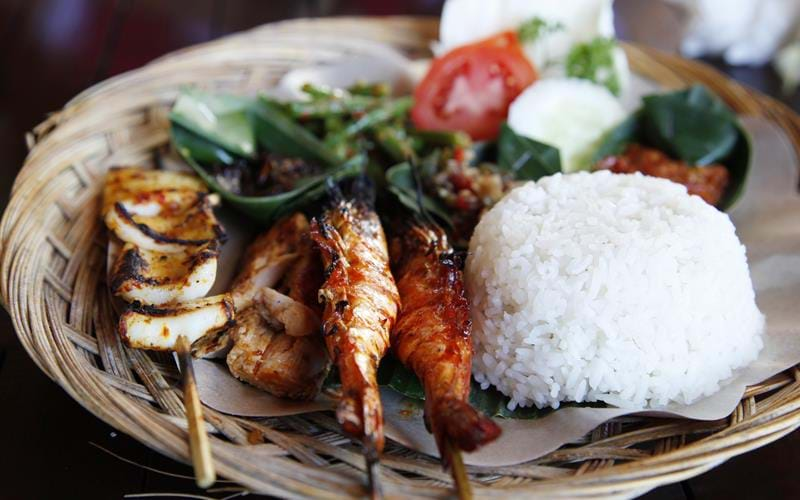 Sometime dubbed 'Snore' by its (mostly youthful) detractors, Sanur is the most laid back of the main resorts on the south coast – one of many reasons why we like it so much! The others are the spellbinding views of Gunung Agung's conical top to the northeast, excellent diving sites and facilities, and the abundance of space on the beach itself – a beautiful, 5-km spread of golden sand fringed by palm trees and vivid turquoise water. A wide choice of courses are also on offer in the village: from Balinese cookery to traditional Indonesian circus skills.
Day 3
Sanur
Spend the day at leisure, snorkelling, scuba diving, visiting local temples and lazing on the beach. In the evening, consider a visit to Sindhu Night Market – a great place to sample tasty Balinese cuisine.
Day 4
Lovina
Drive across the island to Lovina, on the rugged north coast, for a two-night stay, pausing at the Taman Ayun Royal Temple and monkey forest near Ubud en route.
Dramatic mountain slopes plunge steeply to a shoreline edged by beautiful black-sand beaches and bays of beautiful turquoise water along Bali's northern coastline. A perfect base from which to explore this refreshingly uncongested area is the resort of Lovina, a popular centre for dolphin spotting as well as diving and snorkelling. Within easy reach of a day trip lie Bali's largest Buddhist monastery, the Brahmavirhara Arama, and hot springs of Banjar Tega, where you can wallow in healing sulphurous water. Surrounded by a glassy moat, the eleven-tiered pagodas of Taman Ayun rank among the most exotic spectacles punctuating the journey north.
Day 5
Lovina
Enjoy a gentle trek around Sekar Mukti, a village in the Balinese highlands.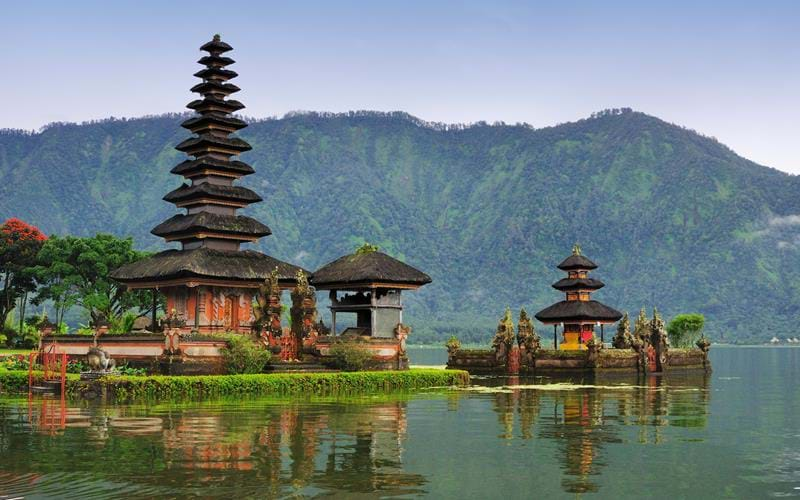 A delightful way to experience a corner of the island little affected by tourism is to trek through the forests and farms surrounding Sekar Mukti village. The route, which starts at the 18-hectare Bagus Agro Pelaga estate, takes you through a mix of jungle, flower fields and orchards, passing pretty farmsteads where you'll have numerous opportunities to interact with local people. The excursion also includes a visit to the Pucak Mangu Temple, a wonderfully exotic Balinese shrine located high on a hilltop overlooking Lake Bratan.
Day 6
Kintamani
Join a dolphin-spotting cruise in the morning, followed by a visit the Gitgit waterfall and Puri Beji temple. In the afternoon, you'll drive up to Kintamani for a two-night stay on the lower slopes of Gunung Batur.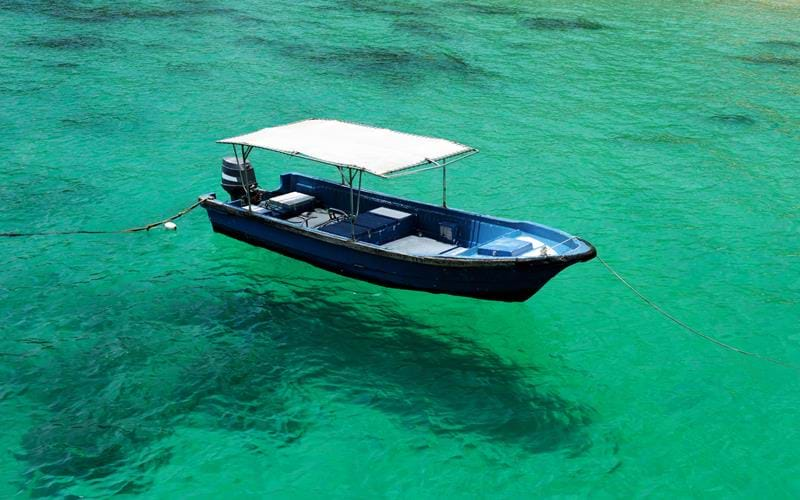 One of the most memorable experiences Bali's north coast has to offer is watching the sun rise over the sea off Lovina Beach. Dozens of dolphins feed and play in the calm water at this time of day. Up until a couple of decades ago, they used to have an extraordinary bond with local fishermen, guiding their outriggers to shoals of mackerels and sardines in return for a share of the spoils! Old habits, it seems, die hard: the dolphins still like to congregate around boats, jumping joyfully out of the waves for the cameras.
Day 7
Kintamani
Rise early to scale Gunung Batur in time for sunrise. Later, visit the splendid Pura Ulun Danu Batur temple, the island's second most important shrine.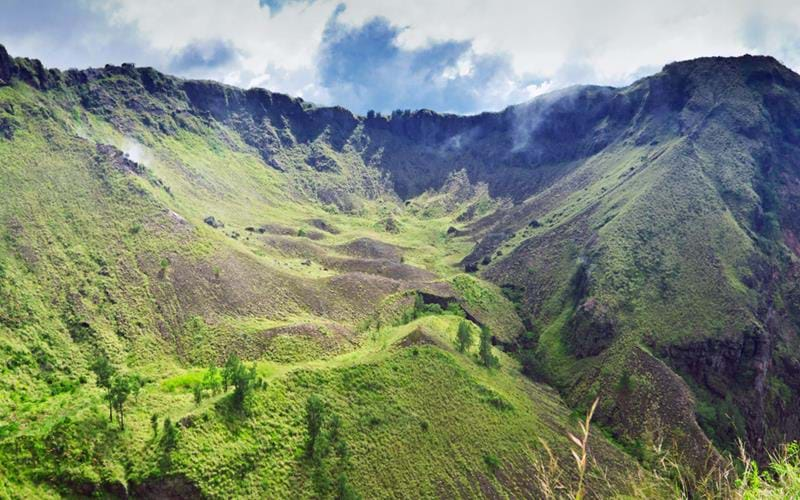 For many visitors, watching the sunrise over the caldera of Gunung Batur, with the lower slopes of the volcano enveloped in a sea of cloud, is reason enough to come to Bali – and ample reward for the strenuous 30–60-minute climb through pre-dawn darkness to the mountain's summit. Once the sun is clear of the horizon, a dramatic panorama over the lake and surrounding peaks is revealed. In the afternoon, don't miss the chance to visit Pura Ulun Danu Batur temple, whose eleven-roofed pagoda rises against a spellbinding backdrop, reflected in the glassy waters of Lake Batur.
Day 8
Amed
Explore the splendid landscape around the crater rim of Gunung Batur by bicycle and canoe, basking in hot springs before driving on to Amed in the afternoon for a two-night stay.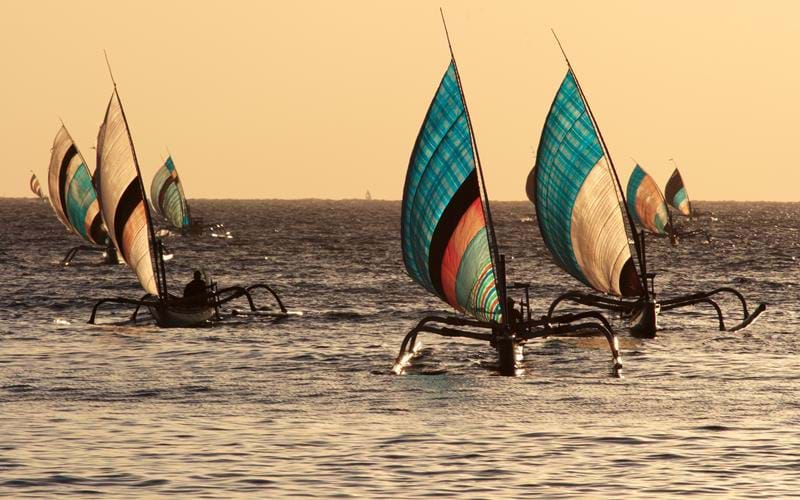 Development has been slow to gather pace on Bali's quiet northeastern coast, where a string of low-key resorts and pretty villages are dotted along a spectacular shoreline known as Amed. Colourful catamarans idle on grey-pebble and black-sand beaches, against a backdrop of hills sweeping straight from the shoreline. This dramatic hinterland lends a vivid edge to swims in the translucent waters off-shore, whose coral reefs swirl with colourful marine life.
Day 9
Amed
Enjoy the glorious beaches and warm, tropical sea water along Bali's northeast coast today.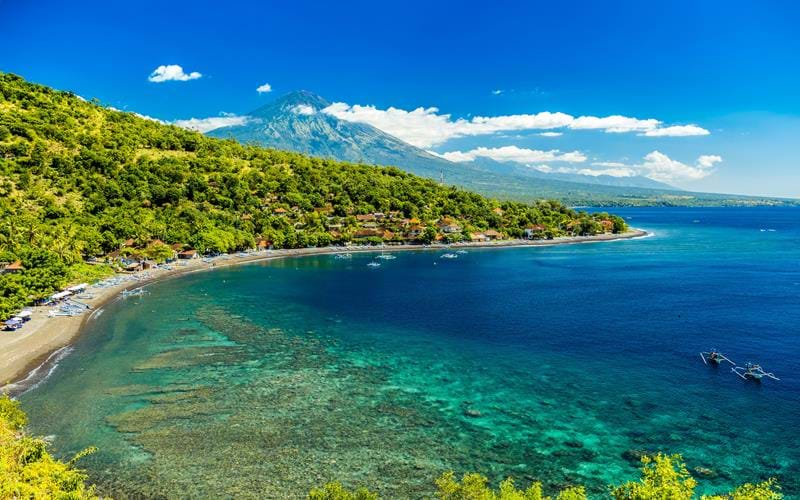 Ranging from black volcanic to stunning shell-sand, the beaches lining the island's northeast coast number among the loveliest in all of Indonesia. Inland, mighty Gunung Agung forms a striking backdrop for swims in the transparent, turquoise water.
Day 10
Ubud
Drive to Ubud for a four-night stay, visiting the Besakih temple en route.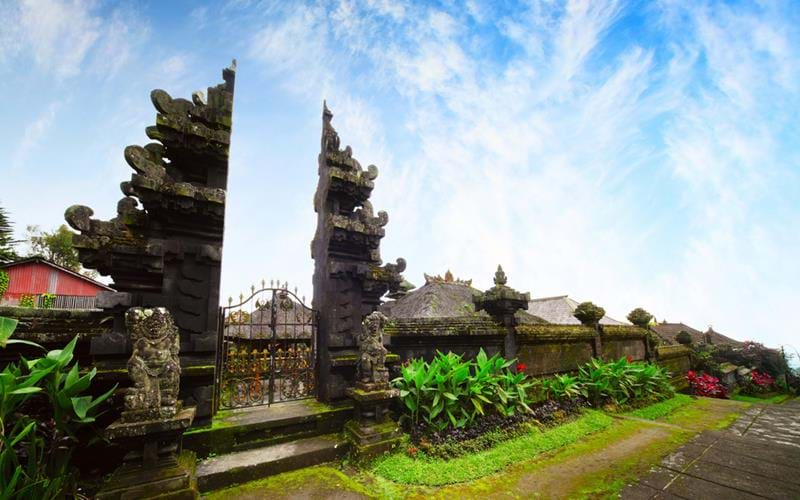 Ubud is the best place in Bali to experience traditional dance and ritual arts. The town is jam-packed with pretty little stalls and workshops where you can watch artisans at work and browse an astonishing range of quality local handicrafts. The thatched villages around it offer windows on the island's more traditional way of life. The Mother Temple for Balinese Hindus, Besakih, at the foot of Gunung Agung, is another popular day trip. Crowds of worshippers laden with floral offerings file around the site's 20 different temples and innumerable subsidiary shrines, spread over a 3-km area interconnected by ascending terraces, colonnaded walkways, long, steep flights of steps and ceremonial gateways.
Day 11
Ubud
Spend the day morning the temples and cultural villages of Ubud, then embark on a white-water rafting trip in the afternoon.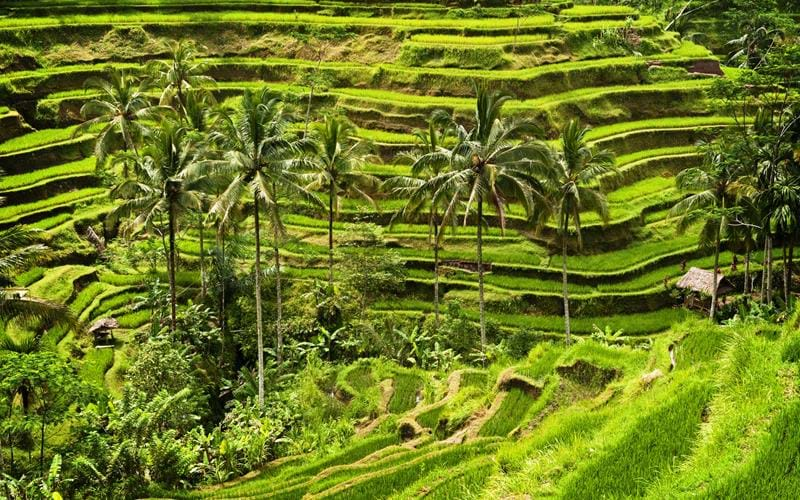 One of most magical locations to start your day's sightseeing is the town's beautiful Botanical Park, a wonderland of lilies, weeping figs, orchids and rainforest plants. Linger for lunch at the Chocolate House Café, housed in a century-old teak hut. Then sample the local art scene at the nearby Neka Art gallery. Another must-see is the Sacred Monkey Forest Sanctuary, on the south side of town, where over 200 macaques congregate in a patch of dense forest scattered with old stone shrines. Afterwards, grab your paddle and enjoy an adrenalin-fuelled white-water rafting trip on the Agung River.
Day 12
Ubud
Another day to explore the town's art scene and traditional crafts – or simply relax back at your hotel.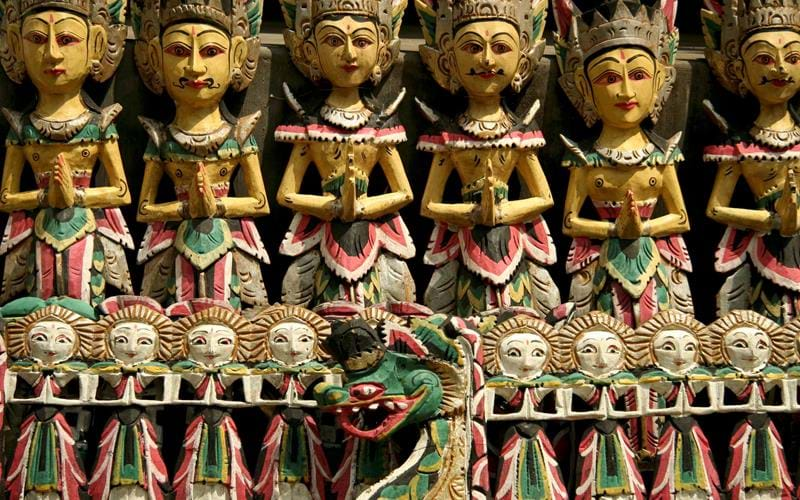 Richly costumed Barong and Kris dance are specialities of Ubud, and you'll be able to attend a recital today in the Puri Saren Palace, accompanied by live Gamelan music performed against a backdrop of beautiful old temples. While you're waiting for the show to start you can wander around the adjacent Water Palace, with its pretty tropical lily ponds. Villages around the town specialize in a variety of traditional crafts. Celuk is the place for jewellery; Batubulan is acclaimed for its stone carvings; and Mas for its wood sculpture. Your guide will know the best galleries.
Day 13
Ubud
You'll be at leisure today to shop, relax and explore the town's temples, museums and luxurious spas at your own pace.
Day 14
Seminyak
Drive south to the Seminyak area for a three-night stay in Bali's most fashionable beach resort.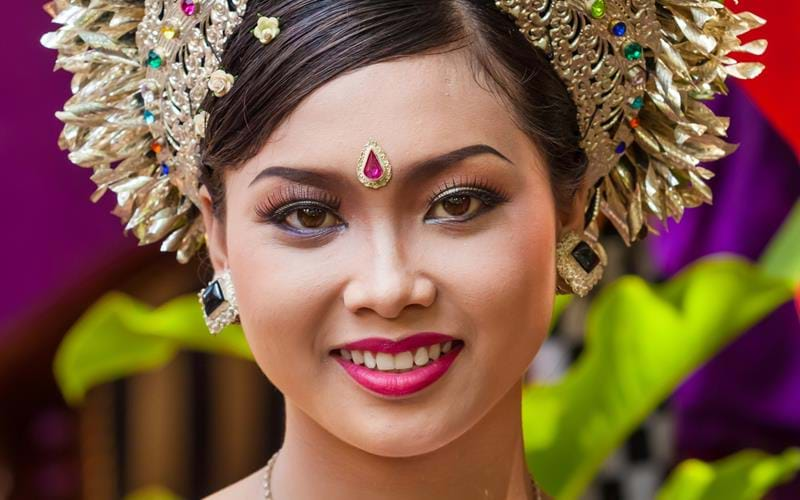 Standing in marked contrast to Lovina and the north, Seminyak is Bali at its most sleek and sophisticated. Get your bearings with a browse of the hip boutiques along Jalan Laksmana. We particuarly love the hand-dyed garments at the Simple Konsep Store, which rework traditional Balinese batik in novel ways.
Day 15 & 16
Seminyak
Soak up the heavenly beaches and tropical weather of Seminyak on your final two days at leisure in Bali.
Day 17
Seminyak
Spend the morning relaxing and shopping for last-minute souvenirs, and the afternoon packing ahead of your evening flight back to the UK.
Day 18
Bali, UK
Arrive back in the UK.
Tailor-made Tour

18 days from £2990 per person
What's included

✓   International flights from London
✓   15 nights accommodation
✓   All internal transportation and transfers
✓   English-speaking guides
✓   Breakfast daily
✓   Entrance fees to sites and monuments listed in tour itinerary
Places and Experiences in this tour
Plan your 2022 Adventures
With the world now largely open again, now is the time to begin planning your 2022 adventures in Asia. Our Travel Specialists are ready to take your call and discuss the adventure you have spent the last 2-years dreaming of.
Or call us on 0208 566 3739
TransIndus Brochures 2022
Join our mailing list