India 08.08.2016 TransIndus
While Rajasthan's vibrant, crowded cities dominate most itineraries through the northwest, the market towns and villages of the desert hinterland are where many visitors experience the most memorable moments of their trip. Numerous old palaces belonging to the families of former rajas, rawats and thakurs open their doors to paying guests these days. Staying in them takes you deep into the rural heart of the region, yielding glimpses of a more traditional way of life and providing a welcome antidote to the mayhem of the city.
The heritage hotels chosen by TransIndus score highly for their wonderful Rajput-Mughal architecture, and tranquil locations. Many offer birdwatching trips, camel treks to local beauty spots and visits to craft villages and remote shrines, while the evenings may be enlivened with puppet shows and music and dance by local troupes. In short, they're destinations in themselves, quite apart from being lovely places to stay. 

Ramathra Fort
On the fringes of the Daang Plateau in eastern Rajasthan, Ramathra Fort occupies a superbly remote location. From a canopied seat on its ramparts, you can gaze across a sweeping expanse of mustard fields, wooded hills and acacia scrub to Kalisil Lake glinting in the distance.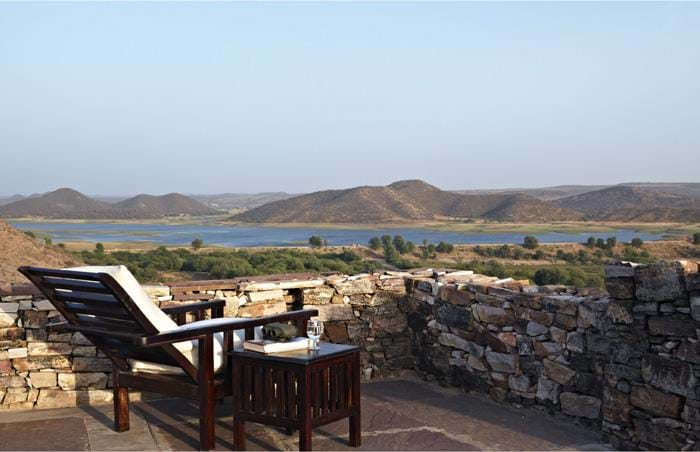 Rohet Garh
Rohet Garh, the fortified desert seat of the Singh family, rests beside an idyllic lake amid otherwise arid countryside 25 miles (40 km) north of Jodhpur. Decorated and furnished in traditional style, its rooms are fronted by semi-circular verandahs where you can wake to reflections off the water playing on your ceiling beams, and laze on wicker chairs as peacocks perch on cusp-arched windows or stroll across the immaculate gardens.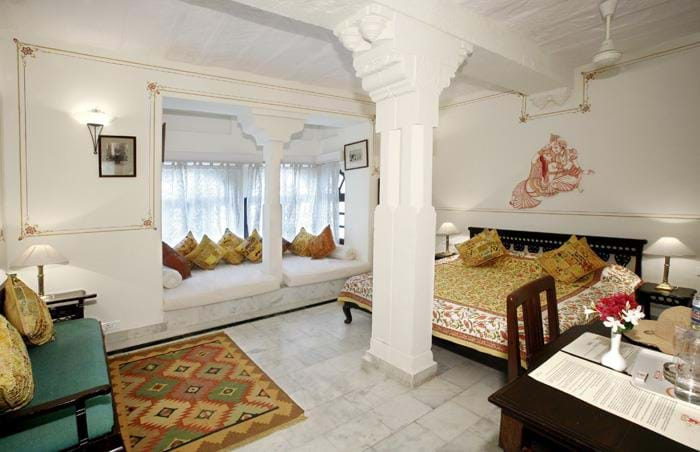 Mihir Gar
This award-winning desert retreat, built from scratch in 2009, is a fantasy Rajput fortress set amid a shimmering expanse of acacia scrub and camel thorn an hour or so south of Jodhpur. It took a hundred labourers, carpenters and artisans two years to build, and the results are impressive. Inside, nine individually styled suites open on to terraces fitted with their own plunge pools and the decor, enlivened with vibrant Rajasthani quilts and dhurries, is exquisite.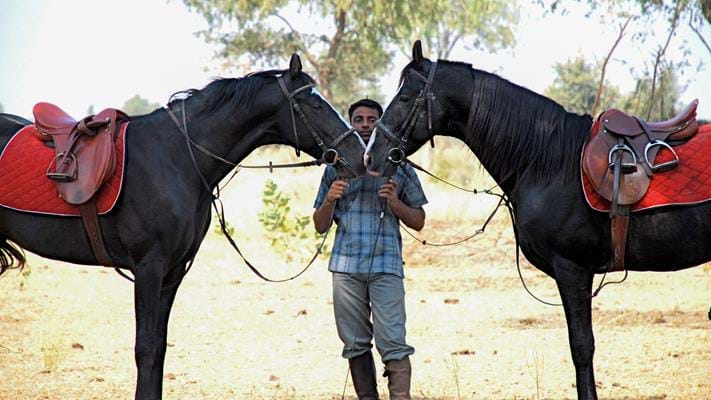 Rawla Narlai
Dine beside a 1000-year-old baori (stepwell), whose steps are lit with hundreds of flickering oil lamps... Ride a Marwari thoroughbred through enchanting desert countryside... Breakfast in an ochre-walled courtyard dripping with bougainvillea and fine 17th century stonework. A Maharaja's former hunting retreat, Rawla Narlai offers an all-encompassing, magical experience of rural Rajasthan.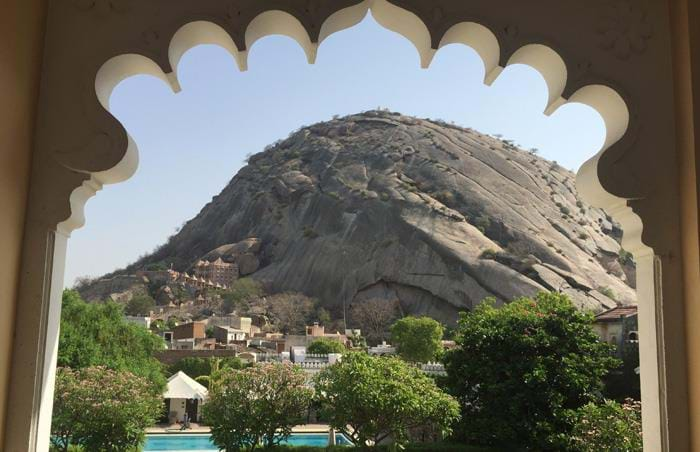 Devi Garh
With its signature blend of Rajput panache and cutting-edge cool, Devi Garh is among India's most stylish hotels. The palace itself, set amid beautiful hill country 40 minutes out of Udaipur, is a flamboyant, faded gem of regional architecture, but it's the interiors that really captivate here. Each of the 39 suites use exposed stone and lime-white as backdrops for splashes of amber or emerald-green silk, and elegantly minimalist furniture.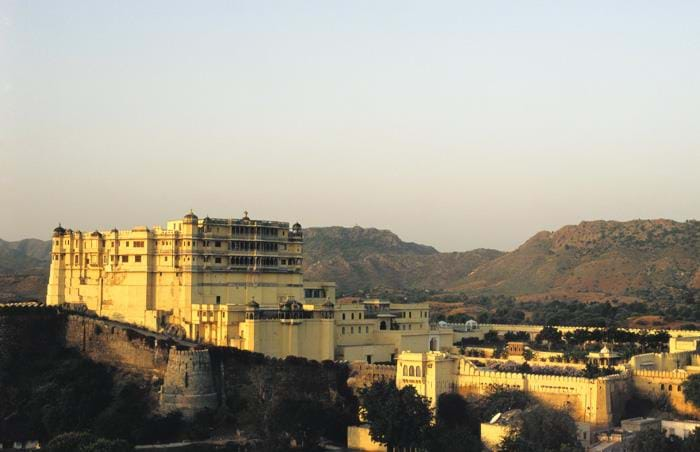 Shahpura Bagh
One of Rajasthan's best-kept secrets, Shahpura Bagh ranks among our all-time favourite rural retreats in India. The Shahpura family, who own and run the property, have lived here for generations, a fact reflected in the many antique paintings, photographs and other heirlooms which adorn the interiors of their 19th-century guest wing.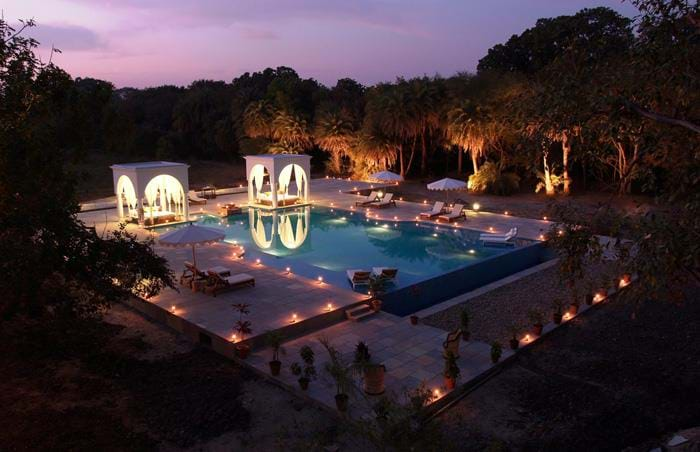 Manvar Desert Camp
An atmospheric place to break the long journey between Jodhpur and Jaisalmer is the Manvar Desert Camp. It comprises two different sections: the first, a small, sensitively designed resort whose architecture takes its cue from local thatch and adobe villages; the second, a camp of luxury, en-suite tents located 6km away in the depths of the desert.



Chhatra Sagar
Wake up in your own luxurious Rajasthani hunting tent to sunrise over a serene lake, as flocks of parakeets careen overhead and herds of gazelles graze on the distant bank. Chhatra Sagar is camping as you've never experienced it. Dotted along the top of a 19th-century dam, the elegant white-canvas tents are furnished in cool, block-printed fabrics. Each has its own marble and slate en-suite bathroom and private sit-out overlooking the water, where in winter some 250 species of birds congregate.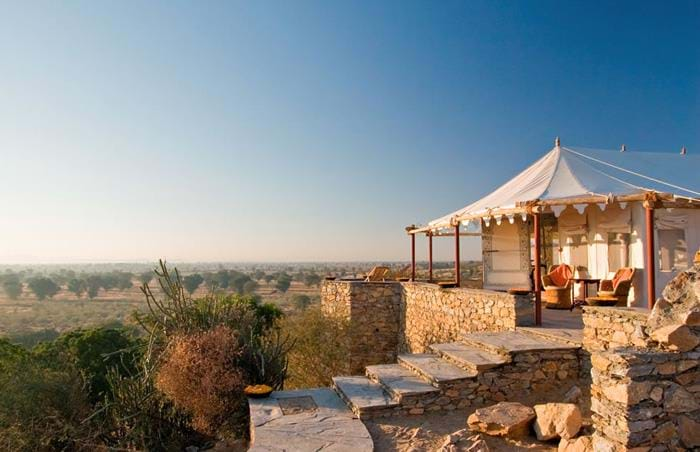 Samode Palace
A pink-ochre palace enfolded by scrub-covered mountains, Samode is the stuff of dreams. From the minute you enter its bougainvillea-filled courtyard, you're transported to the hey day of the Raj, when royal hunting parties would arrive in great trains of elephants to a cacophony of drums and trumpets. The architecture is a classic fusion of Rajput and Mughal, and the painstakingly restored interiors, ornately decorated balconies and fountains are some of the most exuberant in India.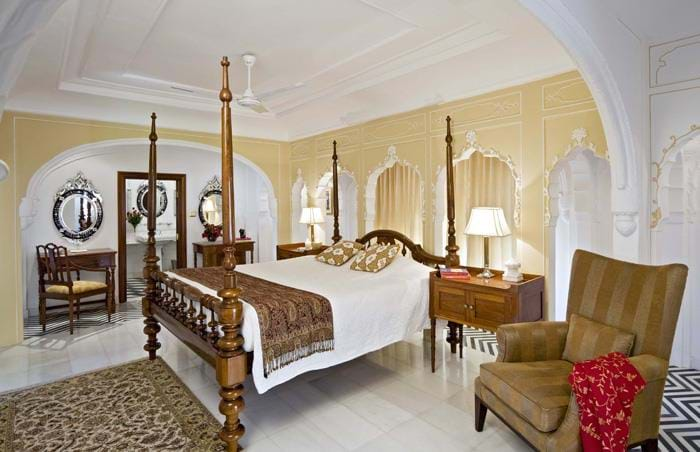 Ranvas
This fabulous hotel in the little-visited desert town of Nagaur takes the heritage concept to new heights. It occupies the former zenana (womens' quarters) of a magnificent medieval fort, comprising ten interlocking havelis, each with their own walled courtyards. The architecture's a feast of salmon-hued sandstone, sculpted into slender pillars and decorative panels.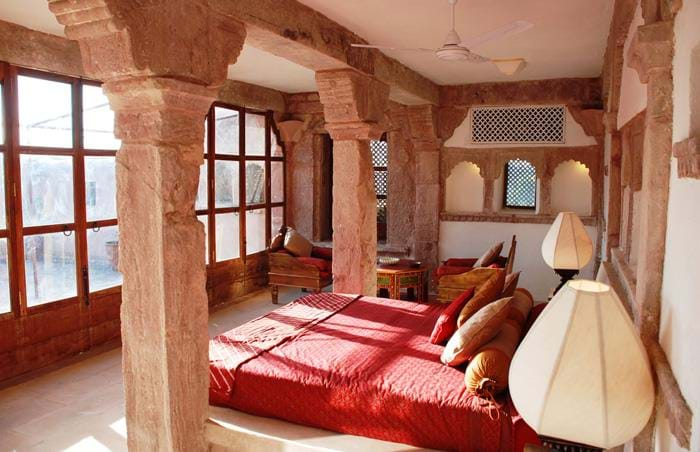 Raffles, Udaipur
The latest in a long list of India illustrious hotels, Raffles opened in September'21 bringing its unique brand of luxury to the sub-continent. Nestled on a 21-acre private estate just outside Udaipur, the property overlooks the magnificent Udai Sagar Lake with a backdrop of the Aravali Hills. The grand Palladian property brings the Raffles unique style of gracious living to India with large spacious rooms and private balconies opening onto the lake.  The hotel also boasts several pools, gymnasiums, spa, manicured grounds with walks and excurisons around the estate and nearby villages.