China 07.03.2019 TransIndus
We'd expected some impressive scenery. This was the flipside of the Himalayas, after all – the far side of range, where its peaks formed a mighty, final flourish as they marched around the top of Myanmar and cascaded south towards Thailand. Nothing, however, had quite prepared us for the spectacle that greeted us above Yunglingxian village, in northern Yunnan.
Before us, from a dramatic bend in the Mekong River, swept a stupendous rampart of chocolate-dark mountains capped with a gleaming ice summit.
"This Kawakarpo, sacred to Tibetan people" said our guide, Tundup, pointing to the snowy pinnacle in the clouds high above. He bowed his head and joined his palms in a gesture of supplication to the peak, which sits astride the border between Yunnan and Tibet.
We were at roughly 2,200m and the top of the mountain, I knew, was 6,740m (22,110ft). This meant we were looking at around 4,500m – or 3 vertical miles – of elevation, considerably more than climbers see of Everest from base camp. In fact, there can be few places on planet earth where you are confronted with so much mountain in a single view. And yet no-one had mentioned this breath-taking panorama before we'd set off. We'd stumbled upon it by chance, and might easily have missed the magic moment where Kawakarpo's glaciated summit briefly revealed itself from behind the surrounding veil of cloud and ridges if I hadn't been craning my neck out of the window to see a passing eagle.
Travel in China is filled with such visions of unexpected grandeur. It's a country on a truly epic scale, and so much of what you encounter comes as a surprise. Every traveller knows about the Great Wall, the Forbidden City, the limestone crags of Guilin and the Terracotta Army. But between and beyond these iconic sights lie dozens others – no less fascinating and impressive in their way, but which attract a fraction of the attention
During a recent recce to China, the TransIndus team discovered many new monuments, landscapes and beautiful buildings we'd not known about before, and which we're keen for our clients to experience. Here's a rundown of our personal favourites. They represent the tip of a vast iceberg. With its spellbinding scenery and history stretching back over four millennia, China is one enormous storehouse of surprises...

Longmen Grottoes
On the banks of the Yi River in Henan Province, the Longmen Cave complex was begun by the Northern Wei dynasty in 439AD. In all, some 10,000 figures were carved out of the limestone cliffs here. Access is by boat. Seeing the giant Buddhas for the first time after climbing the flight of steps leading from the river is a goose-bump-inducing experience.



Huangshan
The distinctive granite landscapes of the Huangshan mountain range, in Anhui Province, cast a powerful spell. Soaring above dense bamboo forest and rugged, vertical-sided canyons, are ranks of pinnacles and razor ridges capped by solitary, wind-bent pines and Buddhist temples. A network of paths wriggles around the cliffs and gullies, often enveloped with swirling mist, to reach these seemingly inaccessible monuments, to which pilgrims have ascended for centuries.
We recommend clients spend a night in one of the hilltop hotels, which will leave you perfectly placed for sunrise, when a rose-coloured sea of cloud carpets the valleys below, leaving the granite towers and peaks of the Huangshan massif standing proud in crimson sunlight.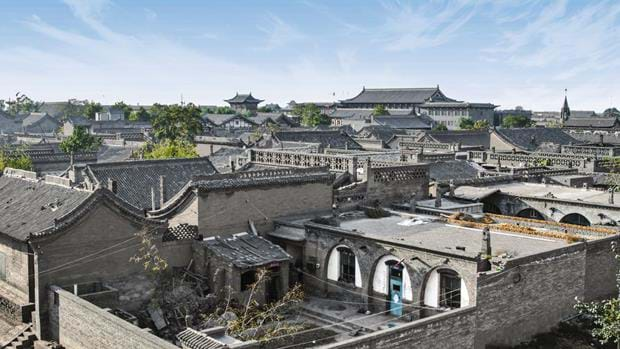 Pingyao
With its bumper crop of antique buildings dating from the Ming and Qing eras, this gem of a walled town makes an ideal stopover if you're travelling overland between Beijing and Xi'an. Strolling through its paved streets feels like stepping into a scene from a Chinese epic.

The Tang Tombs of Qianling
Scattered across the plains surrounding the ancient city of Xi'an are dozens of spectacular tombs belonging to the Han and Tang emperors, their wives, concubines and generals. The largest concentration is at Qianling, where the mausoleum of Emperor Gaozong and is legendary consort, the Empress Wu Zetian, is approached by a paved walkway flanked by beautifully preserved statues of winged horses, lions, ostriches and (headless) dignitaries.

The Xuangkong Temple
Your first glimpse of the Xuangkong temple outside Datong is guaranteed to evoke gasps of amazement. Clinging to a near vertical sandstone escarpment, 246ft (75m) off the floor of a hidden valley, the upswept roofs and wooden galleries of the shrine have hung precariously over the same void for nearly 1,500 years.

Jiuzhai Valley
The Jiuzhai Valley in southeastern Sichuan protects one of China's most spellbinding landscapes, where dozens of exquisite blue lakes are cradled by miles of empty forested hills. The lakes derive their impossibly beautiful colour from beds of travertine limestone.

Zhangjiajie
Wreathed for much of the time in mist, the scenery at Zhangjiajie has, over the centuries, inspired many famous Classical Chinese scroll paintings, ink drawings and poems. It also featured prominently in James Cameron's blockbuster, 'Avatar'. Over the past decade, the government has equipped the park with state-of-the-art access infrastructure, such as cable cars, eco buses, trams and monorail trains – and even a giant, glass-sided elevator. So it's possible to experience to cream of the scenery without breaking sweat!

Yungang
The Yungang Caves honeycomb a spread of sandstone cliffs outside the city of Datong, a day's journey west of Beijing in Shanxi Province. Dating from the 4th and 5th centuries, the exquisite art inside them shows influences from ancient Greece, Persia, Ceylon and India – a true melting pot of ancient culture.

Shangri La (Zhongdian)
The town of Shangri-La (or 'Zhongdian' as it used to be known) occupies a high, mountainous plateau in the far north of Yunnan Province. Snow-encrusted peaks, exotic lamaseries and grasslands dotted with herds of grazing yaks combine to create a magical atmosphere. On the outskirts of the city, the great Songzanlin monastery is a spectacular edifice second only in stature to the Potala Palace in Lhasa.

Meili Snow Mountain
The serrated summit ridge of Kawakarpo mountain, mentioned in the introduction to this blog, is among the most beautiful peaks in the entire Himalaya. Some of the finest views of it are to be had from the Songtsam chain's Meili Lodge, whose front-side rooms room enjoy uninterrupted panoramas over the snowfields.

Shaxi
If you're wondering what China must have been like 15 or 20 years ago, this pocket of Tang-era elegance between Dali and Lijiang in Yunnan Province will provide some pointers. A preservation order has been placed on the entire area prohibiting modern construction and as a consequence, its settlements – which belong mainly to Bai and Yi minority people – remain superbly picturesque, featuring traditional whitewashed farmsteads and courtyard houses with upswept eaves and tiled roofs, nestled beside rivers spanned by humpbacked bridges. The picture shows the courtyard of a traditional theatre, with a local folk troupe performing on a raised stage just after sunset.
All of the above sights feature in our 'suggested itineraries' for tailor-made China tours, which can you browse here