India 03.12.2014 Transindus
The River Ganges is one of the most sacred sites in India, extending through the nation and into neighbouring Bangladesh as the physical form of the Hindu goddess Ganga.
Historically, the waterway's banks have been home to imperial capitals; culturally, the river is an important part of daily life for the many local residents in a variety of ways.
Along the course of the waterway are all manner of sights and cities to experience – ornate temples, pilgrimage sites, historic settlements and cultural attractions dot the river, making it one of India's most popular draws for visitors looking to experience rich, authentic culture.
Keep reading to find out what you shouldn't miss on a tour of the Ganges.


Varanasi 
The city of Varanasi is renowned as one of the most sacred in India and it's where Hindus believe they can attain salvation when they die.
Dating back to the sixth century BC, Varanasi is the place where souls advance to a higher level, with Hindus travelling to the city to scatter the ashes of their relatives and achieve redemption on their behalf.
The ancient city is also an important industrial centre, producing fabrics like silk and muslin, and culture abounds through music and art.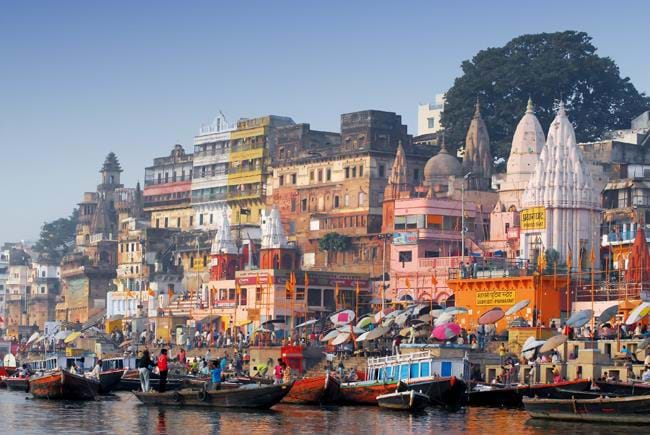 Kashi Vishwanath Temple 
Located in Varanasi is the Kashi Vishwanath Temple of Shiva, an important Hindu god. The temple is one of 12 Jyotirlingas, which are the holiest Shiva temples.
Dating back to 1780, the temple has been destroyed and rebuilt several times. The structure that stands at the site presently is particularly notable for its striking golden spire.
The Kashi Vishwanath Temple attracts thousands of visitors daily, with Hindus journeying to the site on pilgrimages as they follow in the footsteps of Hindu saints like Adi Sankaracharya, Ramakrishna Paramhansa, who both reportedly visited the site.