India 01.01.0001 David Abram
India's coastline extends for over 4,670 miles, much of it covered by beautiful, golden-sand beaches. Rich in mythological associations, some are famous religious sites and visited by streams of Hindu pilgrims every day. Others support old-established fishing communities, whose boats tilt in picturesque fashion beside the dunes.
Surprisingly few, however, are easly accessible to regular foreign tourists and, of those that are, only a handful are sufficiently tranquil, scenic and unspoiled to warrant a stay of any duration.
In this feature, we showcase our favourite beaches in India, discovered by our team over 30 years of exploration. The roundup is broad: it ranges from religious places where conservative attitudes still prevail (ie no bikinis or sun bathing allowed!), to fully-fledged resorts where swimming togs no longer turn heads.
Along with short descriptions of the beaches (and why you might want to include them in your TransIndus holiday), we recommend a standout place to stay.
If you'd like any further information about any of the hotels or beaches mentioned below, please do not hesitate to contact our team of specialist Indian consultants at our HQ in London.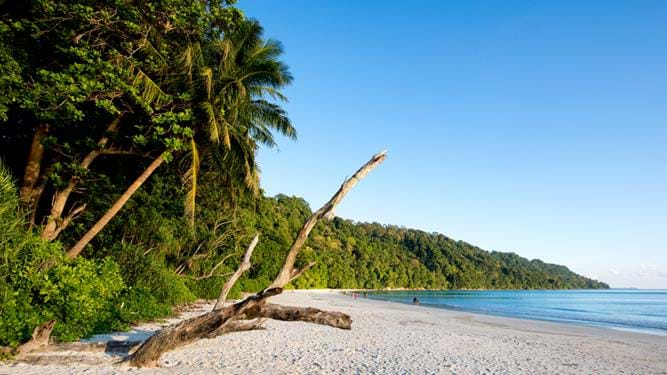 Radhnagar Beach, Havelock Island
It takes an extra effort to reach the remote Andaman & Nicobar Islands, a two-and-a-half hour flight east of Chennai (Madras). But once you step out of your taxi on to the soft coral sand of Radhnagar Beach for the first time, you'll know it was well worth the trouble. Enfolded by a towering wall of jungle, the bay forms an arrestingly beautiful sweep of turquoise water and churning surf where colourful birds and insects flit through shafts of vivid sunlight in the mornings. Until recently, its most iconic feature was a retired timber elephant, Rajan, whose mahouts used to bring him every morning to the sea to bathe. Sadly, Rajan passed away a few years back but his memory lives on in many beautiful photographs of him enjoying the splendour of his home patch.
Stay At:
The Taj Exotica , Havelock
Soak up the cutting-edge luxury of Taj's newest and most gorgeous tropical beach resort to date. Read More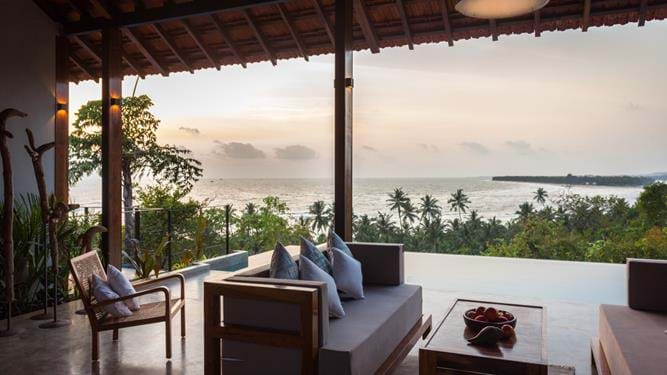 Bhogave, Maharashtra
Despite being strewn with a string of wonderful beaches and ruined forts, the wild, beautiful Konkan Coast between Mumbai and Goa is rarely explored by foreign travellers due to the absence of commendable places to stay en route. The one exception is this heavenly little boutique property we recently discovered in the far south of Maharashtra.
Stay At: CocoShambala
CocoShambala's four luxury villas sit on a slope overlooking deserted Bhogave Beach. Read More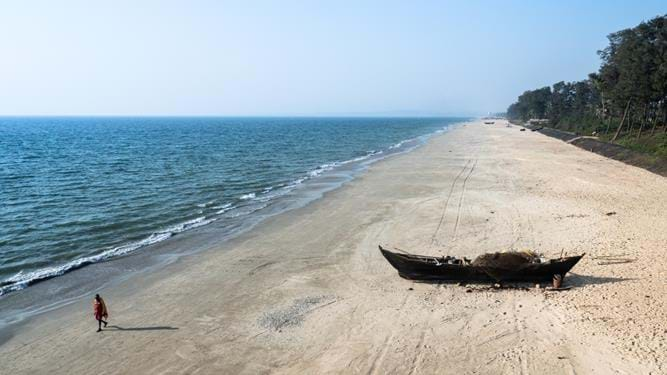 Majorda Beach, Goa
The picture above may contradict everything you've heard about Goa, but it's 100% Photoshop free and totally representative of this dreamy northern stretch of Majorda Beach. Hidden among the casuarina trees and coconut palms here are a scattering of luxurious five-star hotels, among them the one that's highly rated by TransIndus clients. As well as being one of the quietest beaches in the region, it's also perfect for bathing, with very little undertow. Watch the sunset over a G&T at one of the shacks huddled under the trees, then wander back to your hotel via the hard sand as the stars slowly appear over the hills inland.
Stay At: Alila Diwa Goa
Enjoy stylish luxury just a short stroll away from this glorious sweep of shell sand and surf. Read More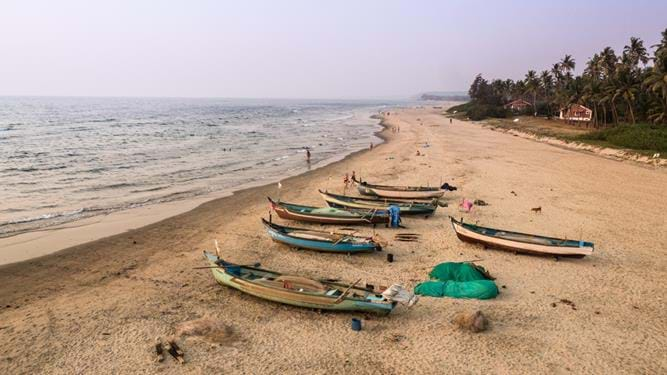 Aswem, Goa
When Denzil Sequeira's grandfather bought this stretch of beachfront in Goa as a hot-season retreat, it was deserted save for a few fishing boats. The miracle is, it still is deserted – thanks to the fact Denzil has zealously prevented any encroachment on his land. You can enjoy its unspoilt charms from the luxury of three small, Portuguese-era houses, which have been exquisitely converted. The 'casitas' nestle under the coconut palms and offer a unique degree of privacy. Relax on your own whitewashed verandah, feet draped over the long arms of a planter's chaur, as the sun sinks into the Arabian Sea . Bliss. . . .
Stay At:
Elsewhere- The Beach Houses 
Enjoy a rare oasis of calm on the otherwise lively north coast of Goa. Read More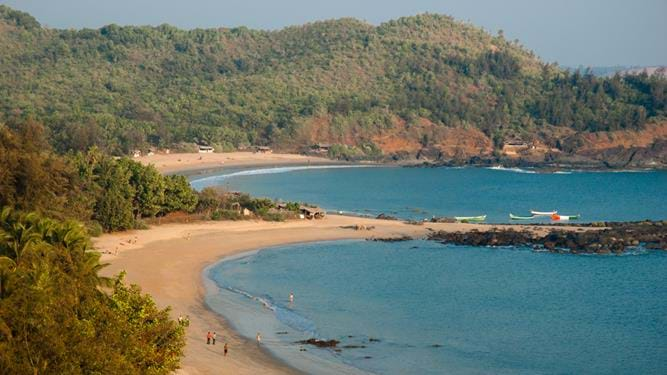 Gokarna, Karnataka
Identified as the location for key episodes in the Hindu epic the Ramayana, Gokarna is a bustling, atmospheric temple town midway up India's southwest coast. It's a fabulous place to people watch. Dressed in traditional white cotton dhotis and bright sarees, pilgrims from across the region pour down its main bazaar to reach the beachfront, where they perform a ritual bath before fashioning Shivalinga in the sand (and taking selfies in the surf!). Just over the headland lies a string of exquisite sandy coves, including one in the shape of the sacred 'Om' symbol, where our friends the CGH chain from Kerala have established a gorgeous little retreat among the cashew and coconut groves. Catch boat ride out into the bay at dawn to spot dolphins. Explore the trails winding through the surrounding forests and rocky headlands. And wander into town to attend puja in Gokarna's famous Ganesh shrine.
Stay At:
Swaswara
Fancy a detox in an extraordinarily beautiful spot? Read More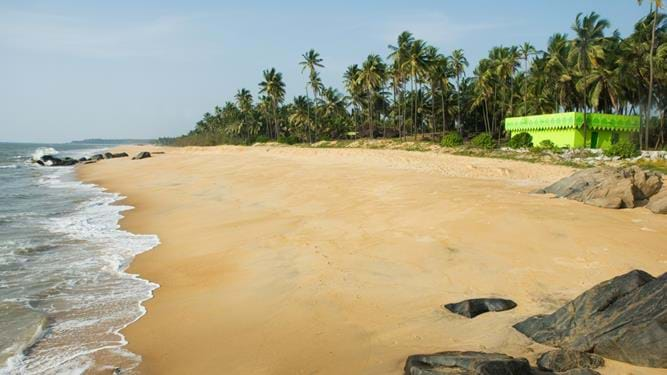 Bekal, Kerala
Bekal occupies the extreme northern slither of Kerala, where the state dovetails with neighbouring Karnataka. More sparsely populated than the south, this stretch of coast was 'terra incognita' on tourist maps until a few years back, when a couple of five-stars appeared amid the giant coconut trees. Should you venture beyond the confines of your resort (and we strongly recommend you do) you'll encounter a world of small fishing and farming villages little altered in decades. The area's poster piece is a sprawling, laterite-walled fortress dating from the era of Tipu Sultan, whose ramparts afford a sublime view over two beaches stretching to the horizon in both directions
Stay At:
The Taj Bekal
Enjoy world-class luxury in the extreme north of Kerala, near the border with Karnataka. Read More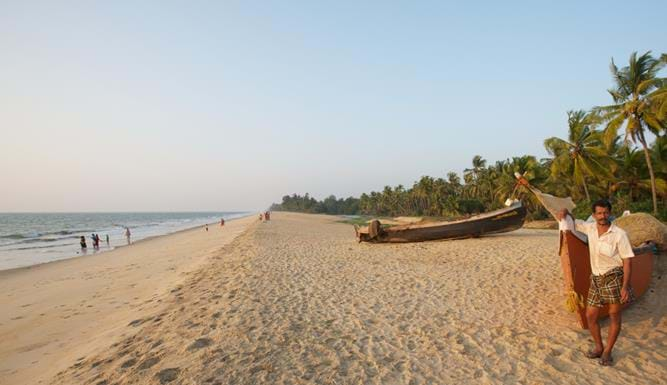 Neeleshwar, Kerala
If you're after a pristine stretch of sand to relax on at the end of a road trip around India's tropical south, Neeleshwar is among our top recommendations. Tucked away on Kerala's little visited Malabar Coast in the far north of the state, it has the feel of somewhere lost in time, its peace disturbed only by the intermittent thwack of a coconut plucker's machete. Best of all, Neeleshwar is the home of one of our favourite resorts in India – the heavenly Neeleshwar Hermitage (see below), where you can unwind in a beautiful infinity pool a stone's throw from the surf.
Stay At:
Neeleshwar Hermitage
One of the most alluring beach resorts in the entire country is hidden away in the far north of Kerala – worth the journey alone for the views through the palms to the sparkling sea from your private villa. Read More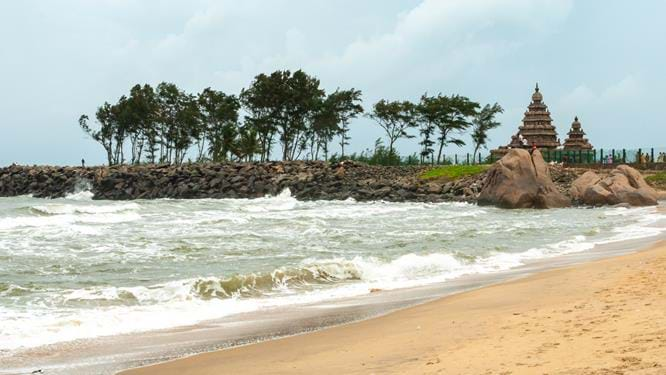 Mahabalipuram
Nowhere else in India is a beach overlooked by a pagoda as ancient as the famous Shore Temple in Mahabalipuram, carved over a thousand years ago by the masons of the Pallava Dynasty. Its iconic pyramidal tower is only one among a large number of extraordinary monuments hewn from the local granite in the distant era when this ranked among Asia's richest ports, with links across the Bay of Bengal to the shores of Indonesia. Alongside the wonderful antiquities are numerous stone-carving workshops where deities are made for modern temples and homes. Local restaurants also serve particularly succulent seafood straight off the boats, including lobster and tiger prawns.
Stay At:
Radisson Temple Bay
This large beachfront resort has all the comforts and amenities you'd expect of a modern, international-grade five star. Its location couldn't be better. Read More
Mararikulam, Kerala
Backed by a near unbroken curtain of coconut palms, Mararikulam, in central Kerala, occupies a dramatic stretch of coastline whose potential was spotted a couple of decades ago by our friends at the eco-conscious hotel chain, CGH Earth. A handful of other five stars followed in their wake, but the feel of the place has altered surprisingly little over the years. As well as the pleasures of the tropical scenery, you can explore the surrounding area by bicycle. Grand Catholic churches and Hindu temples dominate the nearby villages, which are a typically Keralan cultural mix. The land adjacent to the resorts is occupied by a fishing community whose activities on the beach, preparing nets and launching boats into the surf, provide a constant source of fascination (and photographs) for visitors.
Stay At:
Marari Beach Resort
One of our all-time favourite resorts in India, Marari is a perfect place to wind up a tour of the deep south. Read More
If you'd like any more information or advice about beach holidays in India from our specialist consultants, feel free to contact us at the TransIndus Office in London.
Calling from the UK
020 8566 3739

Calling from the USA
Call us on our toll free number:
1-866-615-1815