Nepal 25.09.2022 Transindus
Transindus' Nepal Trek Planner
Choosing the right trek for you!       
Most of us who enjoy a good walk have often dreamt of walking among the Himalayas to take in the ultimate mountain scenery and those who have been, are united in the view that Nepal is Heaven on earth.  
Ardent adventurers are known to have dedicated their lifeworks to ascending each of the country's highest peaks, while others return perennially to trek another pass on their ever-extending list. Most, however, are drawn by an opportunity to admire the soaring views of the world's highest mountains from the lower trails, and a chance to explore Nepal's winding cultural trails as they pass through beautiful mountain villages and remote monasteries.
With a daunting range of treks and trails, choosing the right one is not easy.  Here we share our pick of the top 7 trails suitable for most first-timers and a few for experienced trekkers along with our quick guide to choosing the best one for you. The place to start is by deciding the length of your trek, which will narrow down the choice significantly. Then turn to consider the altitude you will be most comfortable at whether you want to experience the wilderness of the higher mountains or, the cultural interactions that come with trekking the lower passes as you pass through local villagers.
The final big question is of course whether you want the solitude of camping out in the open or staying in some of the country's beautiful lodges and Tea Houses that perch on mountain slopes and dot most of Nepal's mountain trails. 
Most first and second-timers tend to opt for the latter, so they can focus more on the journey, and a few even choose to reward themselves with a little luxury at the end of their trail, with a stay in one of the many boutiques, luxury hotels that have sprung up at high altitude. 
No matter where you sit on the 'adventure scale' Nepal offers a fabulous range of treks to suit you.  In this blog, we will focus on some of our favourite treks for first-timers and a few more challenging options based on lodges and the Tea House experiences.  If you are an enthusiast of Camping, speak with our team for options that might suit you. 
Classic treks for first-timers based around lodges and Tea-Houses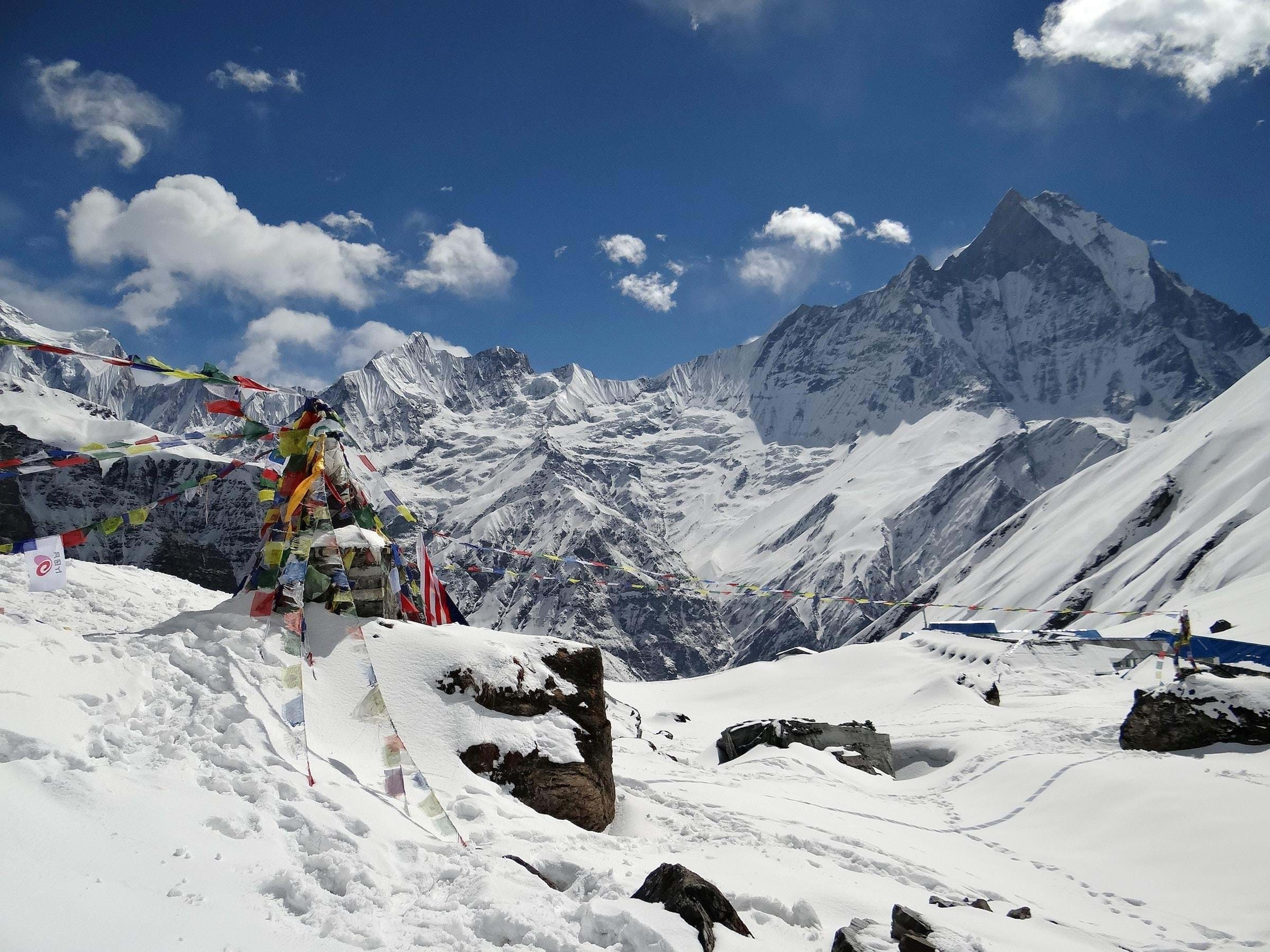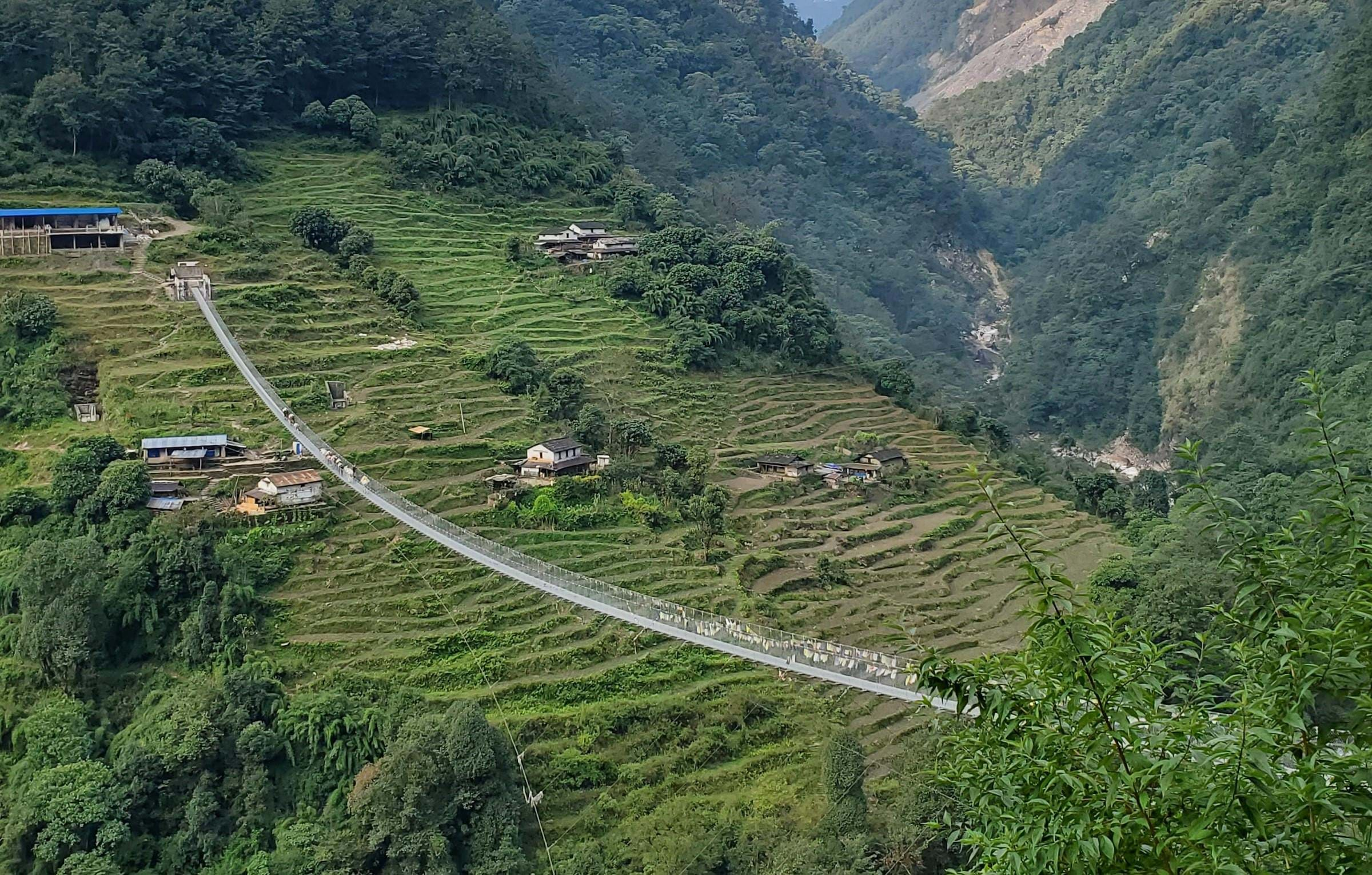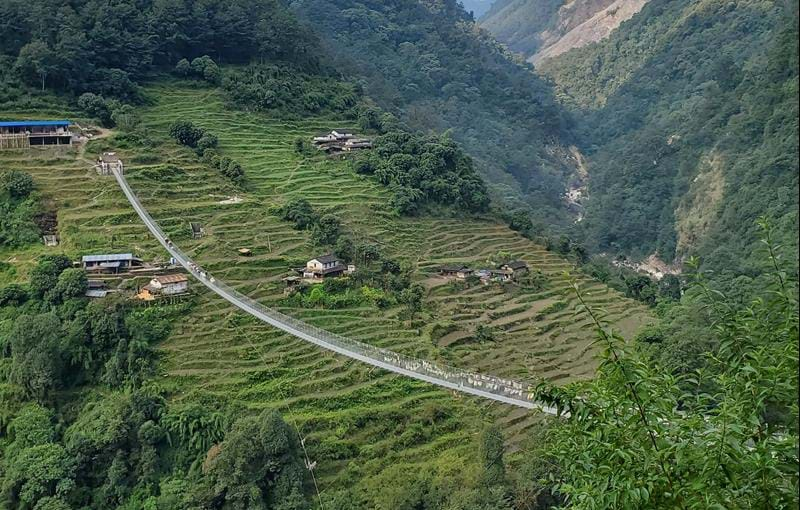 1. Annapurna Circuit  
Annapurna region is considered one of the most beautiful, leaving most visitors in awe of its scenery. It is a veritable paradise for photographers! The 10-12 day Annapurna Circuit Trek within, is considered one of the prettiest and greatest treks in the world. Relatively easy for the most part with 5-6 hours of gentle walking most days. Starting in Besi Sahar, it passes through picturesque Gurung villages with stays in some beautifully located lodges and tea houses that offer excellent hospitality and end in Pokhara for a well-earned rest. This trek should be on everyone's bucket list.
Those with staying power might like to take the option to extend the trek and add more challenging elements and side trips to Tilicho Lake, the ascent to Thorong La pass (at 5,416 m), Poon Hill, Milarepa's Cave, Ice Lake and The Lubra Valley.
Duration: 10 – 15 days
Difficulty: Moderate
Highest elevation: 3,450 meters (11,319 feet)
Highlights: Mountain views, Gurung villages & scenery
Best time: October and November or April and May 
Add-on: Tilicho Lake (4 days), Ice Lake, Milarepa's Cave, Lubra Valley

2. Annapurna Sanctuary Trek
Starting in Phedi, just outside Pokhara, this relatively short trek of 7-10 days passes through some charming Gurung villages and beautiful landscapes covered in rhododendron and bamboo forests. As you ascend through the Modi Khola valley to the glacial heart of the Annapurna Sanctuary, you are rewarded with panoramic views of the mighty fish-tailed mountain, Machhapuchhare, Hiunchuli peak and the awesome south face of the Annapurna mountain, in one eyeful.
The lodges en route are among the most comfortable in Nepal and offer great food, hot showers and WiFi.
Duration: 7-10 days
Difficulty: Moderate
Highest elevation: 4,130 meters (13,550 ft)
Best Time:  September to May
Highlights: Comfy lodges, high passes & traditional villages
Add-on: Mardi Himal trek (6 days)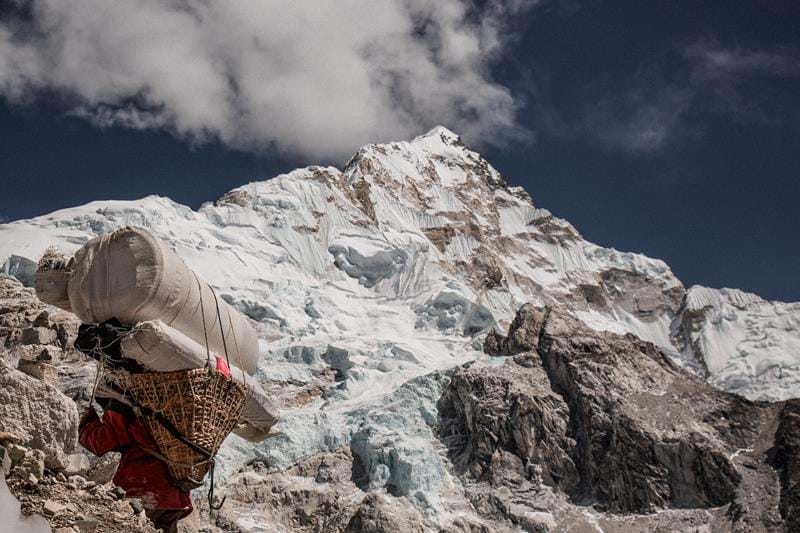 3. The Everest Base Camp
Everest base camp is the first of four steps in the quest to reach the tallest peak in the world, and what a beauty it is. For most trekkers, the bragging rights alone of reaching this point are worth the effort.
With most visitors to Nepal hoping to see Mount Everest, this is one of the busiest trails in Nepal. It kicks off from Lukla, usually following a short flight from Kathmandu. From here, the camp is about 130 km, along an 11-day return journey, full of natural wonder, and dramatic mountain views of Nuptse, Lhotse, Ama Dablam and Mount Everest, the highest mountains in the world. Your bonus is access to amazing Sherpa villages and stays in remarkably sophisticated lodges and tea houses.
If you have the time, we would recommend arriving early and acclimatising for a few days ahead of the trek in one of the sherpa villages like Kunde and Khumjung and adding on a visit to the Gokyo valley to see its beautiful turquoise blue lake.
You don't have to be a serious mountaineer to enjoy this trek, but a good level of fitness is essential as you touch a height of 5,380 meters.
Highlights: Big peaks, Sherpa culture & bragging rights
Duration: From 14 days
Highest Elevation: 5,380 meters
Difficulty: Moderate
Best time: January to May or Sept to Dec (Pre/post-monsoon).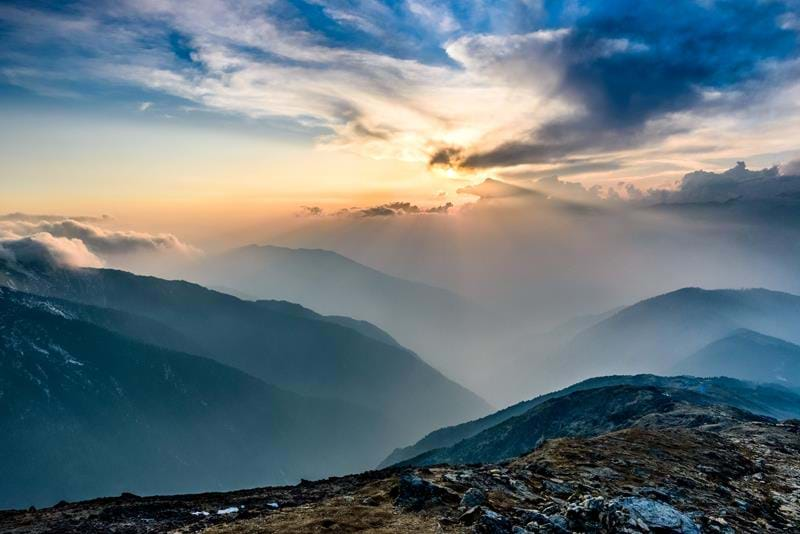 4. Langtang Valley Hike
Although much of the Langtang trail and valley were destroyed by the earthquake of 2015, they have recovered well with all lodges and tea houses rebuilt and the trail operating better than ever. 
This revived 7-day trek takes you close to the Tibetan border and is as well known for its diverse flora as it is for its picturesque terrain. Starting at Syabrubesi, just outside Kathmandu, this trek offers fantastic views of Langtang Ri mountain, the Annapurna range and Makalu peak as you ascend through bamboo forests, alpine pastures and lush green meadows where herds of yak graze free, among alpine pastures.  The region also provides an opportunity to experience the distinctive culture of the Tamang people.
If taking an independent trek, we would recommend making time to linger at the summit to explore Kyanjin Gompa some of the local trails nearby.
Highlights: Easy access, great lodges & side trips
Duration: 7 days
Difficulty: Moderate
Highest elevation: 5,033 meters
Best time: Other than the monsoon month, this is a year-round trek with the autumn months of September to December experiencing the clearest weather.
Add-on: Gosainkund Lakes trek (5 days), Tamang Heritage Trail trek (6–7 days), Helambu trek (4 days)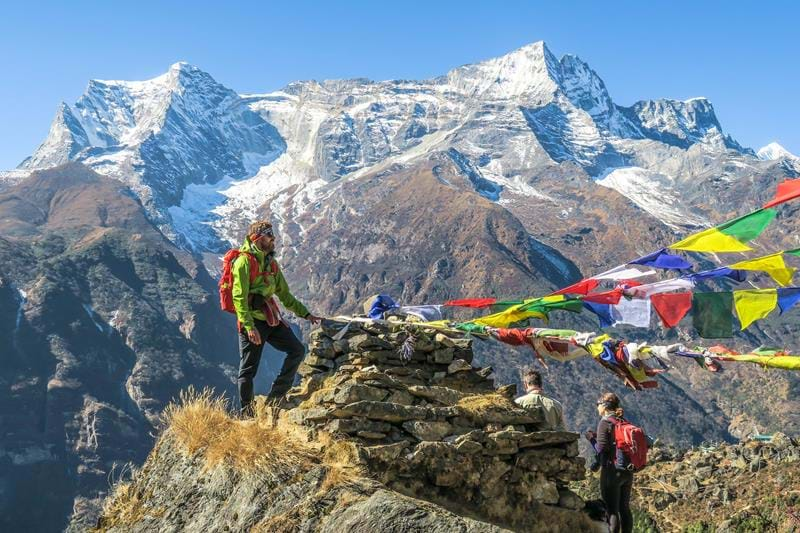 5. Everest Three Passes trek
Considered a connoisseur's trek by some, this route takes you off the beaten track on a much more ambitious and demanding route, crossing three of the region's most famous passes, plus the Everest Base camp with its remarkable views of Kala Pathar and Mount Everest.

The first of the passes is the Renjo la pass, with 360-degree views of surrounding mountains, old Sherpa villages and Gokyo Lake, with its shimmering blue-green waters. Next comes the most famous of the three passes, the Chola pass with remarkable views of Mount Amdublum, thought to be the most beautiful mountain in the entire Everest region. Finally, you head toward Khongma la pass, the most adventurous of the three, that crosses the Khumbu glacier, the world's largest Glacier.
If lucky, you might catch glimpses of Himalayan wildlife along some of the higher passes, including the Himalayan Thar, Musk deer, Red Panda and even the snow Leopard.

There are wonderful lodges and tea houses along the route ensuring comfortable stops. Although not a technical trek, a degree of fitness and determination is required, along with the services of a good and trusted Sherpa guide.
Best for: Mountain views, lakes, high passes and wildlife.
Duration: 18-20 days
Difficulty: Challenging
Highest elevation: 4,900 meters
Best time: September - November/ March-May
Add-on: Island Peak ascent (2–3 days)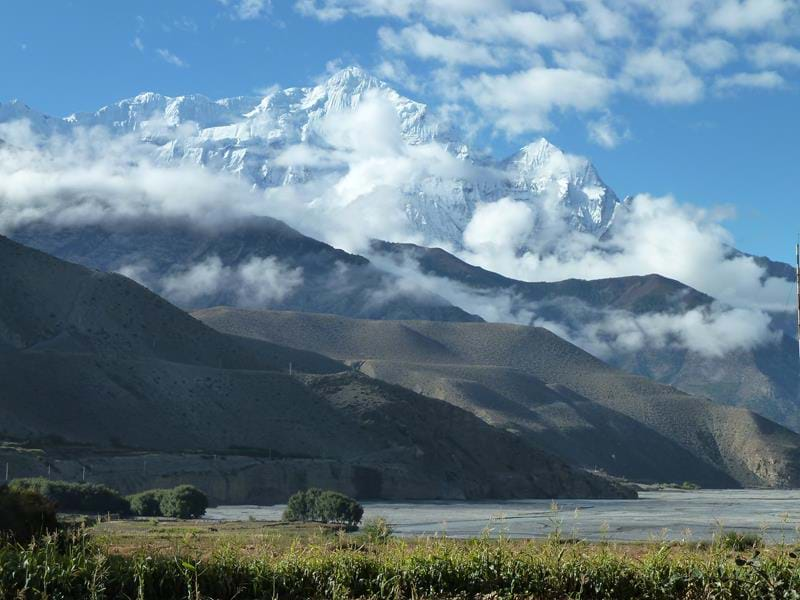 6. The Upper Mustang trek
Nicknamed the last Shangri La, this semi-independent Kingdom of Nepal is also known as the 'Last Forbidden Kingdom. Steeped in an undisturbed Tibetan Buddhist culture with ancient red-walled monasteries, colourful stupas and numerous traditional villages, the region remained unknown and hidden to the western world until the late 1950s and trekking only opened in the 1990s with, strict restrictions on numbers and a stiff fee. 
Even today, it remains one of the most difficult to achieve operationally,  but well worth the effort!  The 14-day trek ventures deep into the region and takes in semi-arid deserts, deep ravines and snow-capped peaks all of which blend seamlessly into the mythical history and culture of the land. You fly into  Jomsom and start your trek from Kagbeni along a teahouse trail through chele, Smar, Syangboche and Charang up to the capital, Lo Manang and Namgyal beyond. On the return, we recommend taking the more remote and wilder eastern trail down through the villages of Yara, Tangye and Tetang.
If you enjoy a little luxury, watch out for the opening of the Shinta Mani Mustang next spring, the first of the famous Shinta Mani chains stunning properties outside Cambodia. 
Highlights: Tibetan art, trans-Himalayan scenery & monasteries
Duration: 10–14 days
Difficulty: Moderate to difficult
Highest elevation: 3,820 Meters (11975 feet)
Best time: June to September – the region sits in the rain shadow
Add-on: Luri Gompa, Choser Cave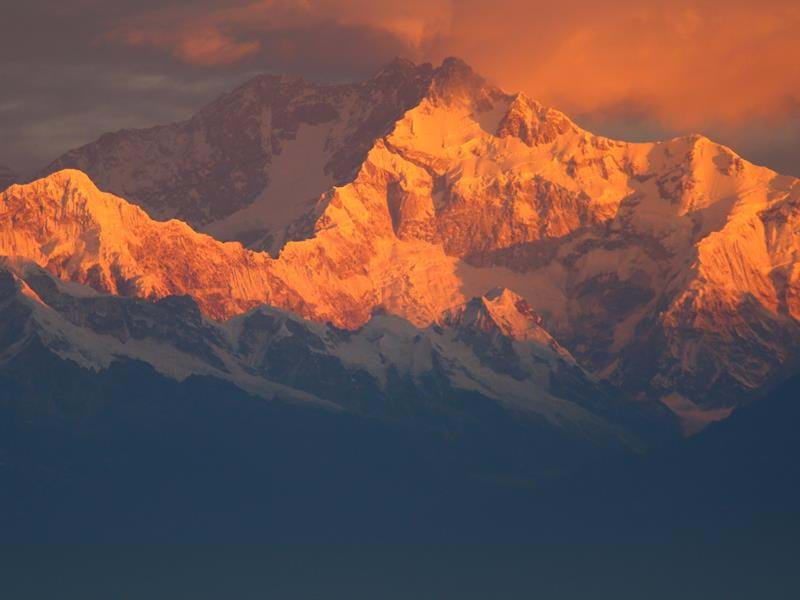 7. Kangchenjunga Base Camp Trek
Trekking to the Kangchenjunga Base Camp, at the foot of the world's third highest peak, is a sublime journey that passes through Eastern Nepal's wetter more lush terrain. It takes in the region's undulating rice fields, rhododendron forests, ethnic Limbu and Rai villages and spectacular views of the sacred Kangchenjunga Mountain.
The journey begins with a flight to Eastern Nepal and a long journey by road to Taplejung, where the trek begins. From here you ascend steadily through the Ghunsa river valley to the North Base Camp. The onward journey returns to Ghunsa before crossing the Sinon La pass to the Kabeli river valley for a final hike up to the South Base Camp. The descent is via Yamphudin and ends with a drive to Bhadrapur, and a return flight to Kathmandu.
If 25-days is too much of an investment, you can visit just the North camp in a shorter 15-day journey but so bear in mind that no matter which you choose, the accommodation on this trek is a little different, comprising a mix of guest houses and tented camps.
Highlights: Views, villages & geographical variety
Duration: 14 - 25 days
Difficulty: Challenging
Highest Altitude: 5,410 meters (16,900 feet)
Best time: Spring, (March-May) and Autumn, (October-November).
Add-on: Dromo Ri peak