Tailor-made Tour

12 days from £3355 per person
Places Visited:
Bhaktapur, Bardia National Park, Sauraha (Tharu), Chitwan National Park, Kathmandu
Nepal's extensive national parks are particularly rich in flora and fauna and protect one of the largest stretches of tiger habitat in the world. This tour features the two finest: Bardia and Chitwan. Both lie in the low-lying grasslands of the Terai, along the Indian border in the far west of the country, and retain viable populations of tigers and one-horned rhino, as well as gharial and mugger crocodiles. Safaris are conducted on elephant back and by Jeep, with the occasional boat ride to search for crocs and freshwater Gangetic dolphins. You'll also get to spend time in local minority villages, and experience some of the country's most exotic medieval architecture in and around Kathmandu.
Holiday Types
Wildlife Holidays
Suggested itinerary
Day 1
UK
Fly overnight to Kathmandu via the Middle East or India.
Day 2
Bhaktapur
On arrival in Kathmandu, you'll be met by your TransIndus guide and driver and transferred to Bhaktapur for a two-night stay. Spend the rest of the day recovering from your journey, venturing out in the evening to explore the old streets of the town centre.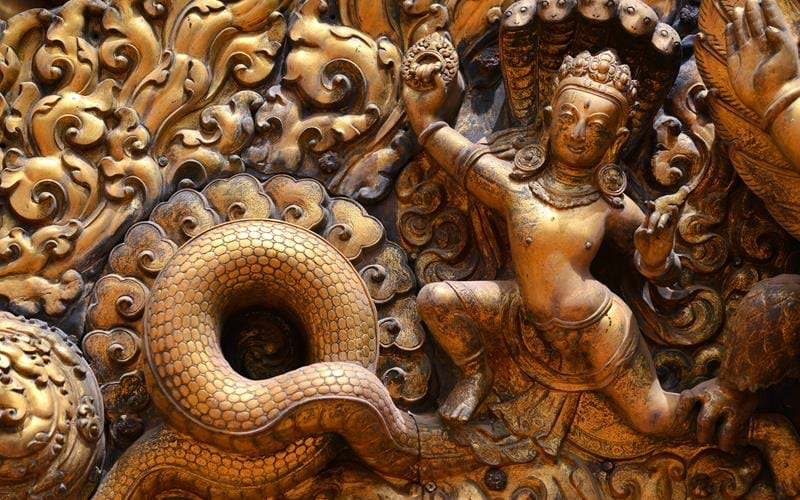 Bhaktapur, down the valley from Kathmandu, boasts an impressive concentration of medieval palaces, courtyard monasteries (bahals) and monumental squares – all in high Newari style. Despite being Nepal's third city, it's a much more easygoing destination than the capital thanks to the absence of traffic from its historic core. Wandering the pretty cobbled streets around Durbar Square, you'll see traditional potters', weavers' and wood-carvers' workshops, and local people spreading raw rice to dry in the sun.
Day 3
Bhaktapur, Kathmandu
Join a walking tour of Bhaktapur in the morning, then drive into Kathmandu for an afternoon touring the city's main sights.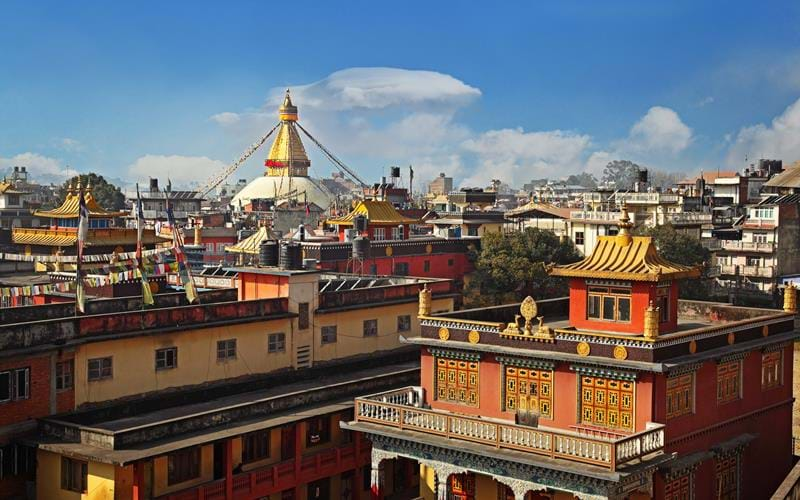 A sprawling modern city of nearly a million inhabitants, the Nepali capital can feel overwhelmingly crowded and chaotic on first impressions. But head for its ancient core, where the Shah and Malla kings erected their resplendently gilded stupas, palaces and carved wood pagodas, and things improve dramatically. Durbar Square forms the epicentre of this superbly atmospheric quarter. More than fifty temples, 106 monastery courtyards (bahals) and countless shrines line its narrow, cobbled backstreets. Settle on to one of the terraced platforms of the Manju Devul tower to watch the exotic bustle of marigold sellers, saffron-clad sadhus, stray cows and pigeons.
Day 4
Bardia National Park
Transfer to the airport to catch a short flight to Nepalganj, where you'll be met by your guide and driven to Bardia National Park for a three-night stay.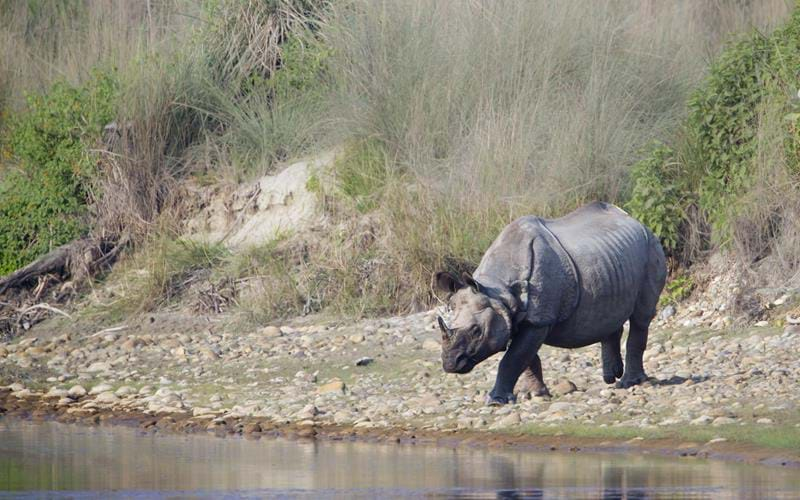 Bounded by the Karnali River and the Churia range of the Siwalik Hills in south-western Nepal, Bardia National Park is the largest and most undisturbed protected area in the Terai region. Its combination of magnificent sal forests and extensive grasslands makes an ideal habitat for a variety of fauna ‒ around 53 species of mammals and over 400 birds. Bardia's stars include the endangered Royal Bengal tiger and the vulnerable one-horned rhinoceros but there are plenty more elephants, black buck, swamp deer, and two species of crocodile. With patience and luck, visitors might also glimpse the rare Gangetic dolphin in the Karnali River.
Day 5 & 6
Bardia National park
Spend two days exploring the national park.
Day 7
Sauraha (Tharu)
Today you'll undertake a long drive to Sauraha on the Rapti River in the far southwest of Nepal, where you'll stay for two nights.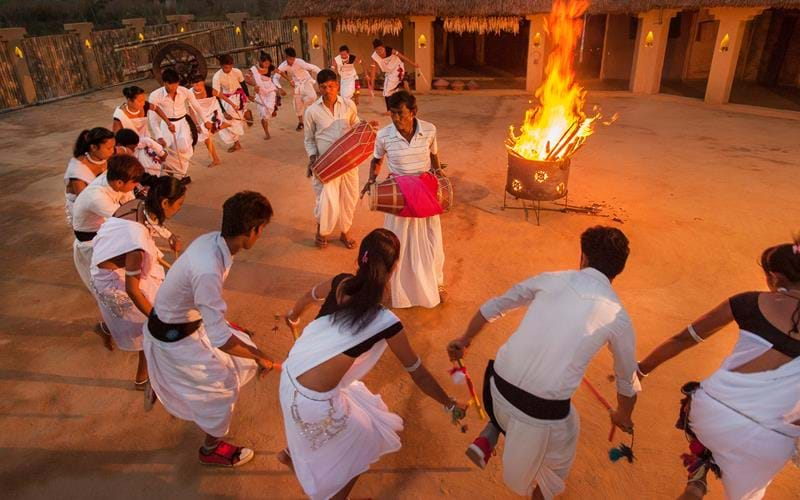 Southwest Nepal is the homeland of the Tharu people, an indigenous minority whose traditions and, more famously, mysterious resistance to malaria, set them apart from other ethnic groups in the Terai region. Thought to have descended from Rajput clans who migrated here in medieval times, the majority subsist from share cropping agriculture, living in small mud and thatch villages in jungle clearings. You'll have opportunities to visit a couple of Tharu villages, and watch the legendary Tharu 'stick dance' during your overnight stay in the area.
Day 8
Sauraha
Spend the day visiting Tharu villages in the forest and rice growing area around Sauraha.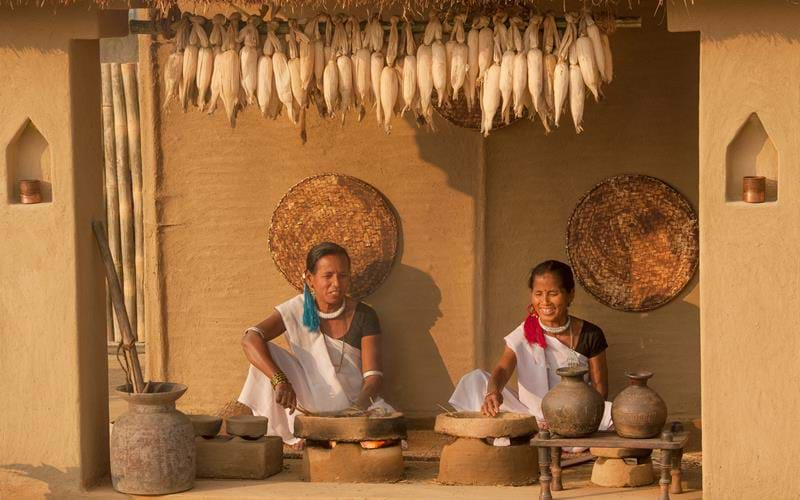 Village safaris in this area come in a variety of forms: by car, bullock cart, cycle or on foot – or indeed a mixture of all of four! You'll get to experience rural life in this very traditional region of the Terai at close quarters..
Day 9
Chitwan National Park
Drive in the morning the short distance to Chitwan National Park for a two-night stay.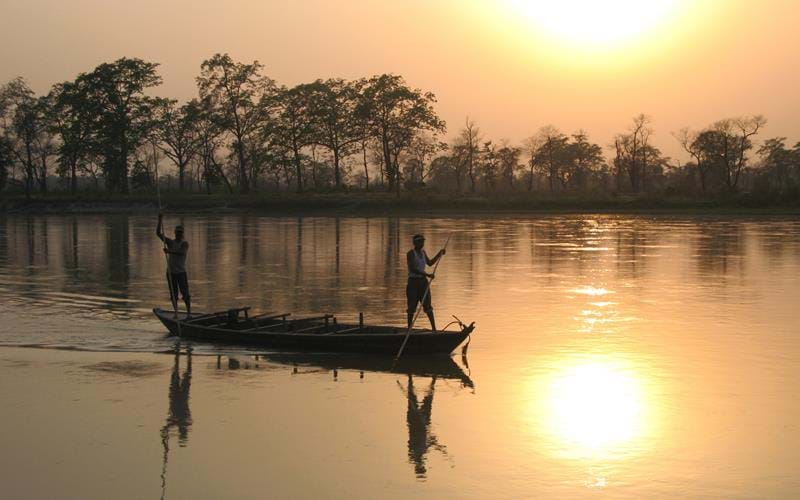 Elephant safaris are the big selling point of the Royal Chitwan National Park. Sitting astride a swaying, soft-footed pachyderm, you'll stand a much better chance of getting close to the Jurassic-looking rhinos that are the reserve's big stars, as well as the more elusive tigers inhabiting its core zone. Sightings of Gangetic dolphins and gharial crocs are almost guaranteed, and be sure to visit the critically important breeding centre for vultures, which have declined to the point of extinction over the past fifteen years or so but survive here in healthy numbers.
Day 10
Chitwan National Park
A full day of jungle activities including a jeep safari, canoe ride and nature walk.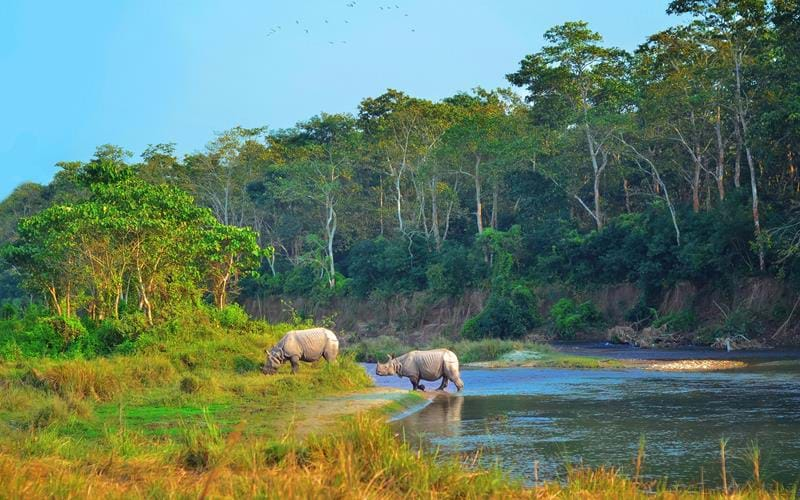 The one-horned rhinoceros is emblematic of this area, which it shares with a handful of wild (as opposed to domestic) elephants, crocodile, buffalo and bison. Deer such as the spotted and swamp varieties along with sambar are ubiquitous but there are also antelopes, elusive tigers and leopards, hyenas, sloth bears and jackals. A handful of gangetic dolphins survive in the Karnali River and these can be sighted on boat trips.
Day 11
Kathmandu
Fly back to Kathmandu for your final night in Nepal.
Day 12
Kathmandu, UK
Transfer to Kathmandu airport for your return flight to the UK, via India or the Middle East.
Tailor-made Tour

12 days from £3355 per person
What's included

✓   International flights from London
✓   10 nights accommodation
✓   All internal transportation and transfers
✓   All safaris in the national parks
✓   English-speaking guides
✓   Breakfast daily
✓   Entrance fees to sites and monuments listed in tour itinerary
Places and Experiences in this tour
Plan your 2022 Adventures
With the world now largely open again, now is the time to begin planning your 2022 adventures in Asia. Our Travel Specialists are ready to take your call and discuss the adventure you have spent the last 2-years dreaming of.
Or call us on 0208 566 3739
TransIndus Brochures 2022
Join our mailing list