Tailor-made Tour

15 days from £3230 per person
Places Visited:
Bangkok, Sukhothai, Chiang Mai, Chiang Rai
This 2-week trip explores Bangkok in depth before venturing north to the ruins of ancient Thai capitals, Sukhothai and Si Satchanalai. The second week focuses on Chiang Mai and the mountains of the Golden Triangle region, where the borders of Myanmar and Laos converge. You'll have opportunities to visit minority villages near the frontiers of Myanmar and Laos, watch wood carvers and potters at work in the backstreets of Chiang Mai, and savour the exotic views over Thailand's lost heartland on the central plains.
Holiday Types
Cultural Tours
Suggested itinerary
Day 1
UK
Fly overnight from the UK to Bangkok.
Day 2
Bangkok
On arrival you'll be met by your TransIndus guide and driver and escorted to your hotel, where you'll be staying for four nights. Spend the remainder of the day recovering from your journey, perhaps venturing out in the evening for a stroll around the local neighbourhood.
Day 3
Bangkok
Visit Wat Arun in the morning, then the magnificent Grand Palace and Temple of the Emerald Buddha, before continuing to Wat Pho to see the great reclining Buddha.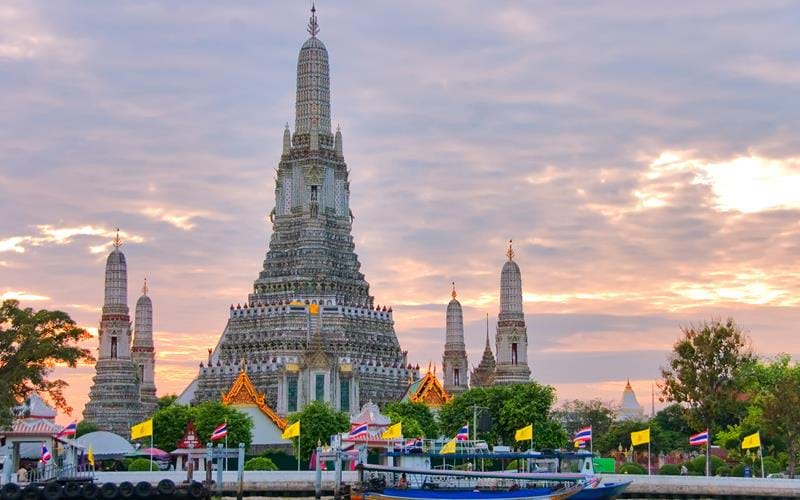 However long you plan to spend in the capital, it's always worth setting aside time for its great showpieces: the Grand Palace and nearby Wat Pho. In the afternoon you'll be free to explore at your leisure. If you can tear yourself away from the pool, we recommend a call at the National Museum, whose Asian antiquities provides the perfect introduction to Thai history and culture. In the evening, enjoy a spot of souvenir shopping at one of the atmospheric night markets before donning your glad rags for a cocktail and gastronomic dinner at the glamorous Lebua Hotel, whose Sky Bar on the 63rd floor boasts a matchless panoramic view over Bangkok.
Day 4
Bangkok
Visit a floating market seen by few foreign tourists today, then jump on a long-tail boat to explore the klongs, or backwaters of Bangkok.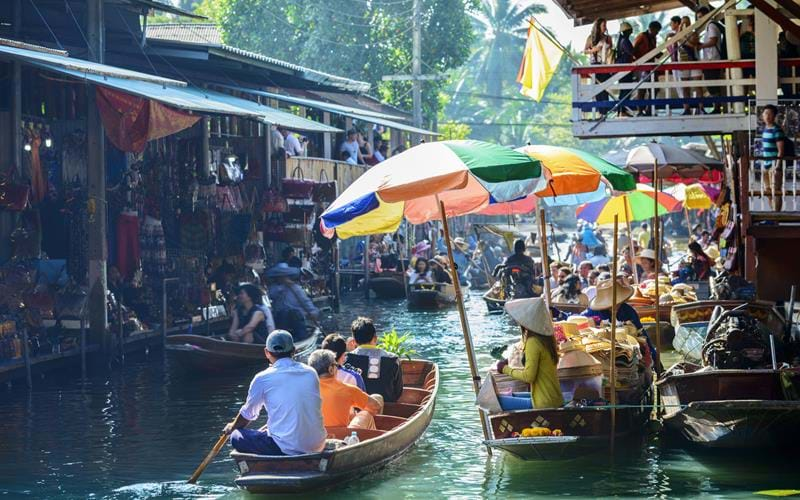 Floating markets, where shoppers and vendors paddle around a grid of narrow, covered waterways, are an essential part of the Bangkok experience. There are more than a dozen of them in and around the capital, but most are either too crowded with tour groups or else a long drive away, requiring a hellishly early start! Thankfully, we've discovered one that's neither too busy nor too far off, and which has a nice mix of local fresh produce and Thai souvenirs on sale. It's also near a fascinating backwater area which you can explore by long-tail boat afterwards.
Day 5
Bangkok
Travel by car to Kanchanaburi to visit the famous bridge over the River Kwai, and ride on the Death Railway.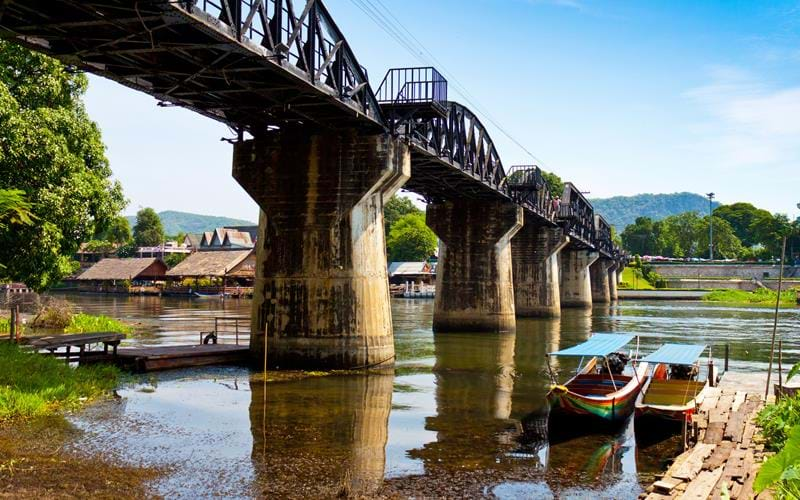 Nowhere is more emblematic of the sufferings endured by the Allied PoWs forced into constructing the Siam–Burma Railroad than the bridge over the Kwai Yai River. Built of timber and bamboo, the original structure was destroyed and replaced with a steel and concrete one after the war. But the ordeal of those who erected it is remembered in the nearby Thailand–Burma Railway Centre. We recommend TransIndus travellers catch a train on the so-called 'Death Railway' to visit the Hell Fire Pass Museum, on the site of an infamous cutting in the jungle where 69 men were beaten to death and hundreds more died of disease and starvation.
Day 6
Sukhothai
Continue by train and car to Sukhothai, Thailand's ancient capital, for a two-night stay.
Day 7
Sukhothai
Spend the day exploring the temples of Sukhothai and nearby Si Satchanalai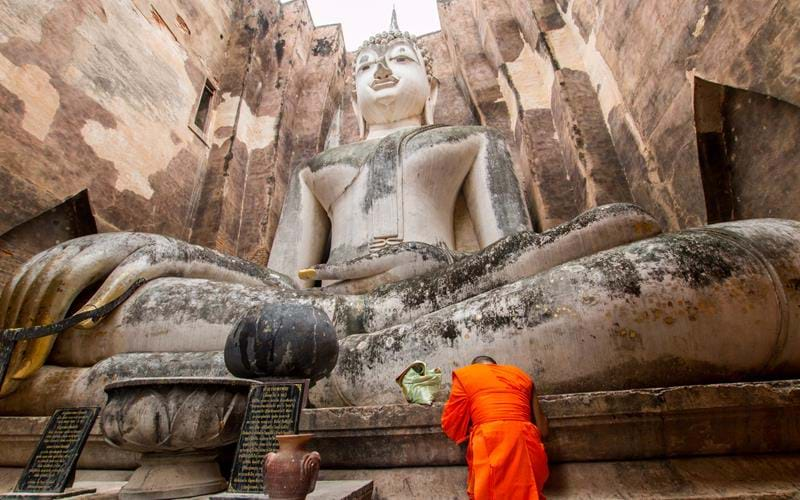 The Sukhothai Historical Park preserves spectacular vestiges of a royal capital that emerged on the central plains of Thailand in the 13th century. Surrounded by paddy fields and wooded hills, the site encompasses 40 temples, the remnants of a palace and nearly 200 stupas. Serene Buddhas gaze from ceiling-less shrines, stucco elephants line the sides of crumbling brick pyramids and Sri Lankan-style stupas are reflected to magical effect in shimmering green lily ponds. Nearby Si Satchanalai holds the remnants of another moated 13th century city, centred on a huge bell-shaped chedi, Wat Cham Lom.
Day 8
Chiang Mai
Travel by road north to Chiang Mai, the former Lan Na capital, for a three-night stay. Spend your first evening visiting the city's delightful Night Market.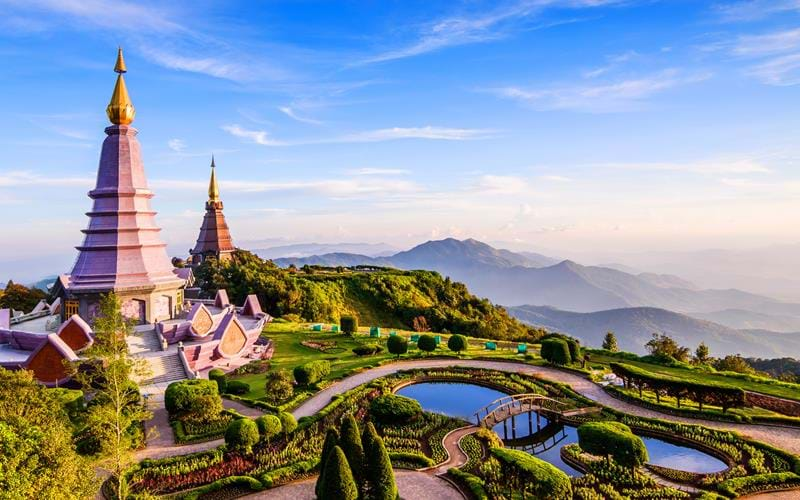 Despite its expanding modern suburbs, the old, moated, low-rise core of Thailand's second city retains the ambience of a traditional market town. Numerous antique houses survive in the winding back lanes of its old quarter, along with a bumper crop of elegant wats dating from the era when this was the capital of the Lan Na kingdom. One legacy of the old trade with China is Chiang Mai's bustling night market – among the most atmospheric of its kind anywhere in Asia, and a great source of textiles, jewellery and other handicrafts from across the north.
Day 9
Chiang Mai
In the morning, explore Chiang Mai's old town in the company of your guide, before continuing to Doi Suthep to visit a beautifully gilded mountain temple.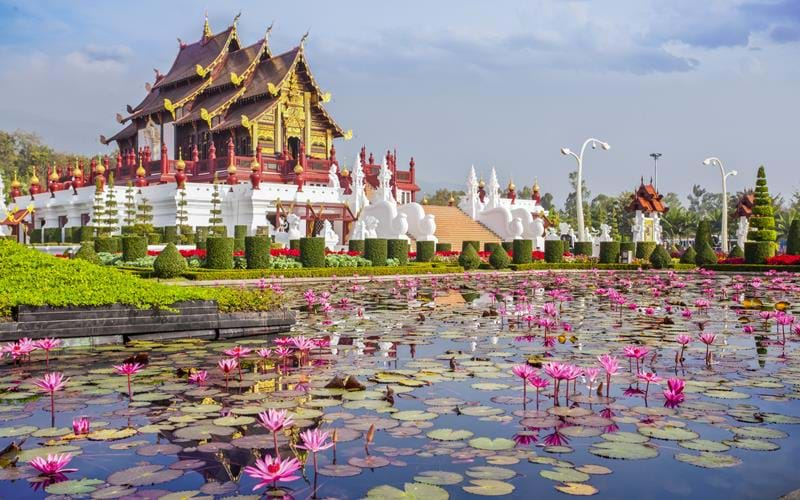 Wat Phra Singh is a good place to kick off your explorations. Comprising a library, several chedi (stupas), shrines and prayer halls, it dates from 1345 and is still an active place of worship. Equally revered is Wat Chedi Luang, home of the city's largest chedi. Just a few minutes' walk away is Intawarorot Street, where you can dine on the city's best khao soi and Hainan-style chicken rice. In the afternoon, travel to the fringes of Chiang Mai to visit Doi Suthep mountain (5,498ft / 1675m) – which affords fabulous sunset views over the city.
Day 10
Chiang Mai
Spend the day exploring this fascinating city at your own speed, taking time out for a traditional Thai massage or to attend a cookery workshop.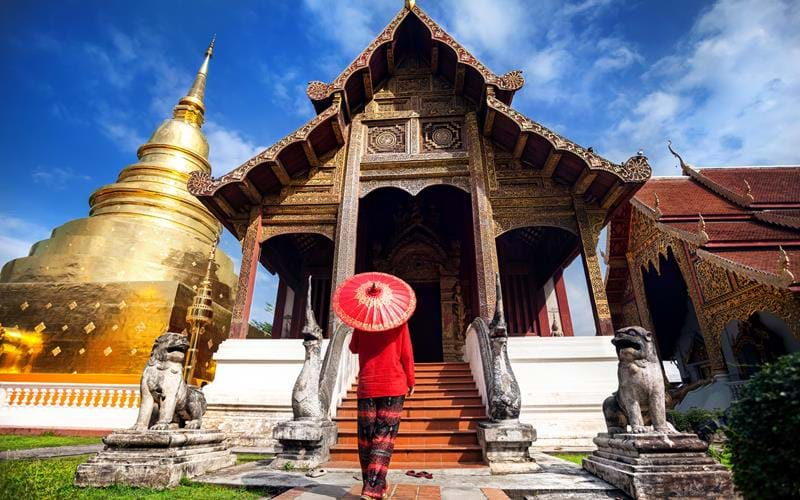 A relaxing way to take in the sights is a boat trip on the Ping River. Lasting a couple of hours, the cruise takes you through verdant countryside to a farmstead where you can look around the orchards and herb gardens. Alternatively, jump on a traditional scorpion-tailed boat for a tour of historic buildings along the waterfront. Thai massages, cookery courses, visits to celadon (greenware) ceramics workshops and Ban Thai village to watch wood carvers in action are other options. You'll be able to discuss all these, and other possible experiences, with your TransIndus consultant in advance.
Day 11
Chiang Rai
Travel through the mountains to Chiang Rai for a three-night stay.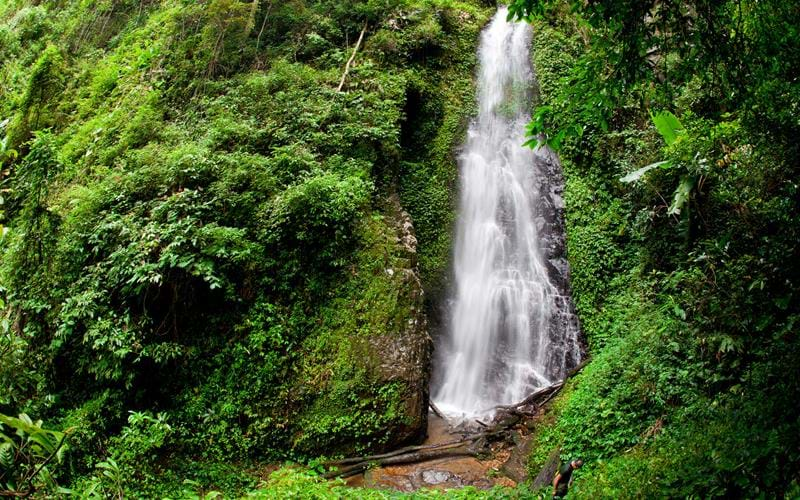 In the far north of Thailand, Chiang Rai served briefly as the capital of the medieval Lan Na kingdom before the rise of Chiang Mai. Today, it's known primarily as the gateway to the Golden Triangle region ("golden" because of the wealth that poured through on the back of the opium trade). Opium production has been stamped out, and today the ethnic minority villages scattered across the mist-shrouded hillsides and valleys are the area's main attraction. You can experience the traditional lifestyles of the Akhu, Lisu and Karen, among others. Day trips may be undertaken by car from Chiang Rai, but to visit less commercialized settlements it's necessary to trek for a day or two.
Day 12
Chiang Rai
Spend the day exploring the Golden Triangle region with your guide. This, and the 13th day of your tour, could be devoted to an overnight, multi-stage trek, which will yield a more authentic experience of the area.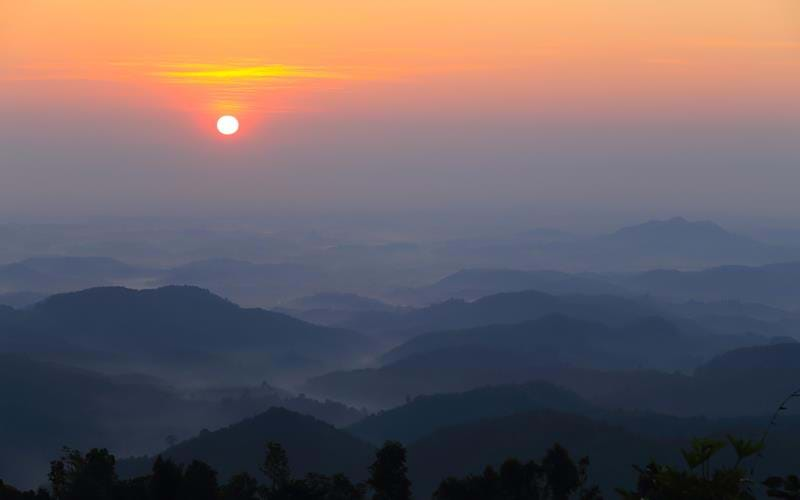 Our current favourite trekking area the Sop Moei-Mae Sariang region, in the far north of the country along the border with Myanmar. Camping overnight on a riverbank or sleeping in the home of a minority family, you'll be able to visit a Lawa village, try your hand at foraging and jungle cookery, and visit a bat cave.
Day 13
Chiang Rai
Travel further into the mountains today, ideally on foot, visiting more ethnic minority villages.
If touring by car rather than on foot, you'll be able to head north to Doi Luang National Park or Namtok Khun Kon Forest Park, close to the Burmese border, whose natural wonders include the awesome Tat Mok waterfall. Chiang Saen, on the Mekong, is another possible target for a day trip: a pretty, 14th-century market town dotted with temples and ruins. Just upriver, the confluence of the Mekong and Ruak – known locally as 'Sop Ruak' – forms the geographical heartland of the Golden Triangle. The borders of all three countries are visible from this point.
Day 14
Bangkok
Spend today packing and last-minute souvenir shopping ahead of your departure on an evening flight to Bangkok, where you'll board your onward flight to the UK.
Day 15
Bangkok, UK
Arrive back in the UK in the morning.
Tailor-made Tour

15 days from £3230 per person
What's included

✓   International flights from London
✓   13 nights accommodation
✓   All internal transportation and transfers
✓   English-speaking guides
✓   Breakfast daily
✓   Entrance fees to sites and monuments listed in tour itinerary
Places and Experiences in this tour
What Our Clients Say About Us
Start thinking about your next holiday
Whilst we stay at home, there is no better time to start thinking about your next holiday. Our Travel Specialists are ready to start planning your dream trip whether that is for some winter sun or a 2021 holiday. We don't need to confirm dates or lock-in deposits, let's just get the conversation going.
Or call us on 020 8566 3739
TransIndus Brochures 2020
Join our mailing list