Tailor-made Tour

13 days from £3485 per person
Places Visited:
Bangkok, Khao Yai National Park, Surin, Khong Jiam, Kong Jian
Whilst most travellers visit Chiang Mai in Thailand's north, this off the beaten track holiday heads north east to the little-visited northeastern province of Isaan to experience its superbly sited Khmer temples, national parks and beautiful Mekong Valley, pausing at the ruined former capital of Ayutthaya en route. This trip takes you about as far off the conventional tourist trail as it is possible to get in Thailand.
You'll get to experience pristine jungle, explore some of Southeast Asia's most evocative ancient ruins, visit a silk weaving workshop and elephant rescue centre, as well as cruise by boat down the mighty Mekong to see a world-class prehistoric cave painting site – and can expect to encounter very few of your fellow tourists along the way.
Holiday Types
Cultural Tours Wildlife Holidays
Suggested itinerary
Day 1
UK
Fly overnight from the UK to Bangkok.
Day 2
Bangkok
On arrival you'll be met by your TransIndus guide and driver and escorted to your hotel, where you'll be staying for three nights. Spend the remainder of the day recovering from your journey, perhaps venturing out in the evening for a stroll around the local neighbourhood.
Day 3
Bangkok
Visit Wat Arun in the morning, then the magnificent Grand Palace and Temple of the Emerald Buddha, before continuing to Wat Pho to see the great reclining Buddha.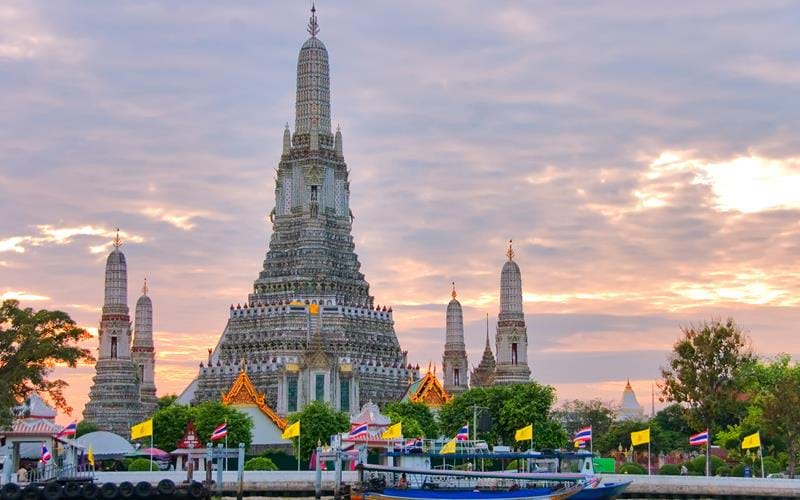 However long you plan to spend in the capital, it's always worth setting aside time for its great showpieces: the Grand Palace and nearby Wat Pho. In the afternoon you'll be free to explore at your leisure. If you can tear yourself away from the pool, we recommend a visit to Chinatown, with its busy street food markets and beautiful temples. A great place to eat after dark is Yaowarat Road, where you can tuck into steaming plates of dim sum, noodles in a pepper broth and of succulent, fresh seafood. Nearby Sala Chalermkrung Khon stages elaborately costumed performances of traditional Thai masked dance – a superbly exotic spectacle.
Day 4
Bangkok
In the morning, travel to Samut Songkram province to see the Railway Market. Later, visit a floating market.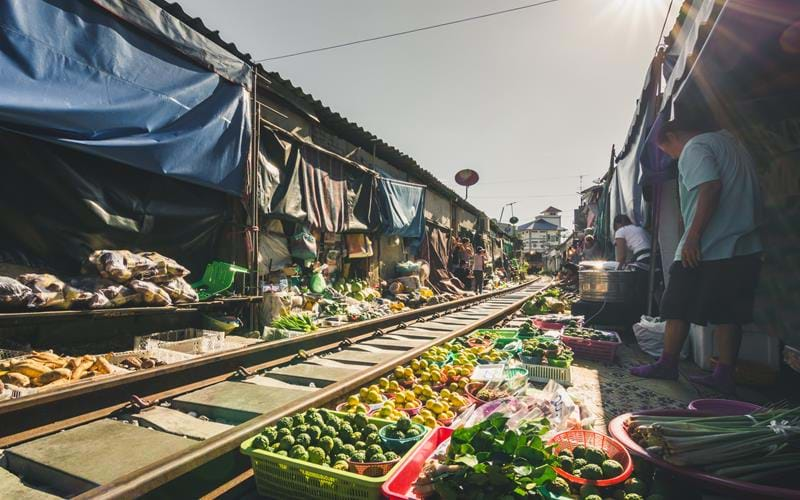 Maeklong Railway Market is so-named because it is held on the suburban rail tracks themselves: a siren sounds ahead of the arriving trains and all the stallholders hurriedly pack away their goods, replacing them after the locomotive has trundled through. Trips to Maeklong are conveniently combined with a visit to the floating market at nearby Danoen Saduak, where shoppers and vendors paddle around a gird of narrow, covered waterways.
Day 5
Khao Yai National Park
Travel by road to the Khao Yai National Park – gateway to the Isaan region – where you'll spend three nights. Pause en route for a tour of the old capital Ayutthaya.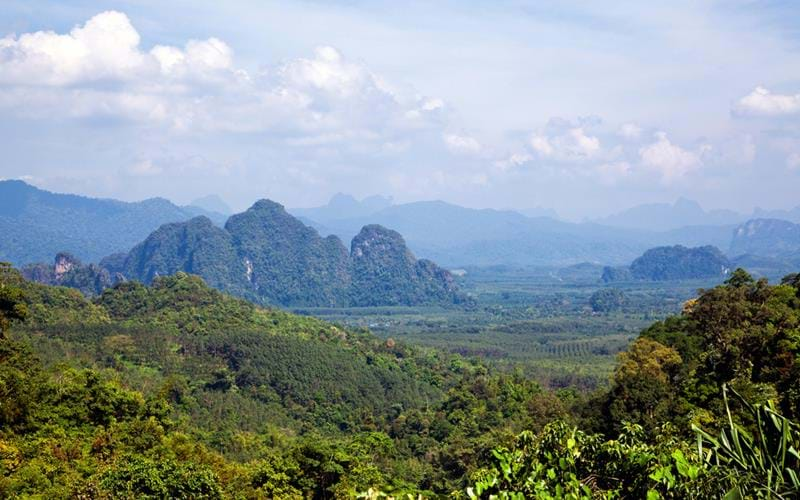 Scattered amid lawned grounds on an island encircled by three rivers, the crumbling chedis (stupas) and Buddha images at the Ayutthaya Historical Park, 49 miles (80km) north of Bangkok, are all that remains of former capital of Siam, which at its height between 1350 and 1767 ranked among the wealthiest and most glittering cities all Asia. We always recommend an early start to enable visitors to see the park at its most evocative, with soft, early morning light burnishing its red-brick pagodas and gently smiling Buddhas, many of which are lovingly wrapped in bands of yellow silk.
Day 6
Khao Yai National Park
Spend the day exploring the lush jungles and sun-scorched plains of Thailand's oldest national park.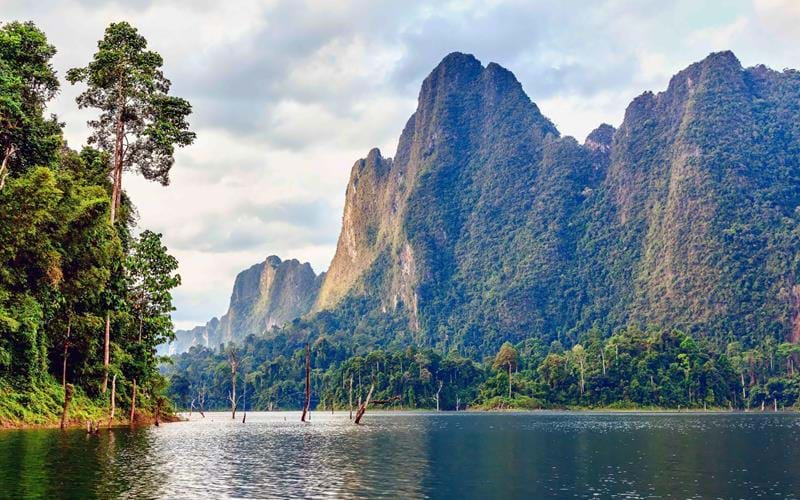 Spread over 770 square miles (2,000 square km) of forested mountains, Khao Yai is laced with a network of tarred roads and well-defined trails that enable you to explore the area's pristine forest and, with luck, encounter some of its wildlife. Species you can be confident of sighting on a day visit include hornbills, gibbons and macaques, along with an assortment of giant spiders, squirrels, gaur (bison) and superb butterflies.
Day 7
Khao Yai National Park
Visit the remote temples of Phanom Rung and Phimai – splendid outposts of the ancient Khmer kingdom.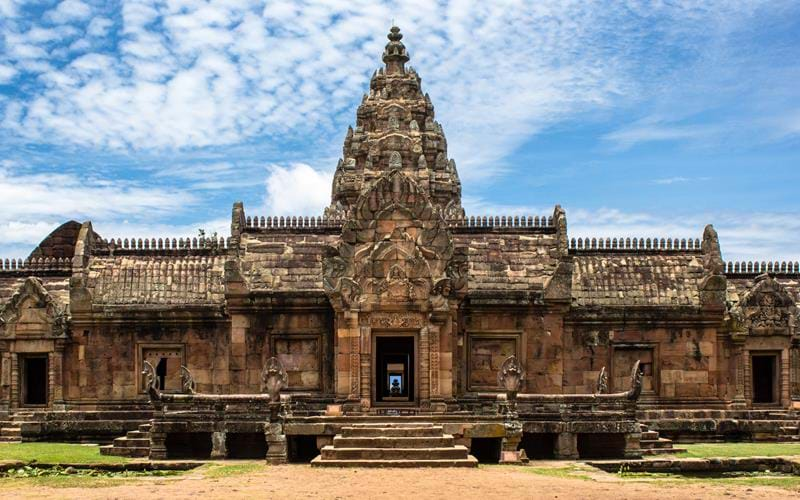 Erected on the rim of an extinct volcano, with sweeping views south to the Dangrek Mountains on the Cambodian border, Phanom Rung is the most spectacularly sited of Thailand's Khmer temples. The shrine, originally dedicated to Shiva, is surmounted by a magnificent tower, which during the full moon phase of April each year becomes the focus of an exuberant festival, when the stonework is adorned with vibrant silk streamers and banners. A 139-mile (225-km) highway, paved in laterite, once ran all to way from Angkor to Phanom Rung, and then north to Isaan's other great Hindu shrine, Prasat Him Phimai, which you'll see in the afternoon.
Day 8
Surin
Continue further east into Isaan, staying for two nights in Surin, where you'll be treated to an introduction to local cuisine.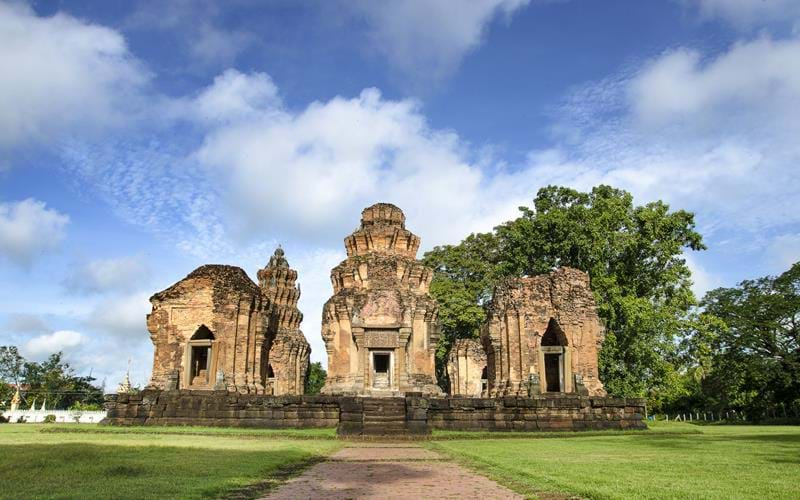 The best base for exploring the archaeological sites of southern Isaan is Surin, a town on the Khorat Plateau famous for two things: silk and elephants. The former is produced in many of the surrounding villages. Visitors are welcome to visit workshops and to watch artisans reeling thread from cocoons, dyeing the yarn and weaving it into beautiful scarves, sarongs and ties. Our preferred hotel is also one of the best places in the region to sample traditional Isaan cuisine.
Day 9
Surin
Visit the Elephant Study Centre today, followed by a guided tour of a fascinating silk-weaving village.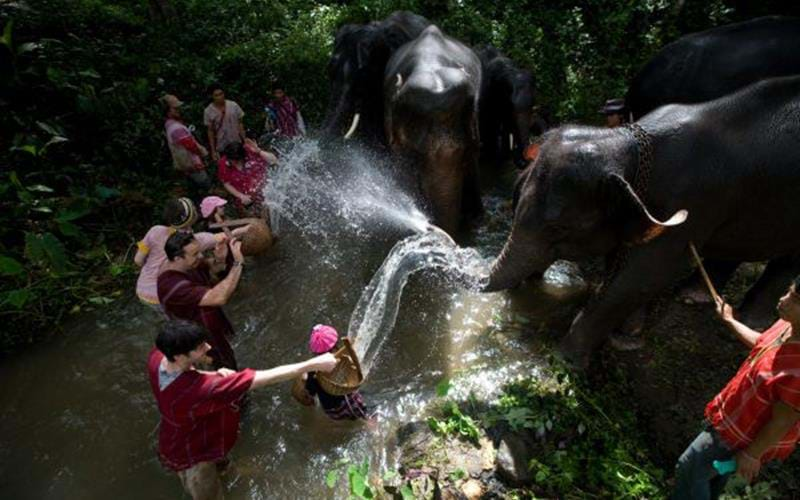 The Elephant Study Centre at Surin was set up as a not-for-profit organization to rescue animals used in street begging, circuses and other occupations detrimental to their health. Rather than merely purchase the animals from their mahouts, which only perpetuates the cycle of cruelty (because the money is invariably used to by a new elephant!), the Surin Centre actually relocates the mahouts themselves, employing them to care for their elephants. Nearly 200 are now at the property, where visits can walk in the forest with and bathe the ellies – a heart-warming experience!
Day 10
Khong Jiam
Continue by road towards the Lao border and spend two nights at Khong Jiam overlooking the Mekong River.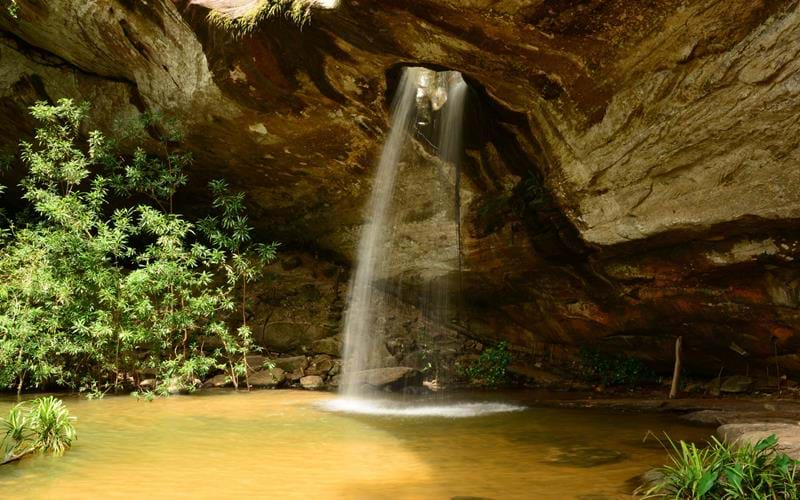 At the eastern extremity of Issan, on the Laos-Thai border, the small town of Khong Jiam clusters on the tip of a peninsula overlooking the confluence of the Mekong and Mun Rivers. The mingling of the different coloured waters (the Mekong is sandy brown and the Mun blue-green) forms an arresting natural spectacle known in Thai as 'maenam song si' ('two-colour river'), best admired by boat or kayak.
Day 11
Kong Jian
Rise early and take a sunrise boat ride on the Mekong. Later, visit the Pha Taem National Park to see prehistoric cave paintings.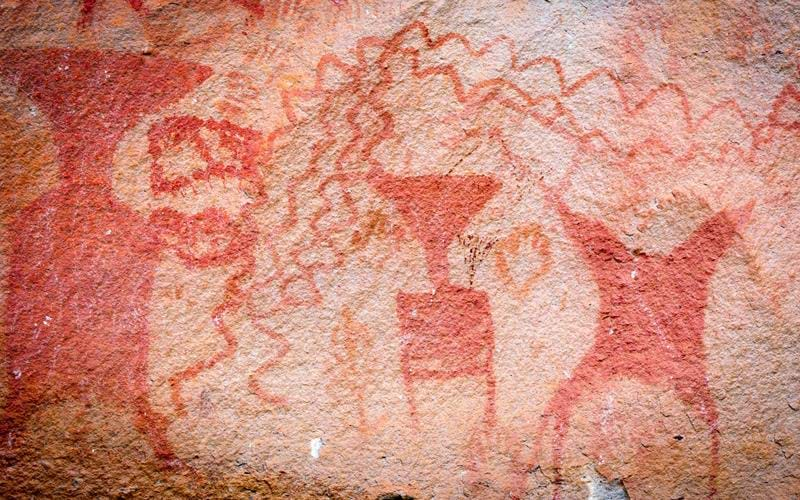 A short drive upriver from Khong Jiam, the Mekong swings around a giant meander, carving a great slice from the sandstone bedrock. Protected as the Pha Taem National Park, the resulting escarpments, capped with stands of flowering trees and weird mushroom-shaped rock formations, harbour some of the finest prehistoric rock art in Southeast Asia – a lively assortment of geometric human figures, hand prints, animals, farming and fishing scenes rendered in red ochre. The paintings are believed to be 3,000–4,000 years old.
Day 12
Kong Jian
Day at leisure for cycle rides and riverside walks. In the evening, fly to Bangkok to pick up your connecting flight to the UK.
Day 13
Bangkok, UK
Arrive back in the UK in the morning.
Tailor-made Tour

13 days from £3485 per person
What's included

✓   International flights from London
✓   11 nights accommodation
✓   All internal transportation and transfers
✓   English-speaking guides
✓   Breakfast daily
✓   Entrance fees to sites and monuments listed in tour itinerary
Places and Experiences in this tour
Plan your 2022 Adventures
With the world now largely open again, now is the time to begin planning your 2022 adventures in Asia. Our Travel Specialists are ready to take your call and discuss the adventure you have spent the last 2-years dreaming of.
Or call us on 0208 566 3739
TransIndus Brochures 2022
Join our mailing list