Tailor-made Tour

15 days from £3700 per person
Places Visited:
Bangkok, Khao Yai National Park, Chiang Mai, Doi Inthanon National Park, Hua Hin
In addition to some of Thailand's key cultural attractions, this varied 2-week trip includes explorations of superb national parks dotted along the Gulf Coast, the jungles of Khai Yai, and the forested highlands of the far north. If you're into birding, you'll find plenty of inspiration at every stage of the journey, which covers a broad spectrum of tropical habitats, from beaches and spectacular karst outcrops, to rainforests, marshes and bio-diverse uplands visited by few people. Throughout, expert, English-speaking naturalist-guides will be on hand to help you get the most out of your time in the wilds.
Holiday Types
Cultural Holidays Luxury Train Holidays Family Holidays Honeymoons Beach Holidays Adventure Holidays Culinary Holidays Wellness and Spa Holidays Wildlife Holidays
Suggested itinerary
Day 1
UK
Fly overnight from the UK to Bangkok.
Day 2
Bangkok
On arrival you'll be met by your TransIndus guide and driver and escorted to your hotel, where you'll be staying for three nights. Spend the remainder of the day recovering from your journey, perhaps venturing out in the evening for a stroll around the local neighbourhood.
Day 3
Bangkok
Visit Wat Arun in the morning, then the magnificent Grand Palace and Temple of the Emerald Buddha, before continuing to Wat Pho to see the great reclining Buddha.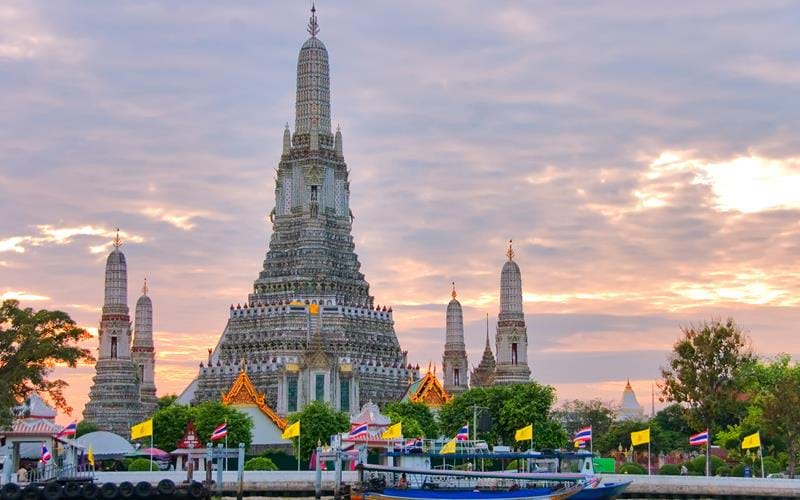 However long you plan to spend in the capital, it's always worth setting aside time for its great showpieces: the Grand Palace and nearby Wat Pho. In the afternoon you'll be free to explore at your leisure. If you can tear yourself away from the pool, we recommend a visit to Chinatown, with its busy street food markets and beautiful temples. A great place to eat after dark is Yaowarat Road, where you can tuck into steaming plates of dim sum, noodles in a pepper broth and of succulent, fresh seafood. Nearby Sala Chalermkrung Khon stages elaborately costumed performances of traditional Thai masked dance – a superbly exotic spectacle.
Accommodation Options
Day 4
Bangkok
Take a cycling tour out to Bang Krachao, a rural enclave on the edge of the city, where you can gain an insight into the capital's more traditional side.
Enfolded in an oxbow on the Chao Phraya River, Brang Krachao is a green haven of winding lanes, coconut plantations, canals and bamboo groves, interconnected by a network of stilted concrete and wooden paths that make a wonderful cycle circuit. The area features on our popular off-track cycle tour, which takes in a series of authentic city sights – such as an open-air Muay Thai (kickboxing) school and local sweatshop making shoes for export – before crossing the river by long-tailed boat to reach the park.
Accommodation Options
Day 5
Khao Yai National Park
Travel by road to Khao Yai National Park – gateway to the Isaan region – where you'll spend three nights. Pause en route for a tour of the ancient capital, Ayutthaya.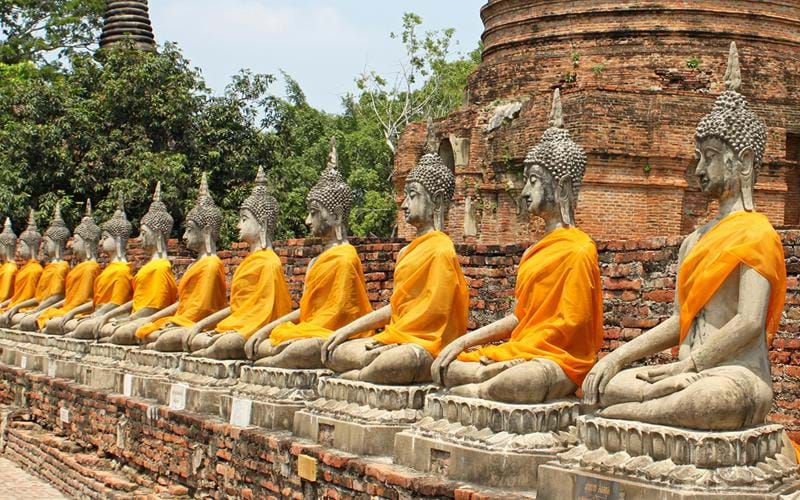 Scattered amid lawned grounds on an island encircled by three rivers, the crumbling chedis (stupas) and Buddha images at the Ayutthaya Historical Park, 49 miles (80km) north of Bangkok, are all that remains of former capital of Siam, which at its height between 1350 and 1767 ranked among the wealthiest and most glittering cities all Asia. We always recommend an early start to enable visitors to see the park at its most evocative, with soft, early morning light burnishing its red-brick pagodas and gently smiling Buddhas, many of which are lovingly wrapped in bands of yellow silk.
Accommodation Options
Day 6
Khao Yai National Park
Spend the day experiencing the lush jungles and plains of this beautiful park in central Thailand.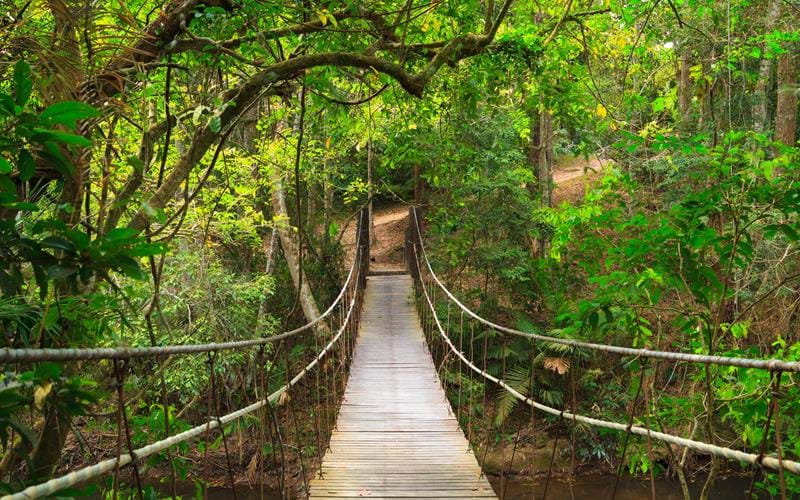 Spread over 770 square miles (2,000 square km) of forested mountains, Khao Yai is laced with a network of tarred roads and well defined trails that enable you to explore the area's pristine forest and, with luck, encounter some of its wildlife. Species you can be confident of sighting include hornbills, gibbons and macaques, along with an assortment of giant spiders, squirrels, gaur (bison) and superb butterflies.
Accommodation Options
Day 7
Khao Yai National Park
Trek deeper into the reserve where birds and animals are more abundant, and the landscape even more impressive.
Day 8
Chiang Mai
Travel back to Bangkok to catch your flight north to Chiang Mai, where you'll spend a night. Having checked in, visit the city's delightful Night Market.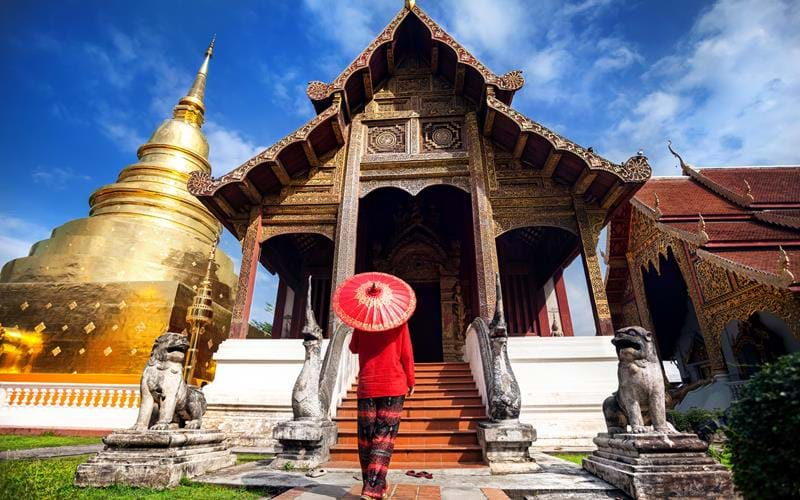 Despite its expanding modern suburbs, the old, moated, low-rise core of Thailand's second city retains the ambiance of a traditional market town. Numerous antique houses survive in the winding back lanes of its old quarter, along with a bumper crop of elegant wats dating from the era when this was the capital of the Lan Na kingdom. One legacy of the old trade with China is Chiang Mai's bustling night market – among the most atmospheric of its kind anywhere in Asia, and a great source of textiles, jewellery and other handicrafts from across the north.
Accommodation Options
Day 9
Doi Inthanon National Park
In the morning, visit Doi Suthep to see a hilltop temple, then travel out to the Doi Inthanon National Park, home of Thailand's highest mountain, for a two-night stay.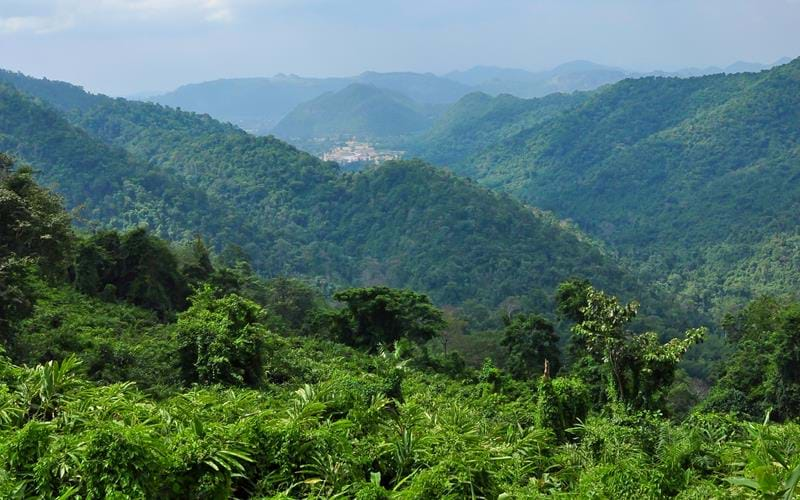 On the outskirts of Chiang Mai, Doi Suthep (5,498ft/1675m) is a sacred mountain whose summit is crowned by one of the country's most revered temple complexes. At its heart, a sumptuously gilded chedi (stupa) contains a bone fragment relic of the Buddha – the object of intense veneration. The serene terrace surrounding the temple, studded with rock gardens and shrines, affords fabulous views over the Chiang Mai. Pilgrims eager to acquire merit climb more than 300 steps to reach it, but there's a funicular railway for the less devout!
Accommodation Options
Day 10
Doi Inthanon National Park
Rise early for a spot of bird-watching, then spend the rest of the day exploring the park in the company of your guide.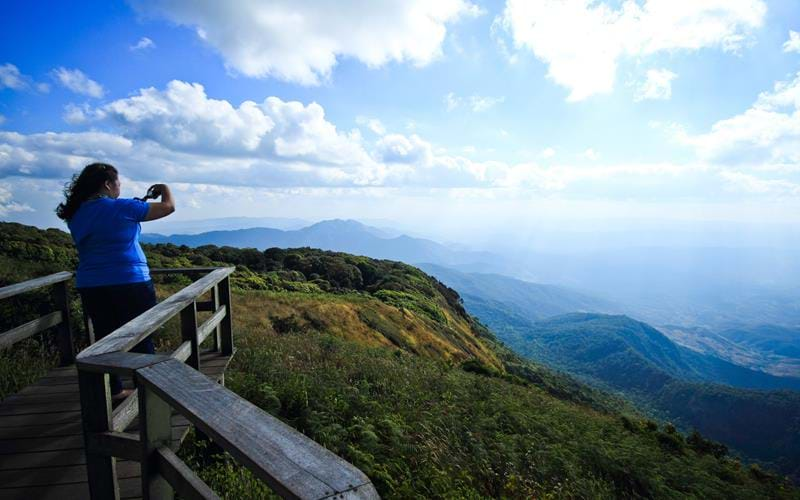 Waterfalls, hill tribes, orchids, and around 380 bird species are the main incentives to visit Doi Inthanon – in addition to views of Thailand's highest peak. High on every birders tick list are the park's two endemics: the ashy-throated warbler and a green-tailed sunbird. November-December, when the red rhododendrons and Mexican sunflowers are in full bloom, is the best time for botanists. Be sure to visit the market, where local Karen minority people sell beautiful hand-loomed scarves, and the famous chedis (stupas) of the late King and Queen of Thailand – some of the loveliest and most spectacularly sited buildings in Asia.
Accommodation Options
Day 11
Hua Hin
Travel back to Chiang Mai and fly south to Bangkok. Continue by road to Hua Hin, a resort town on the Gulf Coast, for a three-night stay.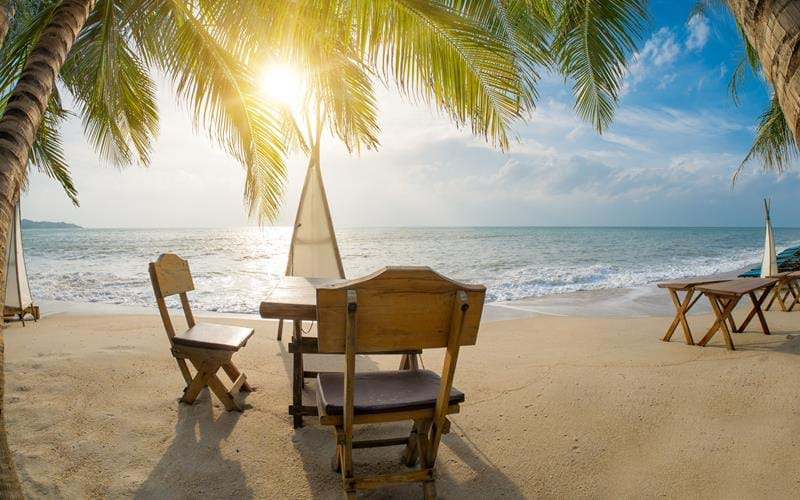 Popular ever since the 1920s with Thai royalty, Hua Hin is enjoying a new lease of life these days as an upscale resort thanks to its long, broad beach of power-soft sand, and clutch of chic hotels. Attracting a cosmopolitan clientele, it lies within easy reach of the capital; well-heeled Bangkokians flock here on weekends to enjoy seafood fresh from the Gulf.
Accommodation Options
Day 12
Hua Hin
Visit Kaeng Krachan National Park today – one of the country's birding hotspots.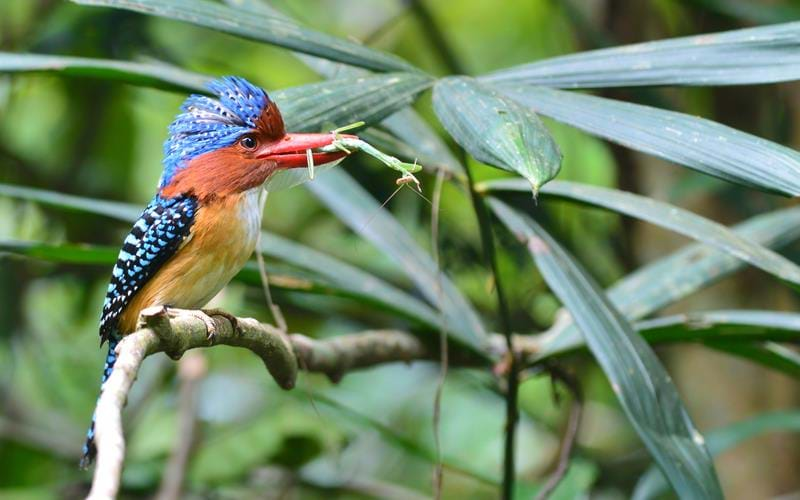 Bird watchers from across the world come to Kaeng Krachang. More than 400 species have been recorded in the park, which encompasses a rare overlap of the northern and southern species zones. You'll also encounter black-faced langaurs and gibbons, whose calls echo through the misty trees early in the mornings. And there's a healthy population of wild elephant too.
Accommodation Options
Day 13
Hua Hin
Visit Khao Sam Roi Yot National Park – a coastal reserve featuring dramatic limestone scenery and bird-rich marshlands.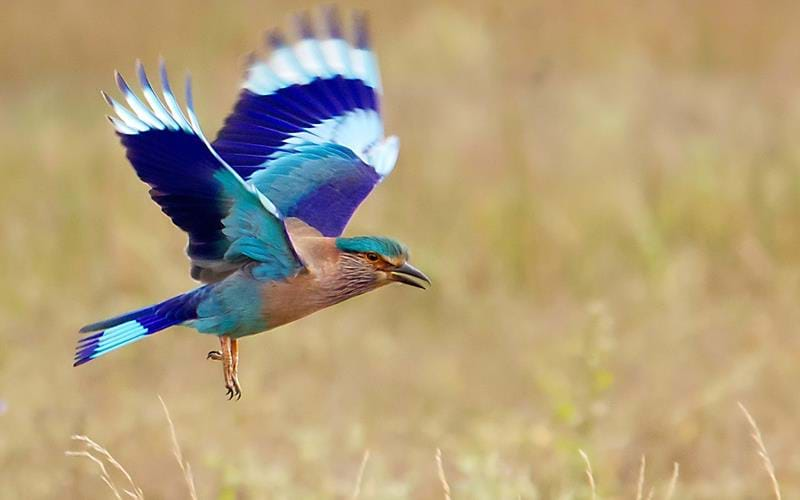 Some of the country's most iconic landscapes are encompassed by this breathtakingly beautiful park, thanks to the two-hundred or more towering limestone outcrops, which loom in dramatic fashion above the surrounding marshes. A shrimp-farming centre within easy range of Hua Hin, it's far from a wilderness these days, but remains a superb place for spotting birds. Malaysian Plovers and Little Terns number among the signature species you can expect to encounter, along with White-bellied sea eagles, and if you are lucky, you might catch a glimpse of a rare Spoon-billed Sandpiper or Rufous-necked Stint, both of which nest here.
Accommodation Options
Day 14
Bangkok
Travel back to Bangkok by road to catch your evening flight to London.
Day 15
Bangkok, UK
Arrive back in the UK in the morning.
Tailor-made Tour

15 days from £3700 per person
What's included

✓   International flights from London
✓   13 nights accommodation
✓   All internal transportation and transfers
✓   English-speaking guides
✓   Breakfast daily
✓   Entrance fees to sites and monuments listed in tour itinerary
Places and Experiences in this tour
Plan your Next Adventure
With the world now largely open again, now is the time to begin planning your next adventures in Asia. Our Travel Specialists are ready to take your call and discuss the adventure you have spent the last 3 years dreaming of.
Or call us on 0208 566 3739
TransIndus Brochures 2023
Join our mailing list