New
Tailor-made Tour

11 days from £10950 per person
Places Visited:
Delhi, Thimphu, Gangtey, Punakha, Paro
Whether you are celebrating a honeymoon or an anniversary, a luxury private tour of Bhutan staying in the stunning Six Senses properties will make it all the more special. Marvel at the iconic Tiger's Nest Monastery with time spent exploring the highlights and sights of Paro and Thimphu, as well as the astonishing fortified monastic complexes at Punakha. There's also two nights in the remote and beautiful valley of Gangtey, excellent for long walks and famous for its dancing migrant-black-necked cranes.
The tour begins and ends with an overnight stay in Delhi, which affords better flight connections. However, if you prefer to start and end your holiday in Kathmandu or jump straight into Bhutan, we can arrange that for you and tailor this suggested itinerary to your preferences.
Holiday Types
Cultural Holidays Wildlife Holidays Honeymoons Adventure Holidays
Suggested itinerary
Day 1
UK - Delhi
Fly from the UK to Delhi.
Day 2
Delhi
Arriving into Delhi this morning, you'll be met by your TransIndus driver and guide, and escorted to your hotel for a night's stay. Spend the remainder of the day recovering from the journey, perhaps venturing out to explore the surrounding area.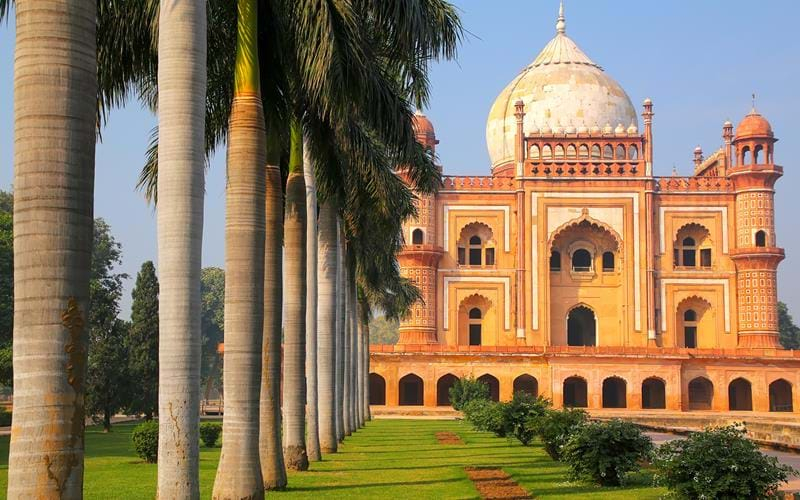 With a day at your disposal, you could visit the UNESCO-listed Humayun's tomb and Qutub Minar. Other highlights in the capital include the 17th-century Mughal fortress known as the Red Fort and Jama Masjid, one of the largest mosques in all of India. 
Accommodation Options
Day 3
Delhi - Paro - Thimphu
Take a short flight to Paro, and on arrival drive from there to Thimphu for a two-night stay at the spectacular Six Senses lodge. The property afford incredible views of the surrounding Thimphu Valley and is the perfect place for a little indulgence with a fantastic spa and wellness centre.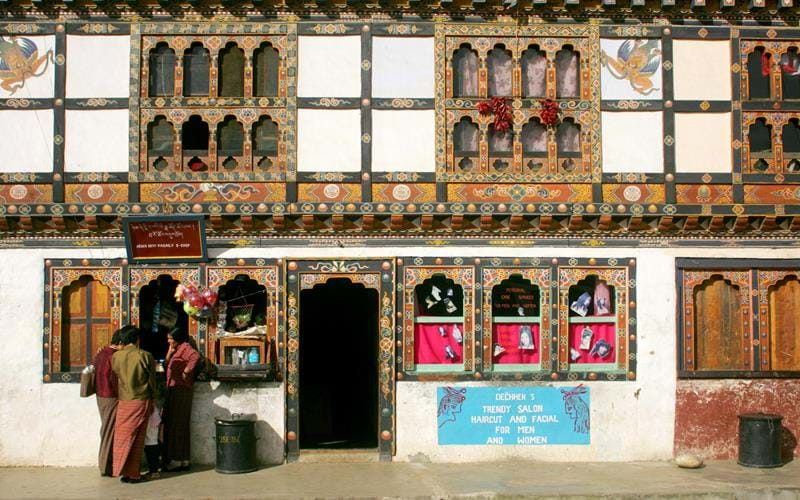 Approached by spectacular flight path, the town's airport at Paro is the principal arrival point for foreign travellers. A couple of hours' drive away, Thimpu became the capital of Bhutan in 1961, since when it's swollen to a town of around 80,000 people – the perfect place to get to grips with life in modern Bhutan.
Accommodation Options
Day 4
Thimphu
A full day's sightseeing in and around Thimphu today starts with a visit to its famous dzongs.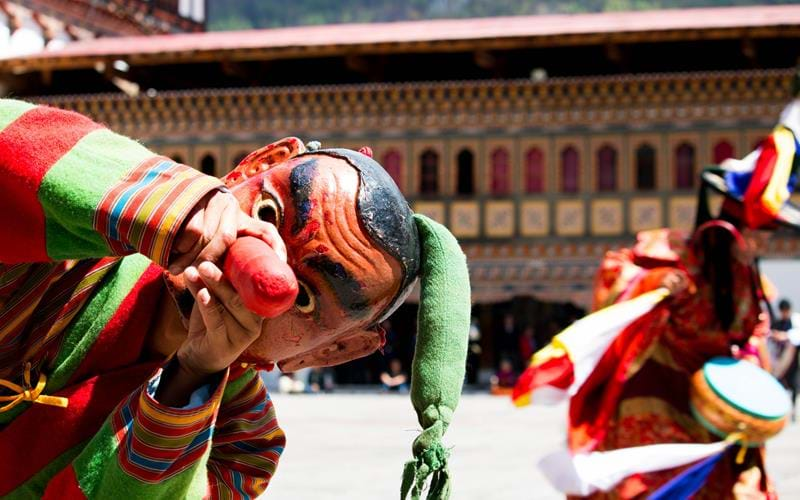 During the fifth day of your trip, you'll tour the Bhutanese capital's impressive dzongs (fortress-monasteries), the King's Memorial Chorten, Buddhist painting school and national folk museum, made of rammed earth to resemble a traditional farmstead. In the city's market, your guide will point out local delicacies such as jellied cow skin and fried fern and don't miss the chance to touch a takin, Bhutan's national animal, which looks like a cross between a cow and a goat and survives in the nearby Mothitang Reserve.
Accommodation Options
Day 5
Thimphu - Gangtey
Drive to Gangtey today for a two night stay at the highly anticipated Six Senses. The property boasts a unique bird-watching bridge and those visiting during the winter will have the chance to spot black-necked cranes.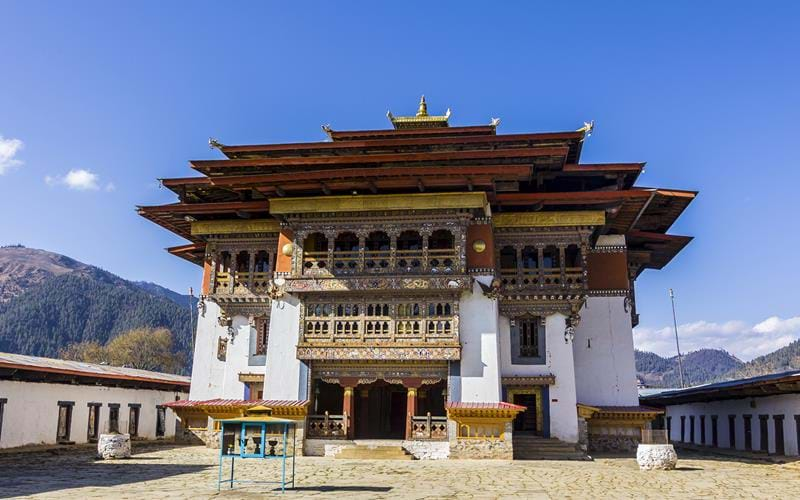 The 17th century dzong at Gangtey is this awesome valley's prime religious monument, although most visitors come in search of black-necked cranes. A festival in which local children wear specially made crane masks is held in the monastery each November to welcome their arrival. The other major event here is tsechu, which usually falls in October, when monks perform traditional Cham dances in the monastery courtyard. Preserved in one of Gangteng's inner shrines is one of the country's more gruesome relics: the hands of a British army officer killed in a battle with Bhutanese forces in 1864.
Accommodation Options
Day 6
Gangtey
Drive to the Phobjikha Valley today to visit the black-neck crane centre. After your visit, return to the Six Senses where you may wish to take advantage of the library, movie room or the Spa and Wellness Centre with its two Swedana areas.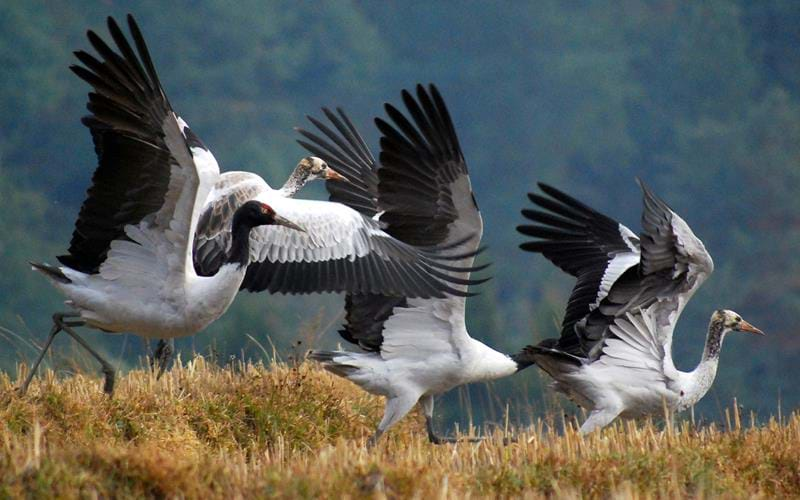 Surrounded by snow peaks and old-growth forest, the beautiful Phobjikha Valley is home to a unique conservation initiative, where migratory black-neck cranes, which pass through here in the winter months between October and March, are protected by local wardens and volunteers. The centre provides information about the birds and their migration, and if your visit coincides with their stay in the village you'll be able to observe them grazing on the valley floor through telescopes.
Accommodation Options
Day 7
Gangtey - Punakha
Drive east to Punakha for a night's stay at the Six Senses, visiting the local Dzong (fortified monastery) in the afternoon. The Six Senses property in Punakha affords stunning views of the farms and vegetable terraces across the cultivated valley below.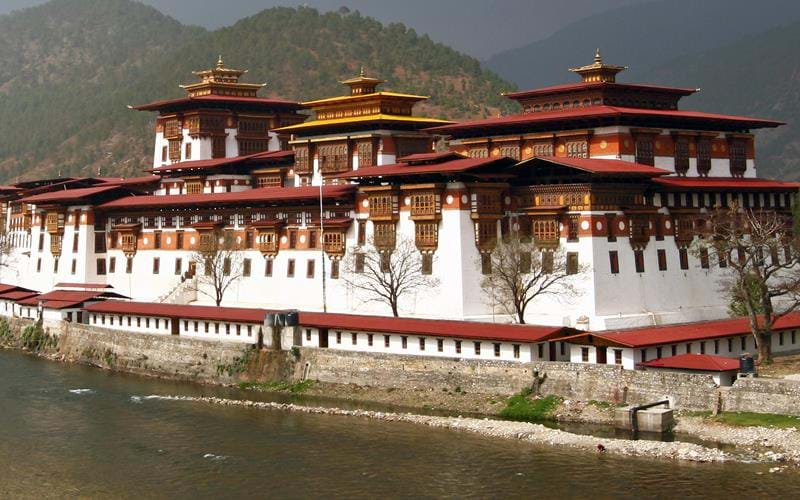 Around 25km east of Thimphu, Punakha is the home of one of the country's most beautiful monasteries, built around 1638 at the confluence of two rivers. The complex is a showcase of Bhutanese craftsmanship, with a particularly impressive assembly hall featuring fine clay statues and intricate murals. The dzong also hosts a well-known festival, during which an enormous thondrol ‒ an extraordinary appliquéd sacred banner ‒ is unfurled, conferring merit on all who see it.
Accommodation Options
Day 8
Punakha - Paro
Drive to Paro for a two-night stay at the luxurious Six Senses. The hotel is located within 12th century ruins that create an unforgettable atmosphere with the added benefit of jaw-dropping views of the Paro Valley.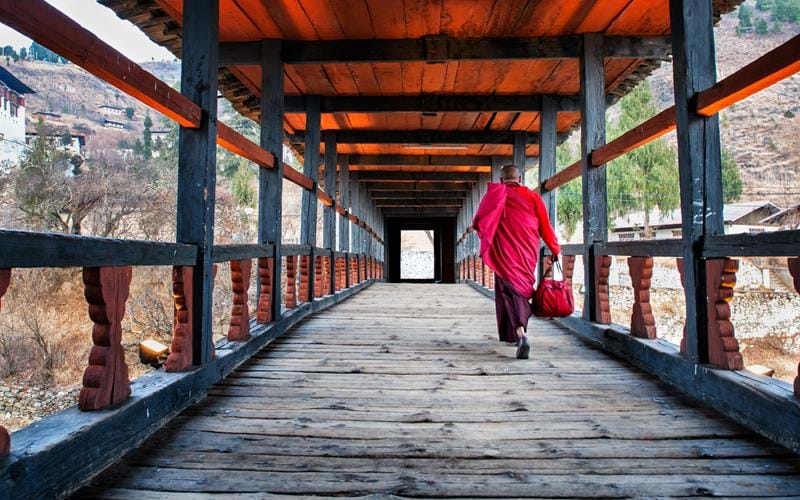 Shops, restaurants and offices in richly carved traditional buildings line the main street of Paro, where two of eastern Bhutan's main rivers meet. The town is best known locally for the splendid Rinpung Dzong, overlooking the river, whose most valuable possession is a giant embroidered tapestry, or thondrol (thangka), depicting the dzong's founding father, Guru Rincpoche; the treasure is unrolled only once a year on the morning of the annual tsechu (festival). On the hill behind rests the National Museum in a beautifully restored watchtower, the Ta Dzong, built in the 1650s to guard Paro's dzong.
Accommodation Options
Day 9
Paro
Sightseeing in and around Paro town today includes a trip out to the iconic Tiger's Nest Monastery.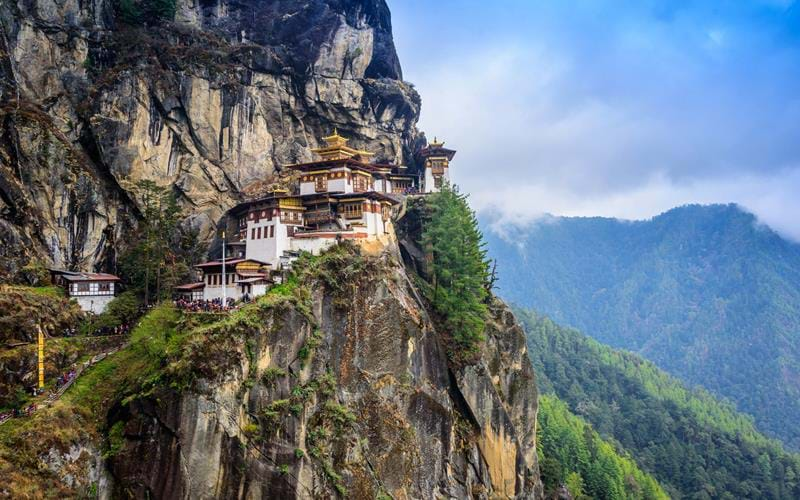 Bhutan's most photographed monument, the Taktshang Monastery, commonly known as the 'Tiger's Nest', is wedged into a lofty cliff nearly a vertical kilometre above a forested valley. Rock-cut steps and rickety bridges connect its four wings, whose golden pagoda roofs, fluttering prayer flags and distempered walls are dwarfed by the vista of forested hills and snow-capped mountains unfolding on all sides – a spectacle worth the journey to Bhutan alone!
Accommodation Options
Day 10
Paro - Delhi
Fly back to Delhi today from Paro. Stay one night.
Day 11
Delhi - UK
Transfer to the airport for your return flight to the UK
Tailor-made Tour

11 days from £10950 per person
What's included

✓   International flights from the UK (economy-class - upgrade available) 
✓   9 nights accommodation - Six Senses lodges in Bhutan and the Taj Mahal in Delhi
✓   All internal transportation and transfers
✓   English-speaking guides
✓   Breakfast daily in Delhi and full board in Bhutan
✓   Entrance fees to sites and monuments listed in tour itinerary 
Places and Experiences in this tour
Plan your Next Adventure
With the world now largely open again, now is the time to begin planning your next adventures in Asia. Our Travel Specialists are ready to take your call and discuss the adventure you have spent the last 3 years dreaming of.
Or call us on 0208 566 3739
TransIndus Brochures 2023
Join our mailing list