Elephant processions are a speciality of Sri Lanka. Most temple festivals feature a parade of at least a couple of tuskers, decked in splendid regalia. However, by far the most dazzling, extravagant and visually arresting is the one held in the city of Kandy each year. Over a ten-day period leading up to the full moon in late-July/early August, the humid night air fills with the cacophonous sound of massed drums and trumpets, as more than a hundred lavishly caparisoned pachyderms lumber through the streets by flaming torchlight. Accompanying them are thousands of musicians, dancers, fire-pot jugglers, whip crackers and acrobats, dressed in beautiful traditional Kandyan costume.
'Esala Perahera', as the festival is known, is part ancient fertility celebration – a grand homage to the object Buddhists regard as one of the most precious in existence: the 'Sacred Tooth Relic'.
For centuries, the only chance ordinary citizens had to get near the holy canine (worship of the tooth was reserved exclusively for the King) was during Esala Perahera, when it was carried through the streets of Kandy. The tradition has continued ever since and is now the largest event in Sri Lanka's festival calendar.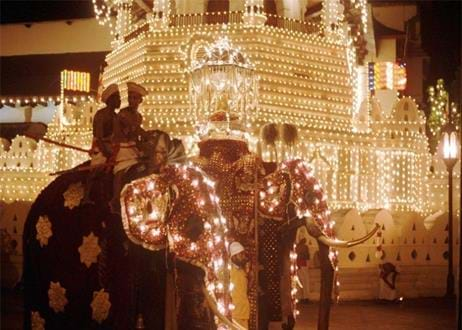 Doing Perahera
On Perahera nights, every inch of pavement space, every balcony and window overlooking the route of the procession is crammed by sunset time with families eagerly awaiting a glimpse of the casket carrying the tooth (or rather, a replica – the original never leaves the temple for security reasons), borne on the back of the island's largest tusker.
The festival comprises five separate processions, representing Kandy's main Hindu shrines. Together, they converge to form a single army whose ranks swell with each successive parade.
The most lavish and unrestrained celebrations are reserved for the final night, known as Maha Perahera, when the procession can take three full hours to pass – a sight that would make even Cecil B Demille flush with admiration.
Getting a good seat for Perahera can be a challenge, especially these days, with every restaurant or shop along the route selling kerbside seats at premium prices online. TransIndus travellers, however, need not worry. Prime, front-row places come as standard in our special Esala Perahera group tours, which are devised to coincide with the peak of the festivities. Tailor-made travellers can also be assured of priority seats provided they book with us at least a few months in advance.


TransIndus Brochures 2022
Join our mailing list