Passikudah, on the east coast, forms a breathtaking arc of pristine golden sand and warm, turquoise water. It's a half day's drive from Colombo airport, but the transfer is well worth the effort – especially if you're travelling with children as, unlike the south and west coast beaches, the bay is shallow and gently shelving (so perfect for little ones). The choice of hotels nestled in the palm groves behind is extensive (the properties are all brand new) and you can escape the holiday scene altogether at neighbouring Kalkudah, a short stroll around the headland. The local reefs are great for snorkelling and there are quality kayaks and sailboards for hire. Sunset cruises by catamaran are an added attraction.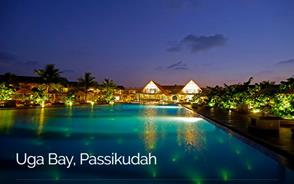 Start thinking about your next holiday
Whilst we stay at home, there is no better time to start thinking about your next holiday. Our Travel Specialists are ready to start planning your dream trip whether that is for some winter sun or a 2021 holiday. We don't need to confirm dates or lock-in deposits, let's just get the conversation going.
020 8566 3739
TransIndus Brochures 2020
Join our mailing list