Tailor-made Tour

10 days from £2085 per person
Places Visited:
Cochin, Munnar, Periyar National Park, Kumarakom
Since the time of ancient Greece, Europeans have been seduced by the fecundity, vibrancy and cultural sophistication of India's far southwest. Black pepper was the reason foreigners originally came here. Now it's Kerala's dreamy beaches, serene backwater lagoons, forested mountains and abundant wildlife that are the prime incentive. Looping inland from the coast, this 10-day tour takes you around the pick of the region's landscapes and cultural attractions, with stays in the old colonial quarter of Fort Cochin, a luxury resort in the backwaters and a hideaway in the Cardamom Hills among the standout experiences.
Holiday Types
Cultural Tours
Suggested itinerary
Day 1
UK
Fly overnight from the UK Cochin via the Middle East.
Day 2
Cochin
On arrival in Cochin you'll be met by your driver and guide and transferred to your hotel in Fort Cochin for a two-night stay. Spend the remainder of the day recovering from the journey, venturing out in the evening for a performance of Kathakali dance.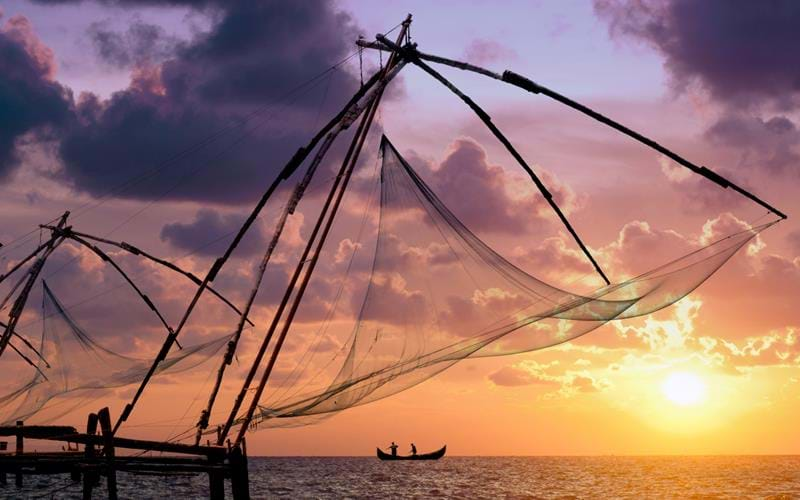 For centuries the hub of India's spice and tea trade, Fort Cochin occupies the northern tip of a peninsula dividing the mouth of the Vembanad Lake from the Arabia Sea. Its low-rise, red-tiled skyline bears the imprint of its former colonial residents: Lusitanian chapels, Jewish synagogues, Dutch burghers' houses, Armenian mansions, and British bungalows and godowns (warehouses) all survive in the Fort's grid of narrow lanes – the largest collection of early colonial buildings in Asia.
Accommodation Options
Day 3
Cochin
Spend the day exploring the old colonial district of Fort Cochin in the company of your guide. In the evening, enjoy a sunset harbour cruise.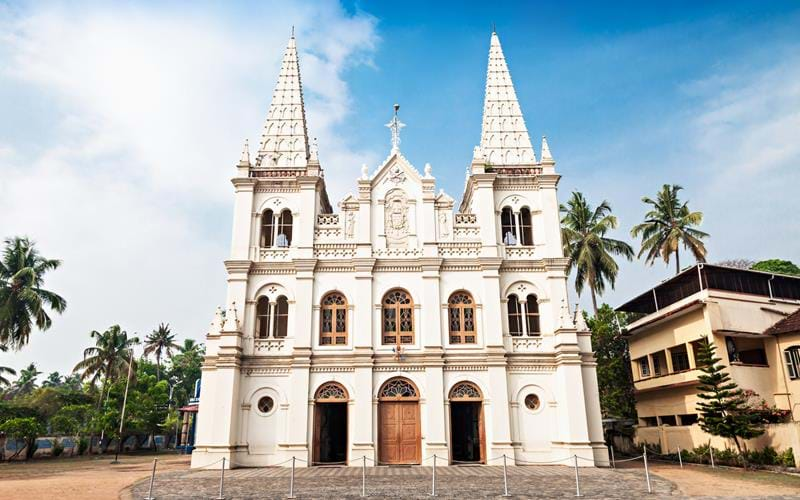 Tucked away in the narrow streets of Fort Cochin are a number of delightful art galleries, cafés and interesting clothes boutiques, as well as centuries-old houses. You can visit the residence where Vasco da Gama stayed when he was here in the early 16th century, and have a look around India's oldest church, as well as one of one of the region's few surviving synagogues down in Jew Town, near Mantancherry, site of a Keralan palace with superb traditional murals. Around sunset time, watch local fishing boats chug past the famous Chinese fishing nets before embarking on a tour of the harbour by launch.
Accommodation Options
Day 4
Munnar
Drive inland to the Cardamom Hills for a two-night stay in Munnar, hub of the region's tea industry.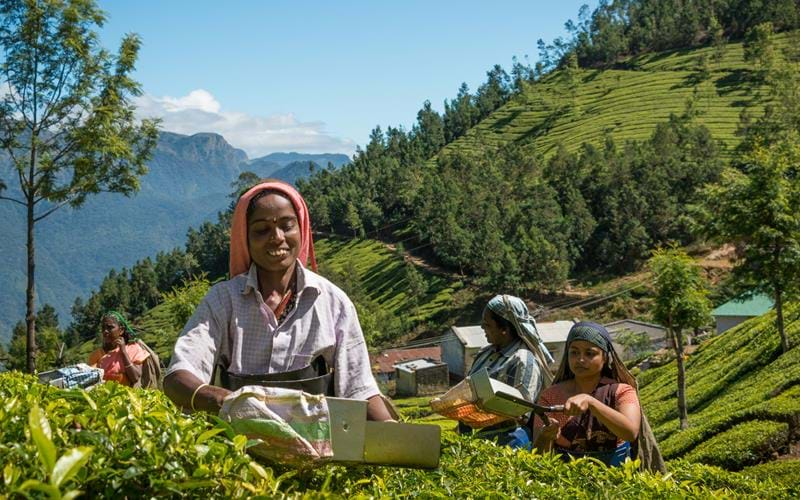 Plantations of neatly manicured bushes cloak the slopes soaring above this ramshackle town, overshadowed by South India's highest peaks. Visits to tea gardens are popular day trips, and the more energetic may trek to the high, grassy ridges overlooking the valley for a glimpse of a Nilgiri tahr, a rare mountain goat endemic to this area.
Accommodation Options
Day 5
Munnar
Visit a local tea plantation and factory today, and a museum presenting a history of tea cultivation in the area.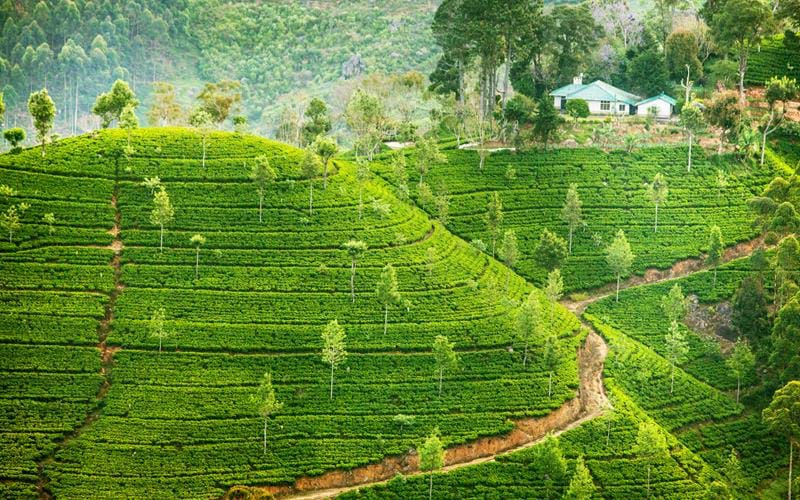 The mountain slopes around Munnar hold some of the highest tea plantations in the world. The climate is perfect for growing this valuable crop, which is why so much of the landscape is carpeted in tea gardens. Only the dark-brown peaks and highest ridges have been left wild, and these are the domain of elephants and Nilgiri tahr, who still roam free in healthy numbers – an amazing fact given the density of population on the surrounding plains of Tamil Nadu and Kerala.
Accommodation Options
Day 6
Periyar
Drive south to Periyar National park for a two-night stay.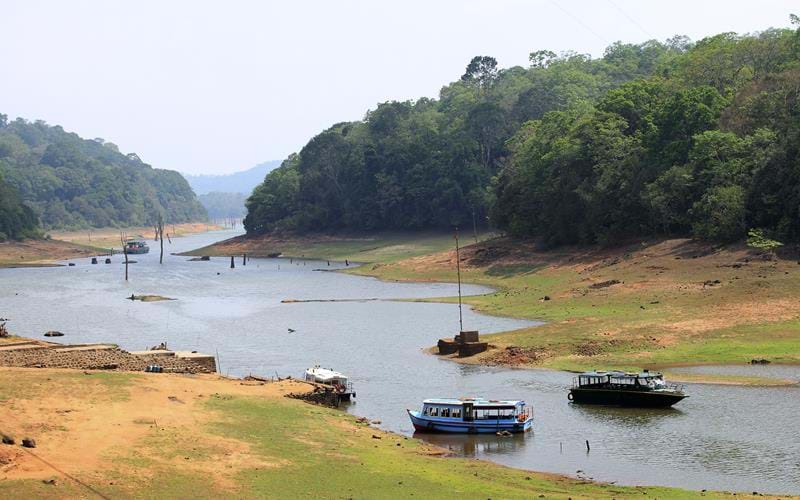 The mountains of inland Kerala are one of the world's biodiversity hotspots. Although tea, coffee and spice plantations dominate many areas, abundant forest also survives, and the Periyar Wildlife Sanctuary encompasses one of the most easily accessible of these. Centred on a flooded valley system, the park is among the largest in India, famous first and foremost for its herds of wild elephant, which can routinely be spotted from the water. A fleet of boats set out on safaris at dawn, but visitors can increase their chances of sightings by opting for less intrusive rafting trips, or treks on foot through the forest.
Accommodation Options
Day 7
Periyar
Enjoy a full day of activities inside the park today, from rafting and forest trekking to boat rides on the lake.
Day 8
Kumarakom
In the morning you'll return to sea level and a two-night stay in the famous Keralan backwaters at Kumarakom, on the shores of Vembanad Lake.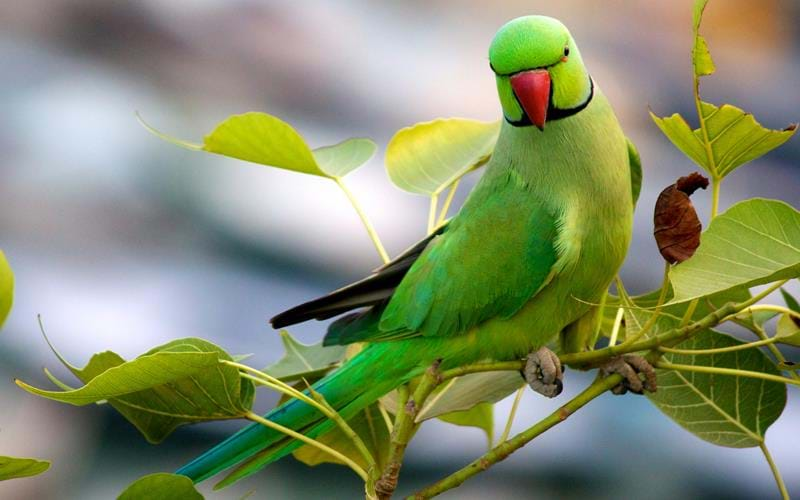 On the low-lying coastal strip of central Kerala stretches a vast, shimmering saltwater lagoon known as Vembanad Lake. As well as being a prime fishing ground for inhabitants of the surrounding backwaters, the 200-sq-km body of water is also an important nesting site for migratory wetland birds, for whom a sanctuary has been set aside at Kumarakom. Species such as darter, white-breasted water hen and snake birds are commonly sighted between November and March, when the glassy surface of the lake is speckled with dozens of stately houseboats cruising between the resorts located in the area.
Accommodation Options
Day 9
Kumarakom
Experience life on the waterways unique to this area with a day cruise along the rivers and canals around the town of Alleppey.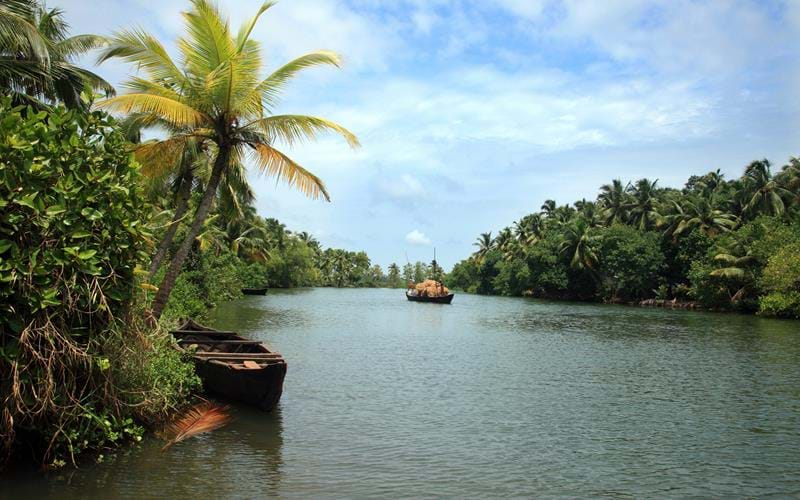 Up until the 1980s, large barges made of oiled jackwood and canopies of plaited palm leaves were used throughout the backwaters of Kerala to transport rice and other produce through the backwaters. Now, trucks do the haulage work, but the boats – known as kettu vallam in Malayali – have been put to more lucrative uses, taking visitors on cruises around the canals, rivers and lagoons of this fascinating region. Floating duck farms a common sight, as are locals fishing by torchlight for crab, karimeen and the other backwater delicacies that make Kuttinadi cuisine one of the most varied and succulent in India.
Accommodation Options
Day 10
Ccochin
Travel back to Ernakulam for your return flight to the UK via the Middle East, arriving back in London in the evening of the same day.
Tailor-made Tour

10 days from £2085 per person
What's included

✓   International flights from London
✓   8 nights accommodation
✓   All internal transportation and transfers
✓   English-speaking guides
✓   Breakfast daily
✓   Entrance fees to sites and monuments listed in tour itinerary
Holiday Extensions for this tour

Glimpse of India - Beaches of Goa
4 days, 3 nights from £695 per person
Single supplement £ 445 per person
view itinerary
Day 8
Delhi - Goa
Fly from Delhi to Goa, arriving mid afternoon. Transfer to the Holiday Inn or similar (upgrades available) for three nights.
Day 11
Goa
Transfer to the airport for your onward flight.

Classic India - Laid-back Kerala
6 days, 5 nights from £745 per person
Single supplement £ 435 per person
view itinerary
Day 14
Udaipur - Mumbai - Cochin
Take a set of flights via Mumbai to Cochin, arriving mid afternoon. Transfer to the Casino Hotel or similar for two nights. In the evening, take a sunset cruise in the harbour for views of the landmark Chinese fishing nets.
Day 15
Cochin
Sightseeing of historic Fort Cochin includes a visit to the Dutch Palace, the Jewish Synagogue and St Francis, the oldest church in India. Attend a Kathakali dance performance.
Day 16
Cochin - Kumarakom
Drive to Kumarakom (2 hours). Stay at the Zuri Kumarakom for three nights. The remainder of the day is at leisure.
Day 19
Cochin
Transfer to Cochin airport for your onward flight.
Places and Experiences in this tour
What Our Clients Say About Us
Start thinking about your next holiday
Whilst we stay at home, there is no better time to start thinking about your next holiday. Our Travel Specialists are ready to start planning your dream trip whether that is for some winter sun or a 2021 holiday. We don't need to confirm dates or lock-in deposits, let's just get the conversation going.
Or call us on 020 8566 3739
TransIndus Brochures 2020
Join our mailing list