Tailor-made Tour

13 days from £3475 per person
Places Visited:
Kolkata, Lucknow, Delhi, Agra, Jaipur, Mumbai
India is as famous for its wonderfully rich and diverse cuisine as it is for its iconic monuments and wildlife. In this itinerary we focus on the north, giving you the chance to try the region's food at its most authentic while actively getting involved.
You'll visit local markets, learn about, and shop for, all the necessary ingredients, join in with the preparation and cooking, and eventually sit down and eat. We've included a wide range of dining experiences from street food and family meals to afternoon tea in the beautiful surroundings of the Taj Mahal Palace in Mumbai.
But it's not all about the food! We'll also take you to some of North India's top tourist sights including Victoria Memorial in Kolkata, Lucknow Residency, Old Delhi, the Taj Mahal in Agra, Jaipur's City Palace and the Gateway to India in Mumbai.
Holiday Types
Cultural Tours
Suggested itinerary
Day 1
UK
Fly from the UK to Kolkata.
Day 2
Kolkata
On arrival in Kolkata you'll be met by your guide and driven to your hotel. The remainder of the day is free to relax after your flight.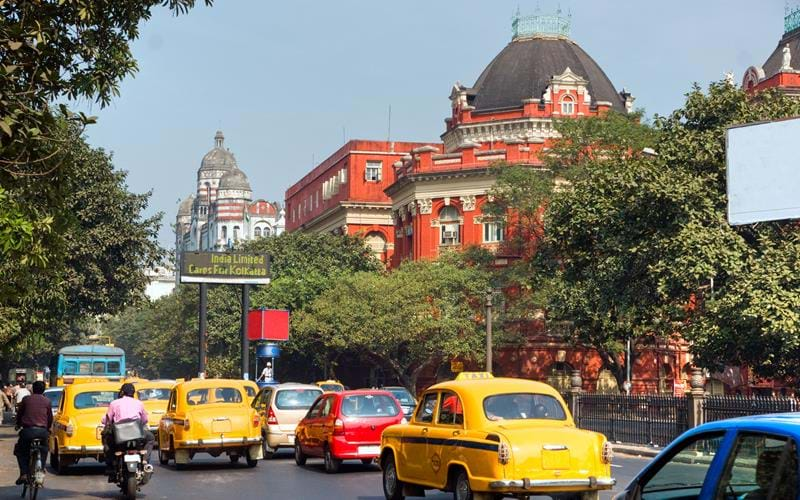 Kolkata, or 'Calcutta' as it was known prior to 2001, is the capital of West Bengal state, and India's third largest city. The former East India Company trading post preserves much of its colonial architecture, from the crumbling mansions in Chowringhee to the grandiloquent Victoria Memorial, whose marble domes soar above the banks of the Hooghly River. This is a city where everyday sights often prove the most arresting: pilgrims pouring through the Kali Ghat temple; the flower sellers spreading out their wares in the dawn light at Mullick Ghat; and the endless streams of rickshaws, trucks and pedestrians pouring across Howrah Bridge at rush hours.
Accommodation Options
Day 3
Kolkata
In the morning you will be taken for brief driving tour of Kolkata, including Victoria Memorial and Howrah bridge. After lunch visit the Indian Coffee House. In the evening you will be taken for a cooking demonstration and dinner at a Bengali family home.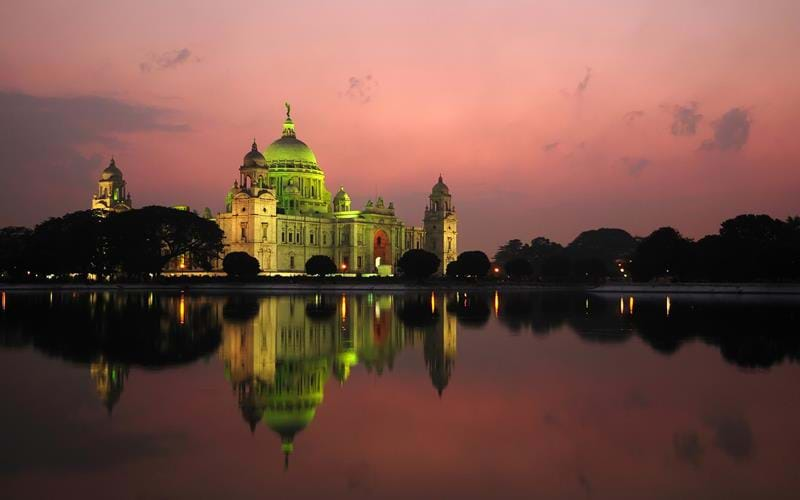 The India Coffee House is a chain of coffee shops established in 1936 and today a popular hangout for students and young people. Certainly a place to experience its history and atmosphere, rather than the quality of its coffee!
Tonight you will also enjoy dinner at a Bengali family home. The family (or at least the cook in the family) will show you how they prepare the meal and all the ingredients they use. And of course you'll get to participate and help out with the cooking.
Accommodation Options
Day 4
Kolkata - Lucknow
Morning flight to Lucknow. You will be met and driven to your hotel; this afternoon is at leisure. For dinner you will be taken to a Nawab's Haveli where you will be served the famous local cuisine, Awadhi.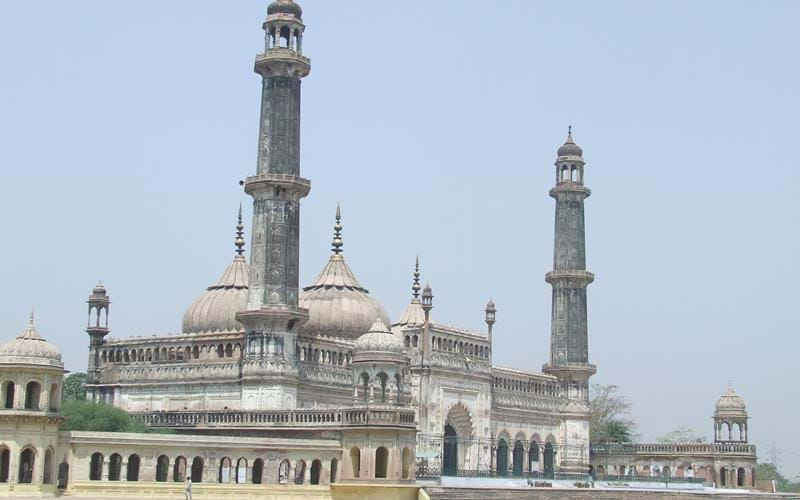 Lucknow, former capital of the Nawabs of Avadh, whose grandiloquent monuments recall an era when this ranked among the most cultured and sophisticated cities in the Muslim world. Although synonymous with the decadence of its former rulers, Lucknow's most famous monument is the battle-scarred former British Residency, where in 1857 a handful of European soldiers and civilians survived two protracted sieges waged by mutinous Indian troops, lasting 87 and 61 days respectively. A small site museum houses images and artefacts relating to the events.
Accommodation Options
Day 5
Lucknow
This morning you'll be taken on a sightseeing tour of Lucknow, visiting the great Imambara, built in the 18th century. In the afternoon you will be taken to a local restaurant, to sample local cuisine under expert guidance of Prateek Hira (Avadhi Cuisine Expert).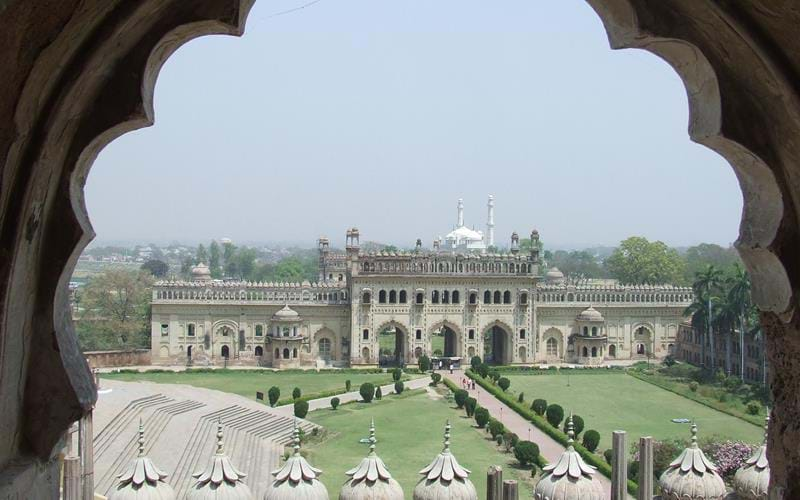 The relics of the Nawabs of Avadh stand proud on the northwest edge of the city. They include the outrageously opulent Bara Imambara – one of the largest vaulted halls in the world – and the fairy tale Hussainabad Imambara, or 'Palace of Lights'. Both would have hosted sumptuous banquets and performances of amorous Thumri poetry, music and Kathak dance, performed by courtesans in front of sumptuously attired audiences.
Accommodation Options
Day 6
Lucknow
In the morning visit the Lucknow Residency. Later you'll be driven to the railway station to catch an overnight train to Delhi.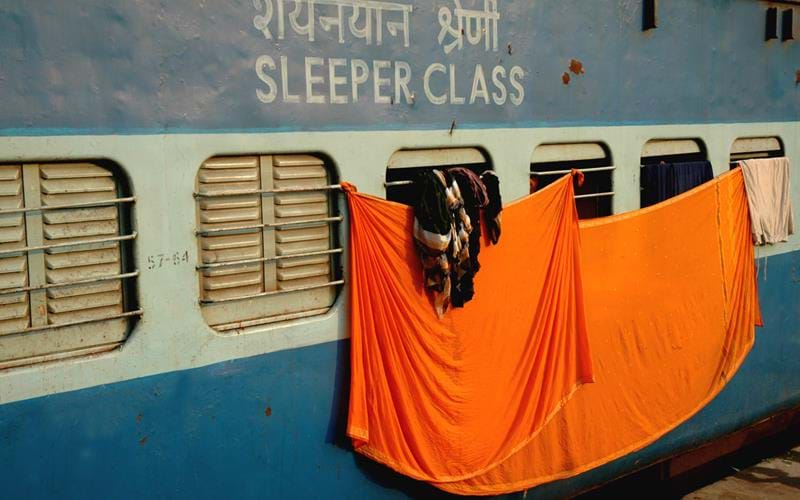 Indian Railways has one of the largest networks in the world and station and railway life is a microcosm unto itself. One of the most rewarding ways to see and experience authentic India is to travel by train. You will travel in an air-conditioned first class sleeper carriage and dinner will be served onboard.
Day 7
Delhi
Transfer from the station to your hotel for breakfast. After breakfast set off for a sightseeing tour of Old Delhi. In the markets of Old Delhi sacks of spices and nuts, edible sheets of silver and local pickles make for an aromatic day out. Lunch will be at Sagar Ratna, a South Indian restaurant, which serves authentic regional specialities such as dosas, vadas, appams, parathas, chutneys, sambar, rasam.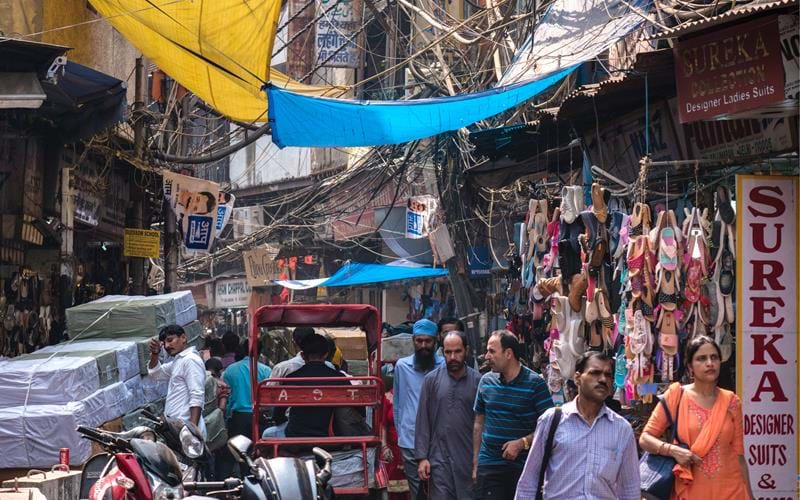 The narrow lanes of Old Delhi once formed the hub of the Mughal capital, formerly known as 'Shajahanabad' after the great Emperor Shah Jahan. Different streets are given over to different trades in this atmospheric district and in the lanes of Khari Baoli you will be introduced to saffron, the most expensive spice in the world, by one of the oldest and largest distributors of this exotic spice. 
Accommodation Options
Day 8
Delhi - Agra - Jaipur
Early this morning you'll be driven to the railway station for a train to Agra. On arrival you'll be taken to the Taj Mahal and Agra Fort. This afternoon there'll be an excursion to Fatehpur Sikri. Continue on to Bharatpur to board an express train to Jaipur.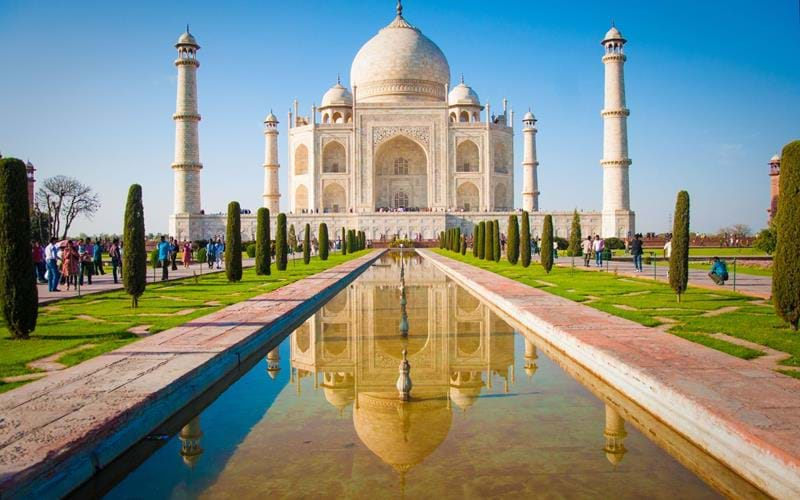 An early start is required to catch the Gatimaan Express, which takes a little over an hour to reach Agra from Delhi. On arrival, you'll be driven to the city's great Mughal Fort, where Shah Jahan, creator of the Taj Mahal, was imprisoned at the end of his life by his son, Aurangzeb. Through its finely carved pillars and cusp-arched windows you'll be able to savour the same romantic views as the ailing ruler enjoyed. This is of course followed by a visit to the world famous monument itself.
Continue to Fatehpur Sikri, a once splendid palace complex built at lavish expense at end of the 16th century to accommodate the Mughal emperor and his court. The finely carved, dark-red sandstone buildings were only inhabited for sixteen years and remain in superb condition, vividly evoking the opulence of the Mughal era, during which time India ranked among the richest and most culturally sophisticated countries in the world. During his sojourn here, Akbar gathered the finest artists, poets, calligraphers, musicians and dancers in the land, as well as representatives of its major faiths, whom he engaged in philosophical debates. Among many architectural highlights are the Diwan-i-Khas audience hall, with its ornately carved throne pillar, the beautiful white marble Tomb of Sheikh Salim Chishti (a revered Sufi mystic) and imposing Buland Darwaza gateway.
Accommodation Options
Day 9
Jaipur
Enjoy a full day's sightseeing in Jaipur today, beginning with a trip out to Amber, followed by the Hawa Mahal, Janta Mantar Observatory and world-famous City Palace museum.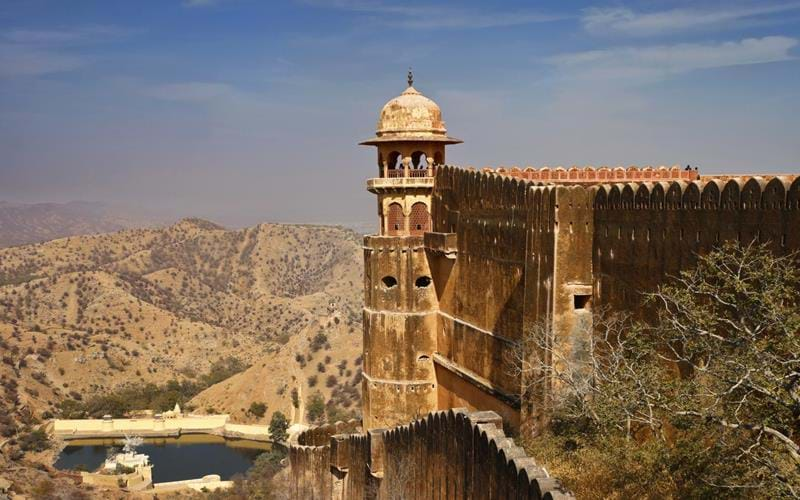 Perched on the rim of a dramatic escarpment, Amber Fort retains some of the finest interiors surviving from the 16th and 17th centuries in India, notably a glittering 'Hall of Mirrors', or 'Sheesh Mahal', lined with intricate mosaics where the Maharaja and his consorts would enjoy music and poetry recitals.
Jaipur itself is a swirl of life and colour, and its numerous Rajput monuments and markets provide the focus for the rest of the day. You'll begin at the famous City Palace complex, which includes the much photographed 'Hawa Mahal', or 'Palace of Winds', a five-storey façade of elaborately screened windows from where the women of the royal household used to watch processions in the streets below. Treasures from the royal household are proudly displayed in the old pillared assembly halls below, and include jewels, weapons and regalia from Jaipur's 18th-century heyday.
Accommodation Options
Day 10
Jaipur
This morning you'll be free to relax at your hotel or perhaps take an optional walking tour of the old walled quarter. This afternoon you'll be taken to meet a local family for a home cooking experience - Jaipur style. Head out with the family to a local market to shop for all the ingredients needed for dinner. Back at home it's time to roll up your sleeves and get cooking! You'll be shown how to prepare various dishes and when it's all ready you'll sit down with the family to enjoy the results.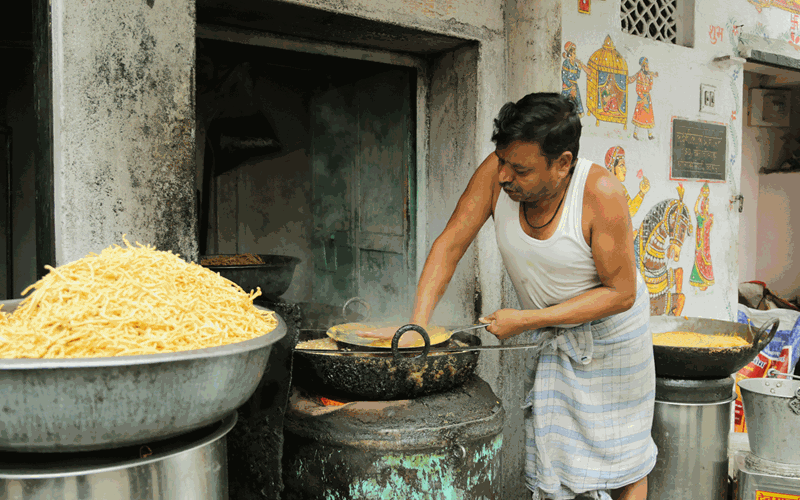 There's really no better way to get a sense of life in the Rajasthani capital than a walking tour of the old walled quarter. We always recommend starting at first light, with a visit to a typical Jaipuri tea shop for chai and hot 'jalebis'. Then follow your guide to see gem cutters, jewellers, perfumiers, flower vendors and sweet makers beginning their day, pausing at a local Hindu shrine or two along the way (there are an estimated 2,000 temples crammed into the Pink City).  Alternatively head into the jewellery bazaar to seek out some last-minute bargains. The bulk of the world's semi-precious stones are cut and polished in Jaipur: choose from a dazzling array of lapis lazuli, amber, emeralds, rubies, sapphires and aquamarine, and have them set in silver or platinum for collection the next day. The Pink City is also a good place to buy fine-quality, hand-printed calicos and other textiles, as well as richly decorated, Mughal-style silk rugs and pashmina shawls woven in Kashmir.
Accommodation Options
Day 11
Jaipur - Mumbai
Take a morning flight from Jaipur to Mumbai. On arrival you'll be taken to your hotel and will have some free time for lunch. After lunch you'll be taken on a sightseeing tour to Mumbai. The tour will include visits to the Gateway of India, Marine Drive, the Hanging Gardens of Malabar Hill, the Tower of Silence and Crawford Market. Later in the evening you will be collected from your hotel and taken to Trishna Restaurant for dinner. A seafood speciality restaurant serving coastal cuisine, Trishna is particularly famous for its crab.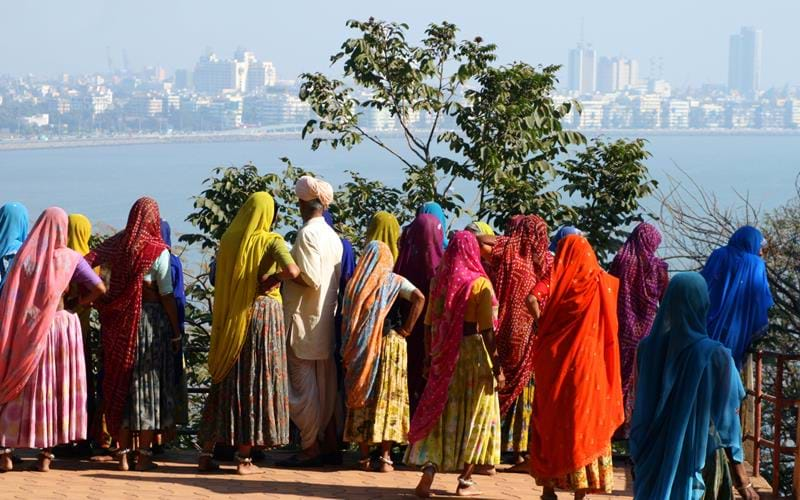 Before the last British troops garrisoned in the country slow-marched past it to board their ships back to Blighty in 1947, Mumbai's Gateway of India – a huge triumphal arch in the colonial Indo-Sarcenic style – was the first landmark most new arrivals from Britain set eyes on. The second was the famous Taj Mahal Hotel beside it (then known as 'Watson's'). Both still stand tall on the waterfront, as emblematic of the city today as they were in Victorian times.
Accommodation Options
Day 12
Mumbai
This morning's main activity is a food-orientated bazaar walk in the Matunga area. After the bazaar walk you'll be taken back to your hotel to ready yourself for your next Mumbai experience, afternoon tea in the beautiful surrounding of the Sea Lounge at the Taj Mahal Palace.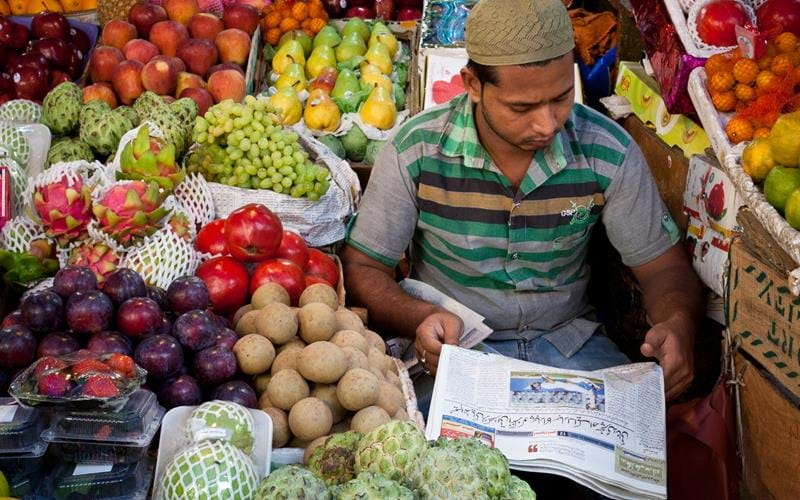 A bustling, prosperous area, Matunga is home to three main communities: Hindu Tamil Brahmins, Hindu Gujaratis and Jains. As you walk through the market your guide will show you vegetables, herbs and spices typically used by the local communities, as well as seasonal specialities on offer. You'll stop at a local shop to see, and sample, the dazzling array of snacks and treats on sale, and at the 'mukhwas' counter you can sample the wide range of mouth fresheners for post-snacking!
Afternoon tea is popular in Mumbai and the Sea Lounge is a real afternoon tea institution. Alongside a delicious array of English treats, expect some local favourites to adorn your plate, which you can enjoy with views of the Gateway of India and live piano music - perfect for a mid-afternoon pick-me-up.
We recommend taking part in a popular Mumbai past-time this evening - a sunset stroll along Marine Drive. If you've done enough walking for the day then you may prefer to sit back with a cocktail and take in the fantastic views of Mumbai's seafront from the rooftop bar Dome at Hotel Inter Continental.
Accommodation Options
Day 13
Mumbai - UK
It's time to return home so you'll be picked up from your hotel and driven to the airport for your return flight.
Tailor-made Tour

13 days from £3475 per person
What's included

✓   International flights from London
✓   11 nights accommodation
✓   All internal transportation and transfers
✓   English-speaking guides
✓   Breakfast daily, all meals mentioned in itinerary
✓   Entrance fees to sites and monuments listed in tour itinerary
Places and Experiences in this tour
Plan your 2022 Adventures
With the world now largely open again, now is the time to begin planning your 2022 adventures in Asia. Our Travel Specialists are ready to take your call and discuss the adventure you have spent the last 2-years dreaming of.
Or call us on 0208 566 3739
TransIndus Brochures 2022
Join our mailing list