Tailor-made Tour

16 days from £3640 per person
Places Visited:
Mysore, Nagarhole National Park, Bandipur National Park, Coonoor, Madurai, Periyar National Park, Fort Cochin, Kumarakom
Declared a World Heritage Site by UNESCO in 2012, the Nilgiri Biosphere, in the Western Ghat mountain range of southern India, encompasses the last tracts of wild, forested uplands in peninsular India. Large herds of elephant, and viable populations of tiger and leopard, roam its jungles, along with primeval looking gaur (bison), striped hyena and dhole (wild dogs), all of which are routinely sighted in the national parks encompassing the most pristine parts of the Biosphere. This tour to the heart of these, offering the best possible chances of wildlife sights and a vivid experience of a unique habitat, high above the sweltering plains.
You'll get to enjoy safaris in three different national parks, and two world-class bird sanctuaries, on a trip bookended by visits to the historic capitals of Mysore and Cochin, and the pilgrimage city of Madurai, home of the region's most revered Hindu temple. The itinerary also includes a relaxing stay in a former British hill station, surrounded by working tea estates and served by one of the world's last working narrow-gauge steam railways.
Holiday Types
Cultural Holidays Wildlife Holidays River Cruising Holidays Luxury Train Holidays Family Holidays Honeymoons Beach Holidays Adventure Holidays
Suggested itinerary
Day 1
UK
Fly overnight from London to Bengaluru (Bangalore), via the Middle East.
Day 2
Mysore
On arrival, you'll be met by your TransIndus driver and guide and transferred to Mysore, where you'll stay for two nights. Spend the rest of the day recovering from your journey, perhaps venturing out to explore the neighbourhood around your hotel in the evening.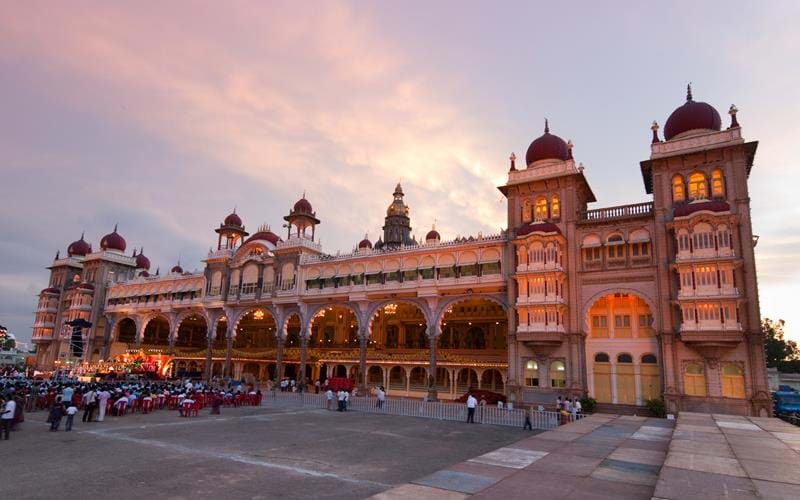 Mysore, or 'Mysuru' as it was recently re-dubbed, is popularly known as the south's 'city of culture' thanks to its profusion of palaces and arts and crafts workshops – a legacy of its status as capital of the Wadiyar dynasty, who ruled the region until 1956. Aside from several extravagant royal palaces and temples, the city holds a particularly atmospheric market, and hilltop temple complex. It's also a great place to sample traditional South Indian cuisine.
Accommodation Options
Day 3
Mysore
A full day's sightseeing today in Mysore and nearby Srirangapatnam, springboard for the Ranganathitoo Bird Sanctuary.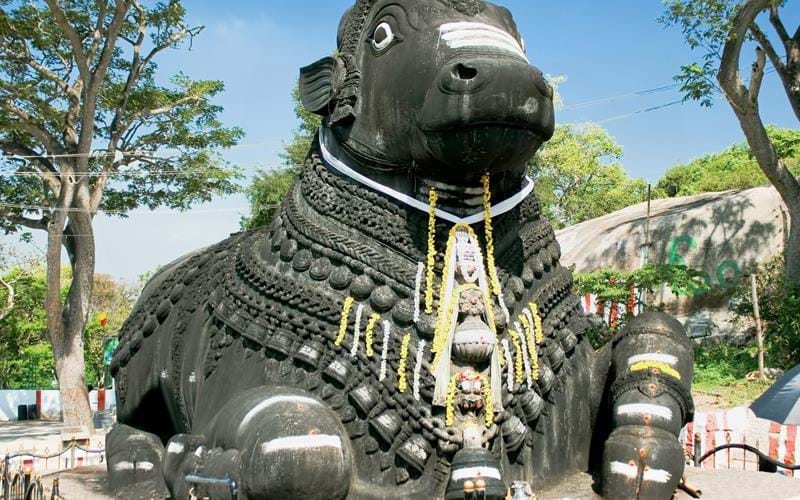 Mysore is dominated by its grandiloquent Maharaja's palace, a building conceived in a surreal combination of architectural styles.
Srirangapatna, outside the city on the Kaveri River, was the site of the region's capital for more than seven centuries. After visiting Tipu Sultan's summer palace and tomb, you'll drive to the nearby Ranganathitoo Bird Sanctuary, where around 40,000 winter migrant birds congregate from mid-December onwards. On a scattering of islands in the Kaveri River, the reserve holds an exceptionally carried population of wildfowl and waders, with 170 species so far recorded.
Accommodation Options
Day 4
Mysore - Nagarhole National Park
Drive to Nagarhole for a two-night stay. You will arrive in time for an evening safari.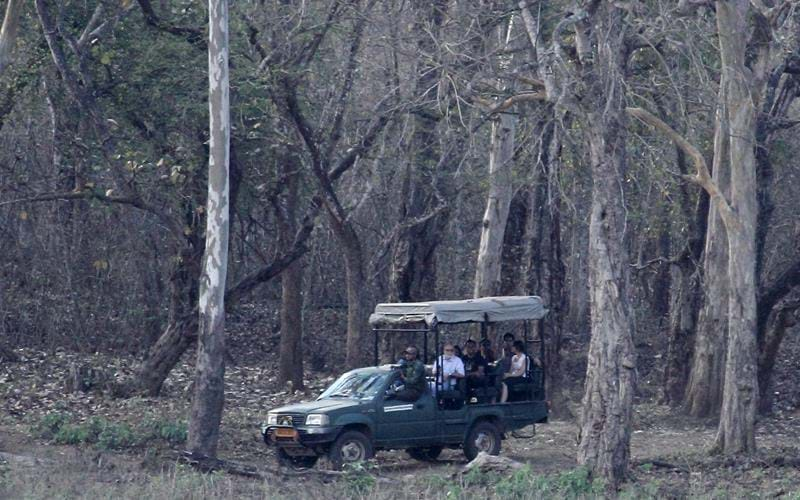 Created from the private hunting reserve of the Maharajas of Mysore, Nagarhole encompasses a tract of jungle-clad hills and the banks of a reservoir fed by the Kabini River. When water levels are low between February and March, elephants are enticed out of the trees to drink, along with herds of deer and antelope, and the predators that prey on them: leopard, striped hyena, dhole (wild dog) and even the occasional tiger. 
In addition to towering teak trees, Nagarhole's forest protects jungles of rosewood, silver oak and, most highly prized of all in this part of the world, sandalwood, which is used to make incense. Birdlife is also prolific, with 270 species recorded, among them the endangered Oriental white-backed vulture, Greater-spotted eagle and three kinds of hornbill.
Accommodation Options
Day 5
Nagarhole National Park
Enjoy morning and evening Jeep safaris in the park, guided by an expert naturalist from your lodge. Between drives, consider signing up for one of the many outdoor activities on offer: boat cruises, kayaking and coracle trips on the Kabini River, or cycling and nature walks in the forest.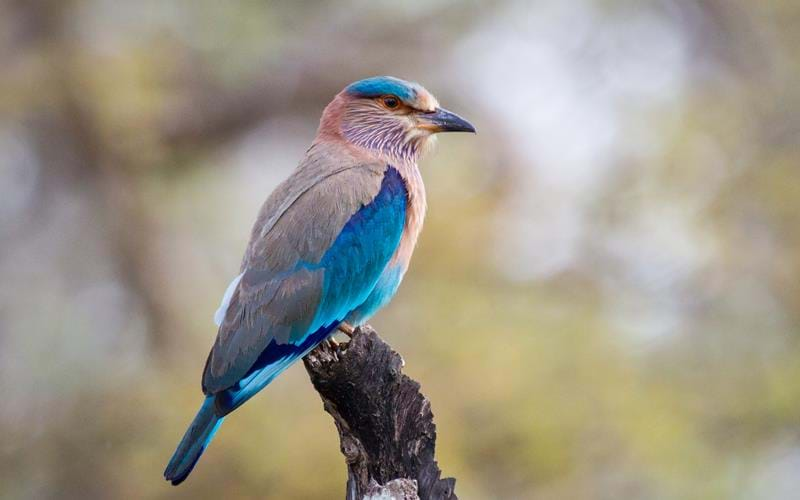 The woodland lining the banks of the Kabini is especially rich in birdlife, with around 300 species present, among them rare endemics such as the Malabar pied hornbill, Nilgiri flycatcher and the Malabar parakeet. You can see an amazing number of species just by following the trails around the lodge, but keen ornithologists are advised to take at least one spin on the river, whether by boat, kayak or coracle, to spot the many aquatic birds residing in this borderland between Tamil Nadu and Karnataka.
Accommodation Options
Day 6
Nagarhole - Bandipur National Park
Drive to Bandipur, adjoining Nagarhole, for an overnight stay, arriving in time for an afternoon game drive in the park.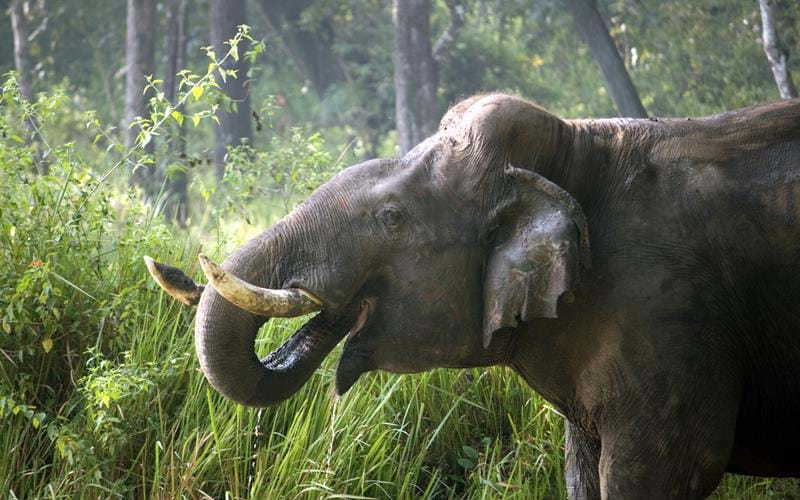 Part of the world-famous Nilgiri Biosphere, Bandipur National Park covers another area of forested mountains bordering Nagarhole. The reserve is a prime spot for sighting elephant, which roam in large herds here. The tiger population has also revived well over the past decade, thanks to a concerted effort on the part of local conservation bodies, with an estimated 220 animals living within the confines of Nagarhole and Bandipur combined. The odds of a sighting have never been greater here since the inauguration of the park in 1973!
Accommodation Options
Day 7
Bandipur National Park - Coonoor
Drive to Ooty to visit the Botanical Gardens and then board the Nilgiri Mountain Railway to Coonoor, where you'll stay for two nights.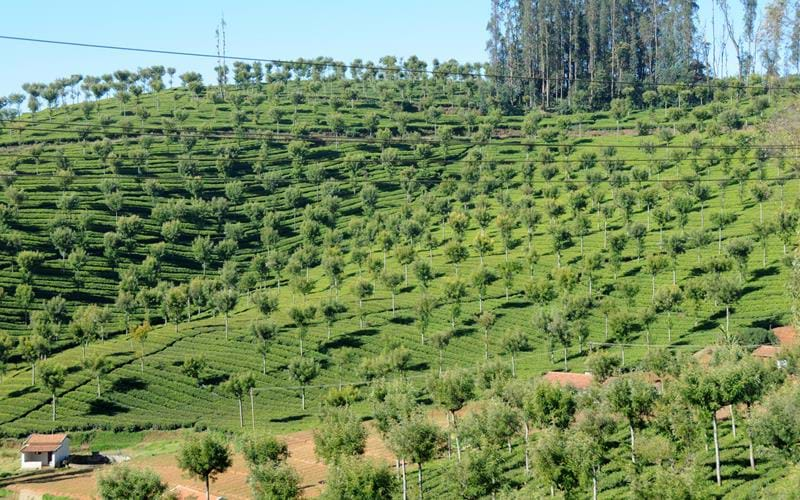 Located high in the Nilgiri Mountains, Ooty was developed by the British as a hill resort in the early 19th century, when it became the summer capital of the Madras Presidency. Its mild, subtropical climate makes it a perfect place for growing plants from a wide range of climatic zones, as you'll see in the famous Botanical Gardens, whose collection is dispersed over 55 acres of lush, terraced slopes and mature woodland.
The 'Nilgiri Blue Mountain Railway', to give the line its official title, is deservedly one of South India's great attractions – more for the nostalgia value than its speed and comfort, it has to be said!
Accommodation Options
Day 8
Coonoor
Spend the day relaxing in your luxurious hotel on the outskirts of Coonoor, and taking in local sights.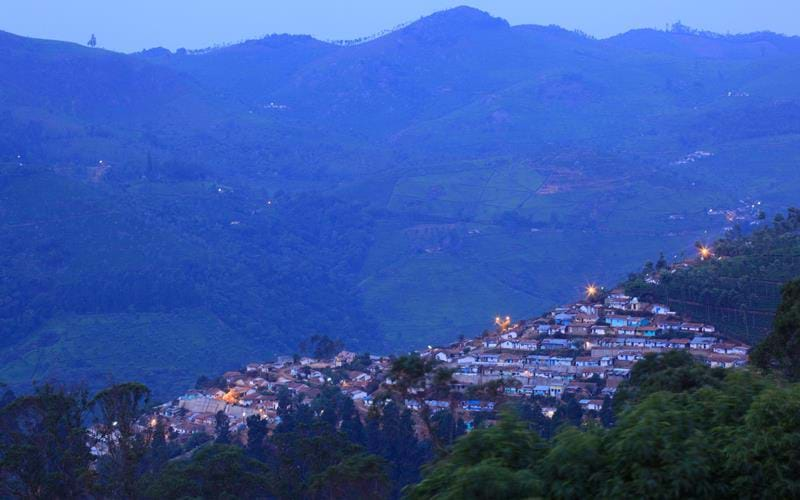 Coonoor, a tea growing hub and former British hill station just down the mountain from Ooty, is considerably less commercialized than its more famous neighbour, and retains plenty of old-world atmosphere. Surrounded by tea terraces, its leafy outskirts also holds some particularly lovely hotels. Leisurely guided walks in the woods and to nearby viewpoints occupy the day. Visits to local tea factories and the town's excellent botanical garden are also on the menu if you can tear yourself away from the hotel pool!
Accommodation Options
Day 9
Madurai
Drive down to the Tamil plains and continue on to Madurai for an overnight stay, visiting the Meenakshi-Sundeshwar temple in the evening.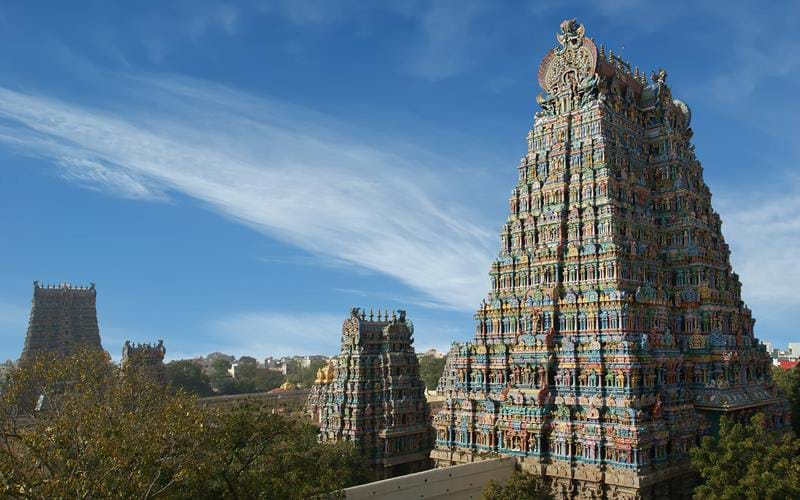 For sheer visual impact, no Hindu temple in South India can match the Meenakshi-Sundeshwarar in Madurai. The temple's gigantic, multi-coloured gopura towers soar 46m above the city's streets, writhing in stucco figures of gods and mythical monsters. Below, a labyrinth of richly carved pillared halls, colonnaded walkways and interlocking courtyards host a never-ending round of rituals. Although now a sprawling modern city with a population of over one million, Madurai, with its lively covered bazaars and traditional udipi restaurants, remains one of India's undisputed highlights.
Accommodation Options
Day 10
Periyar National Park
Drive back into the mountains for a two-night stay in Periyar National Park on the Tamil–Keralan border.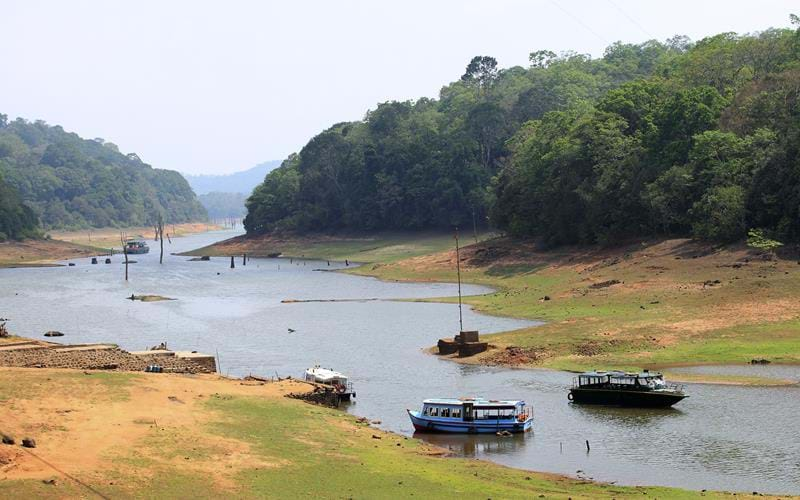 The mountains of inland Kerala are one of the world's biodiversity hot spots. Although tea, coffee and spice plantations dominate many areas, abundant forest also survives, and the Periyar Wildlife Sanctuary encompasses one of the most easily accessible of these. Centred on a flooded valley system, the park is among the largest in India, famous first and foremost for its herds of wild elephant, which can routinely be spotted from the water. A fleet of boats set out on safaris at dawn, but visitors can increase their chances of sightings by opting for less intrusive rafting trips, or treks on foot through the forest.
Accommodation Options
Day 11
Periyar National Park
Explore some of the richest forest tracks of Periyar National Park on a full day of hiking and bamboo rafting inside the park.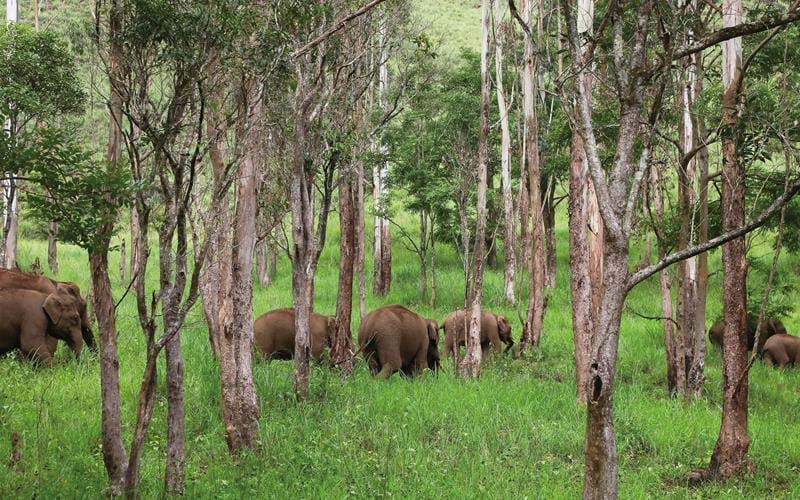 Boat safaris on Periyar Lake are fun, but too noisy for serious wildlife spotting. A better option is to take to the footpaths in the company of a local guide, who can track and identify the many creatures who live in this well-preserved tract of forest. Malabar giant squirrels, palm civets and sambar deer are commonly encountered, as are hornbills and other spectacular birds. Elephants may be sighted around the water's edge and are best viewed from the safety of a boat or safari raft.
Accommodation Options
Day 12
Periyar - Fort Cochin
Drive down to sea level again today, and across lowland Kerala to the coast. You should arrive in time for a walking tour of the former colonial spice trading port of Fort Cochin.
For centuries the hub of India's spice and tea trade, Fort Cochin occupies the northern tip of a peninsula dividing the mouth of the Vembanad Lake from the Arabia Sea. Its low-rise, red-tiled skyline bears the imprint of its former colonial residents: Lusitanian chapels, Jewish synagogues, Dutch burghers' houses, Armenian mansions, and British bungalows and godowns (warehouses) all survive in the Fort's grid of narrow lanes – the largest collection of early colonial buildings in Asia.
Accommodation Options
Day 13
Fort Cochin - Kumarakom
Transfer to Kumarakom in the famous Keralan backwaters for a two-night stay on the shores of Vembanad Lake.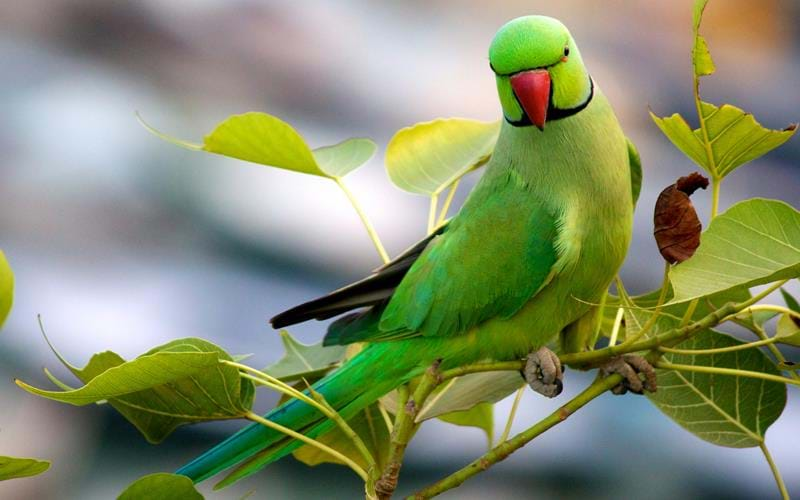 Across the low-lying coastal strip of central Kerala stretches a vast, shimmering saltwater lagoon known as Vembanad Lake. As well as being a prime fishing ground for inhabitants of the surrounding backwaters, the 200-sq-km body of water is also an important nesting site for migratory wetland birds, for whom a sanctuary has been set aside at Kumarakom. Species such as darter, white-breasted water hen and snake birds are commonly sighted between November and March, when the glassy surface of the lake is speckled with dozens of stately houseboats cruising between the resorts located in the area.
Accommodation Options
Day 14
Kumarakom
Spend the morning visiting the bird sanctuary, followed by an afternoon at leisure.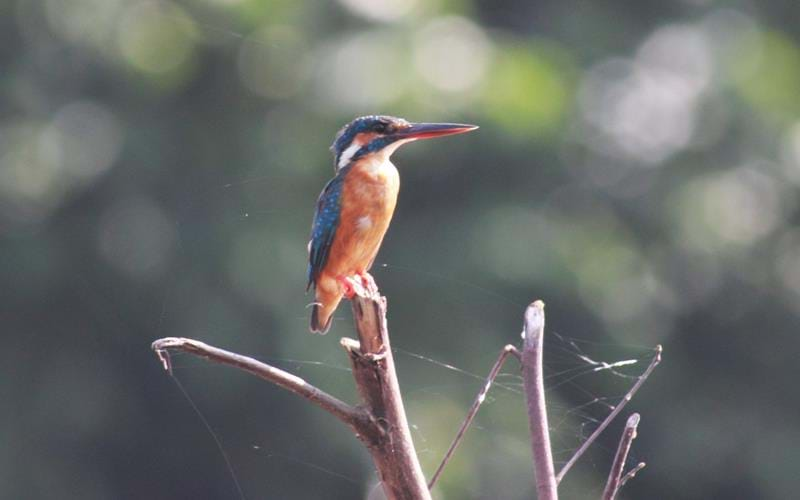 On the shores of the lake, your hotel is perfectly placed for both birding and ilding, or indeed a combination of the two! Ayurvedic massages and boat rides are available should your wanderlust be not yet fulfilled.
Accommodation Options
Day 15
Kumarakom
Another day of relaxation on the shores of Vembanad Lake bring your tour to a suitably laid-back conclusion.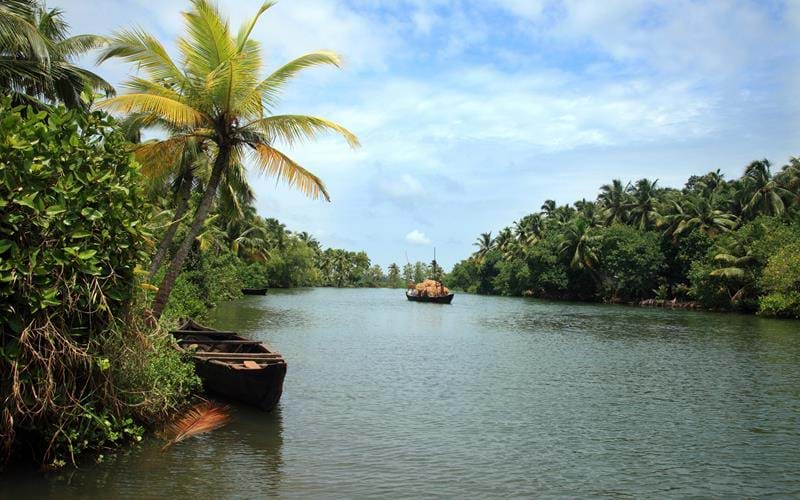 For the restless, a shopping excursion into nearby Kottayam can be arranged. The town is dominated by Syrian-Christians, and anyone interested in the history of Christianity in India should consider a visit to the two churches on its outskirts, one of which houses a pair of 8th century Nestorian stone crosses. The other holds an apse decorated with naïve murals thought to have been painted by a Portuguese artist in the 16th century. Fans of proper South Indian fast food should also call at the Anand Lodge, just off the main square, to sample the region's tastiest dosas.
Accommodation Options
Day 16
Kumarakom - UK
It's time to say goodbye to Kerala as you drive to Ernakulam airport for your flight back to the UK, which arrives in the afternoon of the same day.
Tailor-made Tour

16 days from £3640 per person
What's included

✓   International flights from London
✓   10 nights accommodation
✓   All internal transportation and transfers
✓   English-speaking guides
✓   Breakfast daily
✓   Entrance fees to sites and monuments listed in tour itinerary
Places and Experiences in this tour
Plan your Next Adventure
With the world now largely open again, now is the time to begin planning your next adventures in Asia. Our Travel Specialists are ready to take your call and discuss the adventure you have spent the last 3 years dreaming of.
Or call us on 0208 566 3739
TransIndus Brochures 2023
Join our mailing list