Tailor-made Tour

12 days from £3675 per person
Places Visited:
Nagpur, Tadoba Tiger Reserve, Pench National Park, Satpura National Park, Mumbai
This 12-day tour concentrates on the lesser visited, emerging parks of Pench, Satpura and Tadoba, in the remote heart of India whre the principals of conseration have been best deployed. All three offer exceptional birding, as well as excellent chances of spotting tiger and leopard – without the crowds of busier reserves further north. The locations may be remote, but the facilities on offer are world-class, from the lodges to the guides, cuisine and transport. Staying in such far-flung part of the country will also enable you to experience rural life at close quarters. Village visits are fascinating, revealing a way of life that couldn't be more different from those led by inhabitants of the hub cities you'll be flying through to reach the parks.
Holiday Types
Wildlife Holidays
Suggested itinerary
Day 1
UK
Fly overnight from the UK to Mumbai.
Day 2
Nagpur
On arrival in Mumbai, connect with your onward flight to Nagpur, where you'll be met by your TransIndus driver and guide and accompanied to your hotel for a one-night stay. Spend the remainder of the day at leisure, to discover your hotel and recover from jetlag.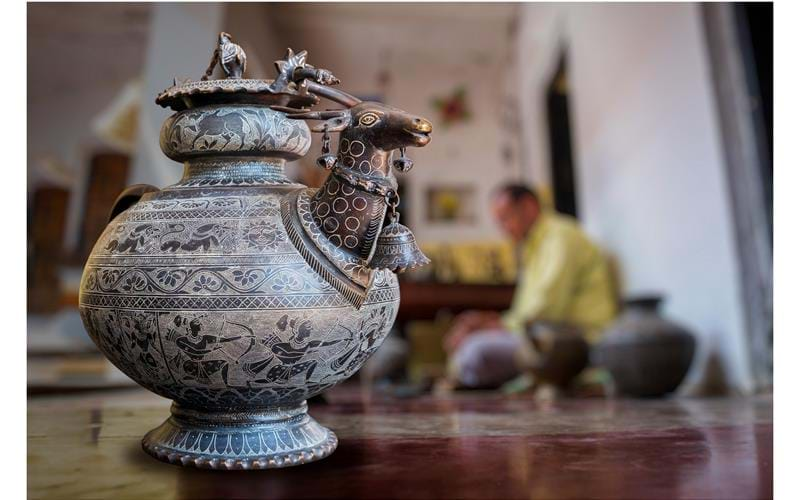 Located precisely at the centre of the country, Nagpur is often described as the 'Tiger Capital of India', connecting central India's numerous tiger conservation parks to the world but much more than this, the city is the showcase for many of central India's urban and tribal Arts and crafts.  Here you will find examples of fascinating metal carvings, textile printing, carpet and Dari weaving to silverware and stone craft and intricate terracotta.
Today the city is also an emerging IT hub after Bengaluru, Mysore and Pune it was declared the best city to live in by United nations in 2019.
Accommodation Options
Day 3
Tadoba Tiger Reserve
This morning we head off to the first of our National Parks, Tadoba for a three-night stay. After lunch and a siesta enjoy the first first of your jeep safaris in this amazing park.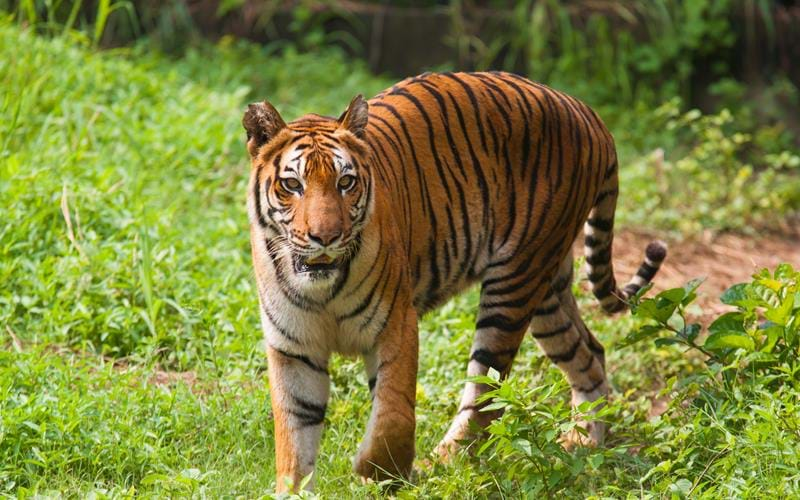 The Taboba-Andhari Tiger Reserve is one of the largest in central India and sufficiently off-the-beaten track to escape the attention of day tripers and week-end enthusiasts despite boasting one of the highest tiger numbers in the country. A region of deep valleys, meadows and wetlands, 87% of the reserve is covered in beautiful dry deciduous, making it ideal terrainf or a rage of wildlife. At the last census, over 75 tigers were identified within its borders, along with leopard, wild dog, striped hyena, gaur, nilgai, sambar, chital, civet cats, marsh crocodiles and nearly 200 species of birds.
Considered sacred by its indegenous people who beleive the goddess Taru inhabits and protects the densely forested hills.
Accommodation Options
Day 4 & 5
Tadoba
The next two days are devoted to the exploration of the park its wildlife both on land and from the water on jeep drives, boat rides and on foot in the company of the Tiger Trails team who live and breath tigers and tiger conservation. Options for safari's and walks are avaiable pre-dawn and dusk.
Accommodation Options
Day 6
Pench National Park
Head for Pench this monring, another of our favourites Central Indian national Parks. Here the terrain differs significantly from Tadoba as you will experience on the first of your safari's in the afternoon.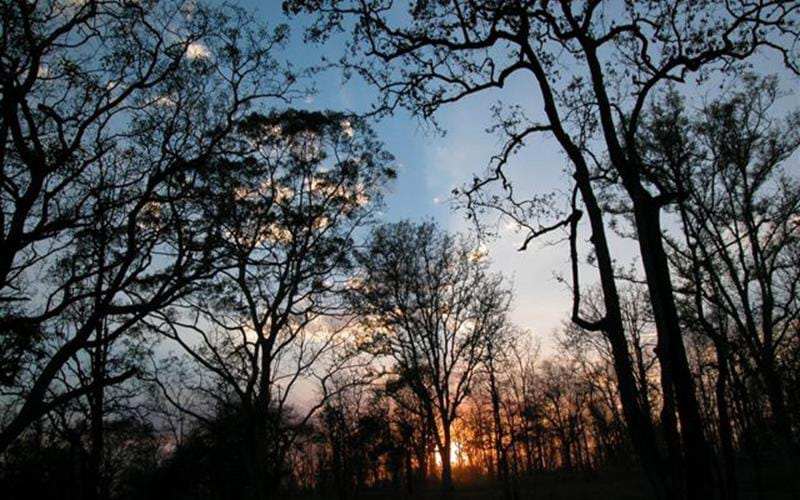 With its miles of teak and bamboo forests, and open meadows of tall, bleached grass, the landscape of Pench National Park is straight off the pages of Rudyard Kipling's Jungle Book. The reserve flanks the southern border of Madhya Pradesh and northern border of Maharashtra, encompassing a wild, uninhabited zone bisected by the Pench River.The tiger population is stable and sightings occur daily here – although not for everyone. Touring the park's pot-holed roads in Jeeps, you're more likely to come across packs of wild dogs and striped hyena, and herds of deer and antelope as well as the odd gaur (bison).
Accommodation Options
Day 7
Pench National Park
Our stop in Pench is specifically designed to expereince the wildlife and terrain of the park up and close in the company of second generation naturalist and consevationists who will tailor your individaul foray's into the jungle to reflect your special interests. It is one of the few parks where you have the option of experiencing the forest at night and even stargaze the skies with zero light pollution.
Day 8
Satpura National Park
Today we drive through the Seoni and Pachmarhi Hills to Satpura Tiger Reserve on the edge of the Tawa Reservoir where the amazing biodiversity allows it be home to 32 species of Mammals, 31 of Reptiles and over 300 species of birds.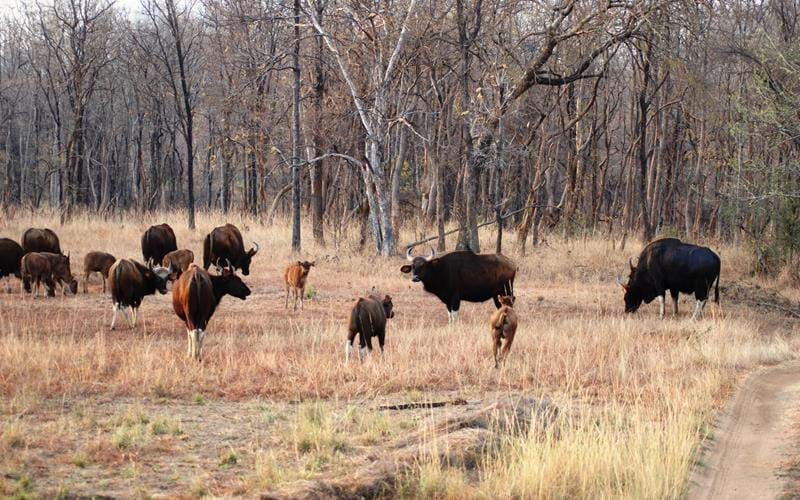 The craggy, forested peaks of the Satpura (or 'Mahadeo') mountains form a romantic backdrop for safaris in this remote park in southern Madhya Pradesh. Tiger sightings are not as frequent as at other parks in the region – this is somewhere people come more for a relaxed experience of unsullied wilderness. Satpura ranks among the few sanctuaries in India where you can undertake safaris on foot. Wardens and guides lead visitors on wonderful treks through the sal, teak and bamboo groves, and further afield to far-flung prehistoric rock-art sites in the depths of the forest.
Accommodation Options
Day 9 & 10
Satpura National Park
Over the next two days we explore this polloution free zone on foot by bicycle, canoeing and trekking in the company of well-trained and professional rangers and naturalist.
Day 11
Mumbai
As you begin your journey home, with a flight from Bhopal to Mumbai, there is an opporutinty to catch up a little bit of urban India with an overnight stop in Mumbai, perhaps to catch a museum or a spot of shopping for those who are inclined.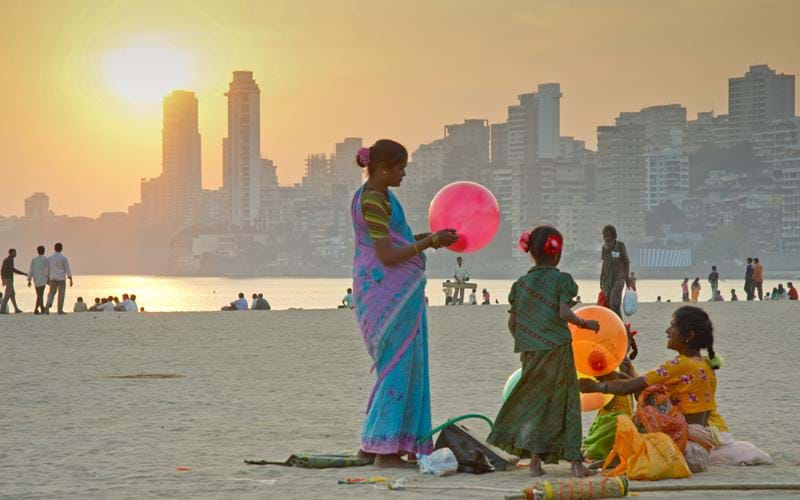 Mumbai has been India's busiest port and industrial centre since the opening of the Suez Canal in 1969. As famous today for its traffic jams as its record-breaking movie industry, the Maharashtrian capital tends not to feature high up most visitors' 'must see' list, but as a point of arrival has a lot to recommend it.
Before the last British troops garrisoned in the country slow-marched past it to board their ships back to Blighty in 1947, the Gateway of India – a huge triumphal arch in the colonial Indo-Saracenic style – was the first landmark most new arrivals from Britain set eyes on. The second was the famous Taj Mahal Hotel beside it. Both still stand tall on the waterfront, as emblematic of the city today as they were in Victorian times.
Still more impressive monuments of the empire dominate the Kala Godha and Fort districts beyond the Gateway, among them Victoria Terminus, the world's grandest railway station, and white-domed Prince of Wales Museum (both nowadays renamed after the 17th century Maharashtrian warlord, Shivaji). Nearby, the vast High Court and University buildings line the palm-fringed Maidans where cricketers in their whites play through the afternoons, as commuters stream home through Churchgate Station
Accommodation Options
Day 12
Mumbai, UK
Transfer to the airport for your flight back to the UK, arriving the same day.
Tailor-made Tour

12 days from £3675 per person
What's included

✓   International flights from London
✓   10 nights accommodation
✓   All internal transportation and transfers
✓   English-speaking guides
✓   Breakfast daily
✓   Entrance fees to sites and monuments listed in tour itinerary
Places and Experiences in this tour
What Our Clients Say About Us
Plan your 2021 & 2022 Adventures
With the world beginning to open up again, now is the time to begin planning your 2021 holiday to Asia. Our Travel Specialists are ready to take your call and discuss the adventure you have spent the last 12 months dreaming of.
Or call us on 0208 566 3739
TransIndus Brochures 2021/2022
Join our mailing list