Uzbekistan 02.04.2020 David Abram
Recipes and stories gleaned from wide-ranging travels around Central Asia and the Caucasus by authors Caroline Eden and Eleanor Ford bring the distinctive, culturally hybrid flavours of this little-known region to our own kitchens. In this blog we feature  extracts from their richly illustrated book 'Samarkand', beginning with one of Caroline's immersive travelogues, which provide rich cultural context for co-writer Eleanor's tempting recipes.
Happy cooking . . .!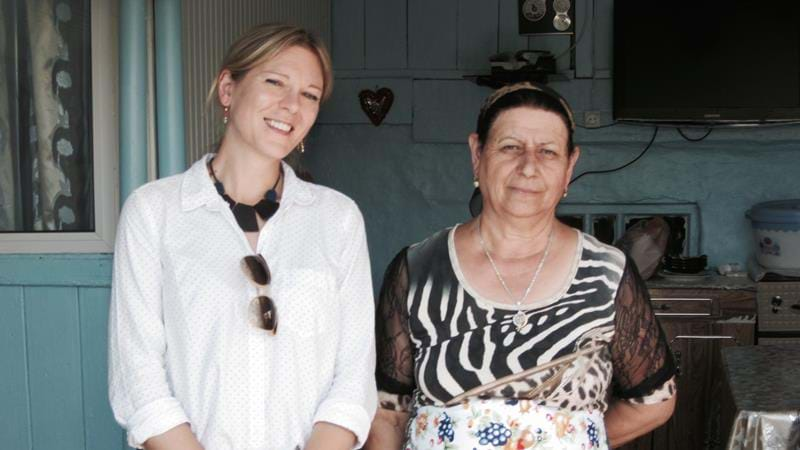 "When I first arrived in Samarkand in 2009, weary from exploring the Pamir Mountains, its atmosphere shook me. The skyline is filled with monolithic Soviet blocks, colossal sky-blue domed mosques and pale desert-hued minarets. At street level, tangled bazaars overflowed, cauldrons of plov bubbled on the side of the road and butchers hacked away at sides of beef on tree stumps used as cutting blocks. Melons the size of a horse's head were crammed into the boots of Lada cars, shop fronts were festooned with dizzying bolts of ikat and suzani fabric bearing pomegranate motifs,  while legions of babuski (elderly ladies) pushed vintage prams which carried not mewling babies but golden discs of bread. It's like time travel, I said, echoing the words of countless travellers before me''.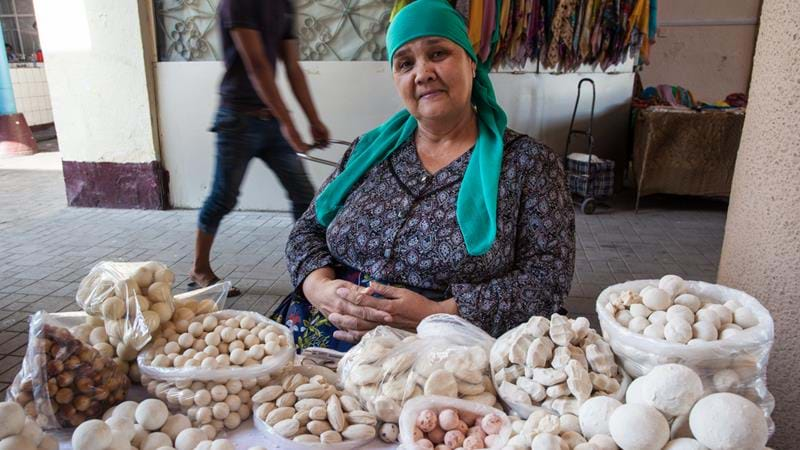 At daybreak, before the arrival of pilgrims, I had wondered alone in the otherworldly necropolis of the Shah-i-Zinda as imams changed. That night, I ate tandoor-fresh bread and sliced crescents of juicy melon with a jewel-handled knife beneath a blanket of stars. Can any other place on earth provide such a feast for the senses?

My first encounter with Samarkand not only provided a romantic passage back to the fourteenth century and Tamerlane's capital – it also sowed the seed for this book.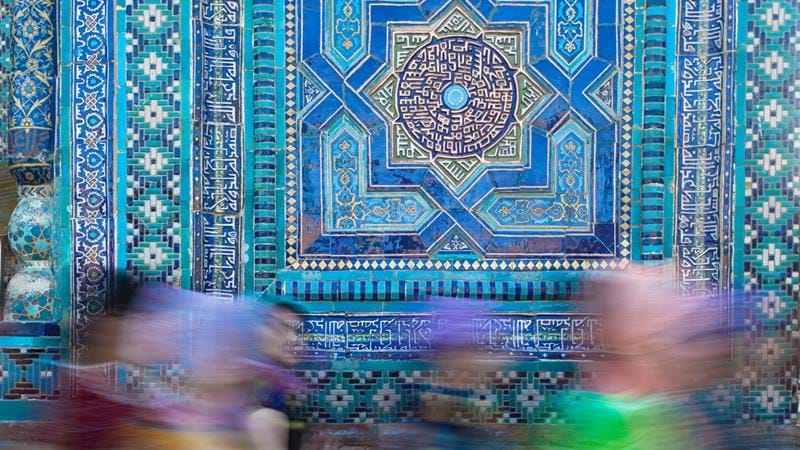 Among our favourite recipes from Carole and Eleanor's book is one for which you'll easily find the ingredients in your local supermarket. The same is true of the second, a Central Asian twist on roast chicken!

Apricot and Red Lentil Soup
Serves 4–6
3 tablespoons olive oil
1 large onion, finely chopped
1 large carrot, finely chopped
1 large carrot, finely chopped
3 garlic cloves, finely chopped
60g dried apricots, chopped
1 teaspoon cumin seeds
4 tomatoes, peeled and chopped
300g dried split red lentils
1 litre hot vegetable stock
2 tablespoons thyme leaves
Juice 1 lemon
Handful of flat-leaf parsley leaves, finely chopped
Sea salt and freshly ground black pepper
"A whole book could be written about apricots in this region. Almost everywhere apricots are dried out across rooftops and are sold fresh at the roadside. In Uzbekistan, the pits are cooked in ash, the shells cracked open and the kernels sold like nuts. In Tajikistan (which has 300 varieties of apricot), mountain-dwelling folk make noch khurchpa, a simple sunny orange soup comprised of little more than mashed apricots, water and flour. In Armenia, lentils are added which gives the soup plenty of body and texture, as here. A meatier version with lamb is sometimes made too.

Heat the oil in a large pan and cook the onion and carrot until softened and sweet. Add the garlic, apricots and cumin seeds and cook until fragrant. Stir in the tomatoes and cook for a few minutes more until they start to break down.

Add the red lentils, pour over the stock and bring to a boil. Reduce the heat and simmer, covered, for 20 minutes until the lentils are tender. Add the thyme leaves and lemon juice and remove from the heat.

Blitz half of the soup in a blender and return to the pan (or use a hand-held blender to semi-blend in the pan. Some texture is good here.) Add more liquid if the soup needs thinning and salt and pepper to taste."

Georgian Chicken with Walnut Sauce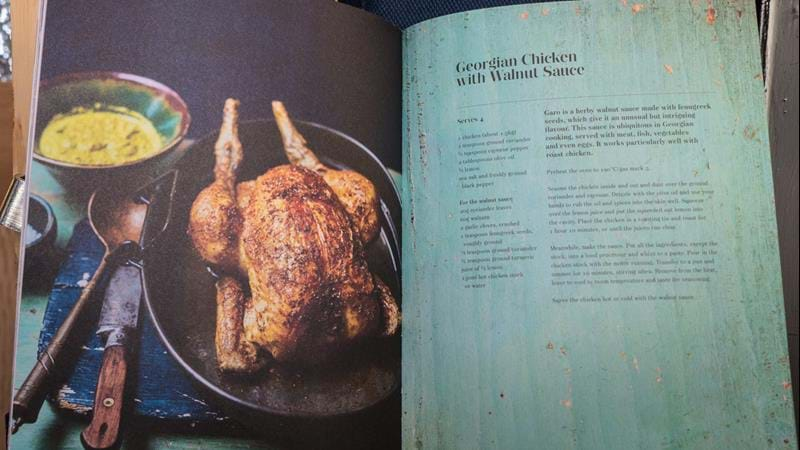 Serves 4
1 chicken (about 1.5kg)
1 teaspoon ground coriander
½ teaspoon cayenne pepper
2 tablespoons olive oil
½ lemon
Sea salt and freshly ground black pepper

For the walnut sauce
20g coriander leaves
60g walnuts
2 garlic cloves, crushed
1 teaspoon fenugreek seeds, roughly ground
½ teaspoon ground coriander
½ teaspoon ground turmeric
Juice of ½ lemon
150ml hot chicken stock or water

"Garo is a herby walnut sauce made with fenugreek seeds, which give it an unusual but intriguing flavour. This sauce is ubiquitous in Georgian cooking, served with meat, fish, vegetables and even eggs. It works particularly well with roast chicken.
Preheat the oven to 190  ̊C/gas mark 5.
Season the chicken inside and out and dust over the ground coriander and cayenne. Drizzle with the olive oil and use your hands to rub the oil and spices into the skin well. Squeeze over the lemon juice and put the squeezed-out lemon into the cavity. Place the chicken in a roasting tin and roast for 1 hour 10minutes, or until the juices run clear.
Meanwhile, make the sauce. Put all the ingredients, except the stock, into a food processor and whizz to a paste. Pour in the chicken stock with the motor running. Transfer to a pan and simmer for 10 minutes, stirring often. Remove from the heat, leave to cool to room temperature and taste for seasoning.
Serve the chicken hot or cold with the walnut sauce."
You can read more extracts from Caroline and Eleanor's 'Samarkand' by clicking on the thumbnail above, which will take you to the book's page on the Amazon website. If you make a purchase we'll receive a small sum from the retailer which we'll donate in full to GiveIndia's campaign to help day-wage labourers affected by the Coronavirus outbreak.

We hope you enjoyed this feature on the cuisine of the Silk Road. Find out more about our distinctive tours to the region by clicking HERE.