Japan 30.10.2015 Transindus
Mount Fuji is a real icon of Japan. Famous for its symmetrical beauty, it not only holds a place as one of the nation's most famous sites, but also as one of the finest mountains that's widely accessible to climb.
Conquering Mount Fuji is a truly memorable activity to include on your tour of Japan. Here, we offer you some useful information on everything from the history of the mountain to the best time to climb it. 

Mount Fuji - an overview
At 3,776 m high, Mount Fuji is the tallest mountain in Japan, and has sat at the centre of mountain worship for centuries. Likewise, it has inspired paintings and works of literature for hundreds of years - something that makes the site even more moving to visit today.
Easily visited from Tokyo, the volcano stands on the border of two prefectures - Shizuoka and Yamanashi. Standing as a living testament to the mountain's spiritual importance in Japan is the Fujisan Hongu Sengen Taisha Shrine, which is situated at its base and is often visited by visitors ahead of their climb.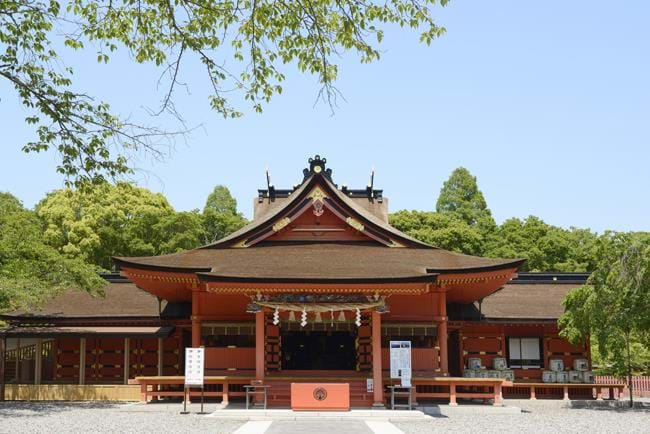 It is not only Mount Fuji's beauty and reputation that make it such a popular attraction, but also the fact that it is relatively easily accessible. Indeed, while its sides are steep in parts and the trek to the summit will take several hours, you do not need any special training to tackle it - rather, just a reasonable level of fitness. What's more, the routes to the top are well maintained and there are numerous mountain stations along the way, where you will find huts for overnight stays.
It is worth bearing in mind that the Fifth Station, which acts as a start point for many routes to the top, can be driven to and is good for admiring the mountain without making the journey to the summit, should you feel unable to do so.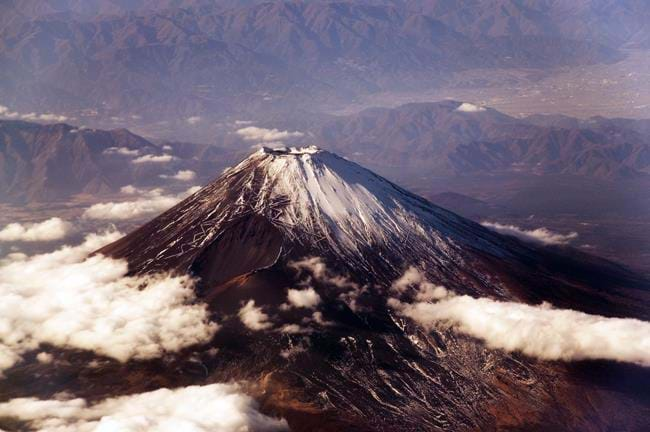 When to climb Mount Fuji
Deciding when to climb Mount Fuji is relatively straightforward, as it is only open to hikers from July to early September. From a purely weather-based point of view, the absolute best time to tackle the hike is between late July and late August, as this is when the weather conditions are at their most stable.
However, there is an exception to this rule. August 13th to 17th is usually best avoided, as this is a national public holiday, which makes the routes to the summit particularly busy. Indeed, one thing to be aware of before climbing Mount Fuji is that, as it's so popular, you will be sharing your route with a lot of other hikers - so do not expect to be alone with the wilderness.
What to bring
If you intend to hike up Mount Fuji, there are a few additional items you will need to pack in your suitcase to ensure you have suitable footwear, as well as appropriate clothes to shield you from the chilly conditions at the summit.
Essentials include sturdy hiking boots (be sure to wear them in before tackling the mountain), quick-drying, breathable clothes, warm layers, a waterproof jacket, map and a headlamp. Water and snacks should be packed into your rucksack just before making the climb - there will be occasional places to buy water and supplies on your way up, but these can be expensive, and it's important that you have your own emergency supply.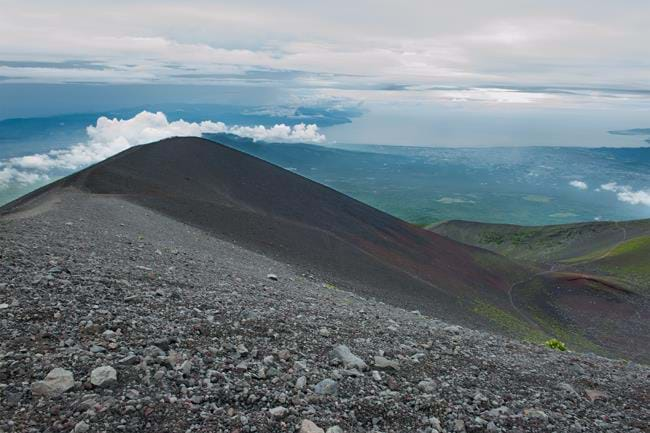 Mount Fuji: Hiking routes
Mount Fuji's Fifth Station is the most popular starting point for hiking routes to the summit, and you'll find four routes stemming from here. Typically, climbers choose to take a break along the way in one of the many mountain huts available, which allows you to rest and acclimatise, before continuing the hike while it's still dark in order to reach the summit for the sunrise, known as Goraiko.
However, as the routes naturally become trickier in the dark, this is best left to more experienced walkers. You can still have a wonderful experience on Mount Fuji if you keep your hike to the daylight hours.
In terms of specific trails, the Lake Kawaguchi-Yoshida-guchi course is the most popular, taking approximately six hours on the way up and just over three hours on the way down. Its popularity is partly down to its profusion of mountain huts (which it is wise to book in advance), as they offer plenty of places to stop and rest, but the other side of the coin is that it can get particularly busy.
Another thing to consider is an additional hike once you reach the summit; you can walk around the vast crater at the top in its entirety. Known as Ohachi-meguri, this trail takes approximately an hour and a half to complete and features Kengamine peak which, at 3,776 m high, is the highest point on the mountain.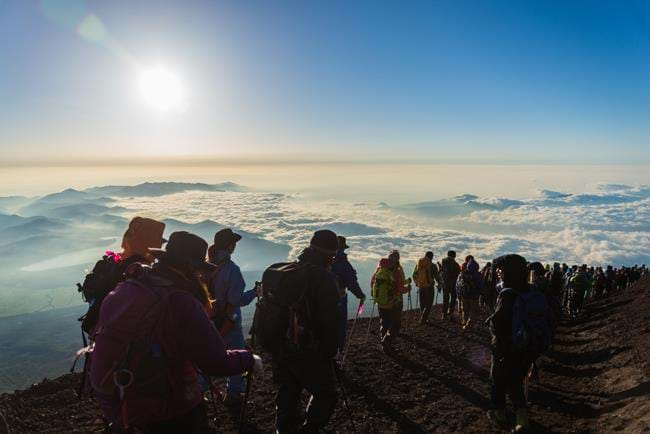 If you are thinking about climbing Mount Fuji and you would like to include this your Japan holiday, contact our team of experts they are on hand to help you put together the perfect trip.