Vietnam 18.09.2017 Annapurna Mellor
The journey to Sapa, a town in the North West Corner of Vietnam, is not an easy one. From Hanoi, a night train takes you to Lao Chai, where a bus will greet you in the morning to wind your way up through the hills to Sapa. Located around 1500m above sea level, Sapa town and its surrounding Hmong villages nestle in the Tonkinese Alps.
This is a place unlike any other in Vietnam, the hill tribes here are more closely related to the mountain tribes you'll also find in neighbouring China and Laos. Mist rises over the treetops, and in the valleys below you'll find layers and layers of rice paddies. There's a local market, where you can grab a truly authentic bowl of Pho, or a crispy Banh Mi, as well as pick up local handicrafts and souvenirs.



There's also some of the countries most picturesque accommodation, with views over sweeping hills. On a clear day, you might even be able to spot Vietnam's highest mountain, Fansipan from your window. But as far as unique accommodations go, there's nothing quite as authentic as a homestay, and Sapa is one of the best places in Southeast Asia to do one.
It's what I'm here to do, and I meet my wonderful guide Song while out in the market one day. She's kind and sincere and speaks elegant English which she taught herself from speaking to travellers who pass through town. She's a member of the Black H'Mong tribe, an ethnic group which dominates the hills around Sapa. They are recognisable from their black clothing, handmade from hemp fabric and embroidered with a vibrant patterned trim. Along with the Rainbow H'Mong and the Red Dao tribe, you'll frequently spot their unique clothing in the local markets and as you trek through the surrounding hills.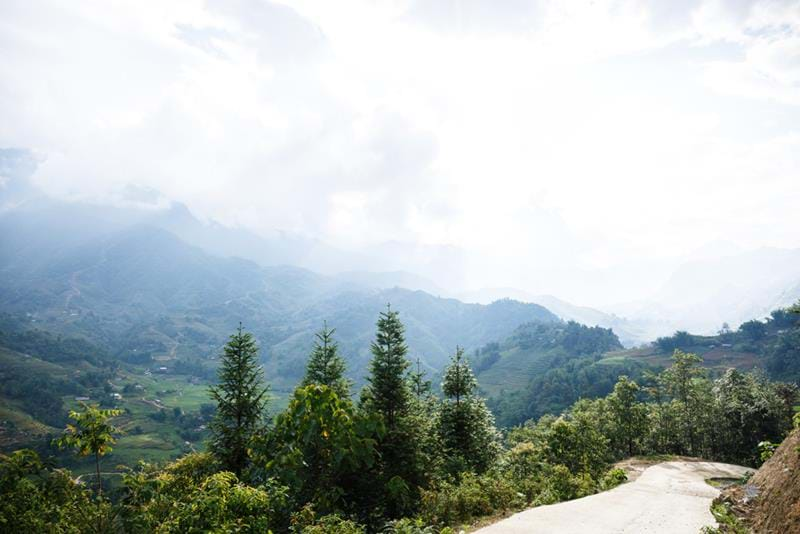 Song has invited me to her home for the evening, located in a small village in the bottom of the Sapa Valley, next to the river. For her, the walk to and from Sapa each day takes 2 hours, but for me, we're taking the scenic route, and so we have five hours of weaving through emerald hills and rice paddies ahead of us. 
We meet up early the next morning. Song has prepared us a lunch of Banh Mi from the market and carries them in her straw backpack. Away from the sweltering heat of mid-June Hanoi, Sapa's mornings are crisp and cold. 
We head off up the hill behind town, leaving the cafes, guest-houses and markets of Sapa town behind. Winding through the sweeping hills, she tells me about her life and her two children who I will meet later. Soon, we enter the clouds, and are walking on misty mountain tops before we dip down to have lunch on a hillside. Song wanders these hills so purposefully, knowing every path like the back of her hand. Occasionally we meet farmers along the way, and with everyone speaks to them like a brother. These hills are her home and it's occupants her family.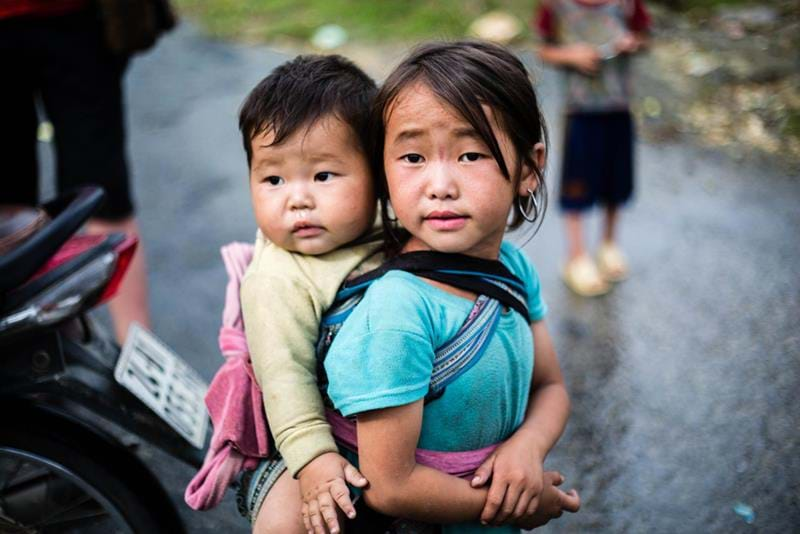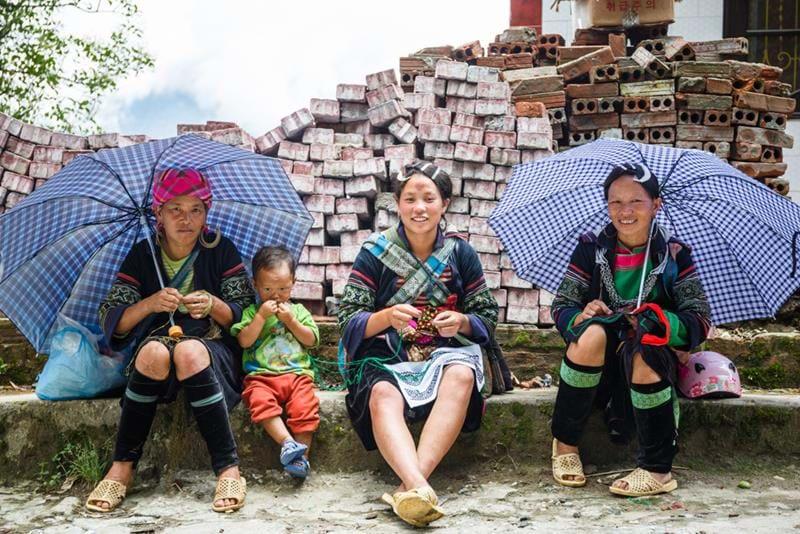 Lunch passes and we climb down into the valley passing a small room with women making handicrafts. While many of the locals still wear the local dress, the bed sheets and accessories they weave are primary for tourists to buy in the Sapa markets. As the designs are taking shape, I admire the intricate detailing in every section. Made from completely natural materials and dyes, these items are true works of art, and an important part of the H'Mong heritage. As the women get back to their foot pedals, we wander on down the paths into the valley below, to Song's house in a small hamlet by the river. 
Her house is big but basic. Made of wood with a concrete floor, it has 3 rooms; one for cooking, one for sleeping and one for daily life and also for guests to stay. She has chickens wandering around and her kids have acquired a couple of puppies from a neighbour.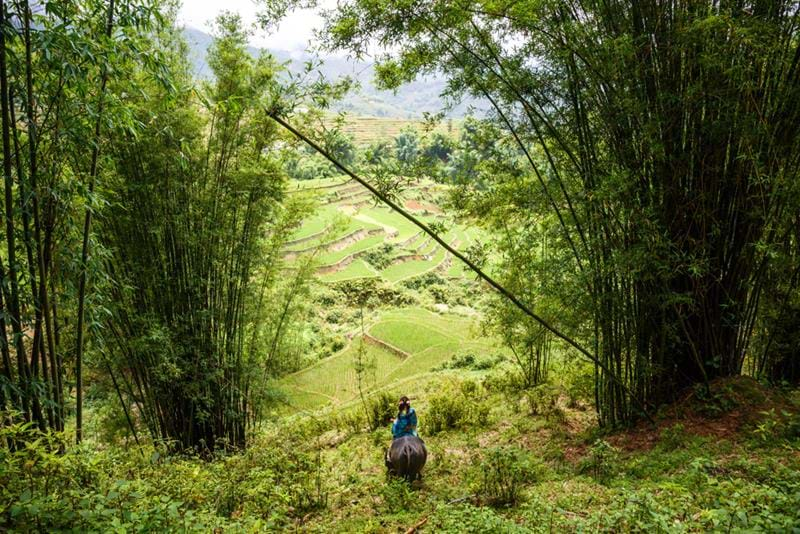 While she prepares dinner, Song encourages me to head down to the river to take a natural bath. The river is rapid and icy cold, but rock formations form natural pools where locals wash clothes and bathe. The ice cold water is a bit much for me, but the views from the river bridge are breath-taking. The sun is setting now and the hills are merging together in blue waves. The more time I spend in Sapa the more I feel it's a little slice of heaven, nestled in the North corner of Southeast Asia.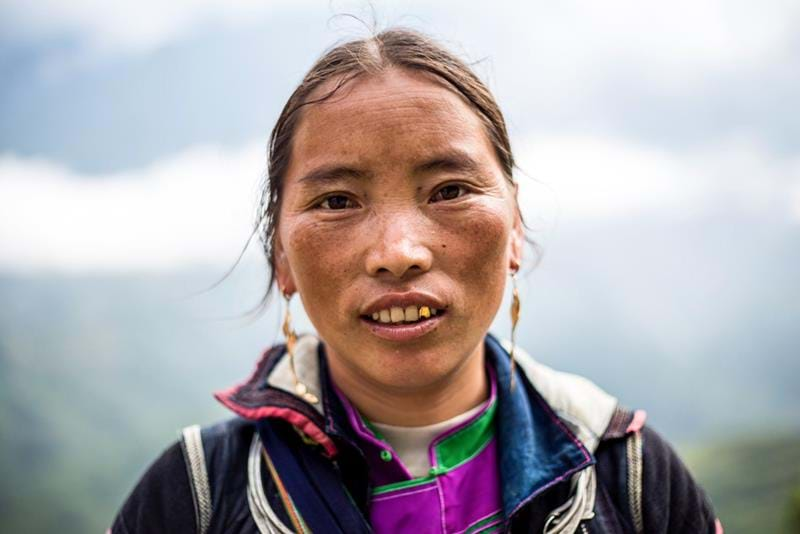 Dinner is served and it's a feast of scrambled tofu, sautéed vegetables, rice and soup. Everything is locally sourced and tastes incredibly fresh. When the sun finally sets we settle down to rest, and after a long day hiking these hills, I sleep like a baby.
The next day we begin our journey back to Sapa, taking an alternative scenic road which snakes the opposite way around the valley. Around every bend, the views open up to huge expanses of green tiered rice fields. When we finally return to Sapa, I bid farewell to Song and begin thinking about the return journey to Hanoi. But as I look back over those hills and think about the abundance of cozy cafes and intriguing markets Sapa has, I think, perhaps I'll stay a while more.