Tailor-made Tour

19 days from £4400 per person
Places Visited:
Ho Chi Minh City, Buon Ma Thuot, Lak Lake, Yok Don National Park, Kon Tum, Hoi An, Hanoi, Sapa, Ha Giang, Dong Van, Be Be National Park
Vietnam's minority people form the principal focus of this 19-day journey, which offers an ideal second visit to the country, or a more adventurous alternative for anyone looking to experience its traditional aspects. Running south to north, the route starts in Ho Chi Minh City, but promptly delves into the jungle-covered hills of the Central Highlands, home to the M'nong and other ethnic groups, as well as the beautiful Yok Don National Park, before cutting north to Hanoi via Hue and Hoi An. More stupendous scenery awaits in far northern districts between the hill station of Sapa and the Chinese border, whose recently re-vamped road network is sure to bring increased visitor numbers over the coming years – so see it while you can!
Holiday Types
Cultural Tours Walks, Hikes and Rides
Suggested itinerary
Day 1
UK
Fly overnight from the UK to Ho Chi Minh City.
Day 2
Ho Chi Minh City
On arrival you'll be met by your guide and escorted to your hotel for a one-night stay. Spend the rest of the day recovering from your journey, perhaps venturing out to Cholon quarter in the evening, or to the Eon Heli Bar for a sundowner.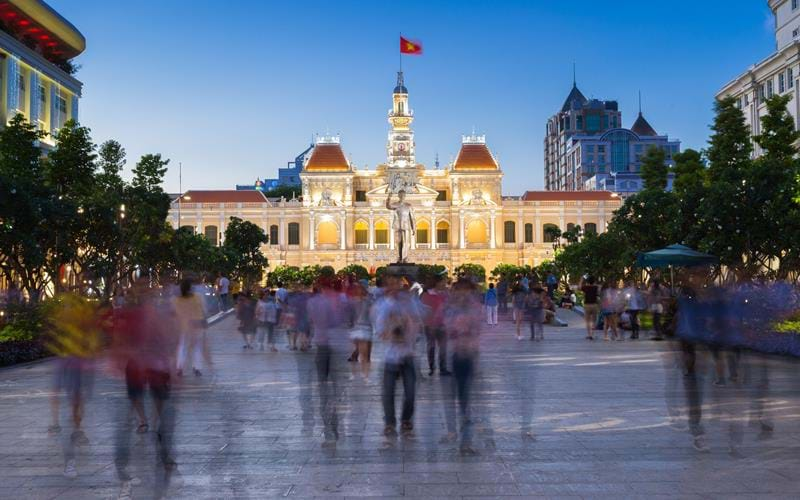 As 'Saigon', Ho Chi Minh City earned the epithet 'Paris of the Orient', and more than a hint of Gallic grandeur survives in the swanky Dong Khoi district (setting for Graham Greene's novel, The Quiet American). After a post-flight siesta, visit the beautiful Jade Emperor Pagoda, with its array of gilded Buddhist and Taoist deities, then wander with your guide around the atmospheric Cholon quarter, whose markets are brimming with silk, spices and jade souvenirs, before a sundowner at the Eon Heli Bar, on the 52nd floor of the city's tallest building, the Bitexco Financial Tower.
Day 3
Buon Ma Thuot
Travel by road to Buon Ma Thuot for a one-night stay, visiting a beautiful waterfall in the jungle en route.
Capital of Dak Lak Province, Buon Ma Thuot serves as a springboard for explorations of the Central Highlands region and Yok Don National Park. The largely modern city holds little of great interest beyond its coffee – some of the finest beans in Asia are grown in the surrounding hills and local cafés do a roaring trade. On the way from Ho Chi Minh City, the waterfalls of Dray Nur and Dray Sap on the Srepock River (a major tributary of the Mekong) offer worthwhile detours.
Day 4
Lak Lake
Today you'll drive from Buon Ma Thot to Lak Lake, taking a scenic trip in a dugout canoe to visit ethnic M'nong villages of Jun and M'lieng.
Ringed by rolling green hills, Lak Lake forms a chimeric, glassy expanse in the midst of the Central Highlands, an hour's drive south of Buon Ma Thot.
Around five thousand M'nong people live around its shoreline, in settlements made of rattan and split bamboo. You'll have the option of staying in a traditional longhouse or a more conventional resort on the water's edge. The views and atmosphere are both guaranteed to be memorable.
Day 5
Yok Don National Park
Drive from Lak Lake today to the Yok Don National Park for a short jungle trek. After a picnic lunch, take a boat trip along the Serepok River and visit the park's ethnographic museum to learn about the area's minority people.
Encompassing ranges of rolling, mist-covered hills, waterfalls and remote villages, Yok Don is the country's principal national park. It occupies a tract of land between the Cambodian border and Serepok River in the Central Highlands of Vietnam – a region almost entirely off the tourist trail and makes a fascinating area to spend a few days. The park is also famous for its resident elephants.
Day 6
Kon Tum
In the morning, visit the market town of Pleiku, home to the Jarai people, before exploring a lake in an extinct volcano crater. You will then continue to the town of Kon Tum to spend the night.
Ornate graveyards are the distinguishing feature of Jarai settlements. A local guide will show you the roughly carved statues in the village cemetary, and the headman's house at Pleiku, before you drive on to Bien Ho Lake (also known locally as 'T'Nung' or 'Ea Nueng'). Most of the villages around Kon Tum, your base for the night, belong to the Bahnar people, renowned for their towering rong houses – the region's defining spectacle.
Day 7
Hoi An
Visit a couple of Bahnar villages around Kon Tum. In the afternoon, drive to Hoi An.
Today features one of the standout experiences of the trip, as you visit split-bamboo-and-thatch Bahnar villages in the company of a local guide, following old hunting trails through the forest to traditional graveyards, where the dead are "fed" with offerings of rice and fruit. River trips in dugout canoes are also on offer for the more adventurous.
Day 8
Hoi An
Explore Hoi An on foot in the company of your guide in the morning. Later, you'll be at leisure to visit nearby beaches or venture into the former DMZ area to learn more about the Vietnam war.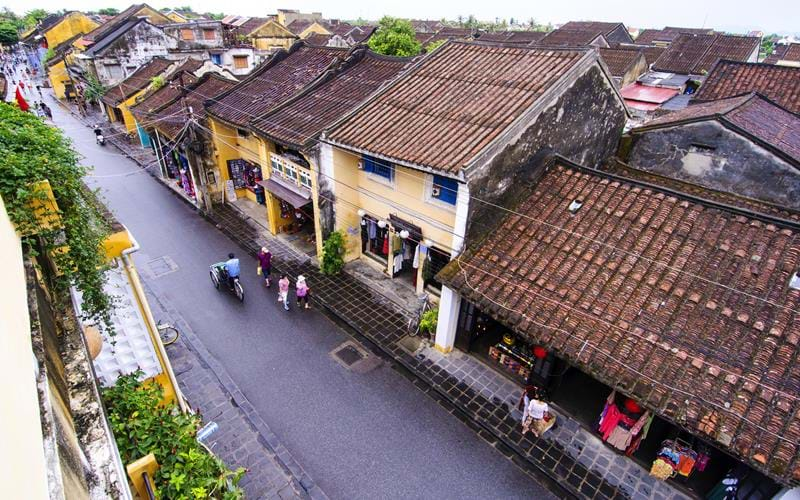 A thriving port before it was eclipsed by nearby Danang, Hoi An's Old Quarter preserves a unique cultural legacy spanning more than three-hundred years of colonial trade. Wandering its grid of 17th-century streets, you'll pass some fine examples of old tube houses, Chinese pagodas, elaborately decorated community halls and shrines, and a wonderful Japanese covered bridge, as well as a restored French enclave. Savour the traditional Vietnamese atmosphere of the riverfront and market district, or shop for locally made art, crafts and silk, displayed in numerous boutiques around the backstreets. Hoi An's traditional tea shops and restaurants are good places to sample local cau lau noodles and white-rose dumplings.
Day 9
Hanoi
Fly north to Hanoi in the morning, spending the remainder of the day exploring the city's warrenous Old Quarter.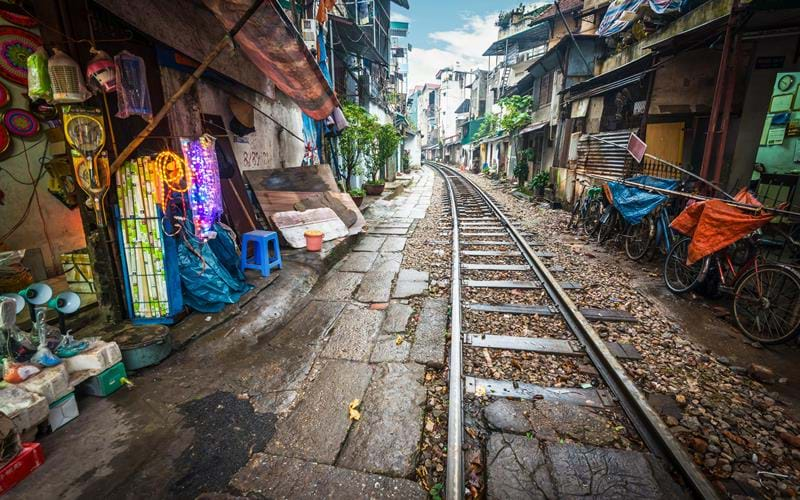 Vietnam's charismatic capital on the Red River may be modernizing at an extraordinary pace, but it's still a great city to explore on foot. Surrounded by parks and tranquil lakes, the core is a medieval Old Quarter – one of the most atmospheric square kilometres in all of Asia – where traditional craftsmen ply their trade in narrow alleyways lined with antique tube and shop-houses.
Day 10
Hanoi
Enjoy a full day's sightseeing today, starting at the exquisite Temple of Literature and Ho Chi Minh's Mausoleum. After lunch, visit Hoan Kiem Lake and the Jade Dragon Temple, before catching an overnight train to Lao Ci.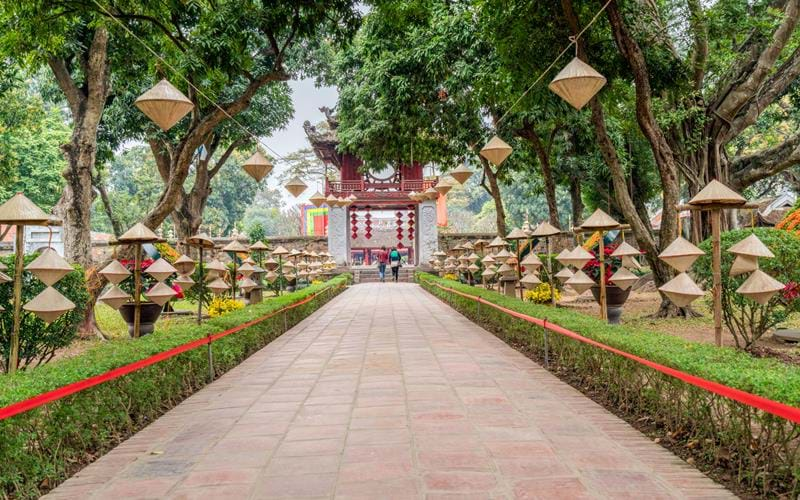 Set amid a maze of formal gardens and fig trees, the Temple of Literature is a particular delight in the morning, when you might see local students dressed in embroidered silk ao dai dresses praying for good exam results at the shrine of Confucius. Next up is the Mausoleum of Ho Chi Minh and his rather less imposing stilted home on the nearby lake. In the afternoon, visit the Jade Dragon Temple on an islet in Hoan Kiem Lake, then transfer to the railway station to catch the Victoria Express to Lao Ci. The train's wood-lined Pullman carriages and dining car recall the elegance of the colonial era.
Day 11
Hill tribe trek from Sapa
On arrival at Lao Ci you'll be met by your driver and guide and transferred to the hill station of Sapa. Spend the afternoon trekking through minority villages in the surrounding hills, staying overnight in a Dao settlement.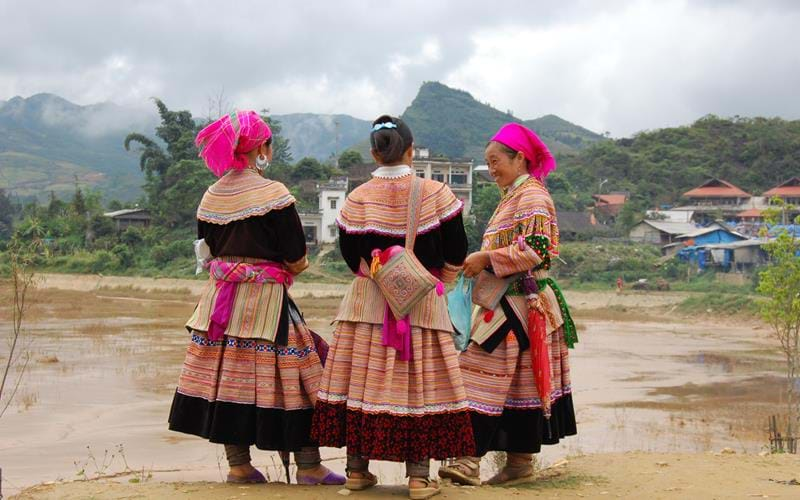 French colons originally founded Sapa, scattered over the eastern slopes of the Hoang Lien Mountains (aka the 'Tonkinese Alps'), as a summer retreat. It was badly damaged by the Japanese in the 1940s, and again during the Vietnamese War of 1979, but is today enjoying a new lease of life as a holiday destination thanks to its relaxing climate and proximity to some glorious hill country, where minority communities such as the Black H'mong and Red Dao (known locally as the 'montagnards') are famed for their traditional costumes.
Day 12
Hill tribe trek
Today you'll walk through villages belonging to the Tay, H'mong and Xa Pho minorities, staying the night in an White Tay settlement.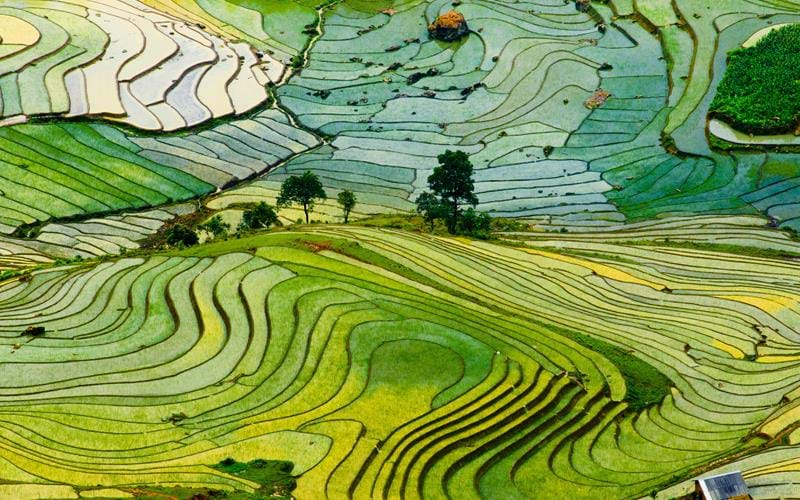 In the course of your route you'll follow a mixture of old paths and streambeds, traversing densely forested hillsides, rice terraces and the occasional suspension bridge to reach villages. Some sections follow the famous Ho Chi Minh trail, used during the war to supply resistance fighters. As you'll discover, each of the minorities adopt different forms of dress, with the most vibrant costumes being those of the H'mong, whose women are skilled embroiderers.
Day 13
Sapa
Your trek continues through a string of other minority villages, ending back in Sapa in the late afternoon. As with previous days, superb views line the route.
Day 14
Ha Giang
Drive north in the morning to the remote, mountainous Ha Giang region – another bastion for ethnic minority people, and the area many regards as the most thrillingly beautiful in all of Vietnam.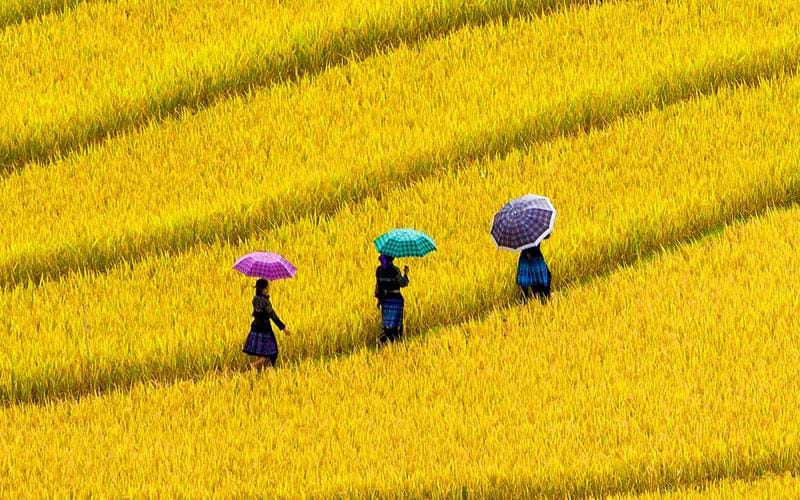 Road journeys in the district tend to be long and winding, but enthralling from start to finish. A mix of limestone outcrops and dramatic gorges interspersed by rice fields and orchards, the scenery ranks among the most spectacular anywhere in Southeast Asia, as you'll discover on your approach to Ha Giang town on the Lo (Blue) River. Local markets provide the best opportunities to meet its sumptuously attired ethnic minorities (the one in Ha Giang is held on Sundays), and to shop for the vividly patterned, hand-woven textiles and silver jewellery that are a speciality of the region.
Day 15
Dong Van
Continue to Dong Van in the morning for a one-night stay, stopping at market towns and minority villages en route.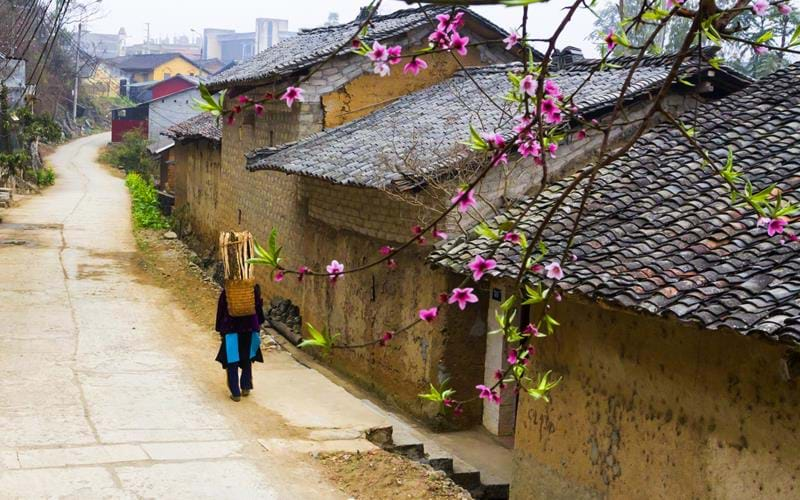 The landscape becomes a notch more spectacular as you head into the mountains north of Ha Giang, crossing Heaven's Gate pass and dropping down to the town of Tam Son, nestled at the foot of dozens of limestone hills over a carpet of rice terraces. Bamboo-lined river canyons usher you towards the Chinese border from here, passing through still more astonishing scenery as you veer east to Dong Van – a dusty frontier town with two colourful markets and a pretty old quarter hosting a night bazaar. Time permitting, you'll be able to make detours to H'mong villages off the main road, as well as to the Lung Cu Flag Pole, which is situated on top of Dragon Mountain at a superb viewpoint.
Day 16
Ba Be National Park
Your road trip continues through the most dramatic landscape of the journey, winding up at Meo Vac township and the Ba Be National Park, where you'll spend two nights.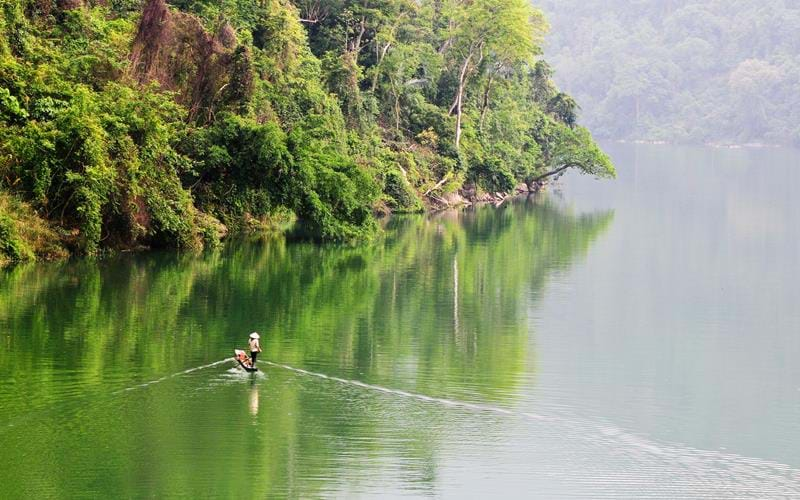 The most jaw-dropping scenery of the trip so far is revealed today from the top of the Ma Pi Leng Pass, approached via a sinuous road hewn from vast limestone cliffs above the Nho Que River. A large freshwater lake forms the focal point of Ba Be National Park. Hills dotted with ancient pines surge from the waters, providing sanctuary for a range of rare creatures, including the endangered Tonkin snub-nosed langur. Few visitors travel here outside the summer holiday season, ensuring a tranquil experience of this pristine area.
Day 17
Ba Be National Park
Spend the day exploring the park's astounding landscapes on foot with your guide. Excursion boats are also available for leisurely trips on the lake to hidden waterfalls, caves and minority villages.
Day 18
Hanoi
Travel back to Hanoi today. Arrive in time for a spot of last-minute souvenir shopping.
Day 19
Hanoi, UK
Fly back to the UK.
Tailor-made Tour

19 days from £4400 per person
What's included

✓   International flights from London
✓   17 nights accommodation
✓   All internal transportation and transfers
✓   English-speaking guides
✓   Breakfast daily
✓   Entrance fees to sites and monuments listed in tour itinerary
Places and Experiences in this tour
Plan your 2022 Adventures
With the world now largely open again, now is the time to begin planning your 2022 adventures in Asia. Our Travel Specialists are ready to take your call and discuss the adventure you have spent the last 2-years dreaming of.
Or call us on 0208 566 3739
TransIndus Brochures 2022
Join our mailing list