India 24.11.2014 James
Back in November 2013 I jumped at the chance to travel to India's least visited state, Arunachal Pradesh. Arriving from Darjeeling, my journey to the tiny village of Geku in the states Upper Siang region near the Chinese border took 54 hours. But hopefully such lengthy journeys will be a thing of the past as Arunachal Pradesh starts to open up ever more gradually.
Arunachal has become just the second of the seven sister states to gain train access to its capital. With plans for Rajdhani and Shatabdi premium express trains linking Delhi with the state capital Itanagar, you could even be travelling there in comfort. And the recent news that (despite its military connotations) an all weather border road will connect Tawang in the far north west of the state to its eastern border with China and Myanmar further increases the connectivity of this relatively unexplored land of beauty.
Tawang Valley and its Gompa are quite rightly the headline sights of a visit to Arunachal. The second largest monastery in Asia sits majestically at the end of this unspoilt deep ridged valley, conjuring up images of a James Hilton Shangri-La type settlement. From Bomdilla on national highway 229 you circumnavigate sheer valley drops and lush forests, turquoise tributaries, tiny, white beaches and snow covered peaks, (and lots of stalls selling momos and puri sabzi) until you reach the lake studded Sela pass at 4170 m.
After taking a few minutes to capture your breath and take in the staggeringly vast views that characterise the 'land of the dawn lit mountains' you descend the dramatic bends and rutted road to the towering Jang Falls and beginning of this timeless valley. Your gradual ascent through eternal Monpa settlements, past fluttering Buddhist prayer flags and giant pine forests only adds to its pristine beauty.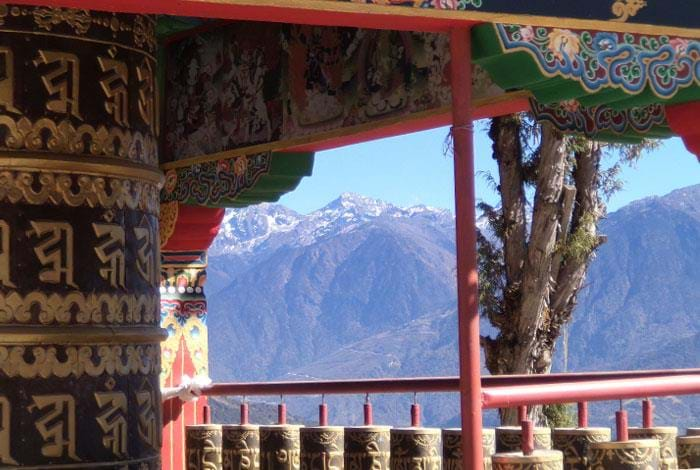 But unlike TransIndus clients who get to enjoy all this in a private, spacious 4x4 with an English speaking guide, I was squished as tightly as possible into a barely functioning Tata Sumo along with 9 local commuters forced to endure the 8 hour bumpy, slog of a journey. But it's the gradual improvement of travel links in the state that is making such bumpy journeys less frequent.
I came across such improvement on the 'highway' (a very loose definition) linking Pasighat, on the plains of the mighty Brahmaputra to Mechuka in the far north eastern reaches of the state, albeit in typically haphazard Indian style. Starting in the middle of this long and arduous road, construction had just begun around a sharp hairpin.  This stopped the traffic and made the eventual bypass far too unnecessarily nerve wracking.
Whilst the digger and crane sat perched above on mounds of dislodged soil, there was just about enough room for our vehicles wheels to brush the edge of the cliff as we crept round the potholed corner trying not to watch as loose rocks tumbled into the river below. As soon as we were clear the digger and crane got back to work, ready to haphazardly block more vehicles on this idle stretch of national highway.  It was almost as if we were the inconvenience for having the cheek to use the road.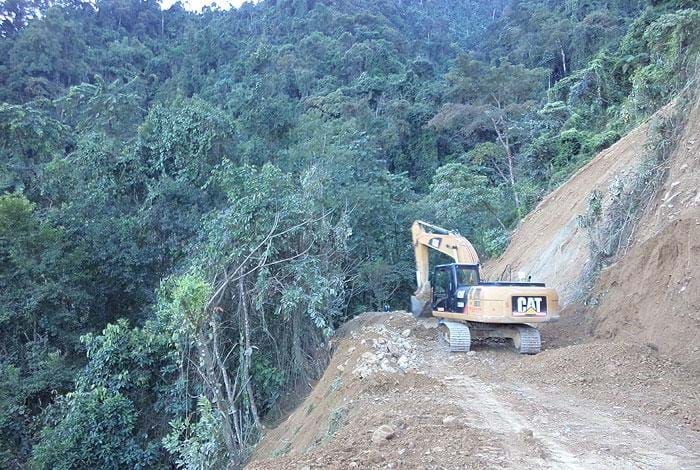 Geku, though more than made up for the poorly planned road construction. Set in the foreground of serrated snow capped mountains, the village straddles the valley side amongst dense, green jungle and golden terraced rice fields. The main tribe in the area is that of the Adi people.  Men carried machetes and rifles as a mark of pride. Much of the time was spent eating and socialising round the fire. They drank whisky at any time during the day. They ate copious amounts of barbequed meat.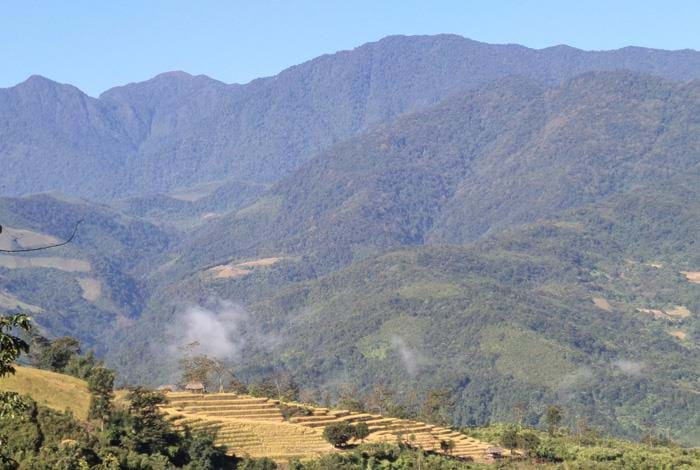 When night drew in they retreated into the 'smoke room' of the log house to relax around another fire as they discussed the day's events (or lack thereof). These were my type of people. I even managed to pick up a few words of Adi, amusing myself by using my limited knowledge on bemused locals. Most responded with initial shock and alarm, some even looked scared. But this eventually turned into haughty laughter and back slapping as the jovial barracking commenced.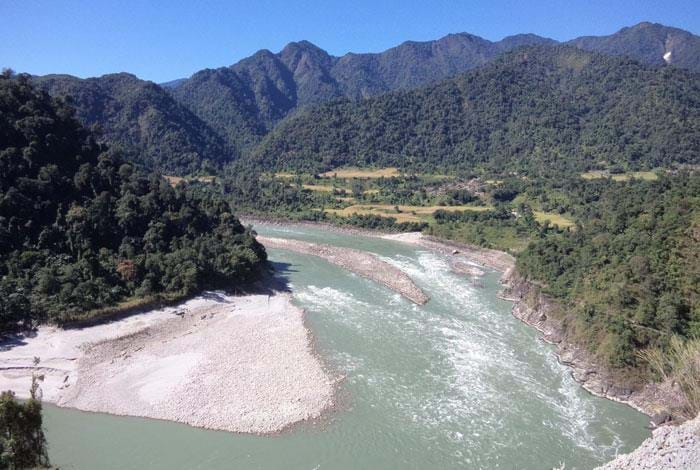 So if you want to get off the beaten track in India's least visited region, you'll be able to do so in more comfort.  And as an aside, this improvement will hopefully lead to more of the Border Road Organisations poetic and playful road safety signs being on display! But it's not just Arunachal Pradesh that is benefitting from better transport links. Comfortably, you'll be able to take in Assam's Kaziranga National Park to glimpse the one horned rhino, or Majuli Island, India's largest river island.
Then there's Nagaland, famed for its Hornbill festival and tribal culture, and the hill station of Shillong, Meghalaya for its awe inspiring waterfalls, lush green forestry and colonial era charm.  And I've barely mentioned the mighty Brahmaputra, which you can now explore on a new Pandaw cruise.