Bhutan 26.02.2015 Transindus
There are several different indices that measure happiness in different countries throughout the world. One of these is the Happy Planet Index (HPI), which has been in existence since 2006, and has seen Bhutan feature in a prominent place on many occasions. Coming within the top 20 repeatedly may seem good, but Bhutan takes happiness very seriously.
In fact it is the only country in the world that has its own Gross Happiness Commission in an attempt to measure quality of life and improve it. It is seen as a more holistic way to assess the progress of a nation than the more widely used gross national product (GDP).


Gross national happiness
The term gross national happiness originated in Bhutan, when in 1972 Jigme Singye Wangchuk became the fourth Dragon King of the country. It exemplified his dedication to building an economy based on culture and Buddhist principles and despite starting as a casual remark was turned into a guiding philosophy.


Indicators
While the philosophy of gross national happiness is seen as a guiding principle to many, there are also a number of indicators used to measure it. These are: economic, environmental, physical, mental, workplace, social and political wellness. It is only by taking all of these into consideration that the overall health happiness of the country can be decided.
Bhutan does all of this internally, but many of the happiness indices worldwide use similar indicators, which is why the country performs so well. This all seems very technical, but translates in reality into a fantastic place to live and also to visit.



The happiest place on earth
The reputation for being a happy nation has spread far and wide from Bhutan and this can be seen by visitors from the smiling faces of its citizens. Healthcare and education are both free to the Bhutanese and life expectancy has increased by a staggering 20 years since 1980. Add to this the 450 per cent uptick in per capita income and things are looking positive. This exemplifies a move forward for a country that is continuing to develop.


Tapping into Bhutan's happiness
It is up to you how you spend your time in Bhutan, but there are lots of ways in which you can enjoy this beautiful and happy country for yourself. Seeing how things are done differently in this corner of the eastern Himalayas may even change your outlook when you return home.


Incredible landscapes
It is not surprising that a country situated in the Himalayas and consisting of 60% untouched wilderness is a stunning place to visit. The majesty of the scenery and the peacefulness of the landscape will help to boost your own feeling of well-being.
Relatively few people travel to Bhutan to go trekking, which means many of the routes are quiet and you can take in the beauty uninterrupted. Camping overnight and emerging into wooded valleys and isolated plateau is the type of experience you will never forget.
Bhutan as a whole creates a very low level of pollution compared to most other countries, so the air, water and earth are naturally clean. Breathing in such purity will help to clear your mind of any troubles and make everyday working life feel a long way away.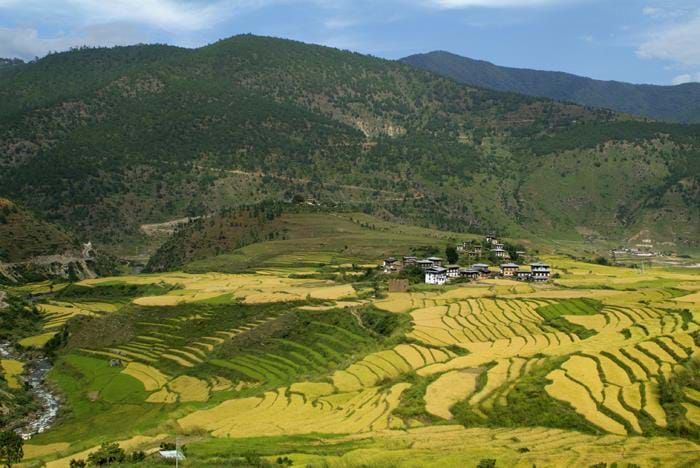 Living by Buddhist principles
The majority of Bhutan is Buddhist and living by the karma principle of this religion means that many people are happier and calmer. This can be seen in the friendly and relaxed way they approach visitors to their country and something that many travellers find welcoming.
To understand more about this religion and its importance in Bhutan, a visit to one of several monasteries in the nation is recommended. The much-photographed Taktsang Monastery sits high up in the mountains on the site of a cave once occupied by Guru Rinpoche, the founder of Buddhism in Bhutan and its views of the surrounding mountains and valleys will help you contemplate your place in the world.