Bhutan 14.03.2014 Transindus
If you're pondering taking a trip to Bhutan, it's well worth timing your adventure to coincide with the Paro Tsechu festival, which is one of the most vibrant in the entire country. Today, we're going to tell you all about what you can expect from it, as well as what you can do in the Paro Dzongkhag district. 

What is the Paro Tsechu festival? 
To understand Paro Tsechu, first we need to take a look at Tsechu - a religious festival held throughout the country. Typically held on the tenth day of a month (the month in question can vary from one place to the next), this festival celebrates the birthday of Guru Rimpoche, who brought Tibetan Buddhism to Bhutan. 
While individual Tshechus around the country may be celebrated at different times, they have a lot in common. For instance, they are always a time when communities come together to perform and watch a variety of religious rites - particularly mask dances. This is part of the reason experiencing a Tsechu is so great for visitors - this is when places come alive with dance and colour.
Paro Tsechu is one of the most popular in the country, and this year it will fall on April 11th to 15th. The celebrations here are centred on Paro Dzong, which is one of the most impressive examples of Bhutanese architecture. 
The first day of the festival will be marked with rituals held in the courtyard of Paro Dzong, while all of the other celebrations will be held on open ground. Throughout the festival, you'll be able to see costumed dancers perform a variety of dances and plays, which often tell stories from Guru Rinpoche's life. The last day of the festival is particularly worth attending, as this is when you can see the giant Thongdrol (a name for an embroidered or painted religious picture) of the guru unfurled in all its glory. At more than 18 sq m in size, it really is an incredible sight.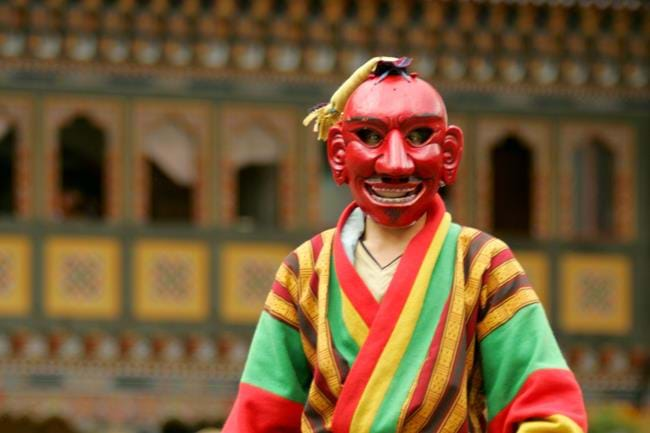 About Paro Dzongkhag 
It's well worth staying in the region of Paro Dzongkhag for a while either before or after the festival, largely because the Paro valley is widely considered to be one of the prettiest places in the whole of Bhutan. Arriving here, you'll be greeted with views of terraced fields, forested hills and charming apple orchards. 
Plus, as well as being a beautiful place, Paro is also an excellent area for trekking. So, if you're keen to get off the beaten track, slot a few hikes into your itinerary. Among the best-known is the Druk Path trek, which will take you across the eastern valley wall.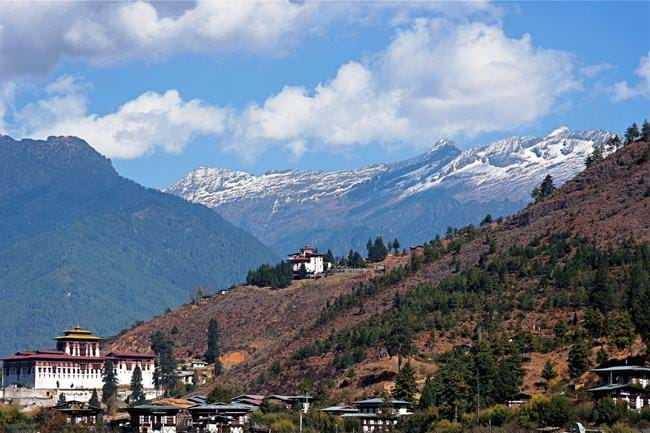 Paro Dzong 
As we've already mentioned, Paro Dzong is where the Paro Tsechu celebrations take place, and it's also among the most impressive Bhutanese buildings you're likely to come across. And in case you're new to Bhutanese architecture, a dzong is a kind of fortress found both here and in Tibet. Typically, it compromises temples, courtyards and a mixture of monks' accommodation and offices for local officials.
Paro Dzong is an incredibly imposing building that, thanks to its hillside location, is visible from almost everywhere in Paro valley. Originally built in 1644, it was damaged by fire in 1907, though thanks to restoration work still looks the part today. And indeed, it continues to fulfil its functions, being home to several hundred monks and acting as offices for local officials. Its original purpose, though, was to defend the valley from Tibet.
Among the things you can see here are the courtyard where the Paro Tsechu celebrations are held, as well as the monastic quarter and the kunre (which is best described as the monks' classroom). While you're here, pop down to Nyamai Zam, which is a traditional wooden bridge that crosses the Paro Chhu. Strolling around this area is one of the best places to get scenic shots of the valley and, as this district is so picturesque, doing so is definitely well worth it.