Uzbekistan 28.03.2018 David Abram
Traditional crafts have seen a revival in post-Soviet Uzbekistan, and most of the best work is produced by women.
I'm standing in front of one of the former 'trading domes' of Bukhara – intersections in the ancient silk road city's covered bazaar where handicrafts of many kinds are offered for sale. Forming vibrant splashes of colour against the peeling plaster walls and stone-paved floors, stalls laden with ornately embroidered skullcaps, shaggy shepherd's hats, silk scarves and kilims are being browsed by tourists from as far afield as Seoul and Frankfurt.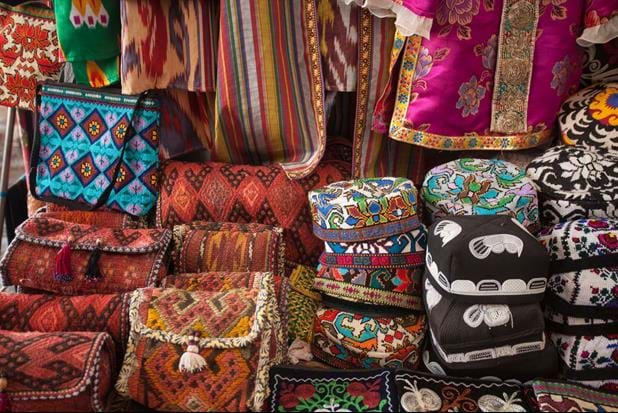 This dazzling display of local creativity is a legacy of Amir Timur's time. The great warlord once expanded his empire across a vast swath of Asia in the 15th century, and brought back talented craftsmen and artists from the countries he conquered to adorn his own capital.
The flowering of Uzbek arts endured long after the demise of the Silk Road, but stalled abruptly during the clamp down on local culture in the Soviet era. It has, however, seen a dramatic renaissance since independence, galvanized by the growing market among foreign visitors for authentic, hand-made Uzbek souvenirs.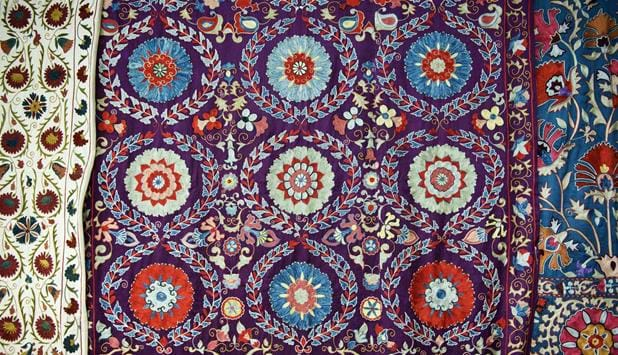 Suzani
An art form that remained remarkably resilient to the cultural suppression of Soviet times is Uzbek embroidery, or 'suzani'. Brides-to-be traditionally stitched ornate, multi-coloured wall hangings, bed spreads, table covers and prayer mats for their dowries, using beautiful silk threads. Although few women today continue the tradition (preferring to purchase factory-made goods in markets as bridal goods) the form is still thriving – only now suzani tends to me made for money.
The clue to its origins lies in the name: 'suzan' is Farsi for 'needle'. The first exponents of the form were brought as slaves to Samarkand following Timur's conquest of Persia in the 1380s, and the motifs most commonly used – tulips, carnations, leaves, vines and above all, pomegranate flowers – echo those you find on carpets made in Tabriz, or in the murals and mosaics of Safavid Isfahan.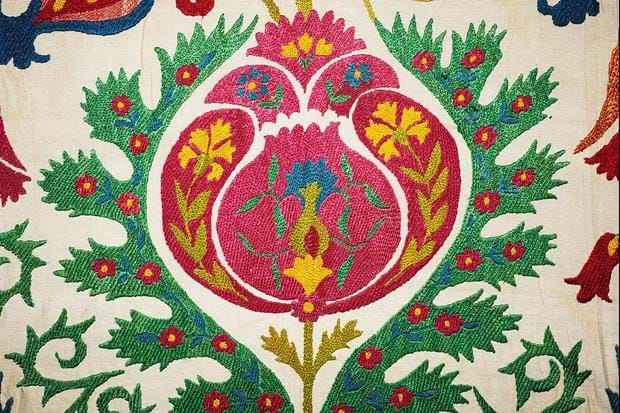 One of the best places to see suzani being made today is Khiva, in the far west of Uzbekistan. At the foot of the soaring Juma minaret, in the hall of a former Islamic madrassa deep in the old walled city, you can watch a dozen women hard at work creating exquisite cushion covers and wall hangings. Derived from natural sources such as madder, cochineal and indigo, the colours are deep and rich, and form a wonderful counterpoint to those of the surrounding desert.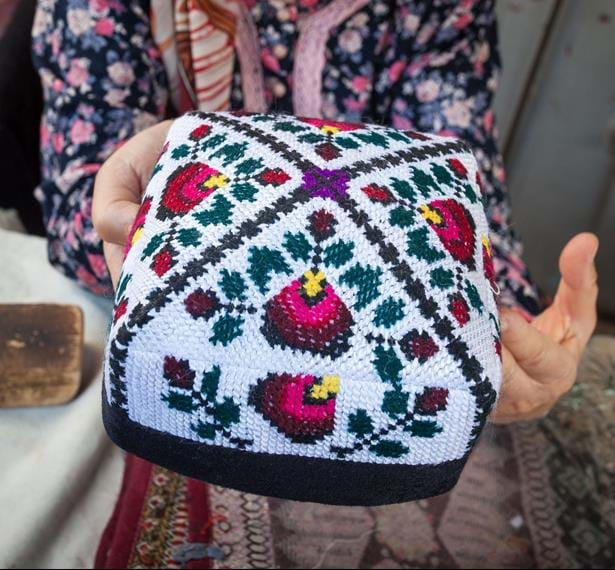 Skull Caps
Another source of fine suzanis is the famous Khudjum Embroidery Factory, in the town of Shakrisabz, an hour's drive south of Samarkand. Around 1,600 women work in the complex producing all manner of Uzbek crafts – notably the beautifully embroidered skullcaps you see on sale in the bazaars. Hours of painstaking work are lavished on these colourful caps, where the traditional 'iroki' cross-stitch is used to create beautiful geometric shapes.

Carpets
Similar motifs and patterns to those found in suzani are commonly deployed in Uzbek carpets. Most of those woven in the country today are made of silk, and are of an exceptionally high quality – with a price tag to match! It can take a couple of women six months or more to weave one rug. The final cost depends on the 'knot count' (how dense the weave is), and of course the size.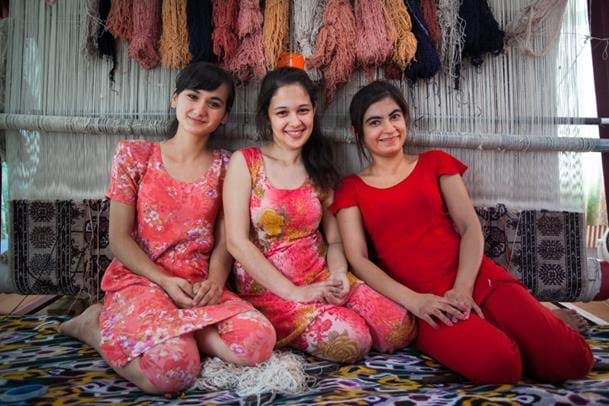 Our favourite carpet workshop in Uzbekistan lies down a quiet street in Samarkand. Set up by Haji Muhammad Ewaz Badghisi, the 'Samarkand-Bukhara Silk Carpet Workshop' is cheerful, welcoming place staffed almost exclusively by women. The staff are all paid well, work a maximum of 40 hours per week, and clearly enjoy the lively, chatty atmosphere of the workshop!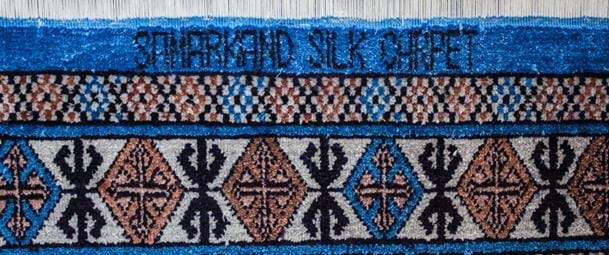 We encourage all our clients to visit, if only to marvel at the shimmering colours on display in the showroom on the ground floor, when hundreds of valuable silk carpets are on sale (see for yourself in our video on Uzbekistan, which features a segment shot in the carpet workshop).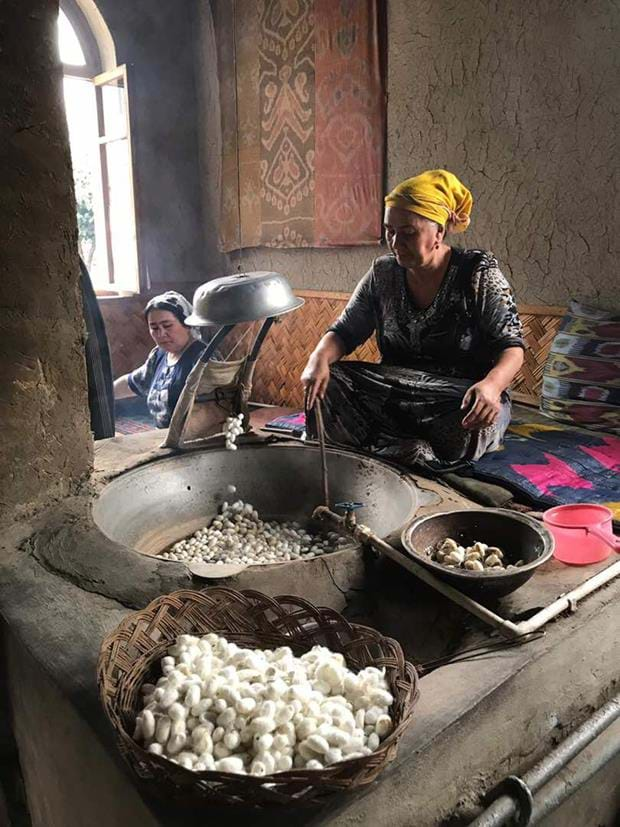 Silk Weaving
As in China and India, the state has a monopoly over silk production in Uzbekistan, although the bulk of the production and weaving is carried out in small, family-run businesses. A fine example, and one we love to take our clients to, is the Yogdorlik Silk Workshop near the town of Margilan in the Feragana Valley. Here, around 85 workers are employed (the majority of them women) to extract, spin, dye, wind and weave the silk into a variety of sumptuous garments.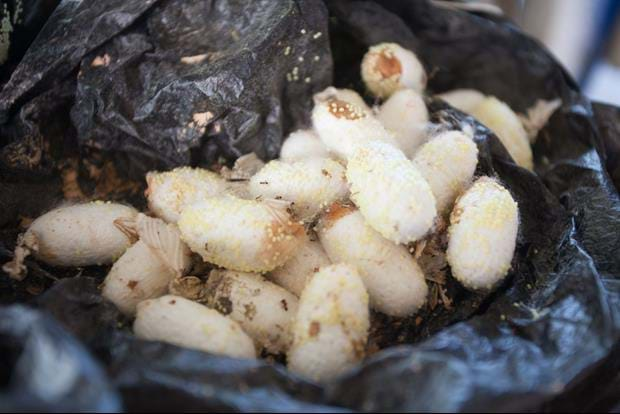 You can see the whole process from start to finish, beginning with the room where the cocoons are boiled to extract the silk thread, and ending in the wonderful shop, where beautiful 'khan-atlas', 'adras', 'shoyi' and other styles of woven silk are offered for sale.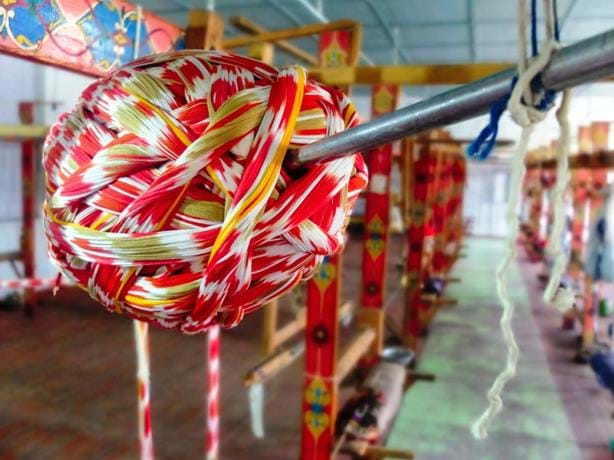 ______________________________
If you've been inspired by this piece and would like to visit some of these places, take a look at some of our Group Tours and Tailor-Made Holiday options below:
For more information on any of the places and experiences mentioned here, contact one of our specialist consultants, who will be happy to advise you on how to build them them into an inspirational holiday.
Contact us at:   [email protected]

Telephone us on:  020 8566 3739

If calling from the USA use our Toll free number: 1-866-615-1815