Vietnam 25.06.2015 David Abram
The Mekong and Red River provide gateways to some of the most compelling landscapes and cultural centres in Southeast Asia, from the ruins of ancient Angkor and great capitals such as Phnom Penh, to the vibrant market towns of the Mekong Delta and hill tribe villages of the Tonkinese Alps. Moreover, thanks to a handful of impressive cruise companies, it's possible to savour this extraordinary richness in a style not seen since the colonial era.
A small fleet of elegant, triple-decker steamers and Rhine-style cruisers ply the Mekong and Red Rivers, pausing at the world-famous sights along the way, as well as a host of lesser-visited monuments, craft settlements and religious sites. Travelling via the water yields a completely different perspective on the region. Life along Indochina's great rivers tends to be lived at a slower, more organic pace. Fishing, farming and religious rituals are often based around them, and a floating boutique hotel makes a wonderful base from which to enjoy the constantly changing tableaux. All of the luxury cruisers have breezy observation decks and partially shaded sun terraces, where you can savour the views from the comfort of a Jacuzzi or plunge pool.
You'll also have plenty of opportunity to step off the boat and engage with local life along the river banks. Varied programmes of excursions are laid on for guests during the day, and music and dance recitals, or lectures by experts on the region, are offered as after-dinner entertainment.
Here's a rundown of our favourite cruise vessels operating in the region.


River Cruising on the Mekong
Winding for 2,703mi (4,350km) from the Tibetan Plateau to its delta in southern Vietnam, the Mekong ranks among Asia's mightiest rivers. It's also one of the most beautiful, passing through an extraordinary gamut of landscapes, ranging from forested hills lining the Laos border to the lush, rice-rich and orchard-filled flatlands of the Delta itself. Great seasonal fluctuations in flow, coupled with the presence of major rapids and waterfalls along some sections, have made the river notoriously difficult to navigate. But long stretches remain open for much or all of the year – notably those in Vietnam and Cambodia.
Ho Chi Minh City (HCMC), or 'Saigon' as it used to be known, is the most common point of departure for cruises, which typically run northwards for around a week, crossing the Cambodian border and continuing on to Phnom Penh and Siem Reap, spring board for the ruins of Angkor. You can also opt for shorter trips from Saigon to Phnom Penh, from Phnom Penh to Siem Reap, or either stretch in reverse, depending on your desired itinerary.

Heritage Line: Jayavarman & Jahan 
Heritage Line runs cruises of various lengths on the Mekong, from the classic 7-night trip from HCMC (Saigon) to Siem Reap, to shorter river stages or Delta tours of 2 or 3 nights, aboard its two luxury cruisers, the Jayavarman and Jahan. The design of the former takes its cue from the steamers of the French Indochina era, incorporating suave Art Deco touches, blended with exquisite Khmer woodcarvings and Vietnamese lacquerwork.
It holds 27 staterooms in total, along with a 1930s-inspired bar and dining hall. Conceived as a floating Maharaja's palace, the Jahan recreates the feel of old India, as the Viceroy and Vicereine might have experienced it on trips upcountry at the end of the 19th century. Its 26 staterooms, which come in 5 different categories, are spread over two decks; all have private balconies and external windows. The upper deck holds the largest pool of any Mekong cruiser.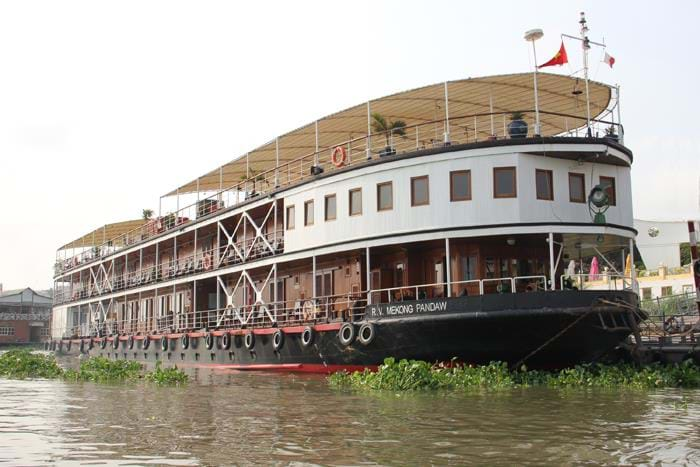 Pandaw
The Scottish-run Pandaw company spearheaded river cruising in the region and continue to set the benchmark with its fleet of replica 1920s steamers. Polished brass and teak enhance the romantic colonial feel of the vessels, whose beautiful air-conditioned staterooms (twin or double) are lined with varnished wood and enlivened with silk bedspreads and bolsters. Kick back in the cocktail bar or lounge on the semi-shaded sun deck, long drink in hand, as the river views unfold. 
Routes range from the standard 7-day cruise from HCMC (Saigon) to Siem Reap to shorter 3- or 4-night trips between the major cities. In addition, Pandaw offers an extended, 11-day 'Mekong Undiscovered' tour pressing on as far upriver as Kratie (home to a pod of rare Irrawaddy), and Kampong Cham.


View our 8-day Pandaw cruise itinerary from Saigon to Siem Reap

Song Xanh Sampans
One of the defining features of the waterways interlacing the Mekong Delta are the song xanh river boats, which were formerly used to transport produce around the region, but are nowadays more often deployed as floating guest houses, inspired by similar craft plying the backwaters of Kerala. Spanned by a woven palm-leaf canopy, the en-suite bedrooms are beautifully furnished.
Guests are cared for by liveried crews who serve meals and drinks on board, and act as guides as you glide through waterways thick with water hyacinth and lotus blooms, pausing now and again to visit villages, local craft workshops and markets. You can opt for an overnight cruise, or for one lasting two nights, taking you to lesser frequented corners of the Delta.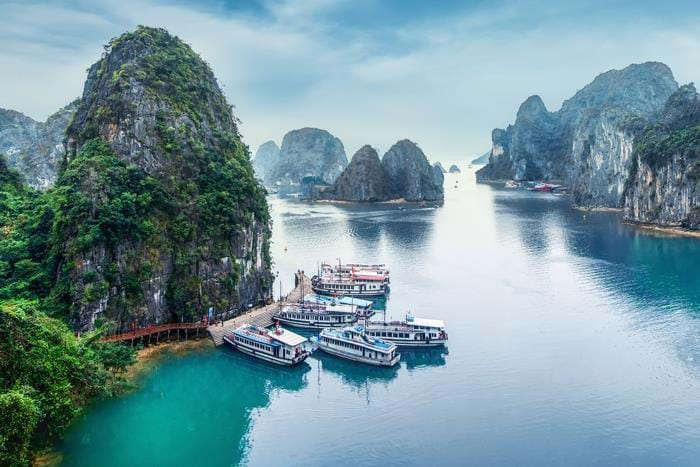 Cruising on the Red River
A recent addition to Indochina's cruise scene has been Pandaw's ground-breaking 10-day trip along the Vietnam's Red River. Starting with a tour of Halong Bay's iconic islets and limestone caves, it heads inland for a day's sightseeing around Hanoi, before proceeding up the Red River proper, via a succession of rarely visited villages where you can watch ceramicists, folk painters and silk weavers at work. Elsewhere, the elegant Pandaw Angkor pauses in the Tonkinese Alps around Sapa to visit settlements of ethnic minority groups such as the Muon, Black Tai and White Tai, and some astonishing Buddhist temples dating from the 8th–11th centuries.
Taking guests to some of the region's true backwater gems, this journey is unique. Pandaw's famous attention to detail also ensures you'll enjoy five-star levels of comfort and service throughout.


View our 11-day Pandaw Red River cruise from Halong Bay