Group Tour

13 days from £3845 per person
Places Visited:
Tehran, Shiraz, Yazd, Meybod, Naein, Isfahan, Kashan, Nushabad, Qom, Tehran
Please Note: We are not currently offering any departures to Iran, following a change in the FCO Travel Advice on 10th January 2020.  TransIndus has happily operated tours to Iran for many years, with our clients having greatly enjoyed learning about its rich culture and fascinating history and have repeatedly commented on the warm friendliness of the Iranian locals they've met along the way. We sincerely hope to be able to resume our tours soon and look forward to the day when we can show more of our clients the wonders of Iran. In the interim, TransIndus offers tours to many other countries across the Middle East & Central Asia and we hope one of these other destinations will satisfy your traveller's curiosity. Please do get in touch with our team of travel specialists for further advice.
Experience the very best Iran has to offer on our Special Group Tour. Combining all the big-hitting sights with many less well-known destinations, from market towns to mountain villages, our signature journey will help you get under the skin of this fascinating, much-misunderstood country.
A fully escorted tour from the UK plus a local expert, English-speaking guide. We have scoured Iran over recent years in search of its most compelling monuments, crafts centres and bazaars. The result is, we think you'll agree, an itinerary offering exceptional variety, at a highly competitive price.
Marvel at the splendour of ancient Persepolis

Shop for silk carpets in the bazaars of Shiraz under the guidance of experts

Discover beautiful, turquoise-domed tombs amid the mud-walled alleyways of Yazd

Experience the astonishing Safavid architecture of Isfahan

Learn about traditional Iranian crafts with local artisans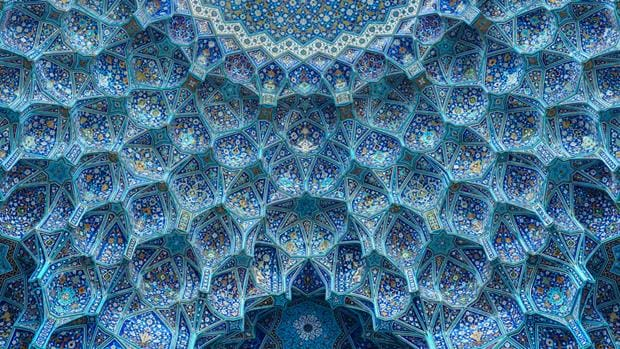 Is this the tour for you?
The trip builds on the great success of our previous Iran journeys, which proved among the highlights of our group tour programme last year. It is designed primarily with British nationals in mind. Unlike our European cousins, we Brits still have to be accompanied wherever we travel in Iran by a government-approved guide, who must also stay at the same hotel – which can prove prohibitively expensive for luxury, tailor-made journeys. Spreading the cost over a small group, however, makes exploring this wonderful country a lot more affordable. It's also fun to swap stories, compare purchases and enjoy the company of like-minded travellers at the end of a day's sightseeing. Many of our clients stay in touch with friends made on our group tours and choose to take TransIndus trips together in the years after.
If you've recently been inspired by Joanna Lumley's 'Silk Road' adventures, have longed to see Persepolis or Isfahan, or are merely eager to experience an exciting, new and totally unique country, then read on . . .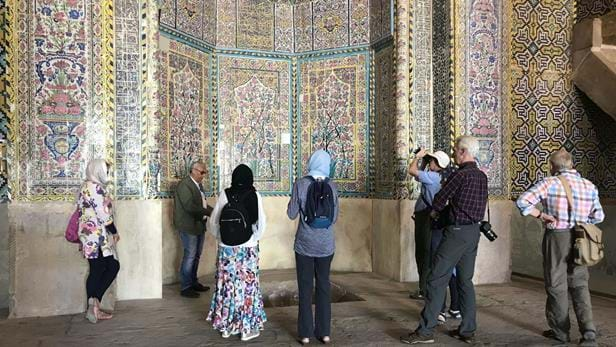 WHAT OUR CLIENTS SAY:
Our Iran tours have been some of the most popular we've ever run, but don't believe us; see what our past clients have to say!
"(The) trip to Iran was fantastic!  All the sights we saw were beautiful, fascinating historically and/or interesting culturally. It was the last stop in Qom at the shrine of Fatima that perhaps made the most impression on me – the beauty of the place, the fact that it was full of life and the statements made by our Mullah guide. This has to be one of our best or the best holiday we have had: the beautiful architecture, the wealth of history, the culture and the friendly people. "
Sue Sullman
"We had a great holiday, saw so many sights - a fascination for the soul and mind. Everything went off seamlessly. We especially enjoyed Persepolis and the tombs of Xerxes, Darius and Cyrus, they were absolutely stunning."
Jerry and Anne O'Hagan
"My first impression of Persepolis was of awe at the vastness and power that must have been present to be able to command the building of the sites. The legends live on in the monuments. It was quite an experience and the people were delightful."
Richard Broomhead
"For me, the people of Iran were the standout and most enjoyable aspect, they were just extraordinary, so relatable and self-aware. Like the rest of the world, they are moving more and more into the modern age."
Graham Dickinson
"We couldn't have wished for a more amenable and jolly group and hope that friendships forged on our journey continue to flourish. Thank you also, Amrit for enticing us in the first place and for the work of both yourself and Transindus in organising (absolutely) everything!"
Lorna Broom-Berry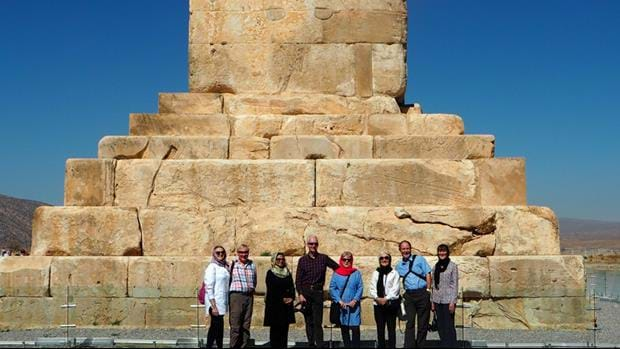 Our Route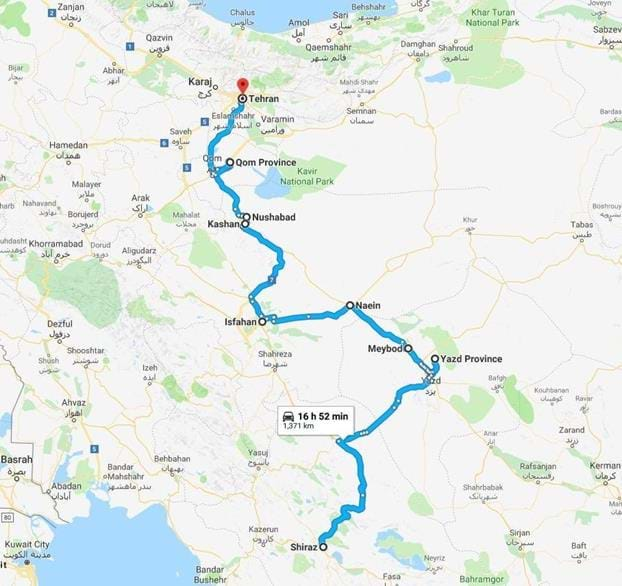 From the capital, Tehran, our tour starts with a short flight south to the city of Shiraz, then progresses overland via Persepolis to the spectacular desert oasis of Yazd – surely one of the most exotic skylines in the Middle East. Isfahan is next and, for most, the highlight of the trip. The mosques on Imam Square are worth the fare alone!
As well as the famous sights, our itinerary will also take in some lesser known gems, where we'll be able to experience local life in small towns and rural villages. None of the stages are excessively long, and the scenery slipping past the window – ranging from huge, snow-capped peaks to shimmering deserts and verdant pistachio fields – is unremittingly beautiful.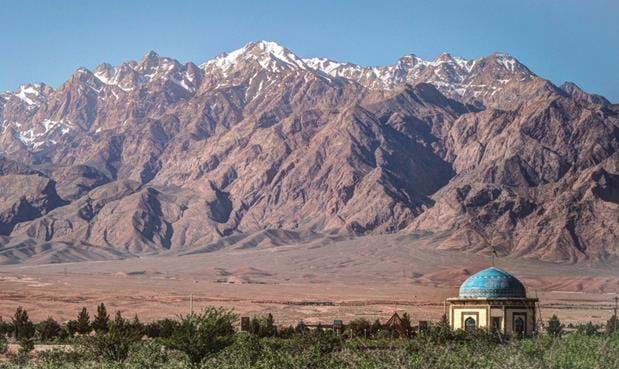 Why visit in April?
This is the period just after Nowruz, the Persian New Year, and is perfect in terms of weather, with warm, sunny days and cool nights the norm. Spring flowers and fruit trees are in full bloom, while the country's public spaces have all had a deep clean over the spring holidays.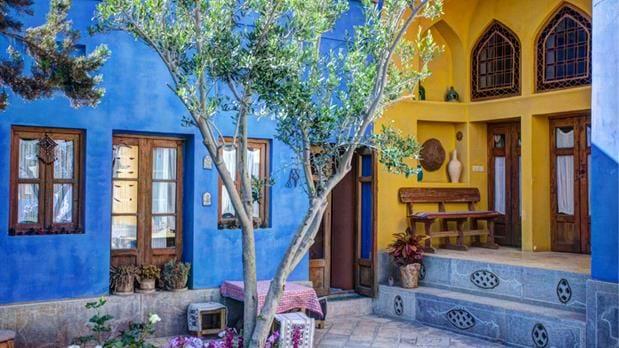 How about the accommodation?
On this tour, we stay in a mix of heritage boutique hotels, and Western-style three- and four-stars. We've road tested all the accommodation and are confident each place we've chosen offers great levels of comfort, service and value for money.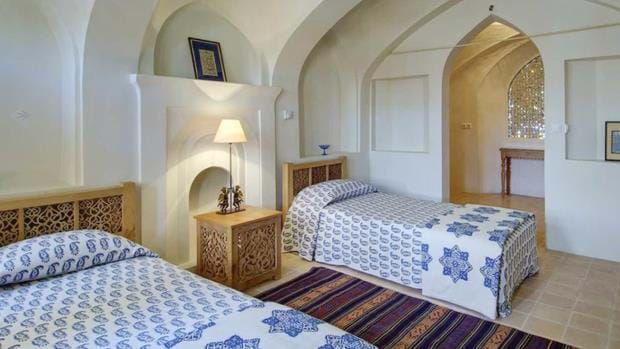 What is the food like?
Most restaurants serve a mix of succulent lamb and chicken kebabs, delicately spiced with cumin and saffron, and accompanied side dishes of vegetables and yoghurt or bean-based dips. Vegetarians are well catered for: the Iranians do wonderful things with aubergines! Freshly baked bread is also an important part of every meal. And the sweet treats, flavoured with honey, rose water and cardamom, are sublime!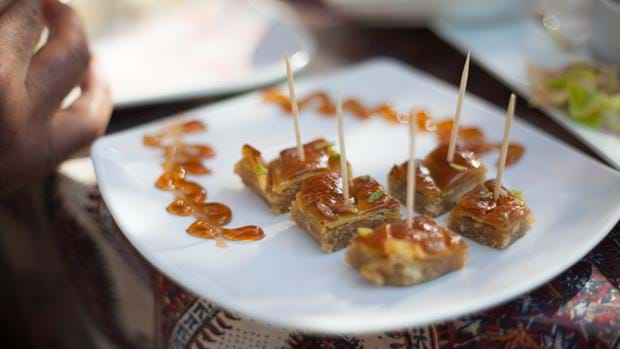 Will there be guides?
Yes. You will be accompanied throughout journey by an English-speaking guide on every TransIndus group tour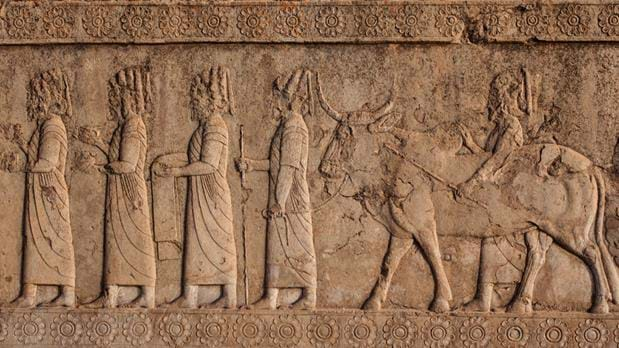 Holiday Types
Cultural Tours
Travel Arrangements
Group Size

6 -16 people

Internal Travel

Arrival & departure transfers. Internal travel by road and air

Accompanying Guide

A local English-speaking tour guide + Amrit Singh as tour leader

Accommodation

12 nights in a mix of 4 & 5 star Hotels & Boutique properties

Meal Plan

Full board
Itinerary for Wonders of Iran
Day 1
Tehran
On arrival in Tehran, we'll be met by our driver and guide and transferred to our hotel. Having rested after the journey, we'll then head off for lunch at a traditional restaurant, followed by a tour of the UNESCO-listed Golestan Palace.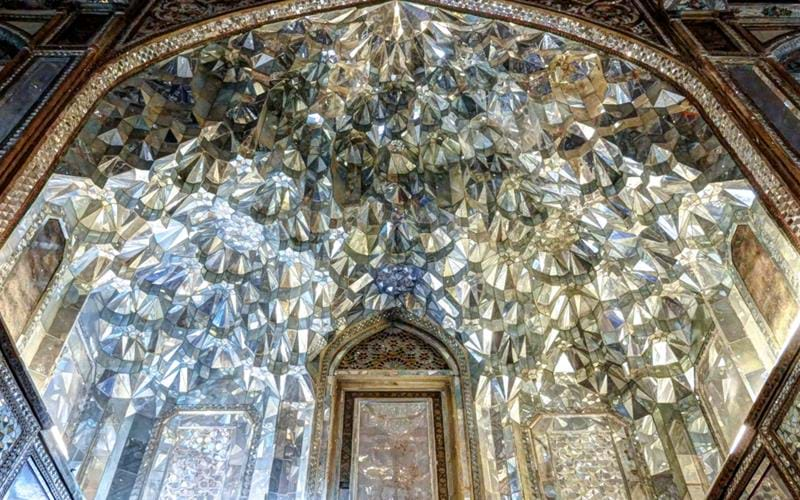 Golestan was the seat of the Qajar Dynasty, who ruled Iran for over a century between 1794 and 1925. The complex consists of ornately tiled palaces, ceremonial halls, apartments and gardens ranged around a sunny central courtyard, where you can sip saffron tea and eat delicious Iranian pastries at a café in the shade of citrus and pomegranate trees – the perfect foil for any residual jet lag. Afterwards, admire the breathtaking 'Hall of Mirrors', with its sparkling 'stalactite-style' arches, and splendid 17th-century marble throne, one of the great national treasures of Iran.
Accommodation Options
Day 2
Tehran, Shiraz
After an early checkout, visit the National Museum and adjacent Islamic Museum, then enjoy lunch in a local restaurant before transferring to the airport for an afternoon flight to Shiraz.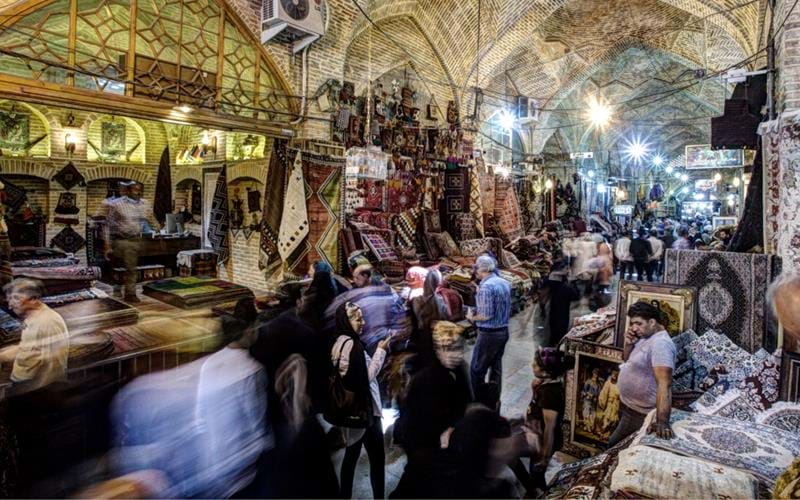 Shiraz is the capital of southern Iran and has a completely different feel from Tehran and the north. The climate is warmer here, and there is lots more period architecture to enjoy, including a wonderfully atmospheric covered market, whose long, straight streets are lined with arcaded shops selling traditional Shirazi carpets, spices and metalware. We'll probably fortify ourselves for a stint of shopping with coffee on Vakil Square, one of the city's more atmospheric meeting places.
Accommodation Options
Day 3
Shiraz
A full day's sightseeing today includes a visit to the Nasir-al Molk Mosque. After lunch at a traditional Shirazi restaurant in the market district, we'll visit the Eram Garden, followed by the tomb of the great Sufi poet, Hafez – one of the country's best loved monuments.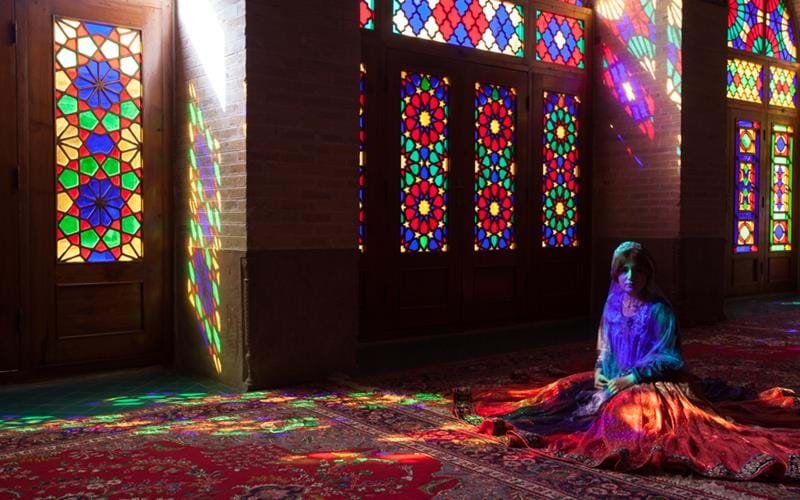 Famed over the centuries for its nightingales, poetry and wine, Shiraz has traditionally been regarded Iran's cultural capital. Two of Persia's greatest Sufi poets are entombed here, while the famously laid-back locals are proud of their refined parks and gardens, dating from the Zand era of the late 18th century.
After the tombs of the poets, the city's most iconic sight is the mosque of Nasir al-Molk, whose arched and vaulted reception rooms are bathed in light from multi-coloured stained-glass windows – one of the gems of 19th century Qajar architecture.
Another unmissable sight is the Naranjestan-e Ghavam, an exquisite 19th-century pavilion set amid some of the country's loveliest formal gardens. Its basement holds a small but excellent museum, and a shop selling high-quality miniature paintings on camel bone.
Day 4
Shiraz
Today's tour of the Achaemenid ruins north of Shiraz begins with a visit to the tombs at Naqsh-e Rostam, before lunch at a stylish, 1930s hotel opposite the entrance to Persepolis which we'll explore with the help of an expert local guide in the afternoon.
Persepolis was the seat of the Achaemenid empire, whose power peaked under Darius I and his son, Xerxes I, but was ultimately brought to a violent halt when Alexander the Great sacked the city in 330BC. Today, its ruins – an assemblage of colossal pillared palaces, throne halls, reliefs, gateways, platforms and tombs fashioned from pale-grey marble – form one of the world's greatest archaeological treasures. Given the monumental scale of the site, it is amazing to think the great capital lay completely forgotten until the 1930s when excavation work revealed its full extent.
In the morning, before visiting Persepolis, we'll fit in a visit to the extraordinary necropolis at nearby Naqsh-e Rustam, where a collection of reliefs dating from the Achaemenid, Sassanid and Elamite periods are carved into a cliff face – one of the most awe-inspiring sights of ancient Asia. Burial site of the Persian kings, including Xerxes and Darius II, the tombs were spared destruction by Alexander and have survived the corrosive effects of two-millennia of weather to a remarkable extent. A low hill opposite them provides a marvellous bird's eye view of the site.
Day 5
Shiraz, Yazd
We drive over the mountains to Yazd today, pausing en route at the archaeological site of Pasagadae to see the Tomb of Cyrus the Great.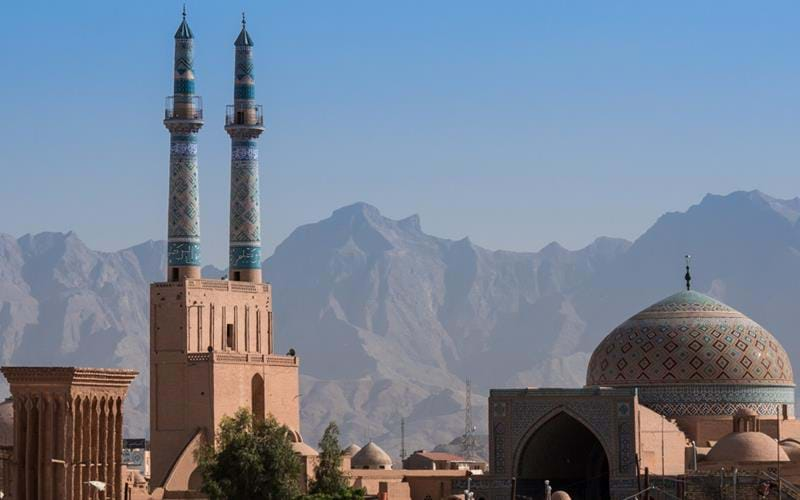 Pasargadae was the Achaemenid capital before the foundation of Persepolis, and is famous today as the site of the marble tomb of Cyrus the Great (558–530BC), which sits on a high, stepped plinth on a river plain near the hilltop fortress of Toll e-Takht. Overlooked by most visitors, the monument has retained the lonely serenity enjoyed by Ernst Herzfeld, Aurel Stein and the other archeologists who first explored the region in the early 20th century. Nearby, the dishevelled ruins of a palace, formal gardens and a temple are virtually all that remains of a once splendid city, which lay deserted after the Achaemenid departure for Persepolis.
Among the oldest continuously inhabited urban centres in the world, Yazd is one of Iran's great highlights due to its dramatic desert setting and well preserved old town – a maze of traditional mud brick and adobe alleys and buildings sprouting a forest of distinctive wind towers, or 'bagdirs'.
Between visits to its exotic religious monuments, we'll visit some of the silk and carpet workshops for which the city is renowned. Views over the distinctive skyline are particularly breath-taking at sunset time.
Accommodation Options
Day 6
Yazd
Spend time relaxing in the grounds of our gorgeous hotel before mopping up the remainder of the city's sights: the Zoroastrian Fire Temple, Towers of Silence, and Amri Chakhmaq complex of 15th-and 16th-century shrines and baths. In the afternoon we'll visit beautiful Dowlatabad Gardens, and visit the famous Jameh Masjed mosque before winding through the mud-walled lanes of the old quarter to the Art Café for the city's best sunset view.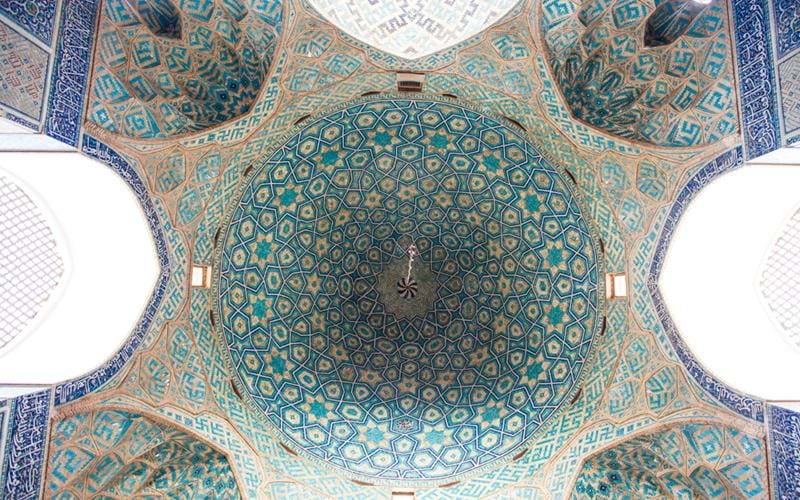 During the Arab invasions of the 7th century, many Zoroastrians fled to Yazd from neighbouring provinces to escape persecution, later paying a special levy to continue practising their faith freely. To this day, the city retains a sizeable Zoroastrian minority and many pre-Islamic monuments survive, including ancient towers on the outskirts where the dead were disposed of by leaving their bodies to be consumed by vultures. Most of the interest in Yazd, however, lies in its superb Muslim architecture, particularly the Jameh Masjed mosque in the old city, which retains some magnificent mosaic and a formidable pair of glazed-tile minarets
Tonight we'll dine at dine in the magical gardens of our hotel, with live Iranian music to add to the atmosphere. Afterwards, those who wish may accompany Amrit to a traditional Yazdi gym, or 'Zhor Khanna', to watch a display of 'dumbbell twirling' (the translation dismally fails to do justice to this extraordinary spectacle, which is  accompanied by a traditional Persian band).
Day 7
Yazd, Meybod, Naein, Isfahan
Today's drive to Isfahan is broken with stops at Meybod, site of an ancient Narenj Castle and well preserved caravanserai, and Naein, where we'll look around one of the country's oldest mosques, along with a 2,000-year-old adobe citadel. The group will arrive in Isfahan around late afternoon, in time for a sunset stroll along the banks of the Zayande River and its floodlit Safavid bridges.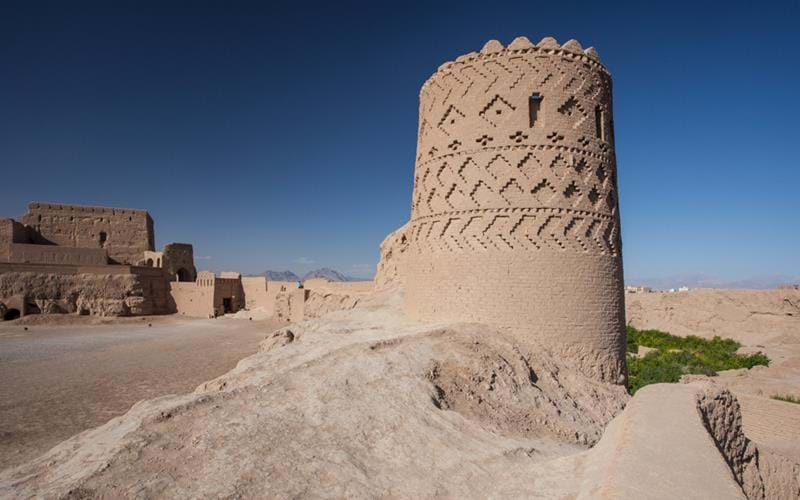 A major desert city with a population of over 75,000, Meybod offers a compelling stopover on the journey from Yazd. Its standout monument is Narenj Castle – a pile of eroded adobe ramparts and bastions lording it in spectacular fashion over the surrounding courtyard houses and lanes. Next to it stands one of our favourite restaurants in the country, where the group will dine on succulent saffron kebabs marinated in walnut and pomegranate juice. The dining hall occupies a wing of an old, beautifully restored caravanserai. Other sections hold stalls selling colourful local weaving products and carpets.
At the start of the old Safavid pilgrimage route across the desert to Mashhad, Naien ranks among the most picturesque small towns in Iran. Its most distinctive building is an ancient mosque with an unusual octagonal minaret, one of the first to be erected in Persia after the Arab invasion.
Accommodation Options
Day 8
Isfahan
A full day's sightseeing in Isfahan today kicks off with a visit to the medieval Jameh Masjed ('Friday Mosque'), followed by the richly decorated Armenian Vank Cathedral across the river in New Jolfa. After a tour of the nearby Music Museum, we explore the magnificent Chehel Sotoun Palace and gardens, and then enjoy a short lecture on the history of Persian carpet making.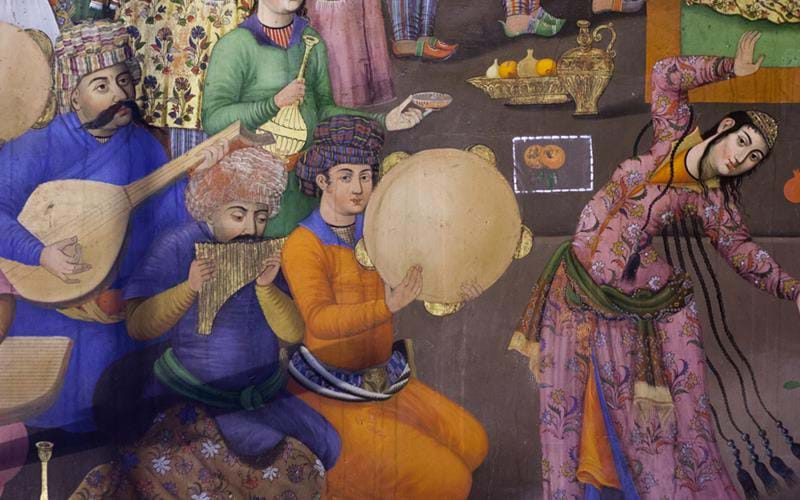 Isfahan is so packed with astonishing sights it can sometimes be hard to know where to start. But for those with an eye for history, the Jameh Masjed is the obvious first port of call. It was founded well before the Safavid era, sometime in the Umayyad era of the 9th century, and was added to for over a thousand years.
The Vank Cathedral, on the south side of the city, dates from the era of Shah Abbas the Great, who built it for the Armenian Christians resident in Isfahan, most of whom he'd forcibly resettled in order to give his new capital an economic boost. A vivid sense of how successful and opulent Safavid rule was to become is to revealed on a visit to the sumptuous Chehel Sotoun palace, where the Sha used to host lavish banquets, with performances of music, poetry and dance for visiting dignitaries – as depicted in a fabulous set of murals on its interior walls.
Day 9
Isfahan
Another full day of sightseeing today, this time focussing primarily on the iconic Safavid buildings around Naqsh-e Jahan Square, followed by visits to artisans workshops.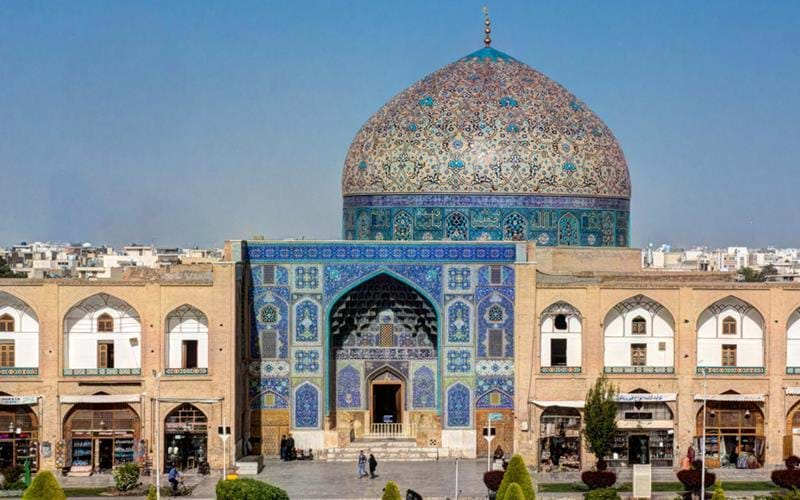 Our second day in Isfahan concentrates on the majestic ensemble of Safavid buildings on  Naqsh-e Jahan (Imam) Square, the focal point of the 17-century Safavid city. We'll aim to get an early start in order to see Lotfollah Mosque before the large bus parties descend. Representing the pinnacle of Safavid architecture, its ornately embellished interior was reserved for the exclusive use of the royal family, unlike the larger and grander Shah Masjed on the south side of the piazza, which was open to all.
In the afternoon, after lunch at a traditional restaurant off the main square, we'll explore the ornately decorated Ali Qapu Palace, from where Shah Abbas used to watch polo matches and parades in, before visiting workshops dedicated to jewellery making, enamelling and miniature painting.
Day 10
Isfahan, Kashan
Today's journey will be broken with a detour into the mountains to visit a village called Abyaneh, renowned for its striking red-earth architecture. Just over an hour's drive further north, Kashan, with its bumper crop of fine old mansions.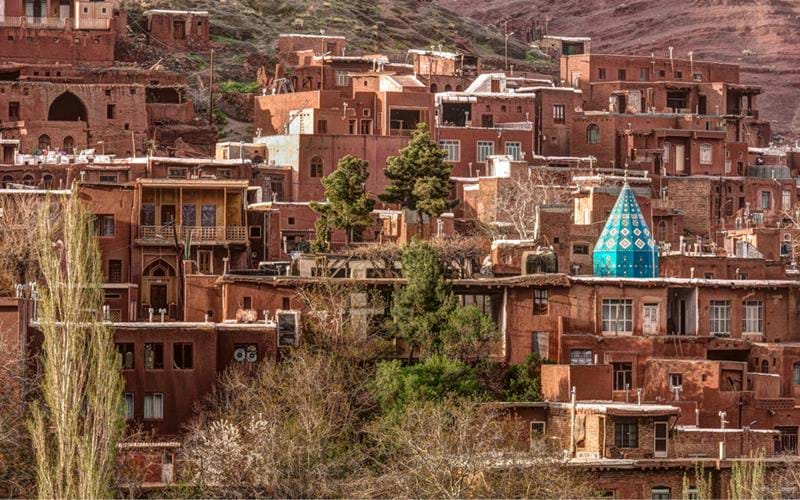 Set against its backdrop of rugged desert mountains, with a foreground of poplar trees and fruit orchards, the red-brick village of Abyaneh forms one of the signature sights of central Iran. The spread of cuboid houses, which spill in dramatic fashion down the sides of a low hill, grew up after the Arab invasions of the 8th century when Zoroastrian refugees settled here, and retains a unique feel.
Locals speak a dialect with close resemblance to ancient Persian tongues, while instead of the usual black 'chador', the women wear white headscarves enlivened with bright floral patterns. You'll receive a particularly warm welcome; expect invitations to take tea in a local home as you're walking around the narrow, cobbled streets.
Accommodation Options
Day 11
Kashan, Nushabad
Spend the day exploring Kashan's Bagh-e Fin Gardens, period houses, rose water outlets and 400-year-old bazaars. In the afternoon, we'll visit the underground city of Nushabad.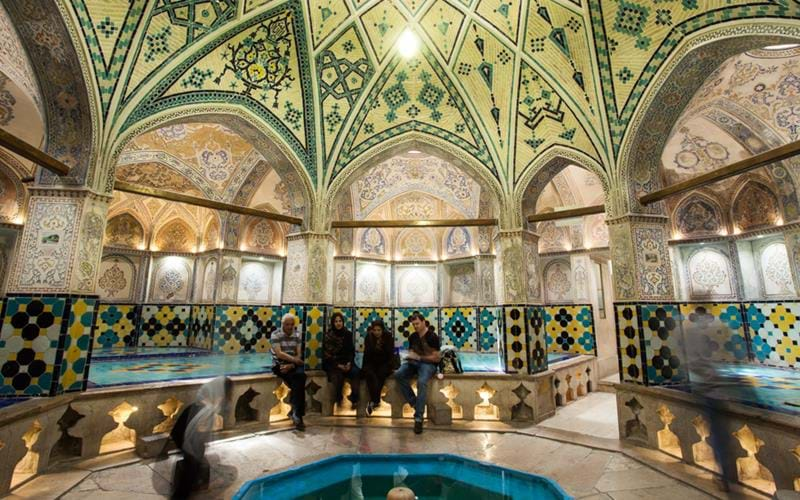 Kashan is renowned both for its crop of grand, 19th-century residences (known in Farsi as 'khanehs'), and as the home of Iran's finest Persian garden, the UNESCO-listed Bagh-e Fin. The latter was laid out in the late 16th century, and centres on char-bagh-style crossed rills fed with water supplied from the nearby mountains by an ancient qanat system of underground pipes. Nestled under the trees are exquisite pavilions are exquisite pavilions, a historic bathouse and tomb.
The town's bazaar is the oldest in Iran, and a fantastic place for observing craftsmen at work, particularly knife makers. You'll also see embroiders, carpet weavers and purveyors of rose petal products, from tea to perfume.
The underground city of Nushabad, just outside Kashan, was excavated in the 12th century as a response to the Mongol invasions. A network of tunnels, accessed through wells in local people's houses, were cut to a depth of 18 metres and supplied by air vents and freshwater springs, enabling their inhabitants to remain hidden for up to 10 days at a stretch – long enough to evade the attentions of any marauding army.  Amazingly, their existence was completely forgotten about until a few years ago when the passages were rediscovered by chance. The site makes a fascinating excursion from Kashan, hinting at the apocalyptic mood that prevailed in the era of Genghis Khan.
Day 12
Kashan, Qom, Tehran
There will be time in the morning for a spot of souvenir shopping before continuing north towards Tehran. The route skirts the city of Qom, home to the shrine of Fatima El Masuma, one of the country's most important religious sites. The vibrant yet staunchly traditional, devotional atmosphere forms a striking contrast to that of the Ibis Hotel at Tehran's international airport, where we'll spend the night before catching our flight back to the UK.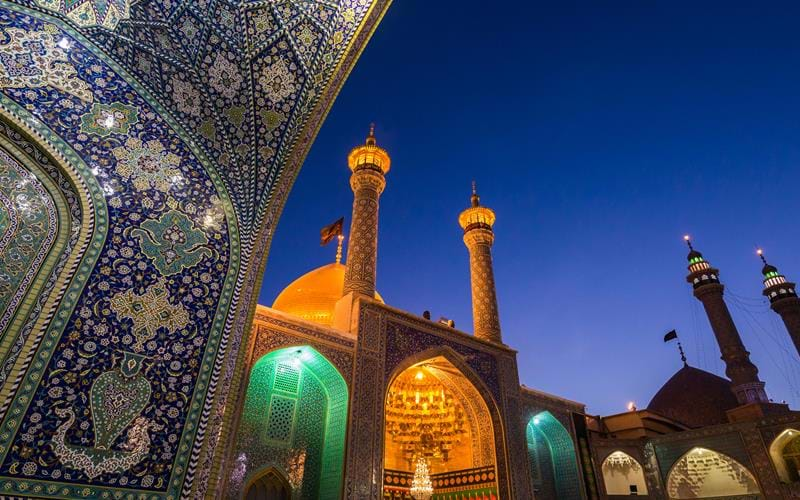 The second most sacred place in Iran after Mashhad, Qom lies a few hours' drive southwest of Tehran and is revered by Shia Muslims as the site of Fatima's shrine, the Hazrat-e Ma'sumeh, whose golden dome and twin minarets tower over the city. Foreign women must wear full chadors to enter (provided free of charge). Our groups often site this as among the highlights of the trip, not least because of the charming, English-speaking clerics who act as guides and happily answers questions about the site, and Shia Islam in general.
Accommodation Options
Day 13
Tehran, London
The transfer by bus to the departure tflight via Turkey or the Middle East. We'll arrive back in the UK by early evening.
Group Tour

13 days from £3845 per person
What's included
✓   Accommodation for 12 nights on twin-share 
✓   Arrival & departure transfers. Internal travel by road and air

✓   The services of a tour leader to and from the UK
✓   A local English-speaking tour guide + a UK escort
✓   Entrance fees at all monuments listed in the itinerary 
✓   Meal Plan: Full Board, including Breakfast, Lunch, Dinner
✓   International Flights: We will be happy to organise international flights departing Heathrow on Turkish Air, in economy or business class at a supplementary cost. Flight duration 6 hours.

tour prices for Wonders of Iran
| | | | | |
| --- | --- | --- | --- | --- |
| DEPARTURE DATE | PRICE PER PERSON | SINGLE ROOM supplement | AVAILABILITY | |
Make an enquiry
Places and Experiences in this tour
What Our Clients Say About Us
Start thinking about your next holiday
Whilst we stay at home, there is no better time to start thinking about your next holiday. Our Travel Specialists are ready to start planning your dream trip whether that is for some winter sun or a 2021 holiday. We don't need to confirm dates or lock-in deposits, let's just get the conversation going.
Or call us on 07947 761 237
TransIndus Brochures 2020
Join our mailing list