Tailor-made Tour

15 days from £4075 per person
Places Visited:
Ulaanbaatar, Amarbayasgalant Khiid, Bulgan, Lake Khovsgol, Terkhiin Tsagaan Lake, Tsenkher Hot Springs, Orkhon Valley, Tuvkhun Khiid, Ogii Lake, Khustain Nuruu National Park
Travel to one of the last truly wild corners of the planet on this two-week tour covering the highlights of north and central Mongolia. Your trip starts with three days exploring the monasteries and museums of the capital, Ulaanbaatar, before commencing your journey across the great grasslands. First halt is at one of the country's most remote and beautiful Buddhist monasteries, where you'll spend a night in a Mongolian ger (yurt). Located near hilltop shrines, waterfalls and hot springs, yurt camps provide bases for the remainder of the tour as you travel to and from Lake Khovsgol, in the far north, where you'll have a rare opportunity to visit an encampment of Tsaatan reindeer herders – an experience of a lifetime.
Holiday Types
Cultural Tours Walks, Hikes and Rides
Suggested itinerary
Day 1
UK
Fly overnight from the UK to Ulaanbaatar on an indirect flight.
Day 2
Ulaanbaatar
On arrival in Ulaanbaatar, you'll be met at the airport by your TransIndus guide, who will escort you to your hotel. Spend the remainder of the day recovering from your journey, perhaps venturing out to Naran Tuul Market later for a taste of local life.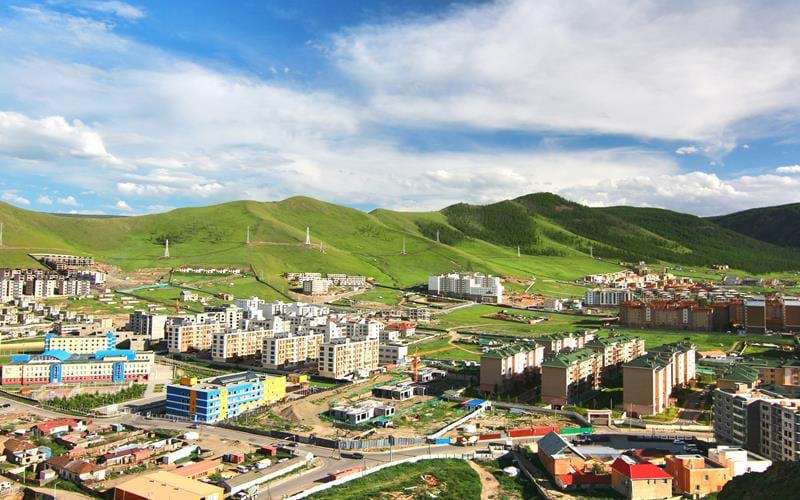 As an introduction to Mongolia, Naran Tuul Market (aka 'the Black Market') is hard to beat. Traditional horse tack, carpets, crafts, painted furniture for gers (yurts) and local costume – including the button-down, knee-length Mongolian huruum jackets, wrestling belts and hats trimmed with fox fur – are its mainstay. Your guide will also show you the stalls where city dwellers buys their auspicious blue prayer scarves and incense. Afterwards, head for one of the cheerful Modern Nomads restaurants in the city to sample their famous 'Mongolian Barbeque' – a stylish and hygienic introduction to local cuisine.
Day 3
Ulaanbaatar
A full day's sightseeing in the capital starts with a morning ascent of Zaisan Hill, which yields a superb panoramic view over the city, followed by a tour of the national museum, with its world-class collection of dinosaur fossils.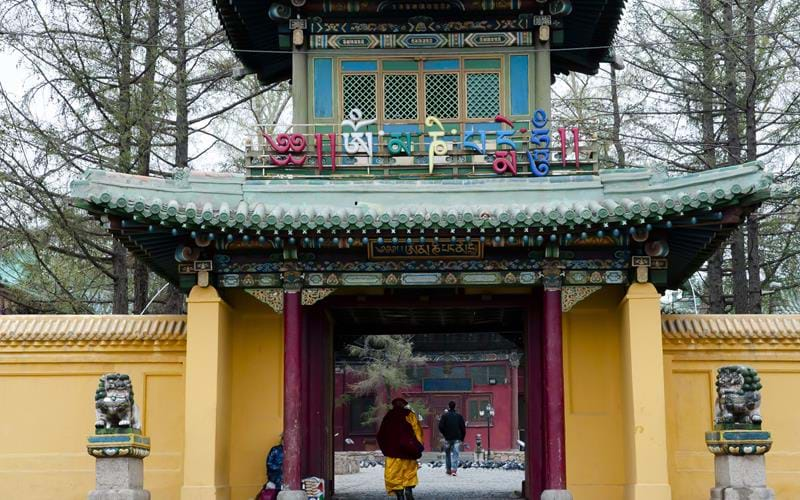 After lunch, visit the Gandan Khiid monastery, which houses a sublime 26-metre, burnished copper statue of Avalokitesvara; the Winter Palace at Bogd Khan, a beautiful antique, Tibetan-style residence where the emperor used to pass the cold season; and the Choijin Lama Temple, former seat of the state Oracle.  For an expansive view over the capital, you might also wish scale Zaisan Hill, on the south side of the city, where a USSR-funded war memorial surveys an impressive sweep of suburbs and steppe – a great spot for sunset.
Day 4
Ulaanbaatar
The focus of an easy excursion out of the city today is the giant, silver-metal equestrian statue of Mongolia's national hero, Genghis Khan, which presides over a dramatic sweep of grassland and mountains to the east of the capital.
Day 5
Amarbayasgalant Khiid
After breakfast join your guide to begin a long drive across the great grasslands of northern Mongolia to Amarbayasgalant Khiid, one of the most beautifully situated and revered Buddhist monasteries in the country.
Amarbayasgalant Khiid is associated with the legendary monk Zanazabar, who died here in the early 18th century. It occupies a dramatic spot surrounded by mountains and rolling steppe, best appreciated from the shrine on the ridge just behind the complex. Tonight, you'll spend your first night on the road under canvas in a traditional Mongolian ger close to the monastery.
Day 6
Bulgan
Before breakfast, climb up to the ridgetop again to admire the surrounding landscape in the light of early morning. Take an auspicious blue scarf (available at the monastery) to leave as an offering for good luck on the travels ahead. Then continue with your journey over the steppes of Bulgan Province.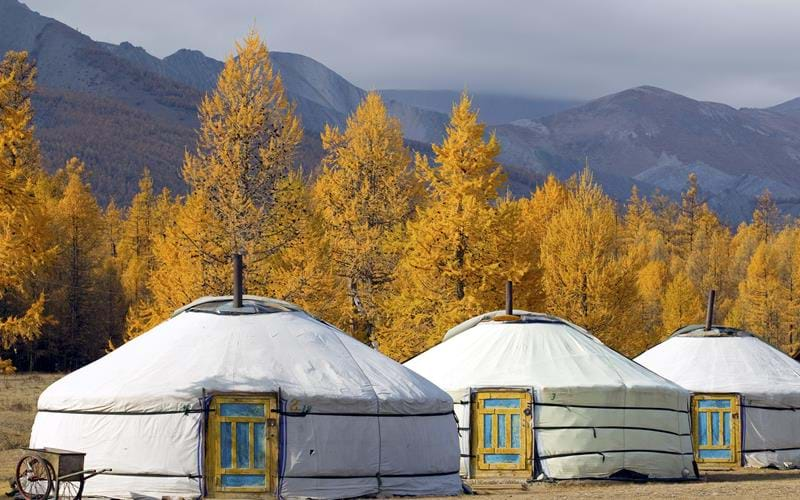 Your tour continues in a northwesterly direction on day 6, traversing Bulgan Province, a region of dense pine forest alternating with open pastureland grazed by more than a million animals in summer. Once again, you'll be overnighting in a ger camp in the middle of nowhere – great for star gazing!
Day 7
Lake Khovsgol
Another long day's drive brings you to Lake Khovsgol, in Mongolia's far north, where you'll spend two nights camped in a ger near the water's edge.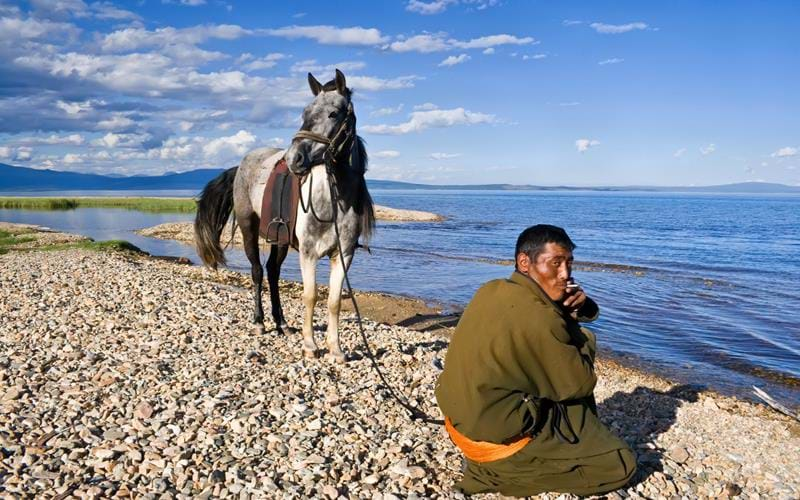 Camp, fish for salmon and sturgeon, and ride horses around the shores of. Over 85 miles (135km) long and 260 metres deep, Lake Khovsgol – or 'Khovsgol Nuur' –  is among the largest bodies of freshwater in the world and forms the focal point of a magnificent national park where ibex, elk, wolf, wolverine, bears and sable are all protected. In the summer, a steady flow of visitors ventures up to its remote shores to camp, fish for salmon and sturgeon and ride horses into the vast wilderness stretching towards the Siberian border.
Day 8
Lake Khovsgol
Make an excursion today into the taiga to visit a family of nomadic reindeer herders, the Tsaatan.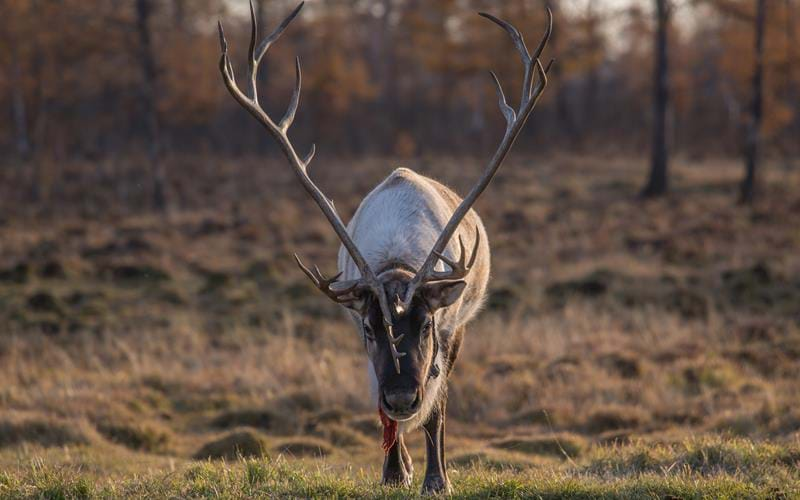 To the west of Khovsgol Nuur, the empty Darkhad Depression is the homeland of Mongolia's last reindeer herders, the Tsaatan: 44 families still live in the traditional nomadic way around this pine-speckled plain, moving five or six times each year between camps at different altitudes. They inhabit conical, tepee-style tents called ortz, which are made from birch bark, animal hides, bones and wood. You'll have lunch beside a wild, remote lake before returning to camp.
Day 9
Terkhiin Tsagaan Lake
You will be driven to beautiful Terkhiin Tsagaan Lake today, in the Khangai Mountains of central Mongolia.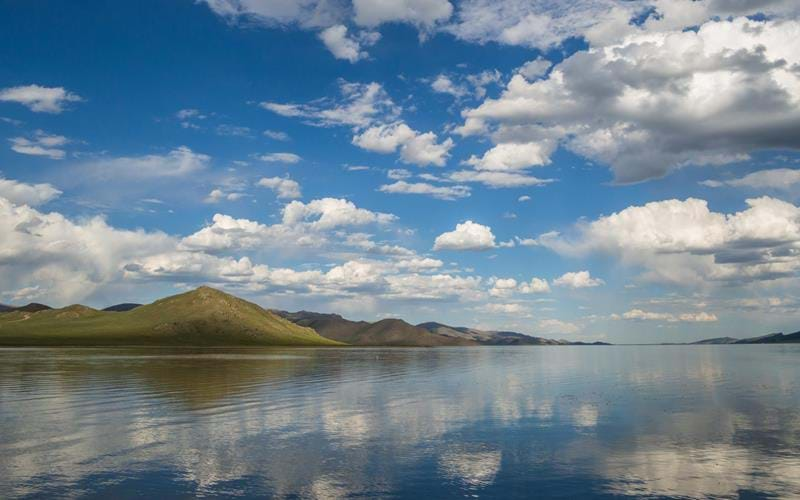 Deep in the heart of the Khargai Mountains lies this exquisitely beautiful freshwater lake, formed millions of years ago when lava flows blocked the Suman River, a tributary of the Chuluut. The best views over Terkhiin Tsagaan Nuur (literally 'Great White Lake') and its epic hinterland are to be had from the rim of an extinct volcanic crater at the eastern end of the lake – the Khorgo. Yurt camps strung along the northern shore provide idyllic bases from which to ride on horseback into the surrounding grassland.
Day 10
Tsenkher Hot Springs
A scenic day's drive takes you back to the grasslands of central Mongolia today. You'll spend the night at a ger camp near the famous springs at Tsenkher, where hot, sulphurous water bubbles in to bathing tubs – the perfect antidote for travel weariness.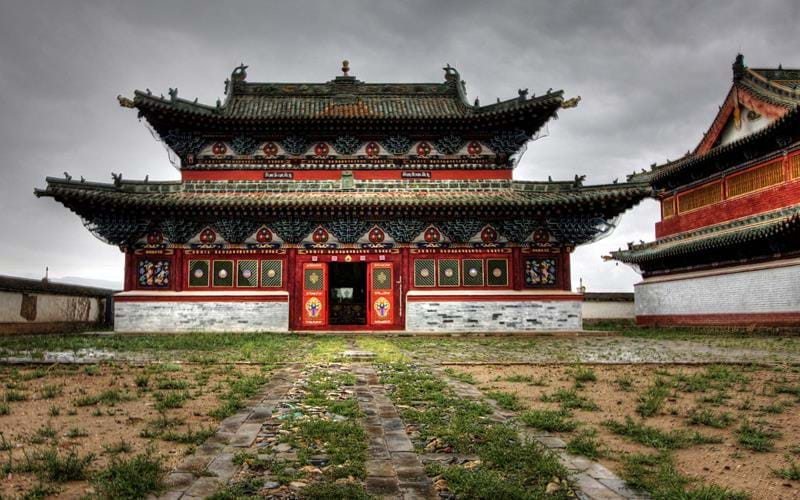 You'll arrive at camp in time to pay a visit to the nearby Zayan Gegeen monastery, founded in the 17th century, and home to over a thousand monks before it was closed during the Stalinist purges of the 1930s. The views from the buildings over the surrounding grasslands are fabulous.
Day 11
Orkhon Valley
The dramatic Orkhon Valley is the target of today's drive. Visit Erdene Zuu monastery – a pilgrimage place of great importance for Mongolians – before visiting Ulaan Tsutgalan, a dramatic, 20-metre waterfall.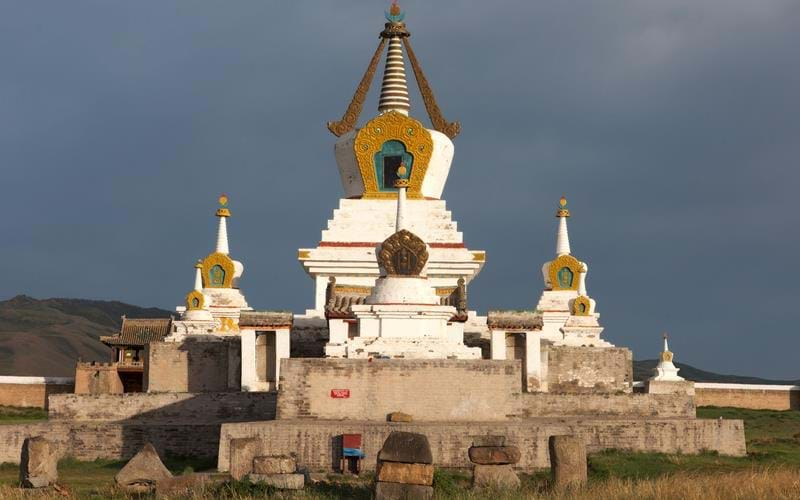 The dramatic Orkha Valley in central Mongolia, where the foothills of the Khangai Mountains peter into the steppes, served as the site of the Mongol capital before it moved to Peking in 1264. The region's Turkic rulers believed their right to rule derived from the sacred forest-mountain, Otuken, in whose shadow the tribes used to make their summer capitals. Dressed stone from the site was used to construct a splendid Tibetan-style monastery, Erdene Zuu, which still stands, having been restored since its destruction in 1939 by the Communist regime. Only a few of the 64 original shrines survive, along with the massive, stupa-studded perimeter wall, but it's still a wonderfully romantic spot.
Day 12
Tuvkhun Khiid
A return to the high mountains adds a different flavour to the eleventh day of your trip, as you drive west to the site of the legendary Tuvkhun Monastery, where one of the founding fathers of Mongolian Buddhism, the artist-monk Zanazabar, spent most of his life.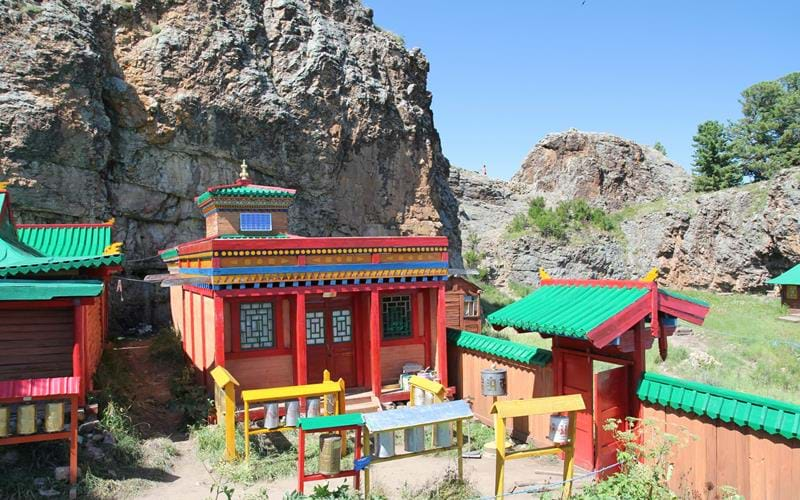 Like an eagle's eerie, Tuvkhun Khiid sits at an elevated site among some crags, facing a splendid sweep of forest and undulating steppe. You'll spend the night lower down the mountain in a beautifully situated ger camp.
Day 13
Lake Ogii
The adventure continues with another long drive, this time due east to Ogii Lake in Arkhangai Province – a renowned birding hotspot.
In summer rare species of wildfowl, including cape barren goose, spoonbill and Dalmatian pelican congregate on this wild lake. Your night halt is in a ger camp on the shore.
Day 14
Khustain Nuruu
Travel to Khustain Nuruu National Park today to see the famous herd of wild Przewalki's horses. The journey to it from Lake Ogii follows mostly high-spec roads – a relief after the terrain you'll have traversed over the previous ten days!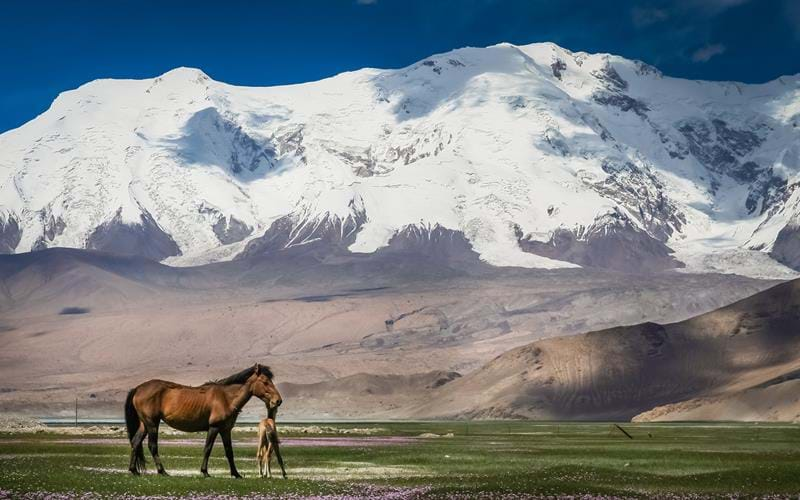 Przewalskii's horse, or takhi in the local language, is unique on the Mongolian steppe for never having been domesticated. By the mid-1960s it was on the brink of extinction, with numbers down to less than a dozen. Only thanks to a concerted rescue programme did it survive, and at Khustain you can enjoy the heart-warming spectacle of a healthy herd roaming free against a backdrop of wild, rock-studded grassland. The reserve holds around 200 horses – a herd of 40 bachelor stallions, and the rest in family groups of females (known as 'harems') accompanied by one dominant male.
Day 15
Ulaanbaatar, UK
After breakfast, it's time to say goodbye to Mongolia as you head to Ulaanbaatar airport with your guide to catch your return flight to the UK.
Tailor-made Tour

15 days from £4075 per person
What's included

✓   International flights from the UK
✓   13 nights accommodation
✓   All internal transportation and transfers
✓   English-speaking guides
✓   Breakfast daily, lunch on day 3
✓   Entrance fees to sites and monuments listed in tour itinerary
Places and Experiences in this tour
What Our Clients Say About Us
Start thinking about your next holiday
Whilst we stay at home, there is no better time to start thinking about your next holiday. Our Travel Specialists are ready to start planning your dream trip whether that is for some winter sun or a 2021 holiday. We don't need to confirm dates or lock-in deposits, let's just get the conversation going.
Or call us on 020 8566 3739
TransIndus Brochures 2020
Join our mailing list