Tailor-made Tour

20 days from £5300 per person
Places Visited:
Yangon, Mawlamyine, Hpa-an, Kyaiktiyo, Bagan, Nat Ma Taung, Mount Victoria, Mindat, Inle Lake
Cycling and walking trips to remote monuments, minority villages and wild mountain summits feature prominently on this adventure-filled, 20-day tour. If you are the kind of traveller who likes to get out and about, and feels the best experiences start where the road ends, then 'Active Myanmar' is definitely for you. Highlights of the tour include the amazing Golden Rock pagoda, as well as the ruins of ancient Bagan and serene Inle Lake, which you'll experience the vantage point of bicycle saddle or while walking. The trip features lots of opportunities to visit villages and interact with local people, among them the Chin minority of Myanmar's remote Natmataung National Park, where many older women have heavily tattooed faces.
Holiday Types
Walks, Hikes and Rides Cultural Tours
Suggested itinerary
Day 1
UK
Fly from the UK to Yangon via Bangkok or Singapore.
Day 2
Yangon
On arrival in Yangon, you'll be met by your guide and driver and accompanied to your hotel, where you'll stay for two nights. Spend the remainder of the day recovering from your journey, perhaps venturing out for a glimpse of the floodlit pagodas downtown.
Day 3
Yangon
A day's sightseeing in Yangon starts with a ride on the city's circle train line in the morning, then continues with a tour of the colonial district downtown, the Museum, Bogyoke Aung San market and, finally, the Shwedagon Pagoda around sunset time.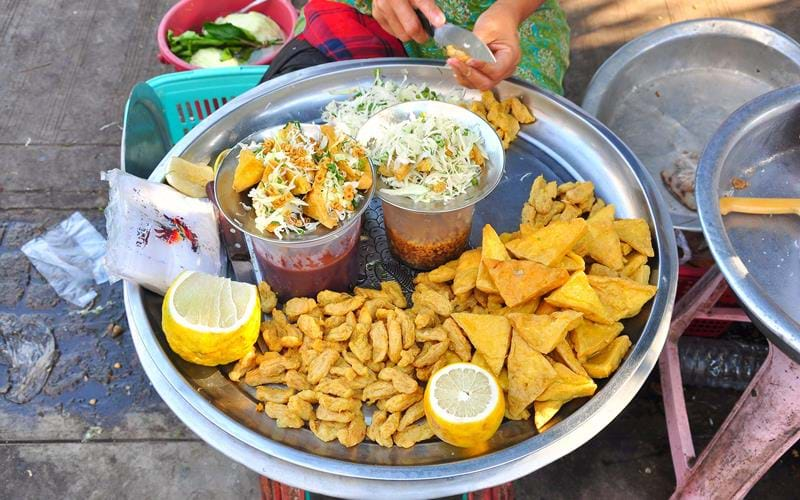 After breakfast, head to Yangon train station with your guide for a local's view of the capital on the circle line. You'll get down after a few stops and return by car to the centre for a short walking tour of the colonial quarter, starting at the Botataung Paya. After lunch, explore Bogyoke Aung San market and visit the National Museum, where the prize exhibit is King Mindon's awe-inspiring 'Lion Throne', before winding up at the Shwedagon pagoda, which is bathed in ethereal light around sunset time.
Day 4
Mawlamyine (Moulmein)
Drive around the Gulf of Martaban to the port city of Mawlamyine, via Bago.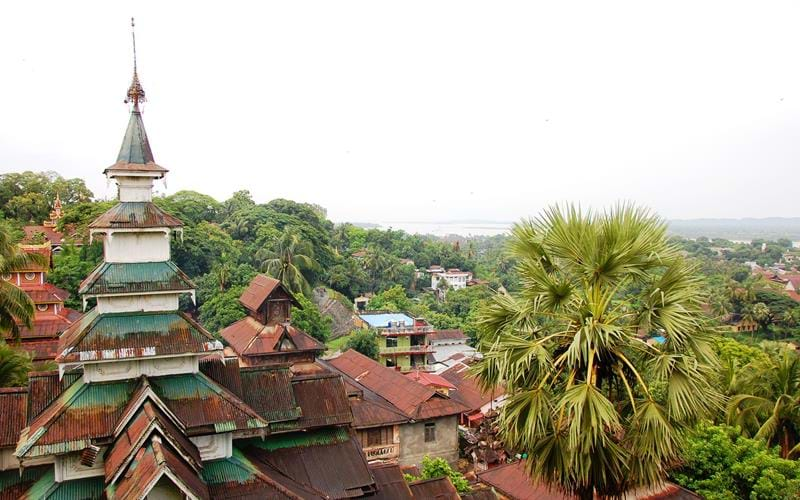 The city of Bago, just over a couple of hours' drive northeast of downtown Yangon, boasts one of the largest concentrations of historic monuments in the country, thanks to its role in the 15th and 16th centuries as the region's capital. All impeccably restored, these range from giant reclining Buddhas to gilded pagodas and monasteries. In the afternoon, you'll continue on to Mawlamyine, rounding off the day with a wander through the old British quarter and visit to the huge pagodas in the hill overlooking the city.
Day 5
Mawlamyine
Join a cycling excursion to a local market and villages on the outskirts, followed by a visit to 'Shampoo Island' by boat.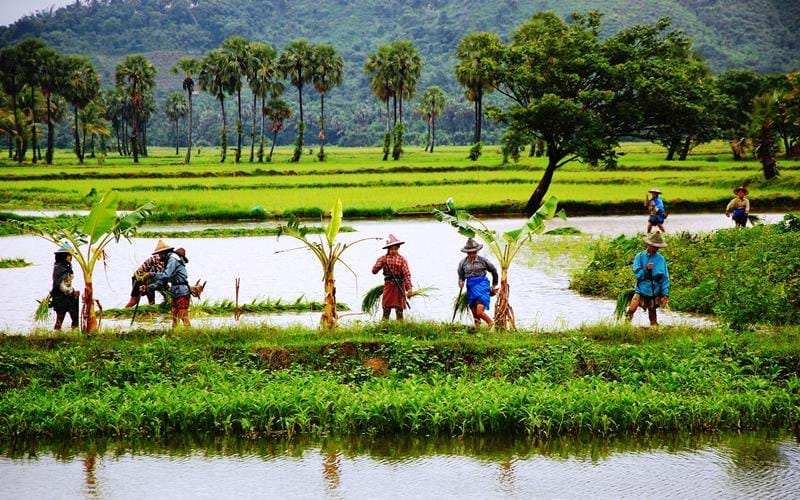 Dominated by a huge covered market, Mawlamyine's bazaar district is one of the most interesting in the country – the perfect place to sample the town's old-fashioned Burmese feel. If you wish, you can continue the tour by bicycle, pedalling out to surrounding farming villages before returning to the foot of Thanlyin Bridge to catch the ferry to Gaung Say Kyn, aka 'Shampoo Island'. The name of this pagoda-encrusted islet in the Gyaing River is derived from the fact the local Mon king traditionally bathed his hair in water from a spring on it in a special ceremony each year. The trip across is a serene experience.
Day 6
Mawlamyine
Take the boat in the morning for a daytrip to Bilu Kyun Island, where you'll spend the day visiting villages and craft workshops.
Separated from the mainland by the Thanlyin River, Bilu Kyun Island exists in its own charismatic time-warp. Only one, mostly unsurfaced road crosses it, winding for 33km from north to south. There are hardly any trucks or cars, and most people get around on foot, by bicycle or bullock cart, earning a living from small-scale farming and cottage industries: rubber bands, bamboo topee hats and little blackboards for school children are the main products; you'll have the chance to see all three being made, and to take tea in a local tea shop.
Day 7
Hpa-an
Travel by road to Hpa-an for a one-night stay, visiting local villages and caves by bicycle in the afternoon.
Hpa-an on the Thanlwin (Salween) River serves as a congenial base for trips around the breathtakingly beautiful limestone Zwegabin massif to its southeast. Rising in spectacular fashion from the surrounding rice paddy, the foot of the jungle-draped mountain is honeycombed with hidden cave temples, pagodas and other sacred sites, among them the Kyauk Kalap, or 'Water Lake Monastery', whose stupa crowns the top of a slender pillar of rock. You'll be accompanied by your guide around this fascinating, highly photogenic area, returning to town around sunset time.
Day 8
Kyaiktiyo
Travel by road to Kyaiktiyo, site of the famous 'Golden Rock' temple.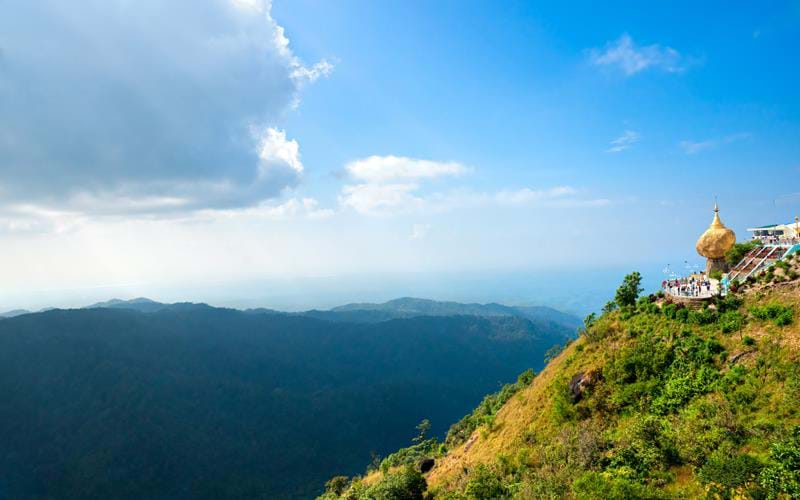 The vision of Kyaiktiyo's gilded boulder glowing molten yellow in the dying rays of daylight is simply one of the most ravishing Myanmar – or indeed the whole of Southeast Asia – has to offer. The reward for an extremely bumpy journey to the mountaintop is the chance to experience the site's otherworldly atmosphere – the hundreds of candles, the clouds of incense smoke, ringing of bells and, above all, wondrous vision of the rock itself, miraculously balanced on the rim of the valley. You'll be staying in a hotel only a stone's throw from the temple.
Day 9
Yangon
Revisit the Golden Rock temple at sunrise before travelling back to Yangon, where you'll spend one night.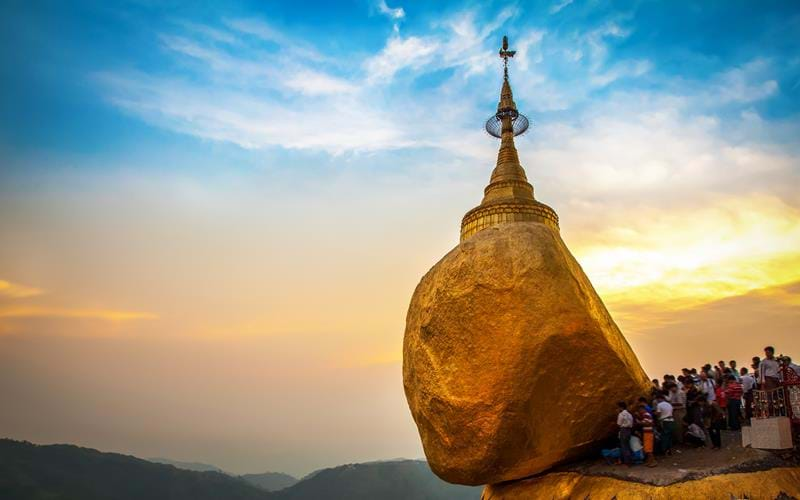 Dawn, when all the pilgrims who have spent the night sleeping on the marble terrace around the pagoda converge on the Golden Rock to offer prayers, is a wonderful time to be on the mountaintop. As your hotel is close by, you'll be perfectly placed for an early start. As the sun climbs higher into the blissful blue Burmese sky you'll make your way back to sea level and drive onwards to Yangon for a one-night stay.
Day 10
Bagan
Transfer to the airport in the morning for an early flight to Bagan, visiting Salay village in the afternoon.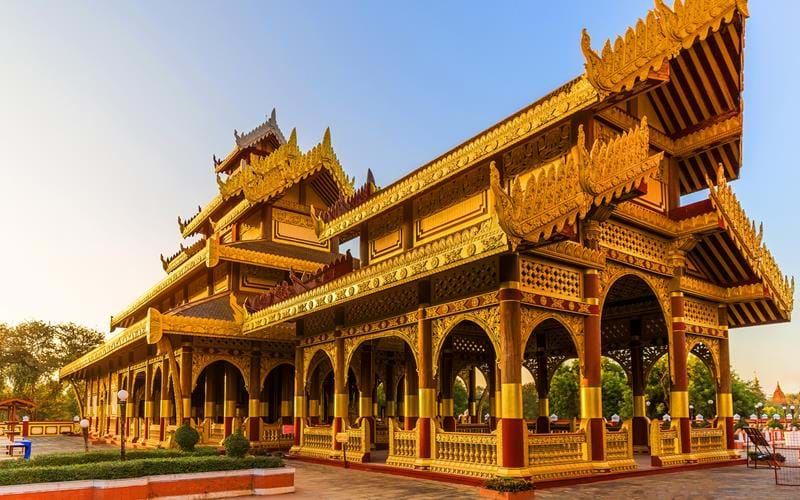 Salay village, on the Ayeyarwady River to the south of Bagan, saw an influx of British oil workers in the late 19th century. To accommodate them, their employers erected an ensemble of grand colonial-style houses, which are now rather forlorn and faded, but wonderfully photogenic. The town also retains a superb carved wooden monastery holding a collection of fascinating antiquities, and the shrine of an enormous gold-lacquer Buddha. Passing through a string of small farming villages, the journey to and from Bagan offers memorable glimpses of rural life along the banks of Myanmar's mightiest river.
Day 11
Bagan
Visit the ruins of ancient Bagan by car, horse cart or bicycle – or a combination of all three!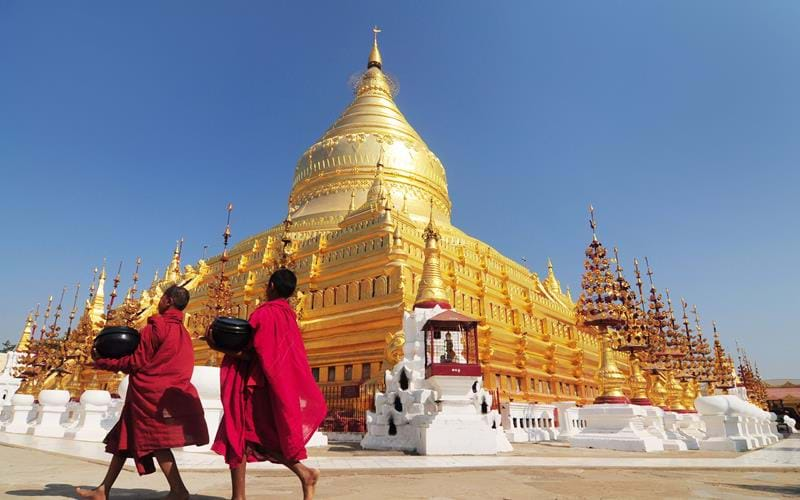 Over 2,000 brick, gold and stucco stupas and temples are scattered across this wondrous archaeological site – the remains of a once glittering city that thrived on the banks of the Ayeyarwady River between the 11th and 13th centuries. Many are exquisitely decorated inside and out, holding huge Buddha images and vibrant medieval murals. Horse carts provide a leisurely way to explore the sandy lanes linking the sites, but more energetic travellers may be tempted to cover some stretches by bicycle.
Day 12
Nat Ma Taung (Mt Victoria) trek, first stage: Bagan–Kampelet.
Nat Ma Taung (re-christened 'Mt Victoria' by the British) is Myanmar's third highest peak, at 3,053m (10,016ft). Swathed in rhododendron forest, it is difficult to reach but a relatively straightforward climb to the summit from the villages nestled halfway up it. The expedition begins with a drive in a 4WD vehicle to Kanpetlet, where you'll spend the night in a wood-and-thatch eco lodge set on the outskirts of a settlement inhabited by Chin minority people, among whom are a number of elder women with completely tattooed faces – a practise outlawed today but commonplace a couple of generations ago.
Day 13
Nat Ma Taung trek, second stage: Aye
Ascend to the summit of Nat Ma Taung, descending to Aye village for an overnight stay. Aye is even more remote than Kanpetlet, and the home of several senior women with facial tattoos. You'll be staying in a small, purpose-built lodge outside the village.
Day 14
Nat Ma Taung trek, third stage: Mindat
Continue on foot to Mindat today – the largest village in the area, set in spectacular fashion along a forested mountain ridge. Visit the market to see Chin textiles being woven. Another local speciality are bamboo holsters designed to carry a water bottle and machete! The pagoda to the north of town is also worth visiting for its fabulous panoramic view over the surrounding ranges.
Day 15
Bagan
Return to Bagan by car from Mindat.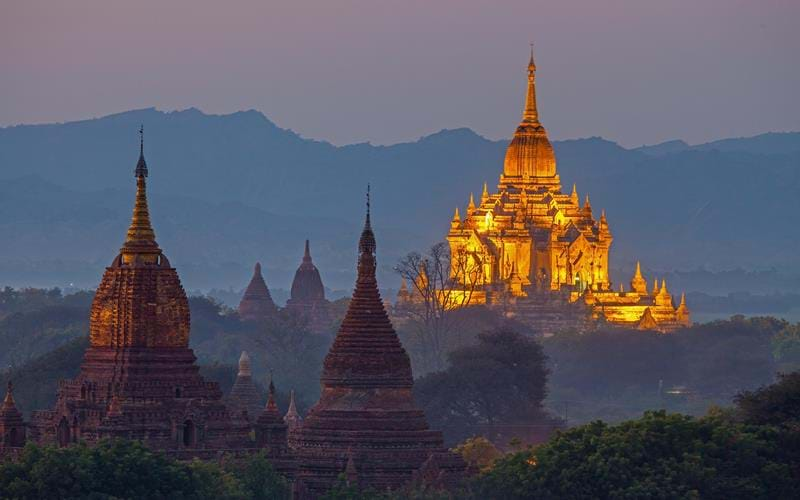 Today's drive is a long one, but you'll arrive in Bagan in time for a sundowner on the banks of the Ayeyarwady, when you can savour your achievement of having explored one of the most remote corners of Asia.
Day 16
Inle Lake
Transfer to the Bagan airport in the morning for your flight to Heho, the nearest airport to Inle Lake, where you'll spend three nights.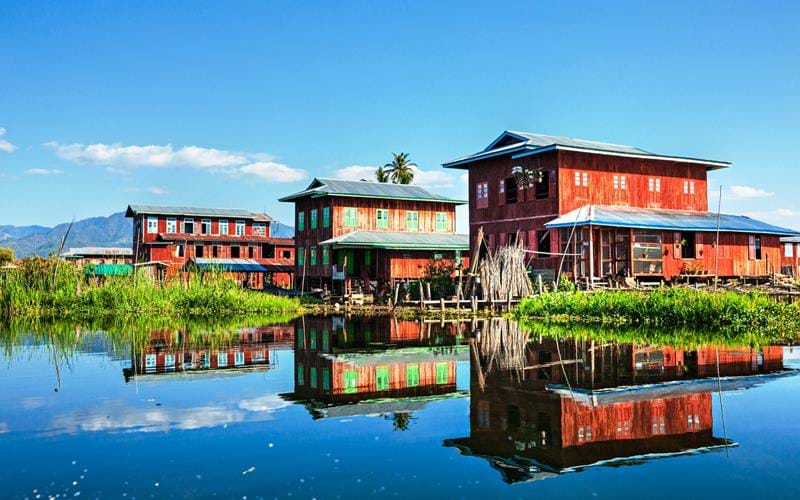 Magical Inle Lake lies amid the outlying hills of the Shan Plateau. The Intha people who live in stilt villages around its fringes have evolved a unique way of life based on fishing and vegetable gardens that literally float on the surface of the lake. You can skim past them on long-tailed boats, pausing at ancient stupa sites, monasteries, temples, weaving workshops (where silk is spun from lotus stems) and fresh produce markets to which Pa-O and other minority people travel from the surrounding mountains – all wonderful photo opportunities.
Day 17
Inle Lake
Enjoy a full day's trekking excursion today to Kyar Tun village, home to Pa-O and Taung Yo ethnic minorities, and U Daung monastery, a superb vantage point above Inle Lake.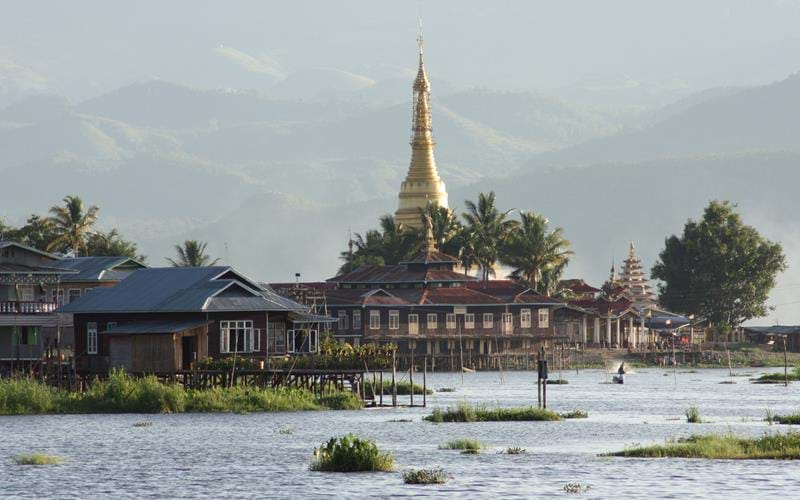 Beginning with a transfer by long-tail boat, today's hike takes you up a well-trodden path from the lakeshore to Kyar Tun village, where most of the Pa-o people wear traditional navy tunics and red or orange plaid head scarves. The views improve as you ascend further to the monastery at Nat U Daung, a handsomely carved teak building and popular picnic spot visited by large numbers of Pa-o on weekends. You'll enjoy a picnic lunch at a suitably inspirational spot overlooking Inle and its surrounding mountains. After descending to the lake shore again you'll rejoin your boat for the trip back to your hotel, arriving before sunset.
Day 18
Inle Lake
Board a long-tail boat after breakfast for an excursion on the lake to a various of Intha villages, markets, pagoda sites and monasteries.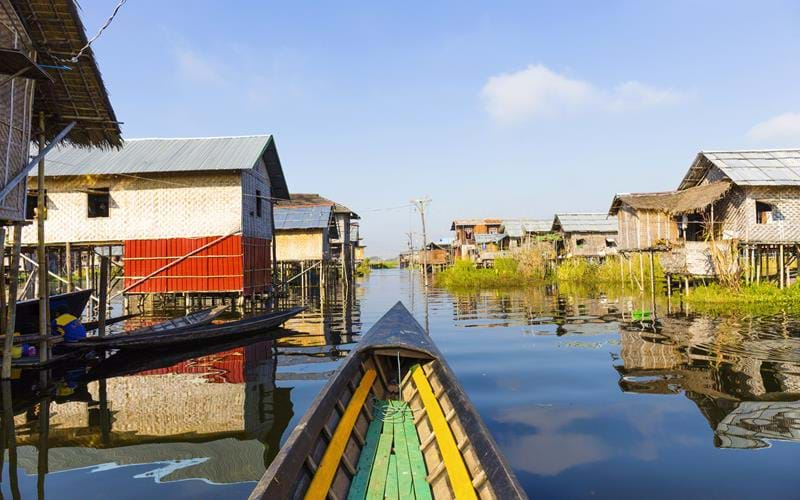 So-called 'floating markets' are held in rotation by different villages on the shores of Inle Lake, and apart from being a rich source of souvenirs provide a great opportunity to meet local minority people such as the Pa-O, who descend from the surrounding hills to sell fresh produce and stock up on supplies, many of them dressed in traditional costume. Tours on the water typically involve stops at stilted Intha villages to see cheroot factories, goldsmiths workshops, floating gardens, and the Phaung Daw U Pagoda – Inle's most revered temple.
Day 19
Yangon
Travel by road to Heho and fly to Yangon to connect with your onward flight to the UK.
Day 20
Yangon, UK
Arrive back in the UK.
Tailor-made Tour

20 days from £5300 per person
What's included

✓   International flights from London
✓   16 nights accommodation
✓   All internal transportation and transfers
✓   English-speaking guides
✓   Breakfast daily
✓   Entrance fees to sites and monuments listed in tour itinerary
Places and Experiences in this tour
Plan your 2022 Adventures
With the world now largely open again, now is the time to begin planning your 2022 adventures in Asia. Our Travel Specialists are ready to take your call and discuss the adventure you have spent the last 2-years dreaming of.
Or call us on 0208 566 3739
TransIndus Brochures 2022
Join our mailing list