Tailor-made Tour

15 days from £5500 per person
Places Visited:
Kumano Kodo, Nara, Mount Koya, Koyasan, Wakayama, Shirahama, Chikatsuju, Yunomine Onsen, Nachi Taisha, Ise, Kyoto
The 38 kilometre long Kumano Kodo trail, south west of Tokyo is one of Japan's most sacred pilgrimage sites. Local people attempt to visit the trail at least once in their lives if not annually, to pay homage at the ancient and iconic Shinto shrines and Buddhist temples that sit hidden among its cedarwood forests, soaring mountains and bubbling hot springs and streams. 
Our 15 day tour of the region takes in the Kumano Kodo circuit as its focal point, bookending the experience with visits to the country's cultural capitals of Kyoto and Nara for a truly unique insight into traditional Japanese culture that few foreign visitors have experienced or even know exists. 
You'll be overnighting in a mix of beautiful ryokans, candle-lit monasteries and modern hotels with opportunities to visit tiny costal fishing communities that have remained untouched for centuries with plenty of time to enjoy Onsen bathing in the natural hot springs that crisscross the region
Holiday Types
Cultural Holidays Luxury Train Holidays Family Holidays Culinary Holidays
Suggested itinerary
Day 1
UK
Fly from the UK to Kansai airport, outside Osaka.
Day 2
Nara
On arrival, you'll transfer to Nara by shuttle bus. Spend the rest of the day recovering from the journey at your hotel, perhaps venturing for a stroll and tea stop at the beautiful Isuien Garden in the late afternoon.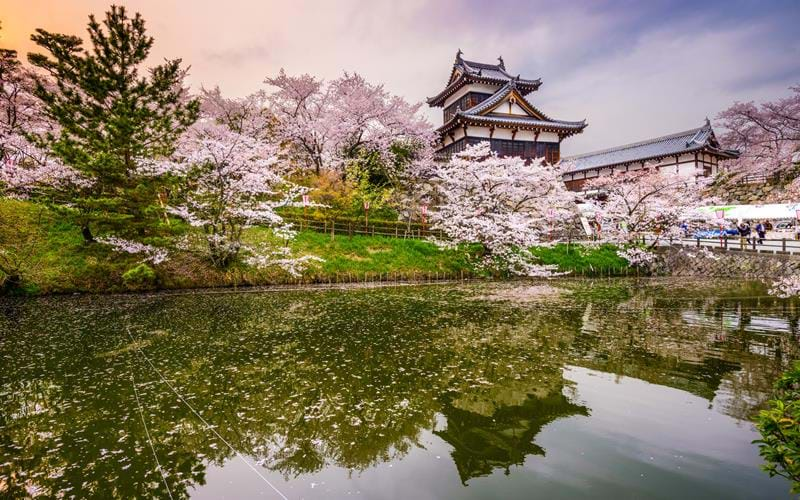 Despite lying at the heart of Nara's ancient core, between the Todaiji and Kofukuji temples, this beautiful Meiji-era garden is invariably peaceful and offers the perfect place to recover from your jet lag. As well as am uplifting array of flowers, plants, rockeries and ponds, its grounds enclose the Neiraku Art Museum, with its world-class collection of oriental ceramics and bronzes. Near the entrance is the lovely 'Sanshutei' restaurant, where you can enjoy the leafy vistas over a pot of fine Japanese green tea served in traditional style on tatami mats.
Accommodation Options
Day 3
Nara
A full day is required to cover Nara's signature sights, starting at the Deer Park where most of the city's historic shrines are located, among them the resplendent Todaji Temple and its resident Buddha, the 16-metre-tall 'Daibutsu'.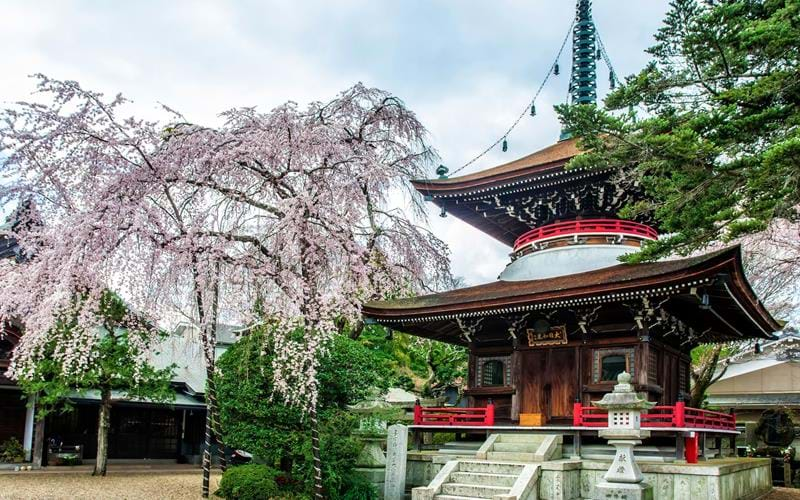 Nara ranks among the most splendid cities in Asia, thanks to its extraordinary collection of antique buildings. Its centrepiece is the Todai-ji Temple, home to a 16-metre-tall, bronze Buddha. The world's largest wooden building, the shrine now resides in a park where sika deer roam free, scrounging rice crackers off visitors. The nearby museum holds a hoard of precious antiquities from the 7th century Shōsōin Treasury. After lunch, catch a train to Ikaruga, on the city's southwestern fringes, to visit two of Japan's oldest and most beautiful temples – the UNESCO-listed Horyu-ji and Chugu-ji. The latter holds one of Japan's national treasures, a Buddha statue whose beautific smile is often compared to that of the Mona Lisa.
Accommodation Options
Day 4
Mount Koya
After breakfast, leave Nara to begin your journey to Koyasan (Mt Koya), on the sacred Kii Peninsula, by a combination of bullet, express and funicular trains.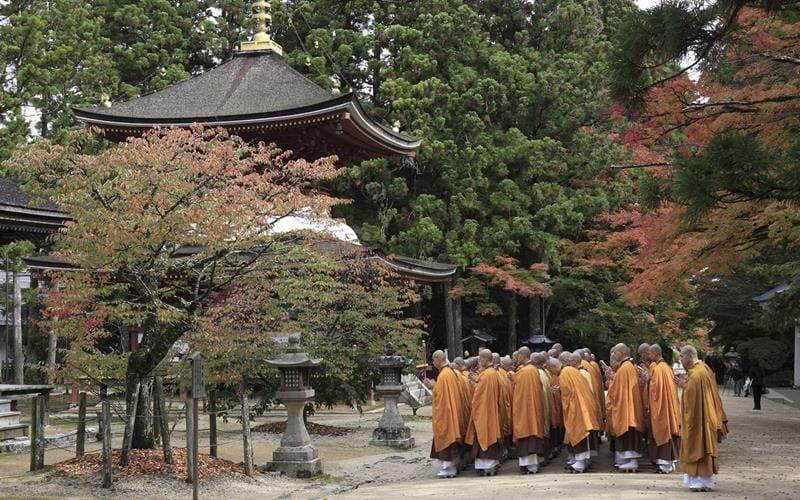 Spend the day exploring the area's many forest shrines, where for centuries the samurai used to come to learn esoteric secrets from the resident monks. Although sporting a veneer of modernity, the temples and pathways are still charged with the spiritual ambience of old Japan, especially when the mist swirls through its dense black cedar forests. In order to experience the magical atmosphere of Koyasan after dark, your two nights in the area will be spent at a simple pilgrims' hostel, or 'shukubo' (in a private room with shared facilities), allowing you to attend dawn rituals in nearby shrines and temples.
Accommodation Options
Day 5
Koyasan (Mt Koya)
Rise early to join the monks at their morning prayer session. After breakfast, hike through the forest via ancient, lichen-covered trails to visit some of Mount Koya's hundred or more religious monuments.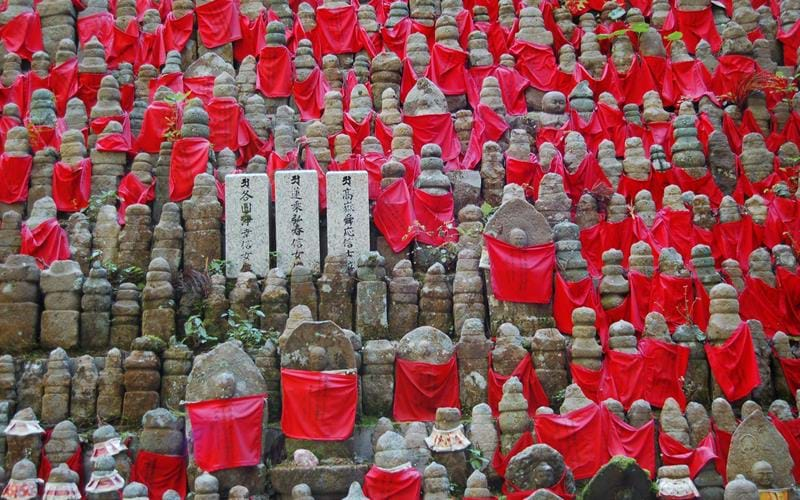 Three of most important sights you'll take in today are the 9th century Garan temple, the Kongobuji (headquarters of the Shingon sect), and mausoleum of Shingon's founding father, Kobo Daishi at Okunoin. The paved approach to the mausoleum is lined by over 200,000 tombstones dating from various eras.
Accommodation Options
Day 6
Wakayama
Today, you'll travel to Wakayama by express train, spending the afternoon visiting the town's castle, with its peaceful gardens and wide-ranging views.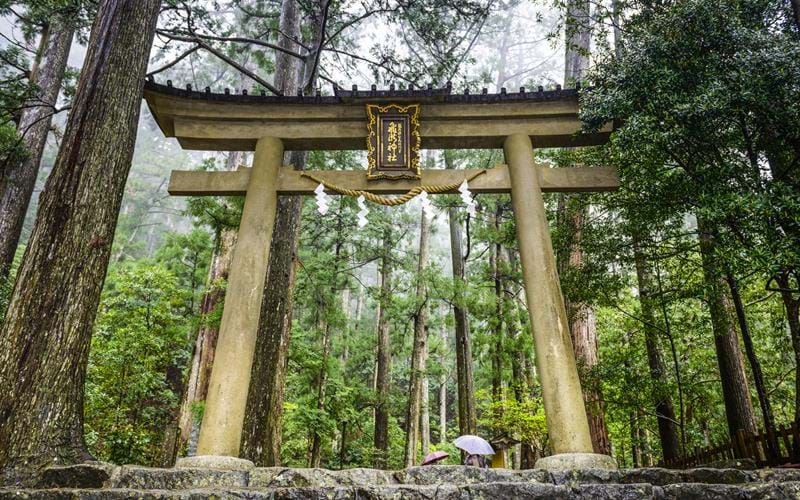 The Museum of Modern Art, which hosts the largest collection of contemporary Japanese prints in the country, and Kimiidera temple, whose scarlet shrines nestle amid dark cedar forest on the edge of the city, are other popular attractions in Wakayama. And don't forget to try the famous local ramen – 'chukba soba', or 'Chinese noodles'. The definitive version is served at Ide Shoten, a tiny, family-run diner whose ramen is legendary for its firm noodles and rich flavour, balanced with slivers of green onion, tangy fish cakes and a twist of refreshing pickled bamboo shoots.
Accommodation Options
Day 7
Shirahama
Today you'll travel down to the coast by express train from Wakayama to Shirahama, arriving with time to sample the pleasures of the thermal hot tubs at your chosen resort, and visit the town's beautiful white sand beach.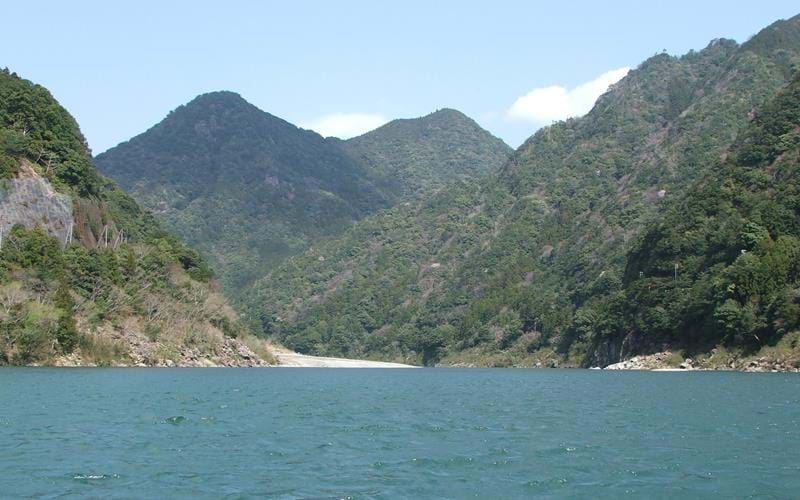 One of the three oldest hot springs in Japan, Shirahama, on the southwest coast of the Kii peninsula, also boasts one of the country's finest beaches – an irresistible combination for Japanese holidaymakers. The town is packed in high summer, but quiet in June and September.
Accommodation Options
Day 8
Chikatsuju
After breakfast, take the bus from Shirahama to Takiji to begin your trek along the Kumano Kodo.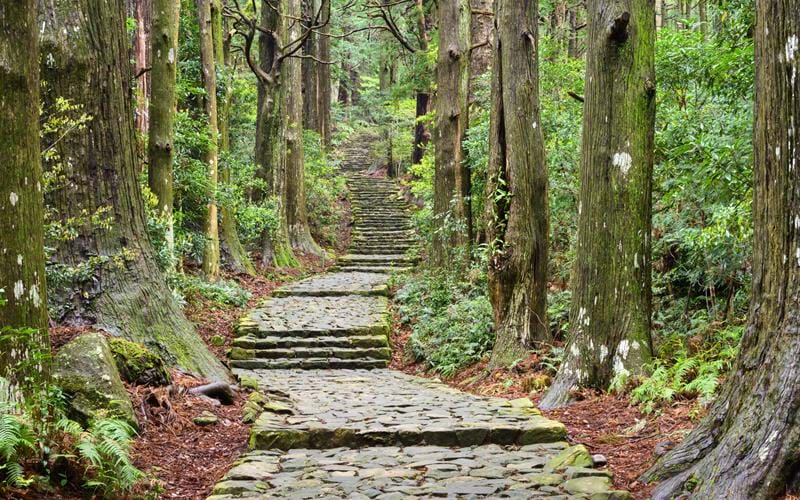 On this first stage of the trail you'll be covering 15km in around 7–8 hours, ending at Chikatsuyu-oji village, a pretty settlement scattered over the floor of a lush mountain basin where you'll spend the night in a shukobo pilgrims' lodge or B&B. On arrival, ease your tired legs in a steaming hot onsen tub before a traditional Japanese supper.
Accommodation Options
Day 9
Yunomine Onsen
Continue on your walk in the morning to Yunomine Onsen, a spa village clustered at the foot of a narrow, wooded valley. It holds what is believed to be the oldest onsen bath in Japan.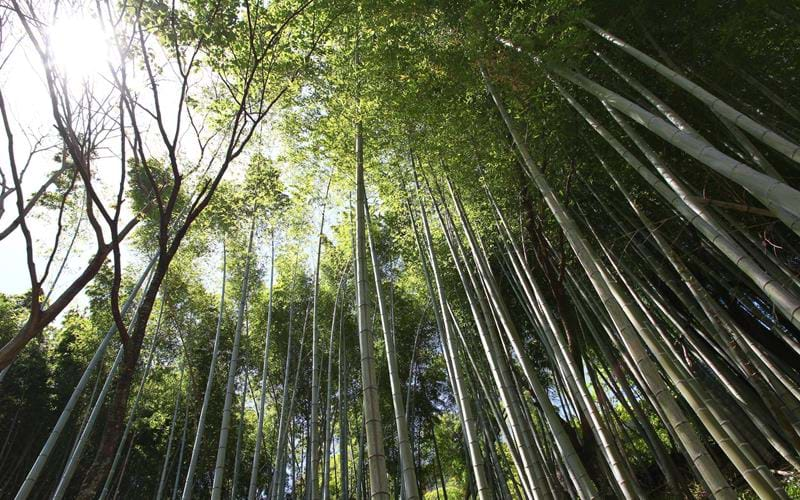 The day requires around 8–9 hours of walking, covering a total of 22.5 km. Your accommodation for two nights at Yunomine will be a simple pilgrim's lodge. In the evening, take a stroll along the river before dinner, and watch Kumano pilgrims boiling eggs and vegetables in one of the village's hot springs!
Accommodation Options
Day 10
Yunomine Onsen
Begin the day with an auspicious, purificatory dip in the Tsuboyu hot spring next to the stream in Yunomine, before beginning the ascent of Mt Dainichi.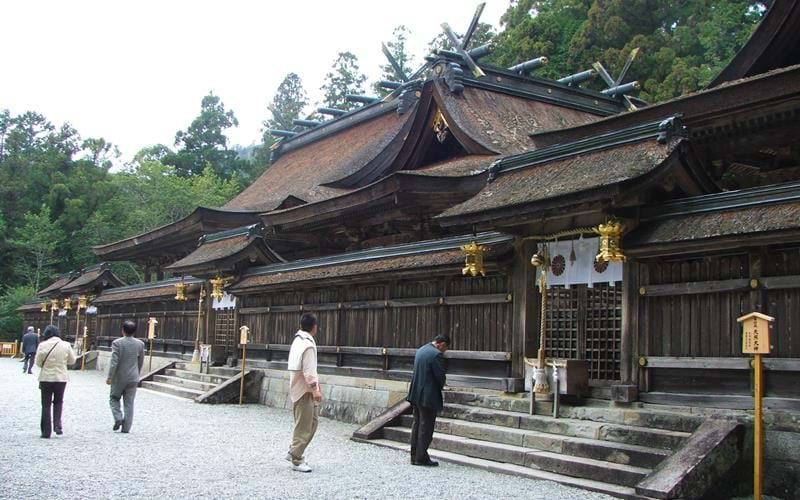 Housed in a tiny wooden hut, this famous little hot spring is one of the oldest in the country. Pilgrims traditionally bathed before continuing up Mt Dainichi to the Hongu Taisha Shrine – pivotal point of the Kumano Kodo trail network and one of Japan's most revered temples. The climb is quite strenuous in places but relatively short, taking around 1.5hrs to reach the temple from the bottom of the valley. Longer trails are also available should you wish to extend the day's trekking.
Accommodation Options
Day 11
Nachi Taisha
The eleventh day of your tour begins with a bus ride from Yunomine to Koguchi, where you start your walk to Nachi Taisha, home of the Kumano Kodo's poster piece: the 3-storey, pagoda-roofed Seiganto-ji Temple.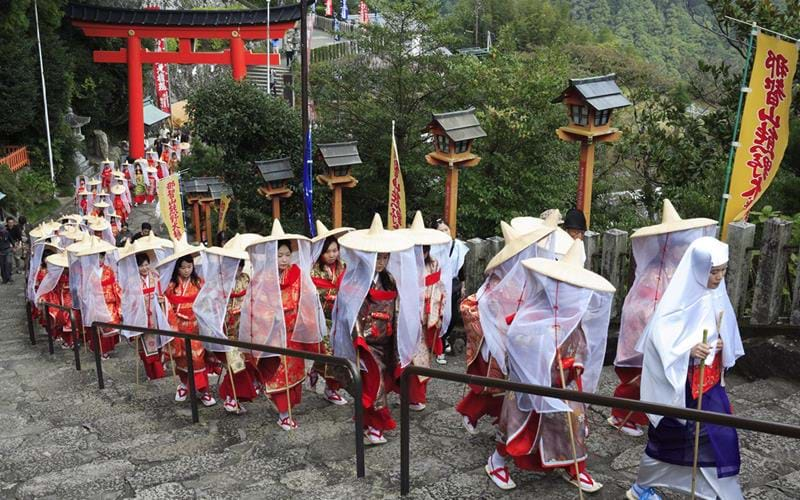 Located close to the famous Nachi Falls, Seiganto-ji is a magical sight, with its golden finial rising against a backdrop of forested mountains and white water plunging from the top of a 133-metre (436-feet) high cliff. You'll spend the night in a pilgrims' hostel or B&B close by, which will enable you to witness the morning ritual performed by white-robed Shinto priests at the head of the falls, where the guardian kami spirit is believed to reside. The day's walk is one of the hardest of the Kumano Kodo circuit, covers 14.5km and takes from 6–8hrs.
Accommodation Options
Day 12
Ise
Visit Nachi Taisha early in the morning to experience the morning ritual at Seiganto-ji temple, then proceed on foot after breakfast to Daimon-zaka, where you'll catch a bus to Shingu station, and from there an express train to Ise, a city on the east coast of the Kii Peninsula.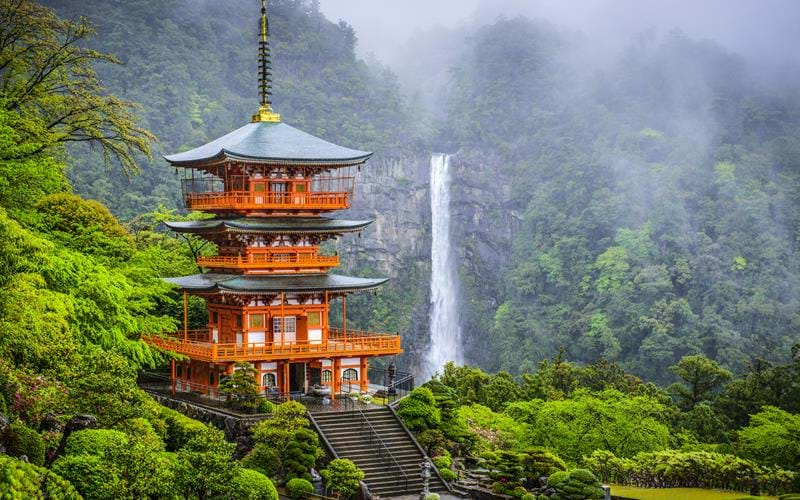 Famous as the site of the Grand Shrine (the most sacred Shinto temple in Japan), Ise sees streams of pilgrims year round. In the afternoon, wander over to Futamigaura Beach to see the famous 'Wedded Rocks' of Meoto Iwa, a pair of outcrops in the sea connected by a sacred rope. If time permits, another worthwhile attraction is Mikimoto Island, where cultured pearls were first created in the late 19th century, a fact commemorated by a museum packed full of jewel-encrusted curiosities.
Accommodation Options
Day 13
Ise
A full day is set aside today to explore Ise's 'Grand Shrine'.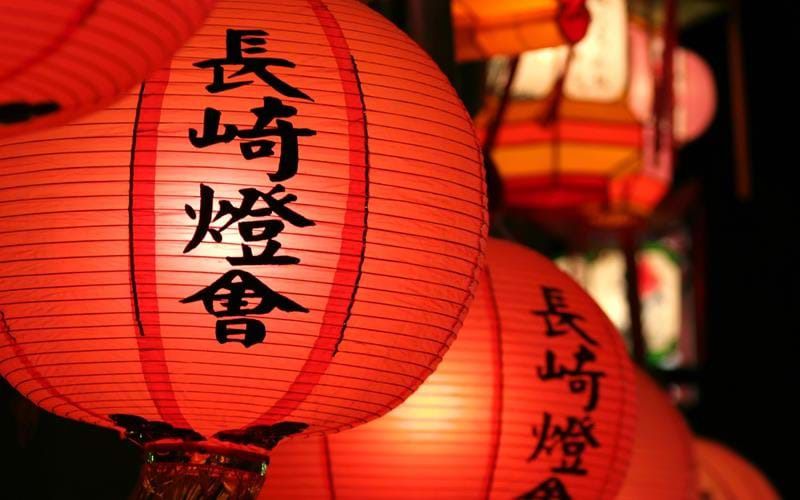 Located 10km inland, the temple complex is set amid a dense forest of 300-year-old cedar and cypress trees. It has two main parts – the Inner and Outer shrines – and 123 lesser temples scattered over the surrounding hills, collectively known as 'Ise Jingu'. Approached via a paved walkway, the walled Inner Shrine is the seat of Amaterasu Omikami – the Sun God and tutelary deity of Japan's Imperial family. The temple's beautiful wood and thatch buildings are modelled on ancient rice barns which are completely rebuilt every twenty years on an adjacent plot. It's a wonderfully atmospheric assemblage, with white-robed Shinto priests bustling around conducting arcane rituals for the many pilgrims who pour through each day.
Accommodation Options
Day 14
Kyoto
Return to the Grand Shrine for a final early morning visit, if desired. After breakfast, transfer to the train station to catch a bullet or express service to Kyoto. Spend the rest of the day visiting a few last sights or indulging in a spot of late souvenir shopping.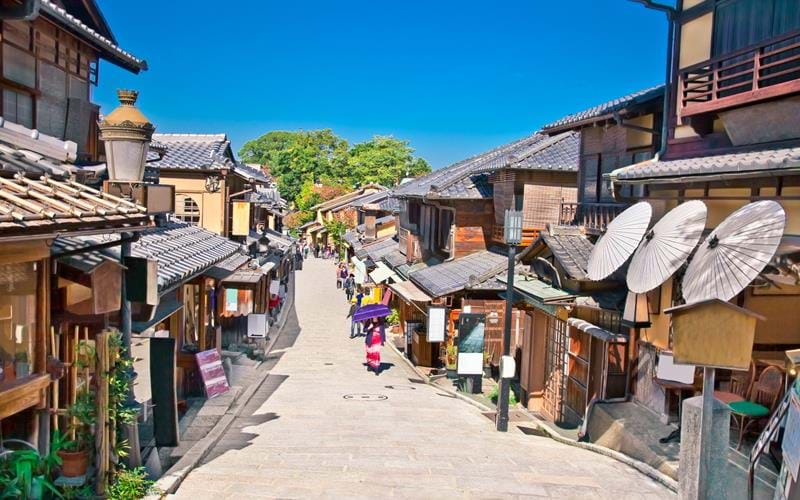 One of our favourite shops in Kyoto is the Wagaminomise Morito Washi, a few blocks south of Shijo, where you can find some of the country's most beautiful hand-made paper. From fine white 'kozo' sheets to vividly pattered 'chiyo-gami' screen prints, whose designs were originally devised to inspire kimono makers, the range on offer is amazing. Everything is of the finest quality, reasonably priced and – crucially – won't cost you any excess baggage! Another lightweight option is green tea, the best place for which is Ippodo, at 52 Tokiwagi-cho, where the city's tea ceremony masters all buy their supplies. The shop itself is exquisite and there's a little café inside where you can taste the different varieties.
Accommodation Options
Day 15
Kyoto, UK
After breakfast, it's time to bid farewell to Japan as you travel back to Kansai airport for your return flight to the UK.
Tailor-made Tour

15 days from £5500 per person
What's included

✓   International flights from London
✓   13 nights accommodation
✓   All internal transportation and transfers
✓   English-speaking guides
✓   Breakfast daily, dinner on days 4, 5, 8 to 11
✓   Entrance fees to sites and monuments listed in tour itinerary
Places and Experiences in this tour
Plan your Next Adventure
With the world now largely open again, now is the time to begin planning your next adventures in Asia. Our Travel Specialists are ready to take your call and discuss the adventure you have spent the last 3 years dreaming of.
Or call us on 0208 566 3739
TransIndus Brochures 2023
Join our mailing list